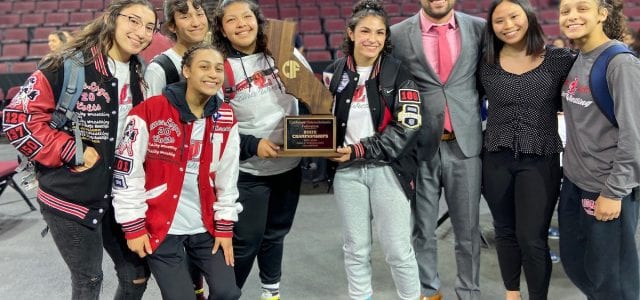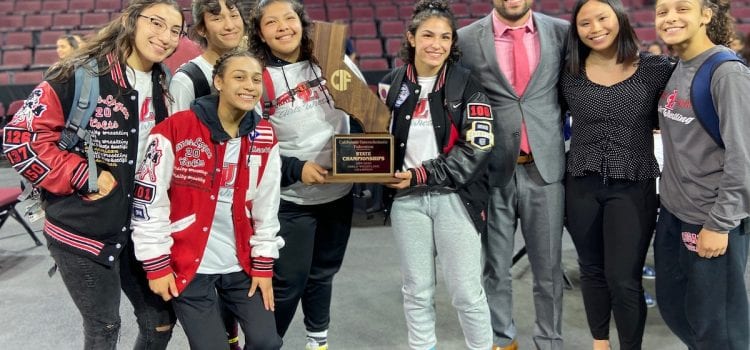 James Logan Girls Wrestling Clutches CIF Championship As Girls Wrestling Builds NCAA "Emerging Sport" Momentum • Saturdays are officially for the girls. And the...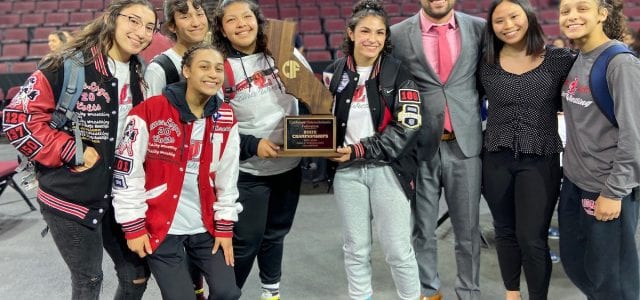 James Logan Girls Wrestling Clutches CIF Championship As Girls Wrestling Builds NCAA "Emerging Sport" Momentum •
Saturdays are officially for the girls. And the James Logan Girls Wrestling team is here for it.
Wrestling's highest divisions have been invaded by college and prep athletes looking to define their generation of athletics with accolades in of the one of the fastest growing sports in the nation.
On Feb. 29, James Logan-Union City became the eighth different champion in the 10-year history of the CIF Girls Wrestling Championships. James Logan is also the second school to claim that honor at the unified boys-girls championship event. They did so in front of a massive crowd at Mechanics Bank Arena in Bakersfield.
Girls who achieve prep greatness in California have increasingly better opportunities for glory at the next level.
In January, NCAA Division II and III voted to approve women's wrestling as an "Emerging Sport" at the NCAA Convention in Anaheim. NCAA Division I will vote in April.
_______________________________
CONNECT WITH US:
Follow SportStars on Twitter & Instagram | Like us on Facebook | Subscribe!
_______________________________
The first Cliff Keen National Collegiate Women's Wrestling Championships for Div. I, II and III programs wrapped up March 7 at Adrian College in Michigan and the National Association of Intercollegiate Athletes wrestlers competed in the NAIA Women's Wrestling National Invitational on March 14 at Harold Newman Arena in Jamestown, North Dakota.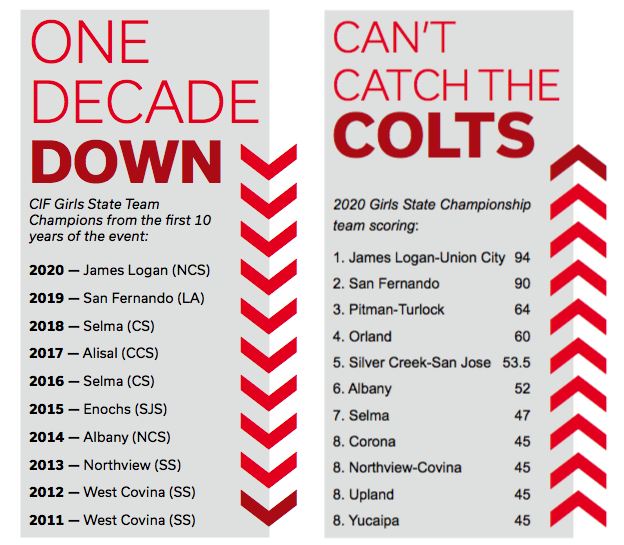 If the NCAA can field 40 girls varsity programs in the near future, women's wrestling will be eligible for an official NCAA championship event. It's the logical step for a sport that has been Olympic-level since 2004. And women's wrestling has flourished in the U.S. Helen Maroulis became the first American woman to win an Olympic gold at the most recent Games (2016 Rio. U.S. Women were also major players in the 2020 Pan-Am Championships in Ottawa March 6-9.
The collegiate field is littered with California talent, like Alledia Martinez (Selma), Gracie Figueroa (Selma), Tiana Jackson (Central Catholic-Modesto) and Solin Piearcy (Cupertino), all former CIF champions among the nation's best at NAIA power Menlo College. Menlo's Precious Bell (third in the 2016 CIF championships for Eastside-Lancaster) is also among the NAIA elite.
Six seniors won their weight classes at 2020 girls state, including NorCal's Ariana Pereira (Newark Memorial) at 160 pounds, Alia Abushi (Arroyo-San Lorenzo) at 189 and 101-pound champ Lizette Rodriguez of James Logan.
Rodriguez, also ranked No. 13 in the nation by FloWrestling, beat No. 4 seed and Southern Section champ Brianna Gonzalez of Arroyo-San Lorenzo in a 7-2 finale to win her weight class and ultimately clinch James Logan's team title.
"Lizette has been a great wrestler since middle school," James Logan girls wrestling coach Robert Flores said. "She surprised us as a sophomore when she took second in the state. But then as a junior, she was seeded No. 2 but lost a devastating match in quarters and ended up not placing.
"She learned a lot from that experience and she grew from it. I still think we have not seen her full potential."
Rodriguez got some help from the opening round of the tournament, when Sobrato's Abbeygae Cabuag pinned No. 1 seed and national No. 2 Paige Morales (A Central-Fresno freshman). Morales came back to win seven straight matches (including an 18-3 tech-fall over Cabaug), but she never got her shot at Rodriguez.
Six state qualifiers and four total place winners fueled the James Logan girls wrestling team to its state title. That included Alisha Narvaez (fourth, 126), Beyonce Garcia (eighth, 137) and Tatianna Herrera (fourth, 235). The Colts were an unlikely champion, considering returning state champs San Fernando brought a record 13 wrestlers. The Tigers placed four, including runner-up Adelina Parra at 189. James Logan edged San Fernando just 94-90 in team scoring.
"I was telling coaches on staff that we could be top three, and didn't think a championship would be a reality until after the quarterfinals," Flores said. "I don't think the girls even realized we were in the hunt.
"After Lizette won her match they announced that we were going to be state champions and the team swarmed her in the warm-up area, hugging her and jumping up and down like maniacs. They were really excited it actually happened."
Flores said he was excited to see James Logan etch its name onto one of the landmarks of a growing sport.
"It's the fastest growing sport in America," he said. "Like I tell girls in middle school looking to wrestle, this sport can take you a lot of places. It also teaches hard work and discipline, and in California, it can get you on the biggest stage for wrestling."
Flores also credited his staff, Nguyet Tran, Colin Malcolm and Eli Bagaoisan for the program's success.