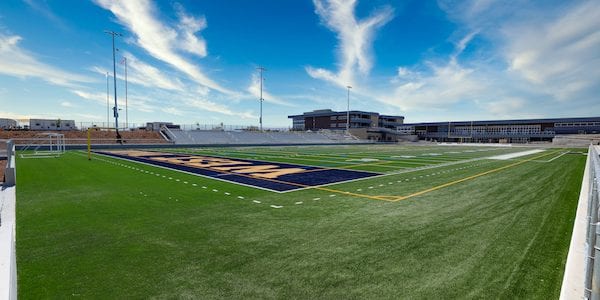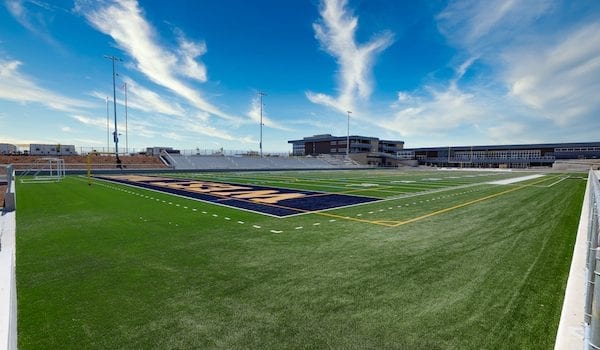 Roseville's New West Park High Looks To Build Foundation, Literally And Figuratively, While Mitigating Unforeseen Challenges Caused By COVID-19 • Newly hired football coach...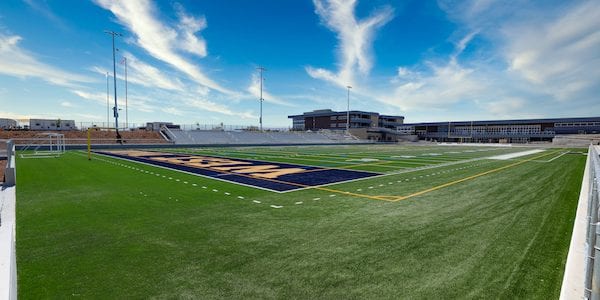 Roseville's New West Park High Looks To Build Foundation, Literally And Figuratively, While Mitigating Unforeseen Challenges Caused By COVID-19 •
Newly hired football coach Jason Tenner's fingers were burning through his phone two weeks ago. He made a series of calls to his fellow West Park High School coaches and a few coaching friends to try and secure practice equipment as his team received the first go-ahead from Placer County health officials regarding conditioning practices. 
"Can I borrow your cones?"
"Bring a football with you to practice."
Tenner worked up a plan when he realized his team didn't have the necessary equipment needed to begin practicing. Items such as cones to outline drills or even footballs to toss around. It was another quick change of plans in the age of COVID-19 as teams received the conditional green light for the 2020 season in the final full week of June.
"For us to run workouts, I had to borrow balls and cones from a coaching friend of mine," Tenner explained. "All of our orders (for gear) have been delayed because of the pandemic. It took an incredibly challenging situation and made it more complicated."
_______________________________
#NEVERSTOP STAYING CONNECTED:
Follow SportStars on Twitter & Instagram | Like us on Facebook | Subscribe!
_______________________________ 
Practice equipment, shoulder pads and helmets are arriving with each passing week, but Tenner says there have been unexpected delays for staff of the new Roseville school, which enrolled just under 600 combined freshmen and sophomores for the 2020-21 academic year. 
Football in the Pandemic
With the upcoming fall season quickly approaching, the lingering effects of the COVID-19 pandemic leaves many unanswered questions. Will prep sports be shut down like the spring season? How can coaches and players maintain social distance? How will schools conduct a high-contact sport that often gathers hundreds of people in close proximity? 
Establishing a brand new program, Coach Tenner has even more questions to ask. 
On top of issues directly caused by the pandemic, such as construction delays, a switch to virtual meetings and a lack of verified schedules, West Park coaches haven't had any contact with their new student-athletes. That didn't occur until they officially separated from their former school, which was early June for most.
"It's brutal to try and get 14 and 15-year-olds in front of their phone and try and get something out of it," Tenner confessed. "We tried the best we could, but we were all excited to finally hit the field. And for me, it was an opportunity to meet most of our kids. I hadn't seen any of them.
"I mean, a kid will tell you he's a quarterback (on Zoom), but can he throw? Or a kid says he's a lineman, but is he big enough to block someone?"
The Panthers coach finally got some of those questions answered during in-person workouts as his team took part in individual drills and established a base level for the game's fundamentals. 
West Park, like other area schools, follows district and county health protocols, which are built off mandates from the state government. 
"Right now, we're allowed to have conditioning, but it's for fall sports only," athletic director John Hildebrand said. "Those workouts take place in pods of 12 people or less, including coaches. So if there's one coach, we can have a maximum of 11 kids in that group, and they must maintain a distance of 6 feet apart."
West Park officials have asked coaches to wear masks throughout conditioning practices. Athletes are asked to wear masks to and from practice, and during low-impact drills. Protocols also include sanitizing stations for athletes and coaches, and routine sanitation of equipment for each pod of athletes. 
"Every athlete and coach completes a daily checklist and that includes a temperature check that they do online prior to the workout," Hildebrand said. "Each head coach, prior to starting, has to ensure people in that pod completed their screening and answered the questionnaire. … Those get logged on a spreadsheet that we can go back and check in the event of someone getting sick."
The spreadsheet will help the school enact contact tracing if someone contracts COVID-19. It also ensures other student-athletes in that pod have a chance to quarantine to keep others safe. 
But keeping kids alert of the dangers can be challenging.
"We're all social creatures and kids want to gravitate towards each other," Tenner explained. "Especially when you think about (football as) a true team sport. You're so used to high-fiving each other, and being close. But we have to stress every day that you have to stay 6 feet apart, to stay in our pods and you can't interact with kids from other pods."
Tenner says it's been strange. His team can only have three pods at each location for practice, so the team is split between two areas. 
"It was one day where our second session had seven kids out there," Tenner added. "It just doesn't feel like a team when you're constantly separated."
The Plan To Return
Statewide superintendents, principals, teachers and coaches have been busy trying to put together a plan to return to normalcy this fall as education resumes. Students and parents can expect a very different atmosphere when schools reopen with a mix of in-person and remote learning. Those changes will spill over to athletics, too.
"We all care about athletics and we want to connect with our kids, our student-athletes, so we're definitely raring to go," Hildebrand said. "But at the same time, we have to take it as it comes."
Hildebrand will be one of many administrators tuning in for the California Interscholastic Federation's July 20 update to determine if fall sports will be played as scheduled.
"Personally, I'm trying not to get too caught up in predicting the future just because we don't have a lot of control over it," Hildebrand said.
West Park is one of a handful of schools in the region waiting to announce plans for reopening once they receive some sort of direction. The football team's schedule currently includes a trip to the Bay Area to take on Acalanes-Lafayette. 
"I think it's going to come down to what the county and the school district decide," Hildebrand acknowledged. "If they say you can play, but you have to play within our county, or within X number of miles, you know, I've heard those kinds of things, but I'm not the authority."
That game against Acalanes is scheduled for Sept. 4. As of now, it could be the first game on the chopping block after recent news broke that The Honor Group cancelled all 10 of its Honor Bowl games amidst COVID-19 concerns. 
Scheduled for the opening weekend in September, the nonprofit canceled the 11th annual event back on June 16, according to the San Jose Mercury News. A day earlier, De La Salle's football program announced it would not travel to Texas for its season opener against North Shore-Houston. 
Those quick cuts could mean it's likely no out-of-state prep football games will be played this fall. 
New staff, new home
Before they hear the final word from the CIF, West Park officials hope to be in their new home. Staff and coaches are expected to begin enjoying their new facilities July 13. They'll join the administrative staff, which has been on campus for a few weeks now.
"I'm looking forward to it," Tenner said. "The facilities are phenomenal. It's first-class."
If a season takes place, the Panthers will play on a new turf field inside a 4,500-seat stadium. They will practice on a separate natural grass field just outside the home bleachers, which are surrounded by a new all-weather track. 
"All of those folks have done an unbelievable job," Hildebrand said of Turner Construction Company. "Even through the shutdown, they never stopped construction. They kept people safe, and it was just a tremendous effort by them."
As of now, the football team resorts to practicing at nearby Fred Festersen Park. The practices have resembled spring workouts, with players mostly working through individual drills and fundamentals. They end the day with sprints. 
Tenner says that's been a challenge, noting some of his key players haven't ever played the game before. 
"We got kids from Oakmont who didn't play football last year," Tenner said. "One of our quarterbacks didn't play football there, but played as an eighth-grader. About half the kids haven't played tackle football.
"I have a speed skater. A couple volleyball kids. I mean, we're taking whatever we can get, build our numbers and coach the kids up."
Hildebrand says the school will compete in the Foothill Valley League in every sport except football. Football will compete in the Greater Sacramento League. The school hopes to field at least two teams per sport — a freshmen team and a junior varsity team — but Hildebrand said turnout will dictate size. 
"There are some opportunities for underclassmen to compete in varsity events," he added. "Sports like wrestling, cross country, track and swim. If an underclassman is talented enough to enter in those varsity events, there's an opportunity to do that."
Although the majority of sports will have a new and completed home this fall, two sports will not. Hildebrand said the aquatics center and the tennis courts will not be completed in time for the start of the year. If sports are allowed to resume, those teams will still compete, but will not be able to host events. 
Much has been left to be decided this month — plans, logistics, health standards — but Hildebrand says his coaches and players will be ready if they're given the green light to proceed with the fall season. 
"We're excited to build something special," Tenner said. "But we're just like everybody else, anxiously awaiting approval and hoping the kids have a season to play."