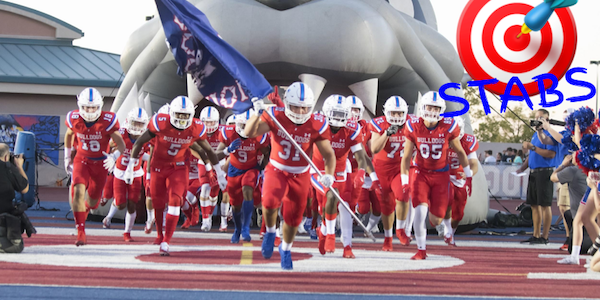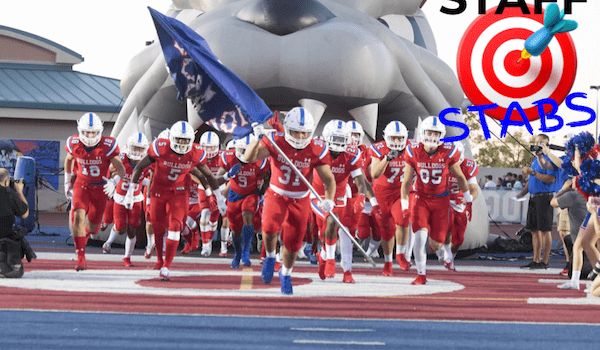 As We All Nervously Await December, SportStars Is Using Each Thursday Of October To Reveal The Early NorCal Football Predictions Of Different Staff Writers...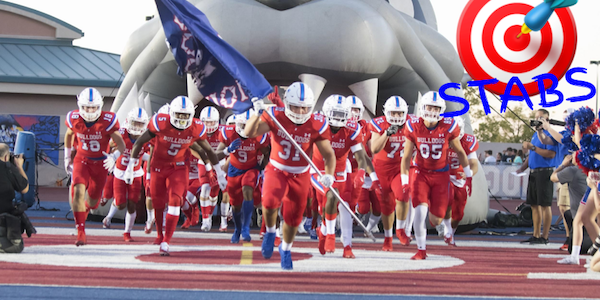 As We All Nervously Await December, SportStars Is Using Each Thursday Of October To Reveal The Early NorCal Football Predictions Of Different Staff Writers •
We've officially entered our 2021 Season Preview mode. Because it's not like anything else is happening. So it's time for some early NorCal football predictions.
Before we start our deep research dives for this very strange winter football campaign, we asked some of our writers to take some "educated" guesses on a few things. We're calling the series "Staff Stabs." It will be a mix of lightheartedness and early analysis with the intent of spreading good vibes and conversation about the upcoming season. 
We'll post a new one every Thursday in October. SportStars editor Chace Bryson revealed his guesswork on Oct. 15 after Ike Dodson kicked off the series. This week, writer Steven Wilson takes his turn on the hot seat. Here's our newest NorCal football predictions! 
TOO-EARLY PRESEASON TOP 10
1. DE LA SALLE-CONCORD 
Because: Copy, paste.
No, really though: Tua Tagovailoa isn't the only left-handed QB making headlines this football season. Come January, senior lefty Dorian Hale will become the first three-year starter at quarterback for De La Salle in a decade. Hale, who's headed to Sacramento State next year, has a strong arm and he's a talented dual-threat. After leading the Spartans to the CIF State title game twice, he'll look to do it again, with a lot of familiar faces like Lu Magia Hearns and Mekhi Norfleet.
_______________________________
SportStars NOW
Get the New App in the Apple Store & Google Play
_______________________________ 
2. MONTEREY TRAIL-ELK GROVE
Because: Revenge, duh.
No, really though: If the Mustangs can get off to a fast start, they have the motivation and talent necessary to make a deep postseason run. Regardless, we might not see this ranking take hold until the end of the year. Monterey Trail opens at Folsom, hosts Cosumnes Oaks-Elk Grove, visits Del Oro-Loomis, before hosting 2019 CIF State champion St. John Bosco-Bellflower and Pittsburg in non-conference play. If they make it out of there with three or four wins, that would be impressive.
3. OAK RIDGE-EL DORADO HILLS
Because: Do you know anyone named Justin that hasn't had success? Justin Timberlake, Justin Bieber, Justin Verlander, Justin Smith…
No, really though: After leading the SFL with 3,114 yards and 24 touchdowns through the air, Justin Lamson is back for one more go-around. He shined in last year's cold and rainy SJS Div. I final, but it wasn't his arm that he relied on. Instead, he tallied 129 yards and three TDs with his legs. The Trojans return many of his offensive weapons, as well as a pair of standout linebackers in Ryan Enney and Hunter Nabers.
4. SERRA-SAN MATEO
Because: I like to think the S on their helmet has something to do with my first name.
No, really though: Last year's team tied the school record for most wins in a year with 13, and finished fourth in the record books in scoring (499 points). Most of that firepower returns, and it's a big reason they've consistently shown up on NorCal football predictions lists like these. Dual-threat QB Dominique Lampkin will be back under center after accounting for 12 scores in 12 games. Leading wideout Vince Poni and leading tackler Fynn Williams will also be back for the Padres.
5. FOLSOM
Because: You can't ever feel good about leaving them off lists like this.
No, really though: A disappointing end to a 10-win season last year likely left a sour taste in Paul Doherty's mouth. But the second-year coach has the chance to prove doubters wrong, and he'll do it with Stanford commit Ari Patu. Quick reminder; in his first year coaching dual-threat QB Hunter Rodrigues at Whitney in 2016, Doherty's offense put up almost 5,500 total yards of offense. Patu is poised for a big year.
6. PITTSBURG
Because: They have some of the best uniform combo's in California.
No, really though: Last year, senior signal caller Jerry Johnson was named the Bay Area News Group Offensive Player of the Year, and threw for 2,917 yards and 34 TDs for the 11-2 Pirates. Filling his shoes will be tough, but three young QBs have that chance; Eli Brickhandler, Jaden Rashada, Christian Aguilar will battle to take over what should be a potent offense.
7. VALLEY CHRISTIAN-SAN JOSE
Because: They already dealt with multiple losses to Serra last year, including the playoffs, and now they have to look up at them on this list.
No, really though: Really, the Warriors have just two wins in their last 11 matchups with the Padres. And that spoiled a terrific 11-win season last fall. The defense is poised for another strong year, but look out for 5-foot-9, 200-pound RB Chase Laubach (900 yards, 7 TD) and 6-1 wideout Jurrion Dickey (541 yards, 7 TD) to ignite the Warriors offense this year.
8. CLAYTON VALLEY-CONCORD
Because: Any team that recognizes its own ugliness, deserves to be on this list, or any list.
No, really though: This is likely too low for the Ugly Eagles, but they'll need to secure wins against any of the East Bay Mountain League teams to convince me to move them up this list. There's strong potential for that this season. Led by senior QB Jake Kern and returning 1,400-yard rusher Omari Taylor, Clayton Valley is poised for another CIF state bowl championship run.
9. ROCKLIN
Because: Defense wins championships.
No, really though: It's cliché, but don't forget that Rocklin beat Oak Ridge last year behind a dominant second-half performance and finished second in the Sierra Foothill League. They have a great 1-2 punch with QB Richie Watts and OLB Cian Stone, who had a pick of Lamson to seal that win for the Thunder. Oh yeah, they also have the nation's No. 1-ranked kicker, Cole Becker.
_______________________________
STAY CONNECTED:
Follow SportStars on Twitter & Instagram | Like us on Facebook | Subscribe!
_______________________________
10. COSUMES OAKS-OAK RIDGE
Because: You guys might not know this, but I consider myself a bit of a loner. I tend to think of myself as a one-man Wolfpack. Not anymore. I'm joining the CO Wolfpack bandwagon.
No, really though: CO put together an impressive 2019 campaign with a young core. Behind a 33-touchdown season from dual-threat QB Anthony Grigsby Jr., the team had big wins against Elk Grove, Monterey Trail, Jesuit and Granite Bay. They have a brutal schedule, but should be better for that in the long run. Look for a late postseason push from the Wolfpack and keep an eye on returning RB Christian Ridgeway and top tackler Isaiah Bobbitt-Byars.
NORCAL SURPRISE TEAM OF THE YEAR: Rocklin
Does this qualify as a surprise? The Thunder had the top defense in the SFL last year and they expect to be a top-three team in the Sierra Foothill League again. Another upset over Folsom or Oak Ridge would cement their legitimacy.
MOST SUCCESSFUL NEW COACH: Casey Taylor, Inderkum-Sacramento
As Ike mentioned in his stab, Taylor gets to take the reins of an Inderkum program that won 11 straight games last year. He'll have his work cut out for him after a senior-heavy team a year ago, but Taylor knows how to get the most out of his teams.
NORCAL PLAYER OF THE YEAR FAVORITE: Justin Lamson, Oak Ridge
Lamson's got a strong arm — the zip on his passes didn't diminish in the cold weather last year, and that's a great attribute for someone committed to a school in upper New York state. It's  even better for a quarterback playing outside in January this year. Look for him to post another 3,000 yard season.
NORCAL OFFENSIVE PLAYER OF THE YEAR FAVORITE: Dorian Hale, De La Salle
This is really a toss-up. Ari Patu should be noted here, but Hale could have the stats to really prove why he deserves this honor. For that to happen, De La Salle would likely have to play him all four quarters of their games (an unlikely scenario). It's evident he's special — the offense adapted to more of a passing attack. But they had such big leads in most games, he didn't see action in the fourth quarter usually. The southpaw still managed 2,038 passing yards and 19 TDs while rushing for 577 yards and 14 more scores.
NORCAL DEFENSIVE PLAYER OF THE YEAR FAVORITE: Prophet Brown, Monterey Trail
If he's not at the top of this list at the end of the year, you'll find him here. Brown is the best defensive back in the SJS and he should provide plenty of firepower on offense as well. He's a burner and could not be stopped last time he was on the field, scoring four times against Oak Ridge.
PLAYER I MOST CONSIDERED BUT DID NOT LIST ABOVE: Anthony Grigsby Jr., Cosumnes Oaks
The dual-threat QB has a tough preseason slate against Mater Dei, Oak Ridge and Monterey Trail, but he's talented and experienced. Last year he accounted for 33 touchdowns and he's got interest from six college programs, including Cal Poly, Idaho and Sacramento State.
CAN'T MISS SEASON-OPENER: Monterey Trail at Folsom, Jan. 8
There's plenty to choose from here. In fact, I considered sharing the De La Salle/St. John Bosco opener, but the Bulldogs and Mustangs week zero matchup will tell us more about the state of the SJS (and also about the accuracy of NorCal football predictions like these). Folsom will undoubtedly have revenge on its mind after falling to Monterey Trail in last year's playoffs
PERCENTAGE OF CONFIDENCE I HAVE THAT SEASON WILL RUN UNINTERRUPTED: 55
NUMBER OF GAMES I'LL COVER THAT INCLUDE FANS: 6-7 
NUMBER OF GAMES I'LL COVER IN EITHER RAIN OR SNOW: 1, and I'm done. I learned my lesson after living in Iowa for two years.