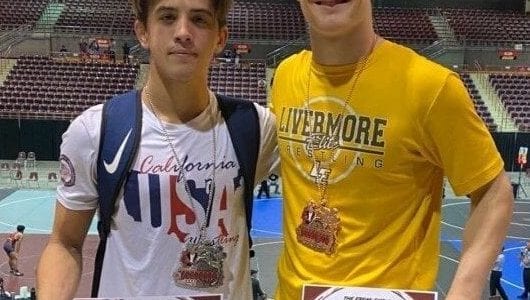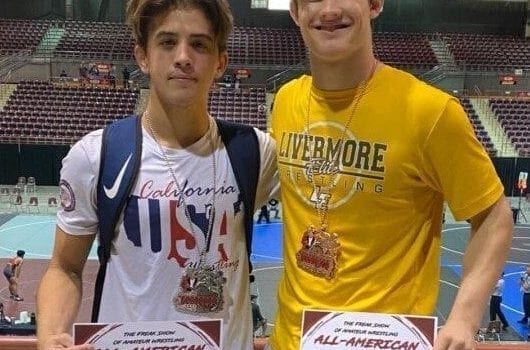 Bailey and Cowan place at Freakshow The Livermore Elite Wrestling Club (LEWC) entered nine competitors into the 2020 Freakshow hosted by the Ford Idaho Center and RMN...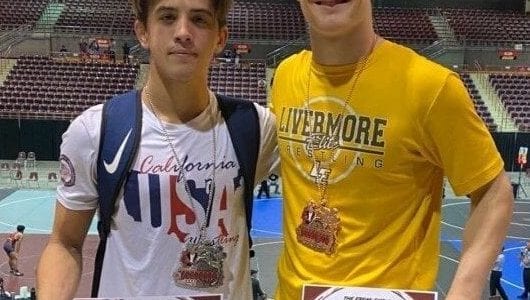 Bailey and Cowan place at Freakshow
The Livermore Elite Wrestling Club (LEWC) entered nine competitors into the 2020 Freakshow hosted by the Ford Idaho Center and RMN Events in Nampa, Idaho. Dubbed "The Freakshow of Amateur Wrestling," it is a Halloween-spirited national tournament that attracts the best, most competitive wrestlers in the country. Competition is so freakish, heavily stacked and fierce, that two divisions exist: Varsity and Elite. Based on skill level and experience, wrestlers must make an important, sometimes humbling, decision upon registration to ensure they compete where they belong. When asked to explain the difference between the Varsity and Elite divisions, Timothy Cowan described, "The Elite division has a lot more state placers, state champs, and nationally ranked guys. There's less people but they are top level wrestlers."
Although the team's overall performance was bittersweet—riddled with disappointment, loss, and victory—LEWC's final results are truly a testament to the program's remarkable success and perpetual finetuning of its notable growth mindset and positive attitude. With two Elite medalists, two Varsity top-eight finishers, and five others bettered by the experience, the Livermore Elite Wrestling Club grappled with the grit, perseverance, and character needed to compete on a national stage.
_______________________________
SportStars NOW
Get the New App in the Apple Store & Google Play
_______________________________
Timothy Cowan had an impressive 6th place finish in the 18U 160lb Elite division. Unfortunately, after being caught in an illegal submission-style arm lock and suffering a serious elbow injury, Cowan, though he wrestled one more match, "injury defaulted" his final match. When asked if he was happy with his performance before his injury, Cowan responded:
"Yeah, I felt like I wrestled pretty well. My quarters final match didn't really go the way I wanted. I was up 3-1, with like 15 seconds left, and then lost 4-3… which kind of sucks, but I feel like I learned more from that match losing it than if I'd won."
Sharing his thoughts on recovering from the physical setback and spending time off the mat, he said: "I can't wrestle right now, obviously, but I still have to try to keep in that mental side of it… it's time to heal and just focus on the mental side of wrestling."
Carter Bailey had an outstanding 2nd place finish in the 18U 126lb Elite division. In spite of his incredible achievement, Carter returned home motivated by his 4-1 defeat in the finals and went right back to work. Clearly determined to strengthen and expand what he feels were physical limitations, Carter said:
"I'm not happy with my performance, but I definitely learned from it. Coming back, I realized I wasn't in as good as shape as I wanted to be. I hadn't been lifting as much, and I realized that was a big factor. The guy I was wrestling in the finals was stronger than me and he just tired me out that way… so when I came back I started lifting every day, and I've been feeling better."
As competitive athletes often realize, the pressure of high-level competition mixed with the passion for victory can cause them to tighten up, inadvertently diminishing potential. Setting aside the physical demands and technical rigor Carter embraces daily, he finetunes his mental edge as an equal part of an ongoing process. Emphasizing an adjustment that he intends to make, Carter Bailey added:
"… I need to open up more… I opened up more back at the Western State's Tournament, but at this tournament I was closed down a little and just sticking to one or two moves instead of using all my moves, so this tournament, especially my final's match, was a big eye opener."
Despite the Elite division, the Varsity division is nothing to sneer at with some of its weight classes posting 128 man brackets like it did for Jackson Morgan, who competed in the 18U 145lb Varsity division. Jackson battled through nine matches, a beastly run for a single day, to move into the final round of eight. Jackson had a notable tournament with a final record of 7-2. When asked how he evaluates his performance, Jackson said, "I feel like I did really good… I felt better than most kids. I felt my opponents getting a little bit tired and I had all my energy, [which I attribute to] practice and going on runs on days we don't have practice."  Reflecting on what he gained from the experience and might improve, Jackson added, "[I need to sharpen] some minor details with shots and defenses, like when I'm on bottom dealing with cradles and all that. I need to be more aware."
Competing in the 13U 123lb Varsity division, Kekoa Ogawa also made it into the final round of eight. Kekoa shared: "I think I got more confident after each match and then at the end I felt good. It was really fun… It was hard though." When asked what he needs to work on to become a better wrestler, Ogawa stated, "Usually, every shot I take, I just stop, so I've been working on shooting through… and getting under the opponent when I'm on top."
_______________________________
STAY CONNECTED:
Follow SportStars on Twitter & Instagram | Like us on Facebook | Subscribe!
_______________________________
Other Livermore Elite Wrestlers who gained invaluable experience while displaying team fortitude were Jayson Victoria 15U, Kaylyn Williams 15U Girls, Julian Victoria 18U, Josiah Hurd 18U, and Jalen Bets 18U Girls. These grapplers put their practice and training to the test, developing as individuals and teammates. As Julian Victoria, who went 2-2 at 138lbs, stated, "The team experience was good. The tournament was good. I'm still rusty, but I think I wrestled well. I know where I'm at, and I know what to work on." Jalen Bets, who went 1-2 at 101lbs, also shared notes from her experience: "I noticed that I did improve a little bit from my weaknesses last time I wrestled, but I still have some things I need to work on bottom and from my feet. I faced some tough competition that I didn't see in California. I am glad I went."
As nothing can replace experience, LEWC's overall growth from the experience had at the Freakshow is irreplaceable; moreover, the team bonding is priceless. When asked about the team experience, Coach Jeff Morgan said:
"Overall, it was a worthwhile experience. Every kid got good matches in, every kid got some good competition, every kid was able to be supported by their teammates, and every coach was able to support the kid. It was a really good team experience… I was just really excited that there was a tournament. Kids got to come out, and kids got to compete, and kids got to challenge themselves as well as put themselves into some positions for success as well as opportunities to learn. It was really nice to be able to have that again."
Coach Rich Bailey added:
"It's the first time our club has ever had two placers in Elite. We had two in the round of eight in Varsity. It felt great taking nine guys… it's nice to posse up all our studs and go to a tournament. We haven't really had a chance to do that. The kids have been working hard, you know, and I think wrestling has galvanized them. It brings them together. It's been really good for the kids, giving them something… a chance to focus goals."
During these isolating times of Covid-19, when nearly everything people hold dear is restricted to some degree or another, LEWC's program, and others like it across our nation, demonstrate a freedom earned, one held by those willing to make the personal sacrifices necessary to compete. Through hard work, dedication, and risk, in a world without guarantees, these competitors earned their chance to compete against the best who had done much of the same. LEWC's performance at the Freakshow is a testament to their program's enduring success, and their program's enduring success is a refreshing testament to the human spirit.
Feature image: ALL-AMERICANS (L to R): Carter Bailey (Granada HS), Timothy Cowan (Livermore HS)
Story by SportStars INSIDERS, by Al Fontes & Pete Matheson. Follow them at www.thecaliforniawrestler.com