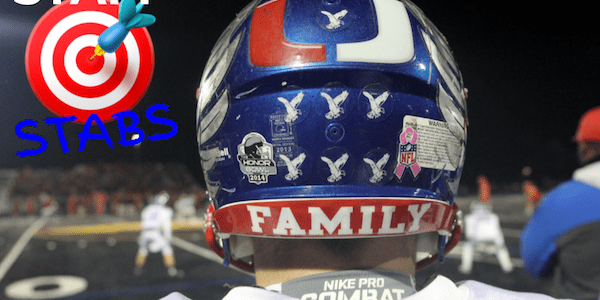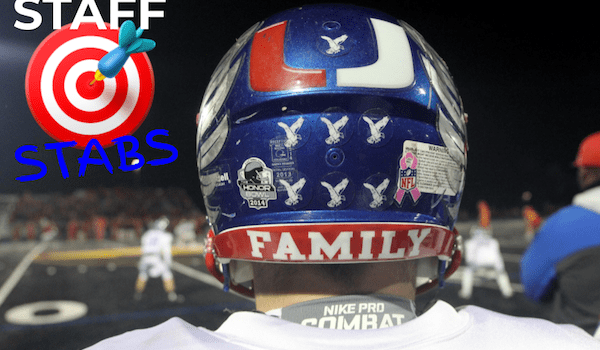 As We All Nervously Await December, SportStars Is Using Each Thursday Of October To Reveal The Early Football Predictions Of Different Staff Writers •...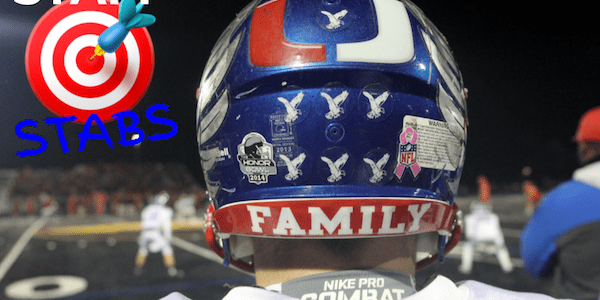 As We All Nervously Await December, SportStars Is Using Each Thursday Of October To Reveal The Early Football Predictions Of Different Staff Writers •
We've officially entered our 2021 Season Preview mode. Because it's not like anything else is happening. So it's time for some early  football predictions.
Before we start our deep research dives for this very strange winter football campaign, we asked some of our writers to take some "educated" guesses on a few things. We're calling the series "Staff Stabs." It will be a mix of lightheartedness and early analysis with the intent of spreading good vibes and conversation about the upcoming season. 
We'll post a new one every Thursday in October. Ike Dodson kicked off the series and was followed by editor Chace Bryson on Oct. 15  and writer Steven Wilson on Oct. 22. Here's our last batch of NorCal early football predictions courtesy of longtime SportStars writer Jim McCue. 
TOO-EARLY PRESEASON TOP 10
1. DE LA SALLE-CONCORD 
Because: Not even 2020 can halt the Spartans' hold on the NorCal top spot.
No, really though: The Spartans have always restocked talent, but this year they have plenty left on the shelf from last season's successful run through all NorCal competition. Third-year starting QB Dorian Hale has the talent and experience to lead De La Salle to another undefeated season. He'll have support through the air from two-way star WR/DB standout Lu Magia Hearns and on the ground from RB Mekhi Norfleet.
_______________________________
SportStars NOW
Get the New App in the Apple Store & Google Play
_______________________________ 
2. SERRA-SAN MATEO
Because: Tom Brady is still winning.
No, really though: The Padres can still rack up W's with a known entity at QB as junior Dominique Lampkin takes over under center full-time. Senior leadership will be evident on both sides of the ball. 2019 rushing leader Vince Poni and tackles leader Fynn Williams are back for Serra to take another run through the West Catholic Athletic League gauntlet.
3. OAK RIDGE-EL DORADO HILLS
Because: Gavin Newsom wrote an executive order to have his new hometown's team in the SportStars Top 3.
No, really though: Senior QB Justin Lamson is probably more popular than any politician in El Dorado Hills and beyond. The Syracuse commit is a legitimate candidate for Player of the Year in NorCal. The defending Sac-Joaquin Section Div. I champions have the star power and confidence to take over the Sierra Foothill League and SJS from longtime nemesis Folsom.
4. MONTEREY TRAIL-ELK GROVE
Because: Beating Folsom gives a program even more cache than they already earned.
No, really though: Despite falling just shy of a SJS title, the Mustangs have good reason to believe that a section crown is within reach. Two-way superstar Prophet Brown is on nearly every POY watch list, and head coach TJ Ewing has always gotten the most out of the talent on his roster. Monterey Trail has a challenging nonleague slate that could prepare the team for the rigors of playoff football.
5. VALLEY CHRISTIAN-SAN JOSE
Because: Warriors' baseball coach John Diatte once told me that "defense wins championships."
No, really though: Football coach Mike Machado also knows that defense is key as the Warriors pitched four shutouts in 2019 and gave up an average of just 6.3 points per game. Leading tackler Will Cuddie is just a junior and the youth movement is strong on offense as well as WR Jurrion Dickey led Valley Christian in receiving as a freshman.
6. CLAYTON VALLEY-CONCORD
Because: Being Ugly keeps you out of the top 5 in football polls and beauty contests.
No, really though: Clayton Valley finished the 2019 regular season with a 2-game losing streak before winning 5 straight playoff games en route to an improbable CIF State Bowl Championship. Head coach Tim Murphy hopes to ride whatever momentum is left after more than 12 full months. He'll do so while counting on returning offensive leaders in RB Omari Taylor and QB Jake Kern to keep on a roll.
7. FOLSOM
Because: I am a Folsom resident and I don't like to drive very far to cover playoff games.
No, really though: The Bulldogs find themselves in the strange situation of not entering a season as defending SJS champions, but they will be back in a familiar situation with a star QB to rely on in Stanford commit Ari Patu. The Bulldogs have some reloading to do at the skill positions on offense, but Patu could bring back fond dual-threat memories of Kaiden Bennett, Jake Jefferies, Tanner Trosin and Dano Graves.
8. PITTSBURG
Because: The Pirates have more QB depth than most NFL teams.
No, really though: While Pirates head coach Victor Galli's abundance of riches under center may make him the envy of the Dallas Cowboys, the depth at QB will pose a challenge. Jaden Rashada, Christian Aguilar, and Whiney-Rocklin transfer Eli Brickhandler will compete for the starting job. How Pittsburg takes advantage of its athletic talent will determine if they can stay in the Top 10.
9. COSUMNES OAKS-ELK GROVE
Because: I am easily swayed to jump on bandwagons.
No, really though: We may all look back on the CO Top 10 pick with regret, but the Wolfpack finished 2019 strong and return a trio of playmakers in QB Anthony Grigsby, Jr., RB Christian Ridgeway, and LB/S Isaiah Bobbitt-Byars. If CO makes it through a brutal nonleague schedule — including games against national powerhouse Mater Dei-Santa Ana and NorCal stalwarts Manteca and Monterey Trail — with its health and confidence intact then this team could prove any naysayers wrong by season's end.
_______________________________
STAY CONNECTED:
Follow SportStars on Twitter & Instagram | Like us on Facebook | Subscribe!
_______________________________
10. CARDINAL NEWMAN-SANTA ROSA
Because: If they have a great season and warrant a feature, then I can swing by the local breweries and grab some Pliny.
No, really though: How do you follow up a dream season that culminated in a state championship? The Cardinals will look to a senior trio who were not just part of an amazing run, but were largely responsible for that run. RB/LB Shane Moran, WR/DB Tsion Nunnally, and LB/OL Mitch Russell put up big numbers. If any program has shown an ability to adapt through unique hardships, it's this one. Head coach Paul Cronin can't just replace 2019 NorCal Offensive POY Jackson Pavitt, but he can let his returners expand their roles and make another run.
NORCAL SURPRISE TEAM OF THE YEAR: Inderkum-Sacramento
How can a team that's won 10+ games per year for more than a decade be considered a surprise? The Tigers graduated a lot of talent and move on from the Wing-T offense run by longtime head coach Terry Stark. However, new head coach Casey Taylor has a young, speedy, and raw squad that could be ready to pop a big surprise on a higher seed when Inderkum gets up to speed down the stretch.
MOST SUCCESSFUL NEW COACH: Casey Taylor, Inderkum
Taylor has been successful wherever he goes. He starts with his third program in five years where the cupboards are far from bare. Once the new offense is installed (if the Tigers ever get to handle a football at a practice), the Taylor "touch" is likely to yield positive results when it matters most.
NORCAL PLAYER OF THE YEAR FAVORITE: Prophet Brown, Monterey Trail
The USC-commit did it all in 2019, and on both sides of the ball. The three-sport (basketball/track) was named our 2019-20 SJS Male Athlete of the Year honor back in July. So what motivation does Brown have to up the ante in 2021? An SJS championship eluded the RB/DB as a junior, providing the Mustangs' Swiss Army knife to "fight on" and make the most of his senior season..
NORCAL OFFENSIVE PLAYER OF THE YEAR FAVORITE: Justin Lamson, Oak Ridge
Committed to Syracuse, Lamson is known for his arm, but can beat teams with his legs if needed. Lamson threw for over 3,000 yards and 24 touchdowns to lead the Trojans to the SJS Div. I championship and a state bowl berth. But during a rain-drenched section final, he ran for 129 yards and 3 TD. It's that kind of versatility and heart that put Lamson on the radar of recruiters and opposing coaches. Another big season and section title would surely have him in the running for OPOY.
NORCAL DEFENSIVE PLAYER OF THE YEAR FAVORITE: Zach Brooks, Davis
The Davis Blue Devils had a breakout season in 2019. They won 10 games and claiming the program's first Delta League title 25 years. Linebacker Zach Brooks — who also stars on the wrestling mat — led a stout defense with 123 tackles. He added 3.5 sacks and 3 fumble recoveries, one of which he returned for a touchdown. 2019 was Brooks' second season with 100-plus tackles, setting up a last hurrah worthy of DPOY consideration.
PLAYER I MOST CONSIDERED BUT DID NOT LIST ABOVE: Ryan Enney, Oak Ridge
With so much attention of the Oak Ridge offense and QB Justin Lamson, it's easy to understand why the Trojans' defense might get overlooked. As a junior, Enney made a name for himself with 142 tackles, including 103 solo tackles. He added three sacks and an interception for good measure. As a defending SJS champion, the linebacker is not likely to be overlooked. Instead, it's a good bet he'll lead the Oak Ridge defense and hover around 10 tackles per game.
CAN'T MISS SEASON-OPENER: Serra-San Mateo at Pittsburg, Jan. 8
The is must-see football, if for no other reason than to see who starts at QB for Pittsburg and how many of the Pirates' trio of signal-callers see action under center. There's also a Serra defense that recorded four shutouts in WCAL action in 2019 and Pittsburg's revenge motivation for a 58-21 beatdown in a Week 1 tilt last season. All of it adds up to an opener that rises above all others.
PERCENTAGE OF CONFIDENCE I HAVE THAT SEASON WILL RUN UNINTERRUPTED: 75
NUMBER OF GAMES I'LL COVER THAT INCLUDE FANS: Any that I can get to. 
NUMBER OF GAMES I'LL COVER IN EITHER RAIN OR SNOW:Prep sportswriters put the U.S. Postal Service to shame. Bring on the precipitation!