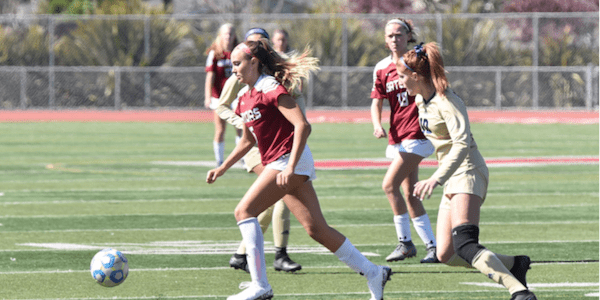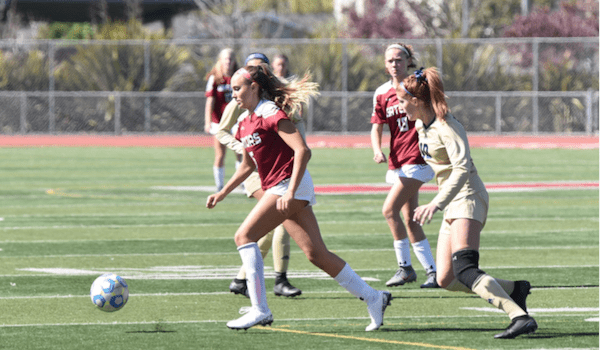 Iris O'Connor's Stellar Freshman Year At Sacred Heart Prep Included Three Varsity Sports — Now She Waits To See How Many She'll Be Able...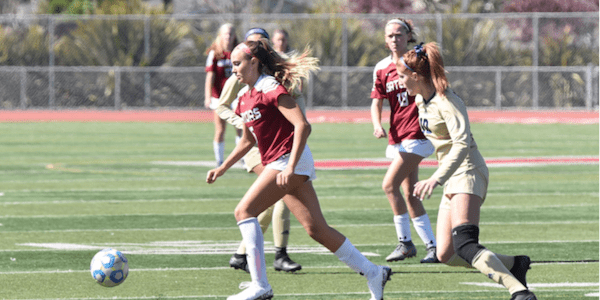 Iris O'Connor's Stellar Freshman Year At Sacred Heart Prep Included Three Varsity Sports — Now She Waits To See How Many She'll Be Able To Play As A Sophomore •
Iris O'Connor knows how to make a good impression. 
Even when she's not aware that she's making one. 
O'Connor, a skilled athlete with several club soccer and lacrosse seasons under her belt, decided to begin her athletic career at Sacred Heart Prep High in Atherton by showing up to the 2019 girls volleyball tryouts.
"I was aiming to be on the freshman team," she said. "I was just planning to play for fun and make friends."
But then she began tryouts.
"She was playing middle back row," recalled Sacred Heart Prep varsity volleyball coach Ali Magner. "She read a ball and reacted to it so quickly that Ali (Taufoou) my assistant and I immediately turned to each other and shared a look. 
"We literally knew in that moment that that sort of athleticism would be a must-have for our team. It was a moment that I won't forget and it led to one of the best decisions we ever made."
That moment would lead to O'Connor's remarkable — and extremely rare — freshman year of competing in three varsity sports. At an extremely high level. 
O'Connor played a key role for a volleyball team that played in both Central Coast Section and CIF NorCal finals matches. She starred on a CCS-champion soccer team and was just getting warmed up on a 2-0 lacrosse team when the coronavirus outbreak brought everything to a halt. 
_______________________________
SportStars NOW
Get the New App in the Apple Store & Google Play
_______________________________ 
Now, like so many other NorCal athletes, she waits and wonders when the next time she'll get to play any sport in her home state.
The screeching halt of her daily life of athletic competition wasn't easy. 
"During the first part of the shutdown last spring, I think she struggled with (distance learning) in a way that surprised me," Iris's dad Michael O'Connor said in a phone call from New York City where he and Iris have spent several weeks visiting his two other daughters. 
With it clear that on-campus learning and sports weren't returning to California anytime soon, Michael O'Connor looked at other alternatives for Iris. He enrolled her in the Laurel Springs online school for a little more structure. The intent, however, is to re-enroll at Sacred Heart Prep once campus learning and sports are set to return. 
"I thought it might be a good idea to do something different," Michael O'Connor explained. "Someone recommended Laurel Springs and we've since learned that a lot of student athletes have enrolled in it. The main difference is that, instead of a traditional school trying to adapt to distance learning, (Laurel Springs) is already a well-established online learning program. I think it's helped, and I've really appreciated how flexible Sacred Heart has been about it too."     
Iris O'Connor has been able to get in a little bit of training and out-of-state competition with her Steps Lacrosse Club team. However, if sports do get the green light in California, she's more than willing to try suiting up for all three of her Gators teams during the five- or six-month crunch of CIF sports.
"I definitely want to try," she said. "Even if it means playing soccer and lacrosse during the same season. There's a high chance I could have a game every day of the week — but I'm OK with that."
This idea and attitude won't shock any who know her. 
Iris grew up as the youngest of three daughters, and sports were a big part of family life. The oldest, Micaela, played on a nationally-ranked AAU basketball team and became a collegiate rower at Columbia University. Middle child, Pilar, was a high-level club soccer player. Iris grew up trying just about everything. She eventually settled on both soccer, and the sport her dad played at both St. Ignatius High and Cal — lacrosse. 
When Iris O'Connor wound up on the Gators varsity volleyball roster, it wasn't as a token development project. She quickly found her way into the rotation as a defensive specialist. 
Iris would go on to post more than 150 digs on the season to help Sacred Heart Prep go 26-12 and reach the CIF Division IV Northern Regional final. The Gators fell just one set short of a state championship berth. 
"An athlete is an athlete, and she's a rare breed," Magner said. "She's confident and brave and a relentless competitor. She didn't know the complexities of the game, but you would never know that she was perhaps lost in the rotation or whatever. Her athletic ability and mindset just kicks in."
It's safe to say Sacred Heart Prep lacrosse coach Wendy Kridel was not surprised to see O'Connor's success on the volleyball court. Iris was already a staple on Kridel's Steps Lacrosse Club team.
_______________________________
STAY CONNECTED:
Follow SportStars on Twitter & Instagram | Like us on Facebook | Subscribe!
_______________________________  
"Iris has a real innate talent to her," Kridel said. "It's a very high level of understanding of the sports that she plays. Coaches often call it an athletic IQ. I think she brings that along with her natural athletic abilities to whatever sport she's playing. That gives her sort of a leg up."
O'Connor transitioned right from Sacred Heart volleyball to varsity soccer — the sport that may have actually been her first love. 
She started early with Mountain View Los Altos Soccer Club and then moved on to SF Elite in San Francisco where she was the club's top scorer in her age group. After a season in the San Jose Earthquakes Development Academy, O'Connor needed a break. 
"I got a little burnt out of soccer," she said. "Id' been playing both soccer and lacrosse for a while. I knew I wanted to play school sports, so I quit club soccer in eighth grade."
She hit the pitch running for the Gators, and found an even higher gear in the postseason. Iris finished second on Sacred Heart with 11 goals as a freshman. She may have shined brightest in the CCS playoffs, combining for three goals and one assist across three games.
"Iris is tough and she's rarely in the wrong place," Kridel said. "She wants the ball late in the game. She's not afraid of it." 
Did we mention she scored the championship-clinching goal in the waning moments of a 1-0 Div. IV soccer finals victory over Salinas?
The Gators lost their opening round match in the CIF regional soccer tournament, and Iris was in her lacrosse uniform just two days later. That team dominated its first two matches before the shut down. 
With California tightening its re-opening restrictions as the state's COVID-19 infections began rising once again, the governor and state health department announced Nov. 16 that a rollout of new guidelines for a return to youth sports would be delayed. That decision places O'Connor's shot at a volleyball season in jeopardy, certainly the start of it anyway.
However, soccer and lacrosse may have a better shot at happening by March. Kridel would have no issues with Iris attempting to play both simultaneously. 
"She's good enough to do it, so why would the soccer coach or me want to take her from the other program? I've got a bunch of soccer players and some basketball players and some cross country runners as well. It's gonna make for some very weird practices."
Meanwhile, the shutdown forced Iris to filter her creative energy into other passions. That led to Sucka Free Certified — a sweatshirt company she started with sister Pilar, a graphics arts graduate of Boston University. 
The sweatshirts, which the sisters create themselves by recycling thrift store purchases, are designed to honor various professional athletes. The theme is typically a combination of the player, the city he or she represents, and the sports brand they are most known for representing. The easy example: Michael Jordan, Chicago and Nike. 
"After Kobe (Bryant) died, we wanted to make something as a tribute," Iris O'Connor said. "We love to go thrifting, so we made this tribute sweatshirt and realized, 'Hey, we're pretty good at this.'"
They built a website and sold out of the first batch they made. They are using Iris's time in New York to produce some more. It's a good distraction, and hopefully a bridge that eventually gets her back on a West Coast field or court sooner rather than later.
"No one really knows, so I'm kind of just hoping for the best," Iris said.
Iris O'Connor doesn't need to make impressions anymore. She just needs a competition.