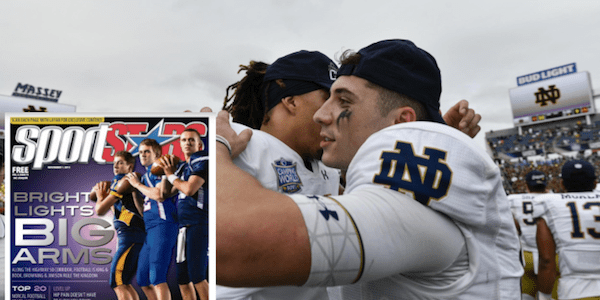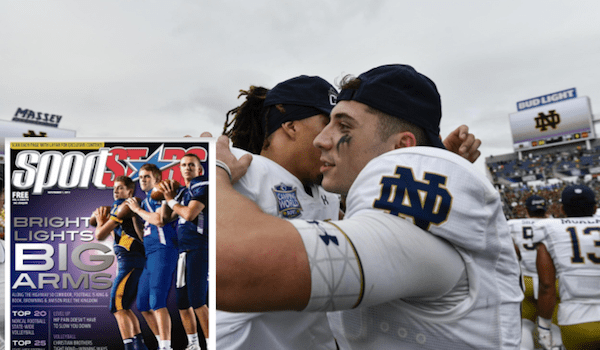 Seven Years After Appearing On SportStars' Cover, Oak Ridge Alum Ian Book Spoke With The Magazine Just Days Before His First Chance At Becoming...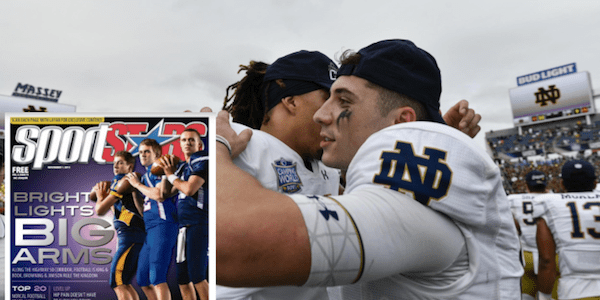 Seven Years After Appearing On SportStars' Cover, Oak Ridge Alum Ian Book Spoke With The Magazine Just Days Before His First Chance At Becoming Notre Dame's Winningest QB •
Notre Dame image: Roy K. Miller/Icon SMI via ZUMA Press
On Saturday, Dec. 5, Ian Book will start his last game on the Notre Dame campus. The Fighting Irish will line up against Syracuse, and a Notre Dame victory would be Book's 30th — which would make him the fabled program's winningest quarterback. More than Joe Theismann, Joe Montana or Brady Quinn.
Book will also have the chance to finish 16-0 at Notre Dame Stadium, which would tie the mark for best home record by a starting QB.
SportStars Magazine first began chronicling the career of Ian Book during his sophomore season at Oak Ridge High in El Dorado Hills. This past November marked seven years since Book joined fellow Highway 50-corridor quarterbacks Jake Browning (Folsom) and Matt Jimison (Vista del Lago-Folsom) on the front of the magazine's Sac-Joaquin Edition.
SportStars contributor Jim McCue wrote the November 2013 cover story, and has been following the three quarterbacks' careers ever since. As a lifelong Notre Dame fan, he may have been following Book's a little more closely in recent years.
On Nov. 30, McCue sat down for an extensive Zoom interview with the former NorCal standout. Now SportStars is releasing the full audio of their conversation.
_______________________________
SportStars NOW
Get the New App in the Apple Store & Google Play
_______________________________
During the interview, Book talks about his incredible success at Notre Dame and the mystique and atmosphere that comes with playing there.
"It's kind of corny, but I tell everyone to just watch (the 1993 film) 'Rudy,'" Book says. "I always revert back to that. What you see in that movie, you can still see at Notre Dame today. I just feel so fortunate to run through that tunnel like so many other great people have."
Ian Book also told the story of how he ended up in South Bend, Indiana. He originally committing to Washington State.
_______________________________
STAY CONNECTED:
Follow SportStars on Twitter & Instagram | Like us on Facebook | Subscribe!
_______________________________
"I never wanted to be that guy to de-commit. Ever," Ian Book said. "I just don't really like when people do that, and never thought I would."
McCue and Book also cover how pundits and scouts view his a player and NFL prospect. (Spoiler arert: He's not concerned with the doubters.) They discuss playing through a pandemic-riddled season, being selected for the Senior Bowl and his advice for high school players back home still waiting on a season.
"I think they should get a chance (to play)," Book said. "I feel bad for them. … Still, you have to get that message across that this virus is bigger than football. … If we want to play, we've got to sacrifice. I think a lot of high school kids need to understand that, and a lot of them do. I'd be doing everything I could to play if I was in high school right now."
Other topics include his immediate mentors, what quarterbacks he looks up to, and his relationship with current Oak Ridge quarterback Justin Lamson. Lamson is a 3-star senior recruit committed to Syracuse.
Listen to the entire interview, below.