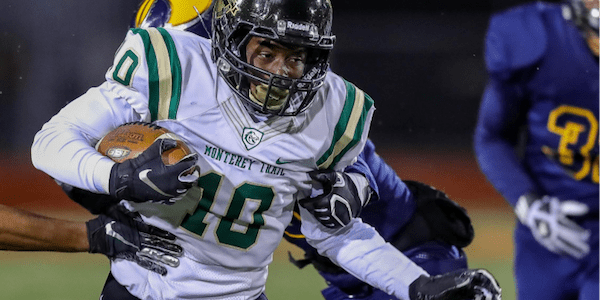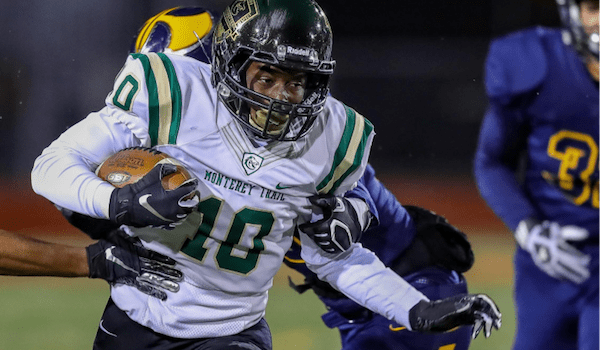 Several Sac-Joaquin Section Stalwart Programs Find Themselves In Different Places As Schools Race To Play Abbreviated Seasons • There will be Sac-Joaquin Section football....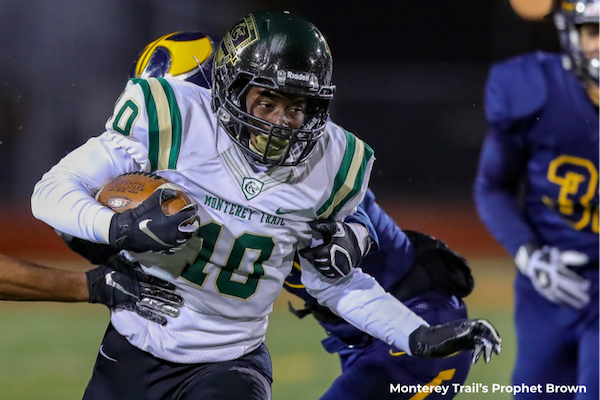 Several Sac-Joaquin Section Stalwart Programs Find Themselves In Different Places As Schools Race To Play Abbreviated Seasons •
There will be Sac-Joaquin Section football.
The state's relaxation of its youth sports guidelines on Feb. 19 opened the door for many Sac-Joaquin Section football programs to hold a spring season — albeit a short one.
Several SJS programs were able to hold their first padded practices on Feb. 26 as some counties reached the required COVID-19 case rate threshold of 14 or less per 100,000. Others were left to wait another week, but began releasing schedules with opening games on the weeks of March 12 or March 19.
Everything remains fluid though, and some programs find themselves in very different places than others. SportStars writers Jim McCue, Ike Dodson and Steven Wilson spent a few days checking in on some of the section's top programs. Here's a look at where each is amidst the whirlwind.
WALK THE LINE: Oak Ridge, Folsom On Different Paths
The line is said to be a difference maker in football, and lines will play a major role in the success of area high school football programs for the shortened spring schedule set to kick off on March 12. The line that may play the biggest factor for programs is not made up of road-grading giants or run-stopping beasts.
It just may be the demarcation line on a map. County lines have already provided some programs an advantage as schools in counties with less severe COVID-19 restrictions in the past year have been able to practice with a football and worked out in a weight room before the Feb. 19 announcement that finally lifted limitations on youth outdoor sports participation.
In the Sierra Foothill League — one of Northern California's deepest and strongest leagues — the seven member teams reside in Sacramento, Placer and El Dorado Counties. Teams in Sacramento County spent more time in the state's purple tier (widespread COVID-19 infection rate) and were more restricted throughout 2020. El Dorado and Placer Counties were in the lesser orange tier at times, which allowed for practice with a football and even some weightlifting.
Five of the seven teams — Rocklin, Whitney-Rocklin, Granite Bay, Del Oro-Loomis and Oak Ridge-El Dorado Hills — got a significant head start while Folsom and Grant-Sacramento lagged behind. Grant announced that the Pacers would opt out of the SFL season, leaving the six-time defending league champion Bulldogs with an uphill battle to make it seven straight titles.
_______________________________
CONNECT WITH US:
Follow SportStars on Twitter & Instagram | Like us on Facebook | Subscribe!
_______________________________
"It's not a level playing field," Folsom coach Paul Doherty said, "but we're just happy to have a chance to compete."
Folsom and Oak Ridge finished 1-2 in the SFL in 2019 and were expected to compete for league and section supremacy (the Trojans won the Sac-Joaquin Section Division I championship in 2019) in 2020, but circumstances arising from the pandemic have put the two programs on different trajectories in 2021. Just different those paths may be will come into focus on March 13. The two programs will face each other at 6 p.m.
OAK RIDGE: Coming off of the program's first-ever SJS Division I championship, head coach Eric Cavaliere believed his 2020 Oak Ridge Trojans could be the best team in program history, and have a shot at winning a CIF State Bowl Championship. Highly-recruited quarterback Justin Lamson was leading a strong group of players from the 2021 Class, and expectations were high as the calendar turned to 2020.
Of course, COVID-19 arrived and altered plans, including Lamson's decision to graduate early to leave for Syracuse University's spring program. But Cavaliere and a strong core of returners never stopped working, and will have an opportunity to prove how good they are — just without section or state playoffs to cement their legacy.
"There is a lot of excitement now," Cavaliere said of the chance to play a shortened league-only schedule. "These guys have been showing up through all of this, so it is great to see them rewarded with six games after sticking it out."
The strength of the Trojans lies in the "front six" on defense, led by senior middle linebackers Ryan Enney and Hunter Nabers that Cavaliere calls "the best inside linebacking tandem we've had." The pair combined for 210 tackles, including 18 tackles for loss, and six fumble recoveries as juniors, and are hopeful to take their talents to the college gridiron.
On the outside of the defensive front, senior ends Peyton Vota and Elijah Hansen will wreak havoc from both directions to make moving the ball a serious challenge for opposing offenses.
On the offensive side of the ball, wide receiver Brandon Barthel returns with added size and vast improvement after an All-SFL campaign as a junior. Barthel caught five touchdown passes from Lamson in 2019, and will be key in the development of new Oak Ridge passer, Drew Cowart. The 2020 plan, according to Cavaliere, was for Cowart to learn and develop while backing up Lamson. Instead, the young signal-caller will be the first sophomore to start at QB for the Trojans since Ian Book in 2013.
"His development will need to come quicker as the opportunity is coming earlier than expected," Cavaliere said of breaking in the new quarterback.
But the new QB will be surrounded by plenty of veterans eager to finally show the SFL and SJS just how good the program has become.
FOLSOM: While Oak Ridge is loaded with returning seniors excited for a last hurrah, the Folsom Bulldogs' normally overflowing cupboard of returning talent is unusually bare. Head coach Paul Doherty has just four seniors on a roster that shrunk from 75 varsity players in 2019 to just 31 for the six-game spring slate.
"We got a little thin," Doherty said of the reduced roster caused in part by the early graduation of several seniors, "but we would rather be getting ready to play six games than not play football."
Expected 2020 starting quarterback Ari Patu left for Stanford spring practices and defensive star Kaleb Higgins also graduated early to join Cal, which only added to the impact of 2020 graduates like Elijhah Badger, CJ Hutton, Daniyel Ngata and Jacob Reithmeier, who accounted for most of the Bulldogs' vaunted 2019 offense.
Junior Tyler Tremain will take over the quarterback position — one that comes with great expectations at Folsom — after excelling as a dual-threat QB for the Bulldogs' JV squad that beat De La Salle in the 2019 season opener. Tremain will be protected by a young offensive line that Doherty tabbed as the team's "best position group." Junior Braidan Freeland will anchor the line at left tackle and fellow juniors Isaiah Rheaume and Christian Newberry-Jones will fill the guard slots.
New starters, including transfer Rico Flores, Jr., will aid in the re-tooling process that might be more of a rebuild than the typical reload associated with Folsom. Flores, Justin Eklund, and Walker Lyons are all getting college offers from Power 5 programs, and will use the shortened season as a stepping stone to a Fall 2021 season that programs and players are hopeful for.
"With just 31 players, we will try to play all of the kids and let them compete," Doherty said. "We will try to get better every week, and believe that the shortened season will be worth the effort and that the process will get us to where we want to be."
— J.M.
GOLDEN EAGLE SURPRISE: Del Oro Set To Debut New Look
Like everyone else, first-year Del Oro-Loomis football coach Mike Maben responsibly uses a mask to cover his mouth and nose.
But when asked about the new offensive system tasked with revitalizing the firepower of one of Northern California's most storied programs, Maben takes Personal Protective Equipment to the next level.
It's the old mouth-zipped-shut technique.
"It does have a name, but not one that I'm going to reveal," Maben said cagily. "I have this one-game surprise, and after that everyone has film on me.
"This is all the surprise I get."
Maben said Del Oro could face most of its Sierra Foothill League opponents this year, but he doesn't have a concrete schedule. Schools, counties and school districts are still scrambling to manage play within California Department of Public Health (CDPH) guidelines announced Feb. 19.
Getting back on the field with a new, effective offense will be critical when Del Oro kicks off a shortened spring season in March.
Del Oro's defense has been consistently stout for the last five years, thanks in large part to coordinator Josh Parry, a former Philadelphia Eagle. Meanwhile, the Golden Eagles offense has struggled.
In 2019-20, despite winning 13 games and reaching a CIF bowl game (21-14 loss to Grace Brethren-Simi Valley) Del Oro averaged under 17 points for its final five games. Last season, Del Oro closed the year with three straight 21-point games. Turlock scored 42 to win their first-round playoff game, keeping Del Oro from the second round for the first time in 12 seasons.
The Golden Eagles should see scoring power from senior receiver, defensive back and kick return specialist Maclain Stoneking. Senior running back Logan Foster will likely lead the backfield, behind senior guard and Claremont McKenna commit Brian West, and hulking sophomore tackle Akio Martinson.
Maben said he has a few stellar senior athletes, like Isaiah Oates and T.J. Wilson, who could play several offensive skill positions. Wilson is a preferred walk-on at TCU.
Del Oro has three good quarterbacks, senior Logan Stough (2019-20 season cut short by injury), junior Ryan Lewis and junior Kyle McCormick.
"It's been a good but friendly competition between all those guys," Maben said.
The Del Oro defense is anchored by senior linebacker Reagan Arney.
It's a good crew for a first-year coach to put in work with. And though it's not always easy to see, their spirits were considerably lifted by the CDPH announcement signaling upcoming games.
"The real positive about getting back on the field is the smiles on kids' faces," Maben said. "You can't see the smiles with their masks on, so it's a smile with their eyes.
"I guess you call it a 'smize.'"
— I.D.
READY TO ROCK: Few Programs More Prepared Than Rocklin
In early January, roughly half of the Rocklin High varsity football team were engaging in daily workouts. After two postponements, collective energy was fading. But last week's announcement boosted their numbers back to a full 45, and excitement has skyrocketed—just ask head coach Jason Adams.
"High school football is an amazing experience in life and those guys can't wait to get out there and compete," Adams said. "Friday nights are a celebration of a week's worth of hard work, and a chance for kids and their families to watch them play. These are fleeting moments in life—they come and they go and you don't get them back."
When the announcement to restart the season this spring came, every member of the Thunder came rushing back. With no opt-outs, the only questions were with two seniors who have already signed collegiate letters of intent.
The first is Cole Becker, who is one of the state's top kickers over the last few years and committed to the University of Colorado. The other is two-way lineman Ilaisa Gonebure, who is committed to San Diego State. Both have decided to play this spring.
"We're going to do everything we can to make sure we make this special for our kids," Adams said, acknowledging the new overlap with other sports. "We have a couple of track athletes and a couple of baseball athletes that we're making it work for. Between varsity and JV alone, we have 10-12 kids who are going to try and do both at the same time."
Rocklin's schedule will include home games against Del Oro, Oak Ridge and Whitney-Rocklin, and road games against Granite Bay and Folsom.
With a full roster and plenty of returning starters, the Thunder will look to make some noise in the shortened season. They just hope their kids can pick up the playbook quickly and the coaches can implement more concepts with time.
"We have a ton of experience, and we were able to get some things (installed) before we got shut down the first time (in the Fall)," Adams said. "Will we be where we normally would be in week one? No, but will we be prepared to run enough offensive and defensive schematics to be successful? Yeah. We're going to make it easy on the kids, so they can play fast and have fun."
— S.W.
WHAT IF: Loaded Placer Excited, Wonders What Could've Been
Playing time is earned a little differently in the Endurance Capital of the World.
Placer-Auburn football players that have persisted through one of the most challenging offseasons imaginable have earned their place on the gridiron, regardless of their 40-time.
"Right now it is about getting these kids on the field, letting them have a chance to reap the fruits of their rewards," Placer coach Joey Montoya said in late February. "They have stuck with it and proven their grit through all the heartbreak and trials and I am going to get them on the field, throughout every game.
"I had a conversation with a kid today — a guy who would normally go in if we are up a lot, or down a lot — and I told him I am getting you in during crunch time, because you absolutely deserve it."
You don't win eight straight conference titles and appear in four consecutive Sac-Joaquin Section football championships without a tenacious hunger for victory, but Montoya's objectives have changed in a season postponed and shortened by COVID-19.
"It's not about winning, and it's not about the playoffs (cancelled this year), it's about the kids," Montoya said.
Hillmen faithful may forever remember 2020-21 as the "what if" year.
What if returning quarterback Martin Haswell, a former Auburn Little League baseball star and Cal Poly baseball commit, had a chance for a deep playoff run his senior year?
What if the next era of elite Placer linemen — 6-foot-3, 305-pound senior Chase Esty and his sophomore brother Zander Esty (6-1, 205) — had a full season to power Placer's prolific Wing-T offense?
Montoya said the skill players on this squad are comparable to any of his winning programs, invoking names like Owen Scott, Derek Haney, guys who are as much a part of Hillmen lore as the 45-ton concrete statue in Old Town Auburn.
Placer wouldn't be Placer without at least four guys who can explode upfield after a confusing series of handoffs in the backfield. This year that's Dylan Logelin, Zavery Guerra, Lavell Davis and Logan Wilkins.
Haswell also has talented wide out Alex Prieto to target, and Montoya is excited to see what basketball cross-over Isaiah Chenault (6-3, 200) can do at tight end.
The Placer defense is led by tackling sensation linebacker Noah Cardelli, linemen Chase Esty, Alex Rosales and lanky defensive back Isaiah Suggs.
"The unfortunate thing for us is I had a section title team," Montoya said. "We are pretty stinking talented.
"I think we could have made a run for it this year, and it's heartbreaking that they won't get to experience that."
— I.D.
MUSTANGS ROAM FREE: Monterey Trail In Schedule Limbo
Monterey Trail-Elk Grove continues to practice, but the program's spring season is in jeopardy.
Coach TJ Ewing says the team's Metropolitan league decided not to play, and he's been calling other programs to find replacements and claw out a schedule.
"Right now we're scrambling for games," Ewing said. "We're talking to a few schools right now, and any school that touches our county can play (us). We could go out to Concord, Yolo, Stockton… so we might have a lot of away games, but at least we're playing."
When Grant-Sacramento announced it would not play this season, the Mustangs petitioned to the Sierra Foothill League to take the Pacers' spot. Thinking that each SFL team would be down one game, and since most programs are sticking to league competition anyways, maybe they could strike a deal.
"We are kind of like De La Salle was with their open schedule," Ewing added. "But we don't have the EBAL to fall back on. So we wanted to slide into the Sierra Foothill League, but they basically said they didn't want us, and that's the same for the Delta — they didn't want to play us."
Ewing says he has a full team ready to play and many seniors like Prophet Brown — who is committed to USC — are looking forward to one last chance at a high school season.
"I've told our guys that we're going to play the most competitive kids like we would normally, and our seniors deserve that opportunity to compete for jobs," Ewing said. "So our mindset is we're going to play our season out. If you're around, you can get as much playing time as you want. It's what you earn, and the kids have been working their tail off."
— S. W.
SQUARE ONE: Cosumnes Oaks Braces For Unknown
Although the spring season is two weeks away for some programs, that's not the case for Consumnes Oaks-Elk Grove. The Wolfpack weren't given the go-ahead on Friday, Feb. 26 to issue shoulder pads and they haven't issued helmets. While other teams get ready to play on March 12, they await clearance from their district.
It's a frustrating reality for a program that was in the midst of a meteoric rise within the section, and had built a notably grueling 2020 schedule to test its mettle.
"We're still at square one," head coach Andrew Bettencourt said. "We're only allowed to do pod work, minimum amounts of people in each pod, and we're not allowed to have helmets or equipment yet… We haven't even been told by our district if we're playing."
Despite the slow response, Bettencourt has a few games scheduled. The team will face Monterey Trail, Davis High and Elk Grove — a potential senior night for both programs. He's had to resort to a mismatched schedule because only two Delta League teams were willing to play.
"Teams in our backyard, three miles from our school are calling other teams out of our league (to schedule games)," he said.
Bettencourt noted roughly ten seniors — all of whom signed letters of intent — won't be suiting up for this season as they prepare for college careers. Those seniors who aren't signed yet will get the chance to play.
"Realistically, we have to focus on our future of '22s and '23s because they've been stripped of a full year of games and workouts," Bettencourt pointed out. "You're potentially going to have schools with seniors who have never played a down of varsity football. That's a scary sight."
Bettencourt says he'll continue to search for more teams to play as he shapes their spring schedule.
— S. W.