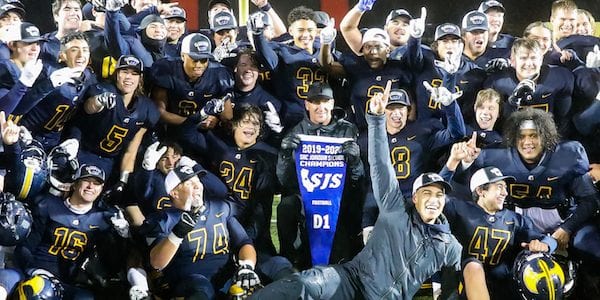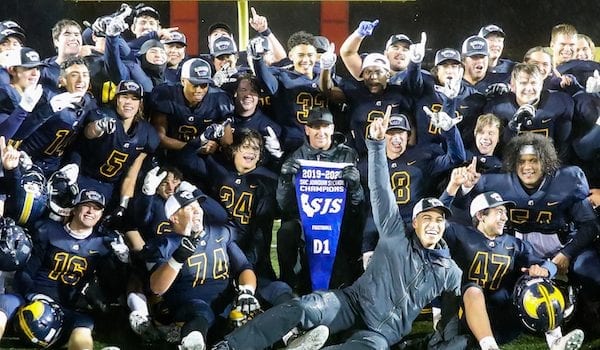 A Tough CIF NorCal Regional Loss Can't Dim The Afterglow Of Oak Ridge Football's First Section Championship In 15 Seasons • For most coaches,...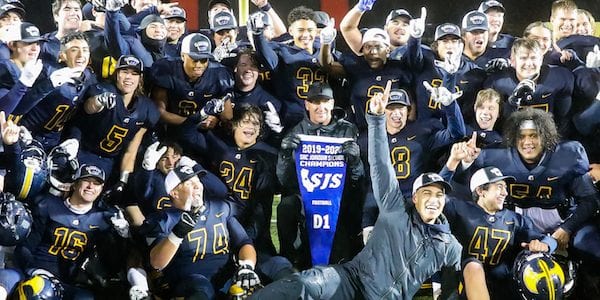 A Tough CIF NorCal Regional Loss Can't Dim The Afterglow Of Oak Ridge Football's First Section Championship In 15 Seasons •
For most coaches, celebrating your first Division I section championship victory in a windy downpour could damper the mood. But for Oak Ridge football coach Eric Cavaliere, it was 'perfect.'
"We made history," Cavaliere stated after his team defeated Monterey Trail-Elk Grove 35-27 Saturday night at Sacramento City College. "It's the first Div. I (title) in my coaching career, but this was a program win. Everyone earned it, the community, my coaching staff, our players — they all did an incredible job to make this happen and I couldn't imagine it any differently."
After reaching the Div. I championship in 2012 and 2013 and failing to claim the coveted blue banner, the third time just so happened to be the charm for Cavaliere and Co. 
Thanks to an explosive 21-point second quarter, Oak Ridge took a touchdown lead at halftime and held on in the second half sleet to beat Monterey Trail and claim the El Dorado Hills school's first football banner since winning three straight Division II titles from 2002-2004.
Before departing the field, Cavaliere and his staff happily posed for photos and shared hugs with family and friends. Soaked, and ready for a change of clothes, the group slowly dispersed. 
_______________________________
CONNECT WITH US:
Follow SportStars on Twitter & Instagram | Like us on Facebook | Subscribe!
_______________________________
It was 1 a.m. — roughly five hours after kickoff — before the team's buses and equipment trailer returned to its campus in the foothills above the capital.
"There wasn't a lot of time to celebrate, really," Cavaliere admitted. "…it was pretty much time for bed at that point."
The next day, Cavaliere awaited his team's seeding in the CIF State playoff bracket. He was told was to be released around 2 p.m. 
"So I planned for the coaches to meet at 11 and go to our favorite lunch spot, the El Dorado Saloon, which my running backs coach happens to own," Cavaliere explained. "We had planned a nice lunch; we were going to decompress and give a few atta-boys, pat a couple guys on the back, and hang around until two o'clock."
Ten minutes in, the Oak Ridge football coaches got a text. The Trojans were the top seed in the 1-AA bracket. They would host Central of Fresno on Friday night.
"Instantly, we went right back to work," he added. "So we're shoveling down our food so we can get back to our computers and start our prep work."
That preparation morphed into a shoot-out. 
The Trojans put up 32 points, including 21 in the first quarter, against Central, but ultimately it wasn't enough. 
"They're definitely the best team we've played all year," Cavaliere admitted. "They're very talented and have a host of scholarship-level players, and they're well coached. They came in here and played a really good game. They played as advertised, but I felt like we were right there with them."
Junior quarterback Justin Lamson threw for 210 yards and added another 65 on the ground in the loss. He added a pair of touchdown passes, but also threw a pick, which was returned 51 yards to the house as Central took a 31-21 lead in the third quarter. 
"There was never a time when I felt we couldn't win that game," Cavailare added. "They just played mistake-free football and we didn't. Justin has been a great leader for us all year. In fact, since I came here in '98, he's the first underclassman to be voted as a team captain. That'll tell you about the respect his teammates have for him."
Lamson showcased his toughness after tweaking his knee in the opening quarter of the Trojans' first game of the 2019 season. And despite the coaches shifting to more of a passing attack, he battled to stay on the field. 
"He's one of the most competitive players, maybe the most competitive player, I've ever coached," Cavaliere stated. "And not just on Fridays. He's competitive during the week and he's always setting the bar high."
In the playoffs, Lamson was back to 90 percent, and the coaches took advantage of it. 
In the wet conditions of the SJS final, the junior was called on to carry the load with his legs. He rushed for 129 yards and three scores on 24 carries.
"He's a great athlete," Cavaliere pointed out following the Trojans' section championship win. "He's been a great runner, but we just haven't run him this year. He was a little banged up earlier in the year, so we really tried to save him. We finally got to turn him lose the last couple of weeks here. He played his butt off."
After Monterey Trail scored on its opening drive in the section final, Lamson took the Trojans down the field three times, mostly on the ground, to take a 21-6 lead midway through the second quarter. 
Lamson first capped a 10-play drive to answer the Mustangs' initial score with a two-yard burst into the end zone on a designed keeper. Oak Ridge was utilizing all eleven players on offense, including the quarterback.
"We saw that the running back could get to the edge and we decided to keep it in my hands," Lamson explained. "You know it's working when you're getting four or five yards a pop. That was our strategy and we knew we wanted to keep it simple."
The junior signal caller then got the ball back and scored again, this time from 15 yards out and straight up the gut as his team took a 14-6 lead. Midway through the second quarter, Lamson added his third score from 22 yards out when he decided to keep ball after faking a jet sweep to his receiver. He made a move and bounced outside to pay dirt.
"Credit goes to the o-line," Lamson said. "I feel like they wanted it more."
Before halftime, Lamson added a 36-yard touchdown pass on a screen pass to junior Gui Lozada, who weaved his way to the end zone to give Oak Ridge a 28-13 lead. 
"It was a screen, so I gave a little hesitation, got out to the sideline and got into the end zone," Lozada explained. "Our big man, Sean Gatson, paved the way and opened it up for me, so I have to thank him a lot."
In the second half, Lamson converted key third downs when his team needed to run out the clock. It was a true team win, but the Trojans followed their only junior captain to victory.
"That Div. I title was definitely something we all wanted to get," Trojans' quarterback Justin Lamson admitted that night. "And I'm just so happy for our guys right now."
The Mustangs were led by junior running back Prophet Brown. He caught touchdown strikes of 45, 61 and 35 yards from senior quarterback Viktor Timonin and added a 79-yard score on a reverse. As it turned out, the shivering cold, heavy gusts and sideways rain did little to slow down what turned into a high-scoring affair. 
"They beat us (on) a couple big plays in the air, one on the fake reverse, and they're a great team that made us pay for that," Cavaliere pointed out. "There were a few things they did that we hadn't seen before that were good for them. Again, Monterey Trail is a great program and we're honored to have played them."
With the win, Oak Ridge enacted some revenge from last year's defeat in the semifinals of the section bracket.
And soon the Trojans will have newly-minted rings to commemorate the program's first Div. I title.