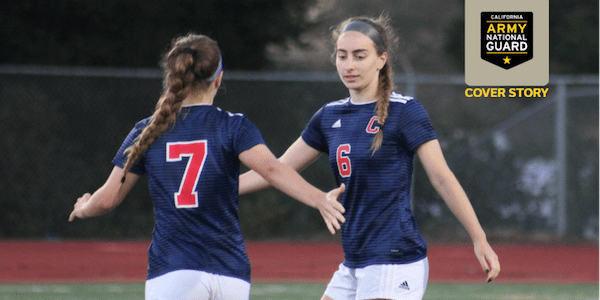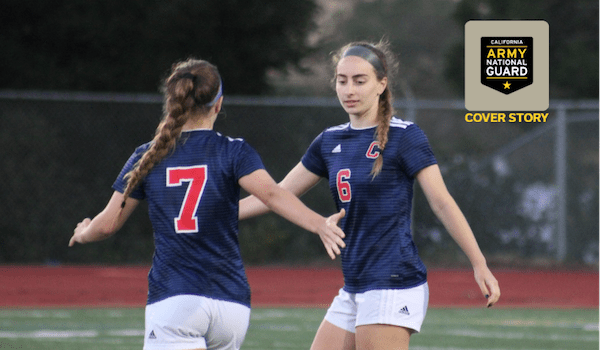 With Twin Sisters Mia and Ella Colombini Leading The Way, Campolindo Girls Soccer Sent Its Seniors Off In Style — With An Undefeated Spring...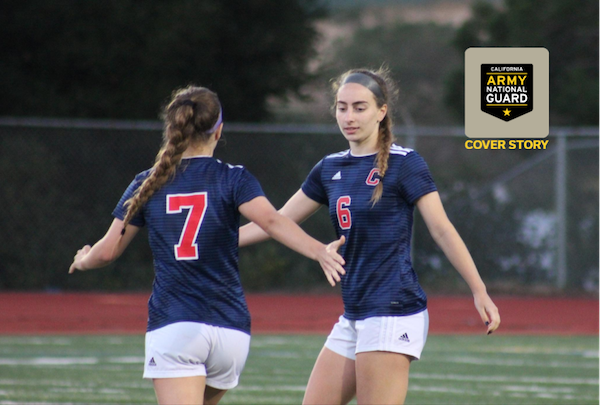 With Twin Sisters Mia and Ella Colombini Leading The Way, Campolindo Girls Soccer Sent Its Seniors Off In Style — With An Undefeated Spring And League Title •
Opponents of the Campolindo High girls soccer team are perplexed when they see double.
And it's notjust because juniors Ella and Mia Colombini are identical twins with considerable talent, enthusiasm and soccer proficiency.
The sisters, while having distinct personalities and interests outside of soccer, are close to mirror images in their energetic style of play. Both are midfielders. They have consecutive uniform numbers — Mia is No. 6 and Ella is 7. On the field, each is a blur with their ponytails flopping around as they remain in constant motion.
_______________________________
CONNECT WITH US:
Follow SportStars on Twitter & Instagram | Like us on Facebook | Subscribe!
_______________________________
"They're out there rocking the same ponytails and braids," said their proud mother, Beth.
And they again were the Moraga school's top two scorers as the Cougars made the best of their abbreviated season with a 10-0 undefeated Diablo Athletic League Foothill Division championship, beating Las Lomas-Walnut Creek 2-1 in the final week in a showdown for first place.
Cougars coach Luis Pinto has played, coached and studied soccer in various regions of the world, and has coached his share of twins. But it's rare to see two at the same position and so similar in ability and style.
"The same position and at the same level? … never," Pinto said. "They do well, they support each other very well. They are each other's best support."
It often leads to trouble for opposing teams, particular when it comes to Campolindo finding the net. Mia Colombini finished with eight goals and six assists, while Ella Colombini collected five goals and an assist. The sisters traded goals and assists to each other in the win over Las Lomas.
Pinto is wowed by the twins' perfectly matched mind-set, honed from years playing and training together.
"They can find that blind pass, they are facing this way and (one sister) will pass and (the other) will show up."
It comes from over a decade of playing together, starting at age 5. No matter what level, they have always played on the same team.
"We just went into soccer when we were really young and we just loved it ever since. We just stuck with it. It is our passion," Mia Colombini said.
Before soccer, the twins were all about running — all over the place.
"They loved to run and loved to move," said their mother, Beth Colombini. "They would go run in the park so we had to go to a park where there were fences because they would just keep running."
Though they ran CYO track in middle school and have swam since age 4, they always gravitated toward soccer.
Even when younger, they couldn't fathom one playing without the other. Beth Colombini recalled a State Cup soccer event when the girls were 11. The morning of the game in Fresno, Ella got sick to her stomach and was not able to compete.
"So she's not going to play," Beth said. "So I said, OK Mia, let's get ready. And she said 'I can't go. … I have never played a game without my sister.' She was so frightened and scared, but we got her out there, but she was missing her security blanket."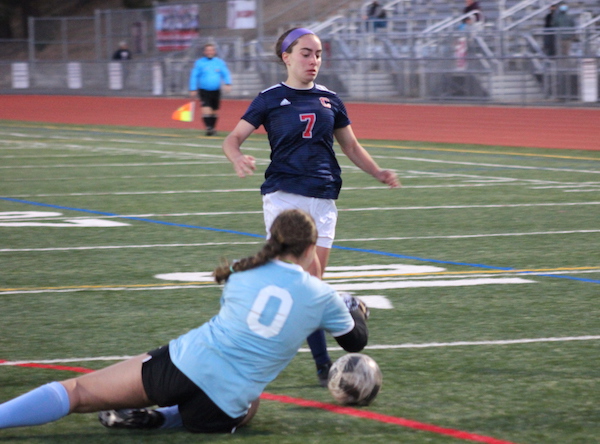 The teammate bond is furthered on the California Magic traveling team based out of Orinda. The girls are coached on the U18 East team by Haris Obic, the program's founder and its director of coaching. Along with the Colombini sisters, there are several other Campolindo teammates with the Magic including Kendall Runckel, Sami Kolin, Audrey Le-Nguyen, Ainsley Murphyand Colette Toubba, Their team is also undefeated this year, another remarkable feat since this spring clubs have been playing in the same time frame as high school.
In club soccer, the synchronization continues. Mia wears jersey No. 3, corresponding to her three-letter name, and for the same reason, Ella is No. 4. Continuity is something they thrive on.
"We were coached by the same coaches so we play the same style and we have the same thoughts on the field. We kind of connect that way," Ella Colombini said.
About the only way to tell them apart is their height. At 5-foot-4, Mia is two inches taller than Ella. Unless, of course, you have the insight of their parents, Beth and Jeff.
"It's an interesting dynamic being a mother of twins," Beth Colombini said. "Mia was the more dominant twin, in control, and Ella was the kid who would go with the flow."
As they have grown and matured, Ella crafted her own personality, and each has developed their own interpersonal boundaries and interests. "Ella loves to read and write English. Mia loves math and science," their mother said.
Seeing their older sister Julia off to Chico State made the twins realize they want to go to the same college and, of course, play together. The twins turn 17 in June and have put their thoughts toward playing at the next level, making use of idle time during the pandemic to make highlight videos of themselves and attend the COPA Soccer Training Center in Walnut Creek.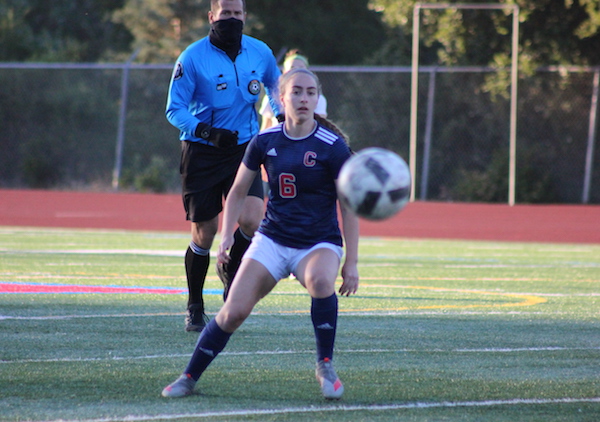 When Campolindo workouts resumed under COVID-19 protocols, the added mystery created by mask-wearing confused Pinto at times. This despite having coached the girls for three seasons.
"When COVID started and we had to wear the masks during our individual practices, it was always I'd stare and try to figure it out. I'd look at them move or stand and think 'OK, that is her,'" he said. "And lots of times I got it wrong."
The Cougars did little wrong this spring during their shortened six-week season that didn't begin until mid-April. As with many California high schools and sports, there had been doubts a season would take place.
For Campolindo, potential was there for a great season and perhaps a deep North Coast Section playoff run. No strangers to success with six NCS championships since 2002, the Cougars were finding success in Division II, returning to that division after back-to-back Division III finals appearances that included a championship in 2017-18.
In their most recent full season (2019-2020), the Cougars finished 15-3-5. They beat Benicia 2-0 in a NCS Division II first round match before falling 1-0 to eventual section finalist Maria Carrillo-Santa Rosa. The Colombinis were the top scorers that season, as Mia had 11 goals and 7 assists and Ella collected 7 goals and 11 assists.
But the chance to build on that momentum never seemed to arrive. Pinto called the wait and eventual realization that any season would be short and void of playoffs "very bittersweet."
"We did not have many answers until close to the first game," Pinto said. "We met with the captains and prioritized our seniors. Everyone got together, and if there was this small chance to celebrate the seniors and give them some type of season, we would do it."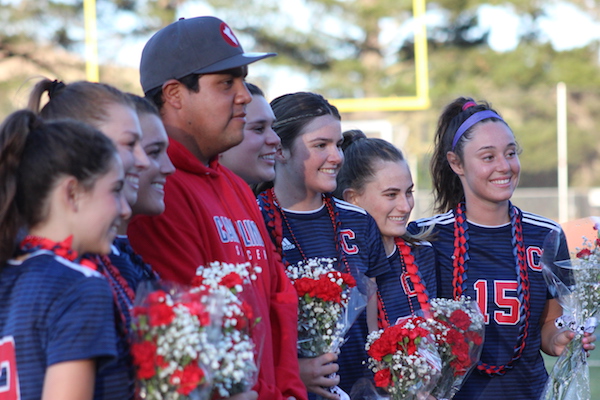 The decision created a final sendoff season for Jojo Flower, Siena DeCarlo, Julia Ortega, Siena Giordano, Lindsay Davis, Grace McCauley and Runckel. With Ortega heading to Arizona State and Runckel to Davis, it marked the first time Campolindo had two girls headed to Division I schools.
"I'm very happy for them because they got a season. If I were a senior I would definitely want my last season," Mia Colombini said. "This last year has been really good closure for them because we have been playing really well." 
Pinto said Campolindo being able to have a big turnout and also having a JV team while many other schools did not was a big morale boost.
"Us having a JV team plus having all of our returners come back was very special," he said. "It created this culture where we play for each other and we support each other and there is all this positiveness. It's great to watch."
The season concluded in the final week of May, and the seniors graduated on May 28. But every ending comes with new opportunities: The Colombini twins and five other starters will be coming back next school year.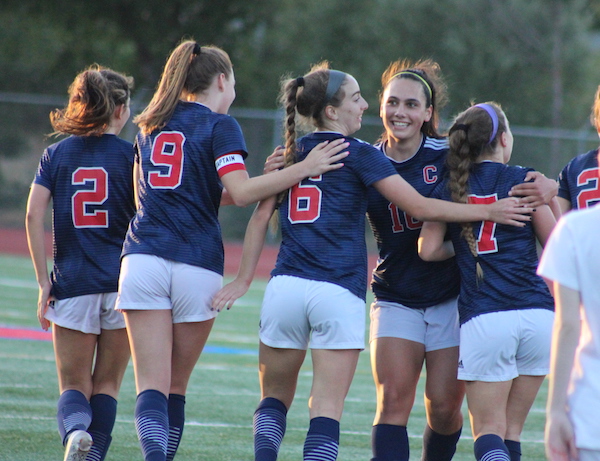 And that full season, back in the normal winter time frame with a chance to compete for an NCS championship, is closer than players realize.
"We talk about next season like it being next year," Pinto said. "But next season is in six months."