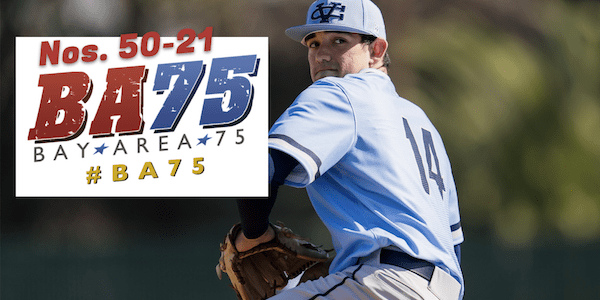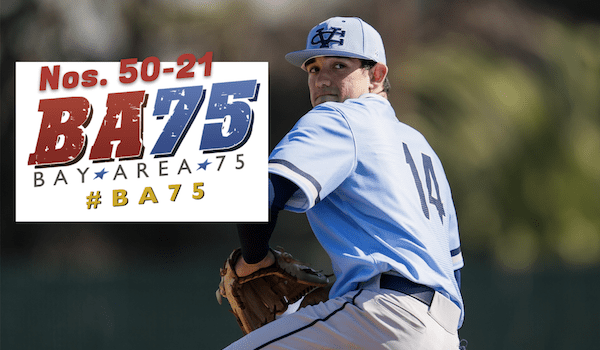 SportStars Magazine Counts Down The Bay Area's Top 75 Athletes From 2020-21 In Its Ninth Annual Bay Area 75 Rankings Welcome to the ninth...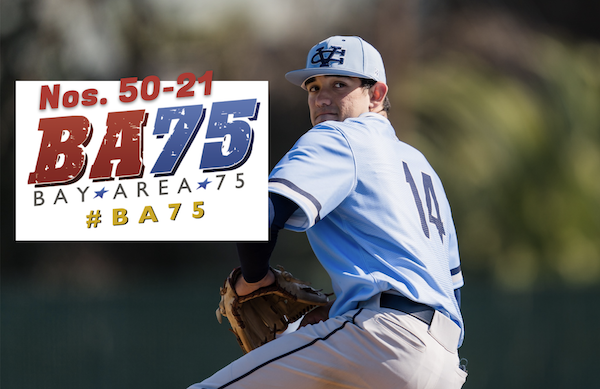 SportStars Magazine Counts Down The Bay Area's Top 75 Athletes From 2020-21 In Its Ninth Annual Bay Area 75 Rankings
Welcome to the ninth edition of our annual Bay Area 75 athlete rankings. This is a countdown of the top Bay Area's top athletes from the 2020-21 school year. This is the middle segment. If you need to go back, or insist on skipping ahead : Athletes No. 75-51 | Athletes No. 20-1
As everyone reading this well knows, 2020-21 was an anything but normal year for high school sports. Every sport was crammed into a four-month window. Some seasons were vastly shortened with no playoffs, and others were pretty darn close to normal and ended in section championships. This has also been a list full of multi-sport athletes, which COVID protocols made much more rare than usual. (We still found some though!)
The criteria for this list has always been the same. Athletes must attend or compete for a high school within the nine Bay Area counties and compete in a sport that traditionally ends in a section title. Exceptions are made for athletes who have reached a national-level of success but may not compete for their school. Recruiting rankings are a factor in our research, but they don't lead to automatic selection.
With all the concurrent action and disparities, we fully acknowledge that we might have missed a deserving candidate or two. But we also look at this list and see 75 pretty special athletes. All sports fans know that rankings are opinion and subjective. But they spark debate and conversation, which is why we like them. So sound off! We look forward it. With that said, here we go:
50. Jordan Allred (Miramonte-Orinda), Sr. | Basketball
Named to the SportStars All-NorCal team, Allred got her 19.7 points a game from all over the floor. She can get to the rim and finish, or bomb away from behind the arc — which she did with a nine 3-pointer performance in a win over Campolindo. Her all-around game also included 7.6 rebounds, 4.9 assists and 3.7 steals a game. She will suit up for the University of Idaho next season.
49. Robert Vaihola (Archbishop Riordan-S.F.), Sr. | Basketball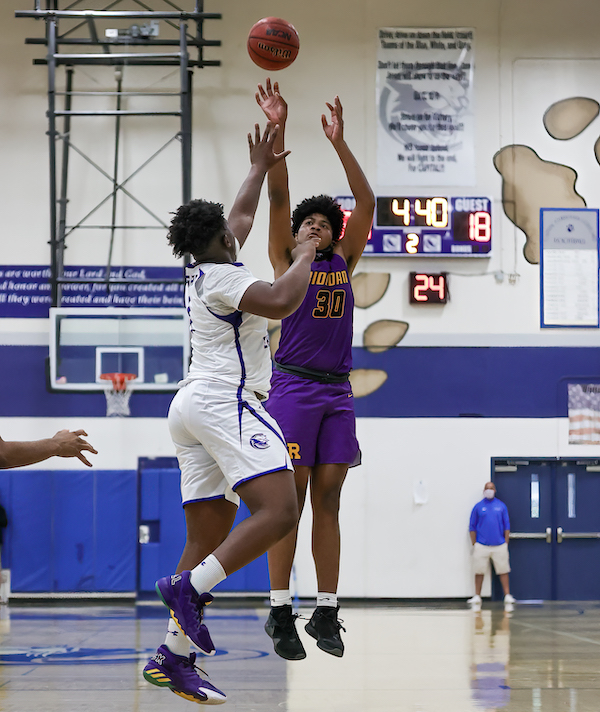 The Fresno State-bound Vaihola was the driving force for a talented Riordan squad that finished 14-4 and runner-up to Mitty in both the WCAL and CCS Open finals. Vaihola was an All-NorCal selection for both SportStars' and NorCalPreps.com, and was also named the San Francisco Chronicle's City Player of the Year. He averaged a double-double of 12.3 points and 12.3 rebounds.
48. Luci Lambert (Sacred Heart Prep-Atherton), Sr. | Track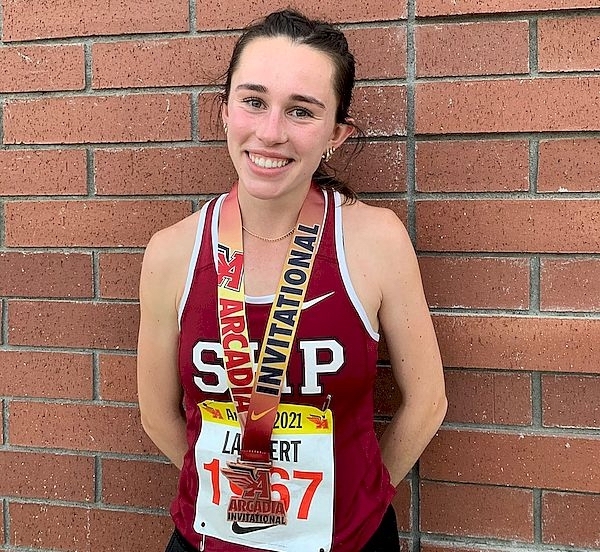 At the Arcadia Invitational in May, Lambert set school record marks in both the 800 meters (finishing 5th) and 1600 meters (finishing 3rd). But that was just a prelude to the CCS Championships where she lowered both records significantly en route to winning both events. She took almost exactly two seconds off her record time in the 800, lowering it to 2 minutes, 11.35 seconds. She lowered her mile record by more than 5.5 seconds, setting the new Gators mark at 4:54.36.
47. Sydney Lu (Quarry Lane-Dublin), Jr. | Swimming
Lu entered the summer as the No. 4-ranked recruit among the state's 2022 class (Swimcloud.com). The Harvard-commit swam at the Olympic Trials in June, qualifying for the event by reaching the 100 meter breaststroke final at the US Open in November. Heading into this year, her best times in the 100 butterfly and 200 butterfly would have scored for Harvard in the A finals of the 2020 Ivy League Women's Championships. She'll be a double-win favorite at the 2021 NCS championships.
46. Daytuawn Pearson (Pittsburg), Sr. | Football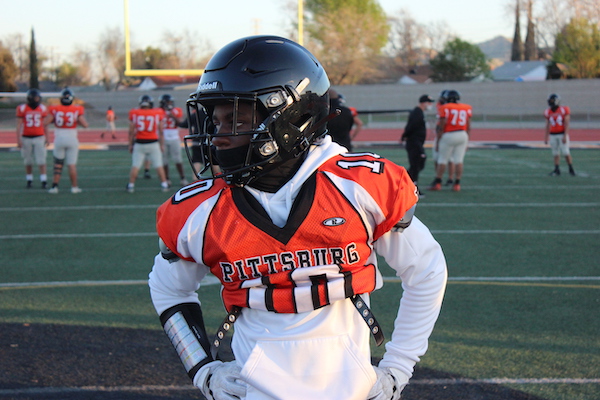 Pearson was a SportStars All-NorCal selection who was also named Bay Area News Group Offensive Player of the Year and selected 3rd Team All-State by CalHiSports.com. The younger brother of former Concord High star Forrest Hightower transferred to Pittsburg and proved to be the perfect back for the Pirates' up-tempo offense. He had 51 carries for 638 yards and five TDs. He also caught 14 passes (two for TDs) and added kick return score as well.
45. JP Murphy (San Ramon Valley-Danville), Sr. | Football/Basketball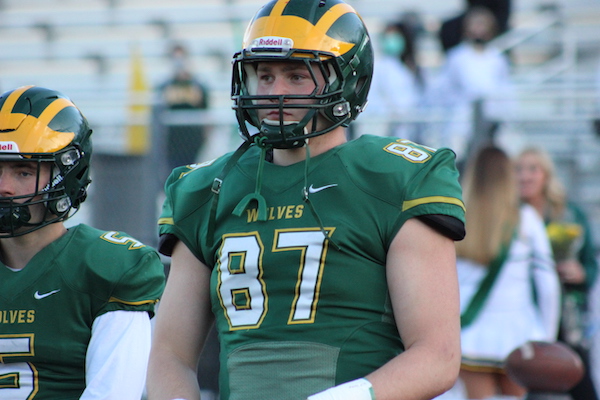 Murphy is headed to San Diego State this fall after being the media's consensus choice as the Bay Area's top tight end this spring. CalHiSports.com named him 3rd Team All-State while SportStars and NorCalPreps.com each named All-NorCal. His 23.7 yards per catch led the North Coast Section among players with at least 10 receptions. He ended up with 332 receiving yards and three TDs. He was also an impact player on defense with an interception and fumble recovery. He also helped the Wolves basketball team to an 8-7 record.
44. Alexandria Gloria (James Logan-Union City), Sr. | Volleyball
A CSU-East Bay commit, Gloria pummelled defenses this spring with an astounding 140 kills over just 22 sets of action. That's an average of 6.4 kills per set and had her on a pace that would've shattered her previous season high of 477 kills that she set as a junior. Her kill percentage jumped 17 points from her junior season to 56.5, and her hitting percentage jumped nearly 22 percent to just shy of 50. She also added 19 aces, 10 blocks and 50 digs for team that went 9-0.
43. Dorian Hale (De La Salle-Concord), Sr. | Football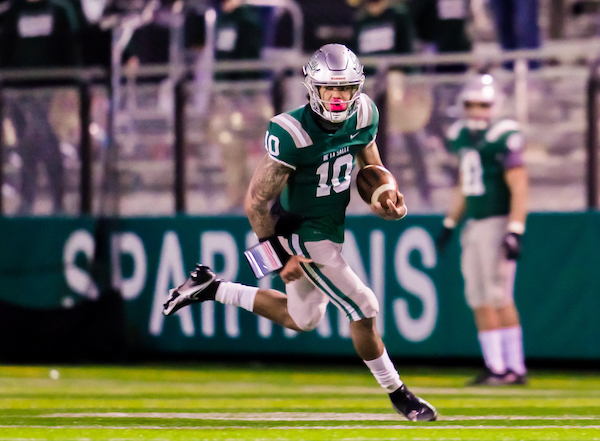 The polished southpaw finished off his career as a three-year starting quarterback for the Spartans with a record of 30-3. The Sacramento State-bound dual threat QB was a CalHiSports.com 2nd Team All-State selection this spring and one three SportStars All-NorCal selections at his position. He led De La Salle to a 6-0 mark by passing for six touchdowns and rushing for five more.
42. Emma Vane (Archbishop Mitty-Sans Jose), Sr. | Soccer
Emma makes her second appearance on this list in as many years after leading the Monarchs to WCAL and CCS championships. The UC Davis-bound talent logged three goals and eight assists for a team that went unbeaten with a record of 9-0-2. If you combine her 2020 stats, she had 14 goals and 20 assists in just over a season and a half. Vane was also honored as the 2021 WCAL Scholar Athlete of the Year.
41. Matteo Perez (Marin Catholic-Kentfield), Sr. | Football/Track
Perez was a no-brainer for SportStars as an All-NorCal all-purpose selection after the numbers he posted over five games this spring. He rushed for 495 yards and nine TDs on just 60 carries. He also added 11 receptions for 95 yards and a TD. On the other side of the ball he was third on the team with 33 tackles and led the Wildcats with three interceptions. He also ran track and clocked times 11.33 second in the 100 meters and 23.14 in the 200.
40. Jonathan Cymrot (Valley Christian-San Jose), Sr. | Baseball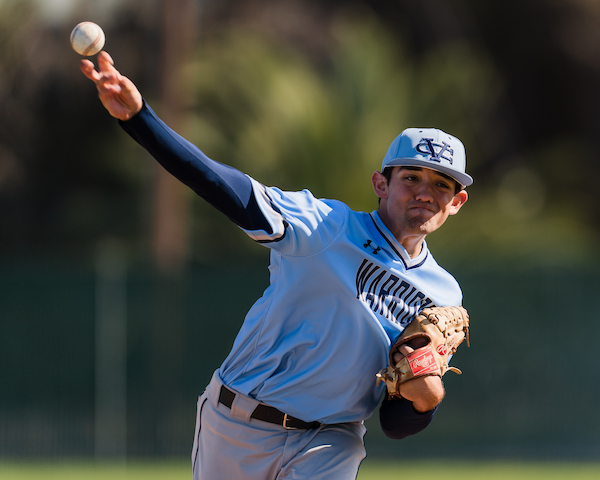 Cymrot will suit up for the University of Kansas in the spring, taking his talents to the Big 12 after four stellar years of leading the Warriors. His senior season ended with a 6-2 record, a team-best 1.55 ERA and a CCS Open championship. He struck out 56 over his 49.2 innings and opponents hit just .160 against him. Over his four-year varsity career he went 17-3 with a 1.33 ERA and three CCS titles. He also hit .290 this season with 16 RBI and was a career .312 hitter for the Warriors.
39. Dylan Smith (Vintage-Napa), Jr. | Football/Wrestling
Vintage was one of the best stories from this short football season. The Crushers quite literally crushed all six opponents they faced, due in large part to Smith. He averaged a ridiculous 14.8 yards per carry on his way to 827 rushing yards and 16 total touchdowns. He's also one of the school's strongest wrestlers. He went 3-1 at the 2020 NCS Wrestling Championships before having to injury default out of the field.
38. Amanda Muse (Heritage-Brentwood), So. | Basketball
ESPN's Hoopgurlz recruiting rankings have Muse at No. 34 nationally for the 2023 class. And though she played just seven games this spring, Muse's shot-blocking and defensive ability — plus her 16.4 points and 10.4 rebounds a game — earned her a spot on the SportStars' All-NorCal team. She will be an early favorite for NorCal Player of the Year come November.
37. Jeremiah Dargan (Clayton Valley-Concord), Jr. | Basketball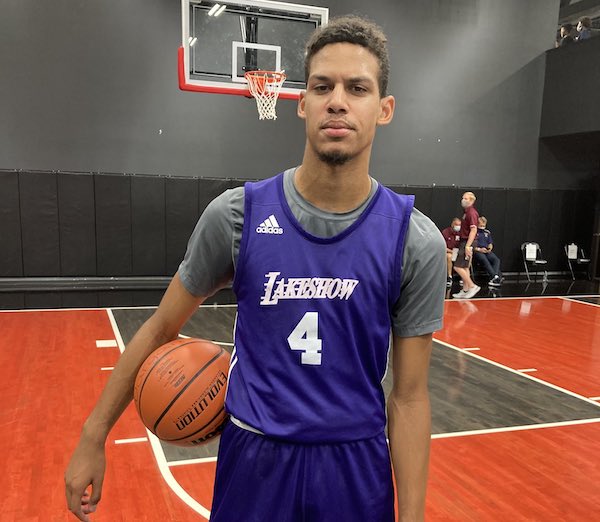 In his first season after transferring from De La Salle, Dargan helped lead the Ugly Eagles to a 12-3 record by averaging 18.7 points, 8.9 rebounds, 3.1 assists, 2.5 steals and 1.3 blocks. He also had a buzzer-beating layup that defeated Bishop O'Dowd-Oakland 60-58. Dargan wound up on just about every media outlet's postseason honors list, including All-NorCal selections by both SportStars and NorCalPreps.com.
36. Dominic Oliver (Valley Christian-San Jose), Sr. | Football
Oliver was a one-man wrecking crew on the Warriors defensive front. The San Diego State-bound lineman compiled 36 tackles and 10.5 tackles for loss over just four games. CalHiSports.com reported eight of those tackles for loss as sacks in naming Oliver 2nd Team All-State. Oliver was also one of just six linemen named to the SportStars' All-NorCal Defense.
35. Matthew Chung (Harker-San Jose), Jr. | Swimming
Swimswam.com recently named Chung among its honorable mentions as part of its list of the nation's top recruits for the 2022 class. The Harvard commit will likely be a distance freestyler at the next level, but he's a clear all-around talent. He earned individual CCS championships this spring in the 200-yard Individual Medley (1 minute, 50.03 seconds) and the 100 butterfly (49.37).
34. Olivia Dinardo (Aragon-San Mateo), Jr. | Softball
So how did Dinardo land 20 spots further up on this list than her UCLA-bound teammate Megan Grant? Well, let's start with an 18-game hitting streak that stretched the length of the season. Dinardo hit a robust .764 after picking up 42 hits in 55 at-bats for Dons team that went 15-3 overall. She hit eight home runs, 12 doubles and three triples while scoring 31 runs and driving in 29. She also stole 11 bases. Like Grant, she's also headed to the Pac-12, having committed to Arizona.
33. Maxwell Weaver (Campolindo-Moraga), Sr. | Football/Basketball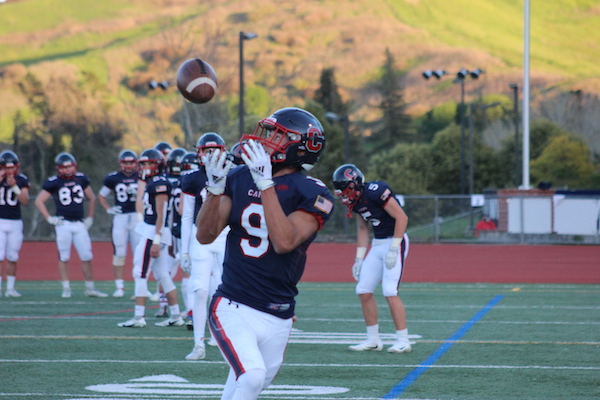 Weaver's teams went a combined 21-0 over this spring, which seems pretty good. In football, the Davidson College-bound wideout caught 23 passes for 527 yards and six TDs. He also logged 76 rushing yards on just three attempts and completed a 54-yard pass for the 6-0 Cougars. Then in 14 games on the hardwood, he was a key contributor off the bench with averages of 3.5 points and 3.6 rebounds per game. Campolindo went 15-0 and closed the spring as NorCal's No. 1 team.
32. Blake Burke (De La Salle-Concord), Sr. | Baseball
The Tennessee-bound Burke was recently named the Bay Area Player of the Year by both the San Francisco Chronicle and the Bay Area News Group. He closed out his four-year varsity career with a senior campaign in which he hit a team-best .554 on 41 hits over 24 games with six home runs and 32 RBI. He nearly reached base two out of every three plate appearances. For his 88-game De La Salle career, Burke hit .421 with 15 home runs, 26 doubles and 94 RBI.
31. Carter Bailey (Granada-Livermore), Sr. | Wrestling
The defending NCS champion and state medalist from 2020 is among the Top 20 ranked wrestlers in the nation at 126 pounds. At the Super 32 Tournament (considered one of the toughest in the country) in October he defeated four Top-15 nationally ranked wrestlers en route to a seventh place finish. In April, he finished second in the 126-pound division of the NHSCA High School Nationals. He will wrestle for Lehigh University in the fall.
30. Silivia Fonongaloa (Salesian-Richmond), Jr. | Basketball
Fonongaloa was a fixture on multiple media outlets' All-Bay Area and All-NorCal teams, including our own. In an age of 3-point specialists, Fonongaloa is an old-fashioned set-up-on-the-block post player – and her strength and skill make her a force to be reckoned with. She led Salesian in every important statistical category, including points (13.3) and rebounds (6.4), and will return to do more damage in the paint next season.
29. Nolan Topper (Bellarmine-San Jose), Sr. | Track/Cross Country
His last name was entirely fitting at the CCS Track Championships when he topped a 44-year old meet record in the 1600 meters. Topper ran a championship-winning time of 4 minutes, 7.97 seconds, which was a full tenth of a second better than Mark Stillman's time of 4.08.7 from 1977. The Stanford-bound distance star also took first in the 3200 meter final with a time 9:12.78.
28. Gabriel Plascencia (Bishop O'Dowd-Oakland), Sr. | Soccer/Football
Plascencia was a three-year varsity letterman in both soccer and football. In his final season as the O'Dowd football team's placekicker, he was 2-for-2 on his field goal attempts and 14-for-15 on extra point kicks as the Dragons went 5-1. In his final soccer campaign, he had an NCS-best 18 goals and tacked on three assists to lead O'Dowd to a 12-0-1 record. Plascencia had 37 goals and 13 assists in three seasons for the Dragons.
27. Tsion Nunnally (Cardinal Newman-Santa Rosa), Sr. | Football
CalHiSports.com named Nunnally it's Medium Schools Player of the Year after the 6-foot-2 receiver grabbed 25 passes for 520 yards and an NCS-best seven touchdowns for the 5-0 Cardinals. Nunnally also played cornerback where he totaled 20 tackles, and was the primary kick returner where he averaged 46.8 per return (and took one for a TD). The Washington State commit is among the Top 75 recruits in the state.
26. Maddie Gamble (Carondelet-Concord), Sr. | Golf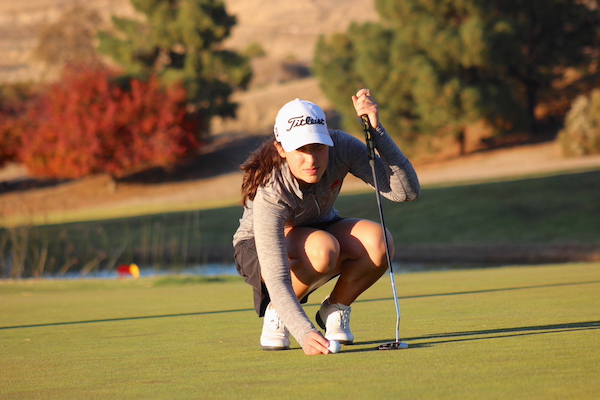 While celebrating its 10th anniversary last June, SportStars named Gamble among the 10 best girls golfers from its first 10 years. In her first three years of high school golf, she never finished worse than a fifth-place tie at the CIF/NCGA NorCal Championships. While waiting for high school golf to return this year, the Washington State commit teamed up with another future Cougar (Hannah Harrison of Granite Bay) to qualify for the USGA Women's Amateur Four-Ball Championships. The duo finished tied for 22nd in stroke play to advance to the match play tournament and were ousted in the opening round by one hole. Gamble also recently finished fifth in the California Women's Championships.
25. Zeke Berry (De La Salle-Concord), Jr. | Football/Track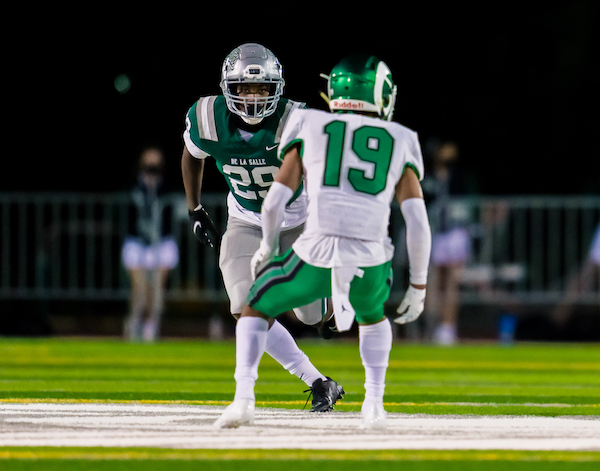 Berry is one of two Spartans defensive backs that were named 1st Team All-State by CalHiSports.com. The 4-star recruit played both ways for De La Salle, catching a pair of TD passes and racking up 164 receiving yards while also being a shutdown corner with an interception and forced fumble. The four-star recruit's long list of offers includes nine Pac-12 programs as well as Tennessee and Pittsburgh. On the track, he ran the 7th-best time (11.14 seconds) at the NorCal Championships Invitational.
24. Abigail Herscu (Granada-Livermore), Jr. | Swimming
Committed to Cal, Herscu ranks fifth among the state's 2022 class (Swimcloud.com). She qualified for the Olympic Trials in June and advanced to the second wave of qualifying after she finished second in the 200 Breaststroke A final of Wave 1. She was also recently named to the USA Swimming International Junior team which will compete in World Cup events in Germany and Hungary from Sept. 28-Oct.10.
23. Sean Huckleberry (University-S.F.), Jr. | Track
Huckleberry ran the state's second-fastest high school time in the 400 meter hurdles when he finished first at the AAU West Coast Nationals in a time 57.89 seconds. At the same meet, he finished third in the long jump and fourth in the triple jump. Huckleberry won both jump events at the NorCal Championships Invitational while also taking fifth in the 300 hurdles. At the state invitational he finished third in the triple jump and fourth in the 300 hurdles (in a PR time of 39.35 seconds).
22. Jurrion Dickey (Valley Christian-San Jose), So. | Football/Basketball/Track
Dickey may end up being the best of an extremely deep 2023 Bay Area class of wide receivers. The four-star talent already has 12 reported offers, including half of the Pac 12 as well as Arkansas and Fresno State. Dickey caught 14 passes for 239 yards and five TDs over four games — including the game-winner in overtime against St. Francis-Mountain View in the tweet above. He then helped the Warriors basketball team reach the second round of the CCS Div. II playoffs. Finally, on the track he finished third in the 200 WCAL final (in a PR tine of 23.01 seconds), fifth in the 100 (after PRing at 11.34 in the trials) and was also part of the WCAL champion 4×100 relay team.
21. Fiona Young (Miramonte-Orinda), Sr. | Water Polo
The Michigan-bound senior was the heartbeat to Diablo Athletic League-champion Matadors. The four-year varsity player helped Miramonte break Acalanes-Lafayette's' 59-game win streak on April 10 and eventually led Miramonte to a 14-0 season. Young is a member of the USA Water Polo Cadet National Team and three-time USA Water Polo All-Academic selection.