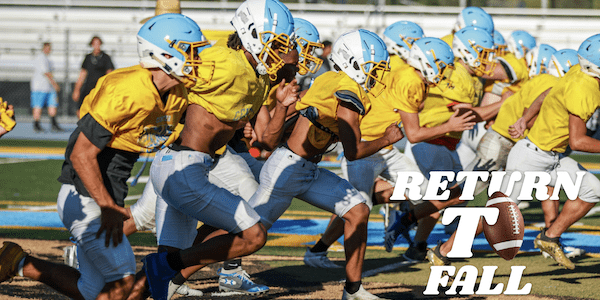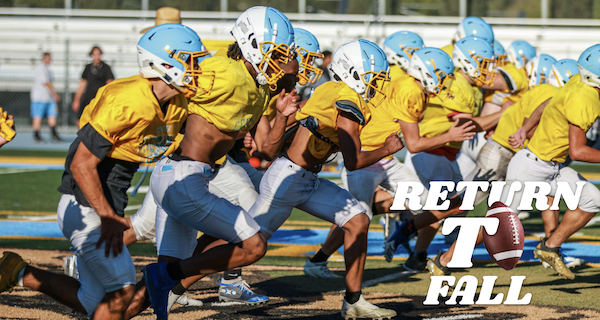 Falling Roster Numbers Join The List Of Hurdles For Center Football In Antelope; PLUS An EBAL QB Spotlight & Our First Three Top 20...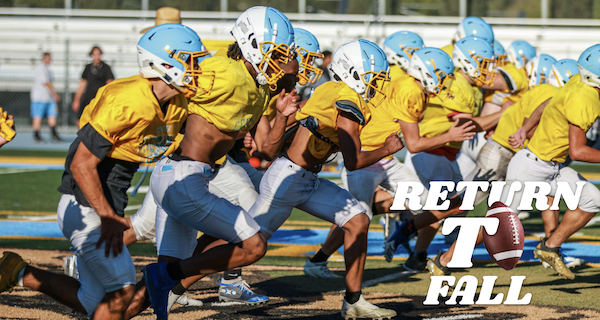 Falling Roster Numbers Join The List Of Hurdles For Center Football In Antelope; PLUS An EBAL QB Spotlight & Our First Three Top 20 Teams •
This is the sixth of 20 installments to our Return To Fall Series — a daily component to our 2021 NorCal Football Preview coverage.
The last full football season was the best in Center-Antelope school history, including a darling 12-0 run and narrow defeat in the Sac-Joaquin Section Div. 5 championships.
That 2019 season feels like decades ago.
The program that outscored opponents 535-139 and upset reigning CIF State Bowl Champions Rio Linda is struggling just to put players in pads.
"We have 20 kids on varsity, and in last year's spring (COVID-shortened) season, we had just 16," Center coach Digol JBeily said. "We just don't have the numbers.
"We are recruiting like crazy around school, talking to lunch lines trying to just get kids to come out."
Center has four seniors, two returning starters from last year's mini-season and zero remaining players from that 2019 campaign. The team will start a sophomore quarterback (Bradley Kenny) without a varsity snap and hope the learning curve is more like a fastball, right down the middle.
_______________________________
CONNECT WITH US:
Follow SportStars on Twitter & Instagram | Like us on Facebook | Subscribe!
_______________________________
"We have first-year players and not enough of them," JBeily said. "We have to get more kids out there before we even think about trying to win on Friday."
It may help Center if other teams are struggling with numbers.
To score, the Cougars will need remarkable execution from a completely new offense, but for returning guard Vinny Halverson and running back Benny Tafoya. Kenny showed a capable arm in drills against his scout defense, and he has some solid receiving targets in Elijah Green and Jayshaun Darling, but Green (second-year player, basketball recruit) and Darling (injured in 2020) will have to break out big time.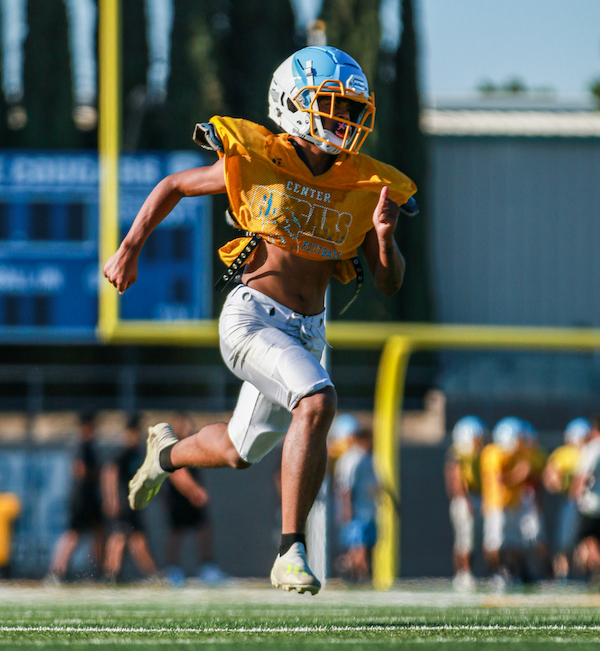 Key role players seem confident in the roster they have.
"I have awesome targets, and I like throwing to Eli, Jayshuan and all the receivers on our team," Kenny said. "The strength of this team is that we don't fight, and when we get mad, it's to make each other better.
"Other teams can crumble and start to fight with each other, but our team won't."
Just being back for a full season feels like progress at Center.
"We have a schedule, and for me it's more about the kids having a regiment where they can count on something every Friday or Saturday and practice every day," JBeily said. "It gets them out of the house, lets them in the classroom and back on the field being active, and that's what feels good."
PRESEASON NORCAL TOP 20 RANKINGS: Nos. 20-18
Today we begin a week-long reveal of our Preseason NorCal Top 20 Football Rankings, leading up to our Football Preview issue's release on Aug. 18.
Here we go.
20. VACAVILLE (5-0 in Spring 2021)
The Bulldogs closed the spring ranked No. 24 in our expanded final Top 30 after a 5-0 campaign that saw them outscore their four opponents 247-74. Vacaville rolls into the fall with six projected returning starters, including senior QB Ryan Vaughan (839 passing yards, 9 TDs, 4 INTs) and senior tailback Darian Leon-Guerrero (701 rushing yards, 15 TDs). Senior Timothy Plowman led the Bulldogs with three interceptions last year and will be one of five returning starters on defense.
FIRST GAME: Aug. 20 vs. Davis.
19. OAK RIDGE-EL DORADO HILLS (2-4)
It was a record-scratch spring for the Trojans as a team with high expectations succumbed to its inexperienced at key positions. But that young roster has much more experience now, and long-respected coach Eric Cavaliere has been succeeded by equally-respected Casey Taylor. Taylor takes over at his alma mater and returns to the Sierra Foothill League that he once dominated from the Del Oro-Loomis sideline. Key to Oak Ridge's success will be junior QB Drew Cowart (who started all six games last season) and senior RB Reese Catchings (6 rushing TDs last spring.) Linebacker Luke Armstrong will lead the defense.
FIRST GAME: Aug. 20 vs. Cosumnes Oaks-Elk Grove
18. BISHOP O'DOWD-OAKLAND (4-1)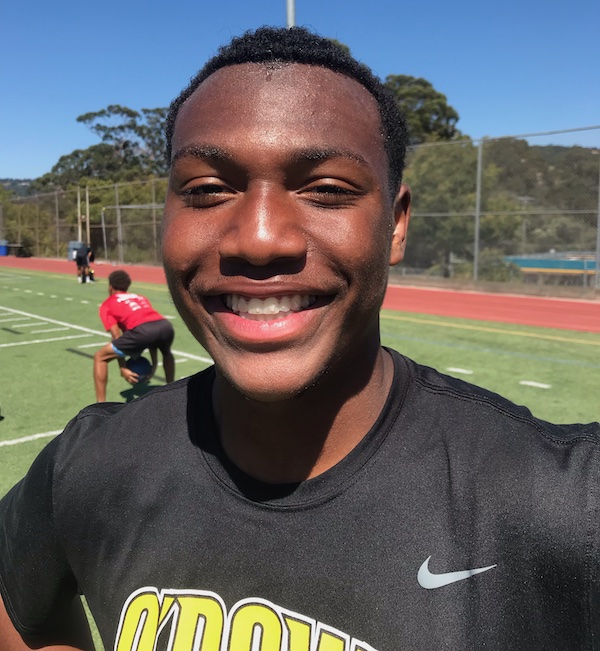 The Dragons begin two runs higher than they closed out the spring, moving up from No. 20. Coach David Perry's first "half-season" was incredibly successful by all measures. The spring group lost its opener to San Ramon Valley-Valley by just one score (21-13) and then outscored opponents 111-19 the rest of the way. Three-year starting QB Jesse Madden graduated, but Perry has experience at just about every other skill position. That includes running back Matt White, whose impact in the passing game may be equal to what he does on the ground. Look for Julian Wilson to be a leading force on the defensive side of the ball.
FIRST GAME: Aug. 27 @ Liberty-Brentwood
PLAYER SPOTLIGHT: Booras Breaks Out
In a time of remote learning and constant uncertainty, California-San Ramon High quarterback Teddy Booras has already proven to be a quick study.
Having already seen his share of time under center as a sophomore in 2019, Booras took the reins of the Grizzlies' offense for the delayed 2020 season with a new coaching staff, new scheme and questions as to whether he'd even get to put a helmet on at all as a junior.
What followed offers plenty of hope for what might lie ahead in 2021. In the six-game spring season, Booras completed nearly 61 percent of his passes, threw for 206 yards per game and connected for seven touchdowns in his first season under new head coach Danny Calcagno.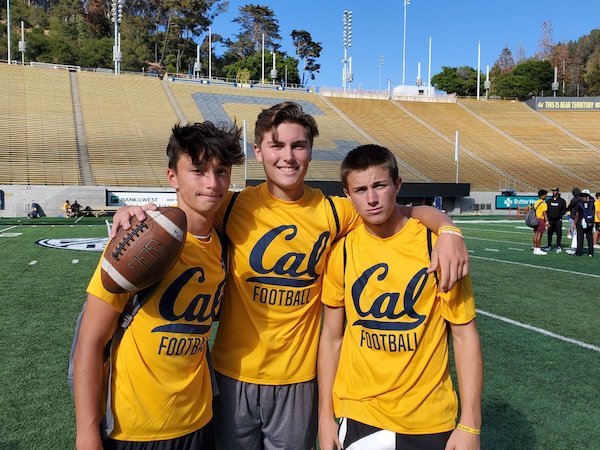 Those numbers are especially impressive considering the crash course that had to happen even before a snap was taken. Calcagno's offense leans heavily on the quick pass and screen game as an extension of the running game, and it represented a definite change from the run-heavy attack of previous Grizzlies teams.
"He picked up the offense with only two weeks to get prepared for the first game," Calcagno said. "So we had to simplify a lot of things, which was probably in our best interest anyway. He did phenomenal."
With the spring season and a full summer of study now under his belt, Booras returns for his senior season as the leader of Cal's attack. And he'll have his top target back in the fold as well as Jake Calcagno, son of the Grizzlies' coach, also returns for his senior campaign.
Operating mostly as Cal's slot receiver but also as the team's deep threat, Calcagno hauled in 56 passes for 607 yards and three touchdowns in the spring. Senior running back Trevor Rund also returns as a primary rushing threat, and senior offensive lineman Ryan Rogers is back to lead the Grizzlies up front.
_________
COMING IN TOMORROW'S RETURN TO FALL RELEASE: More Preseason Top 20 Teams Are Revealed, Plus A New Player Spotlight And Fun Video From A Visit To Las Lomas-Walnut Creek's Practice.