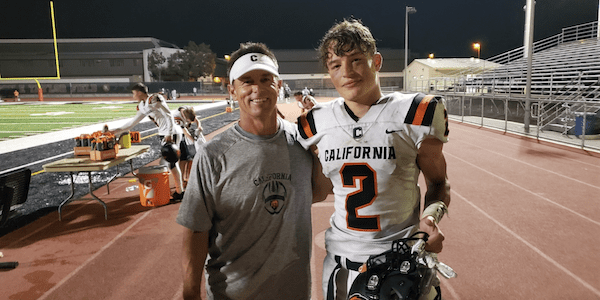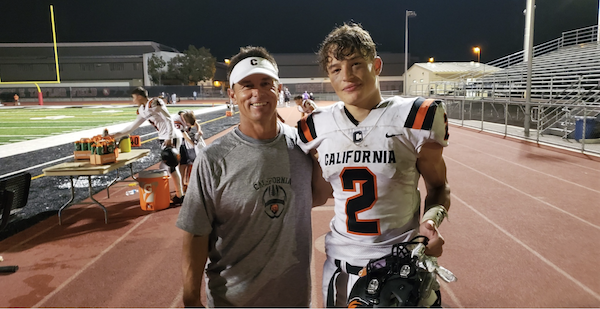 Four Days After His Dad Passed Away From Blood Clot Complications, Trevor Rund Scored Twice In A California-San Ramon Win — Helped By A...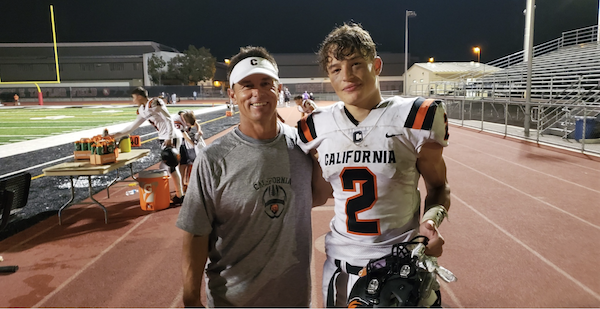 Four Days After His Dad Passed Away From Blood Clot Complications, Trevor Rund Scored Twice In A California-San Ramon Win — Helped By A Band Of Grizzlies •
TOP PHOTO: Trevor Rund, right, stands with coach and family friend Danny Calcagno following Cal's win over James Logan. (Ben Enos photo)
Trevor Rund dove for the pylon. He rolled over to get confirmation that he'd scored the first touchdown of his senior season and jumped back to his feet only to find himself enveloped in an embrace from fellow California-San Ramon senior Jake Calcagno.
Rund celebrated with his teammate. Then he turned, pointed above his head and looked to the sky.
By the time his arm returned to his side, more Grizzlies teammates arrived to greet him. Rund's emotion was obvious, but so was the affection from those around him. One by one, they joined in with hugs and slaps on the shoulder pads and helmet.
Acts of brotherhood by a family looking after one of its own.
On the Monday prior to Cal's season-opening 49-7 win at James Logan-Union City, Rund got the news no one ever wants to hear. His father, Joseph, had passed away due to a blood clot in his leg.
In a time already fraught with uncertainty, Rund was left to deal with unspeakable tragedy.
Enter the Grizzlies.
"It started on Monday when I got news that my dad passed away actually. I had nothing to do but fight and overcome it," Rund said. "Thankfully all my coaches and teammates have made it very easy to overcome, find happiness and look at the little things in life, and realize it will take you a long way."
The Calcagno Family has known Rund for many years. Having gone to middle school and now high school together, Jake Calcagno and Rund are more than teammates on a football team.
_______________________________
CONNECT WITH US:
Follow SportStars on Twitter & Instagram | Like us on Facebook | Subscribe!
_______________________________
And California head coach Danny Calcagno, Jake's father, has watched Rund weather challenging times before.
"With the cards that he had been dealt, he's a great kid," Danny Calcagno said. "He's yes sir-no sir, polite, makes good choices, goes to class, very respectful to everybody. He's like one of my own."
Rund found motivation from his father, especially when it comes to football.
While dealing with the uncertainty of COVID-19 heading into his senior year, Rund readied himself for one more season in black and orange. By the time he hit the field against Logan, he did so as Cal's starter in the backfield.
With an eye towards a season that would open the door to playing college football, the two touchdowns Rund scored against Logan were significant. Add in the motivation behind those scores, and his celebration took on added meaning on a host of different levels.
"It was a very proud moment for me, and emotional," Rund said. "I worked my (tail) off this whole summer to prove to him that I could play college football. I know he's watching somewhere up there so I had to give him recognition."
By game's end, the hugs from fans and photos with administrators, parents, players and coaches seemed to gravitate to Rund. He was one of the last Grizzlies to leave the stadium, hanging behind to talk to anyone and everyone celebrating a Cal win.
He also took time to acknowledge how big a role his football family played in helping him in tough circumstances.
"These guys have done nothing but support me, telling me we're going to fight for your dad and prove you right," Rund said. "They've done nothing but really, really help me throughout this time."
In turn, Rund's teammates have focused their efforts on being there for a brother. Stepping up to the plate in a trying time can sometimes be a reaction, but to hear those inside the California program describe it, the reaction comes from a culture that is already second nature.
"It's more than high school football," said Jake Calcagno. "I've said this all the time but brotherhood is a big theme on this team. We always want to be there for our brothers."