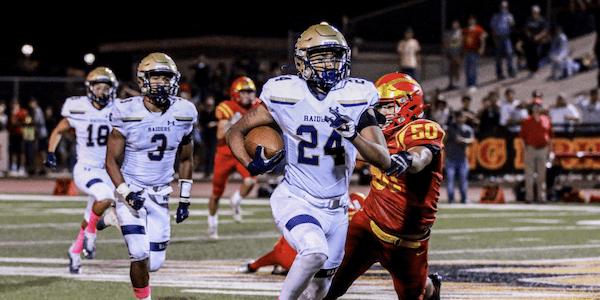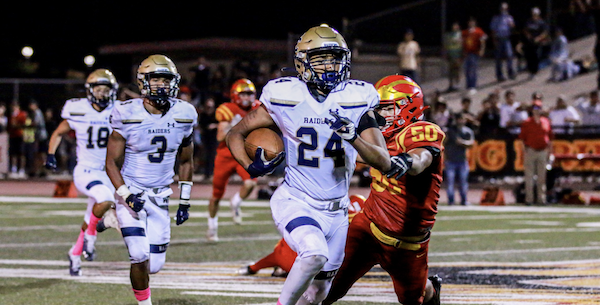 Nevermind That Competitive Equity Forces Central Catholic Football To Play Up In Division II — The 28-Player Squad Is Ready To Cause Chaos •...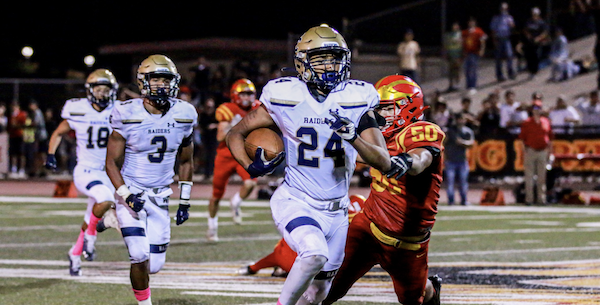 Nevermind That Competitive Equity Forces Central Catholic Football To Play Up In Division II — The 28-Player Squad Is Ready To Cause Chaos •
PICTURED AT TOP: Central Catholic defensive back Roland Brown (Ike Dodson photos)
The most storied small school football program in California history — Central Catholic High of Modesto — is quietly plotting to overthrow the large school postseason.
Since the CIF State Bowl system debuted in 2006, only three teams have won at least four or more titles.
Two of them are De La Salle (7-7 in title games) and Folsom (4-0). The third is Central Catholic (4-1), a program that has feasted since the CIF expanded championship opportunities in 2008. Central went on a historic run from 2012-2015 that included three consecutive Div. 4 (small school) titles and a 56-21 shellacking of San Marino in the first and only Small School Open Division game in 2015.
For the Sac-Joaquin Section, that 2015 title was enough to loft the Raiders, already held at a Div. III minimum, to big boy brackets in Div. II.
The move has left Central Catholic record books with unfinished pages.
In consecutive years, Raiders playoff runs ended in the SJS quarterfinals (42-21 to Jesuit-Carmichael in 2016), semifinals (23-12 to Del Oro-Loomis in 2017) and finals (20-17 to Del Oro in 2018). The 2018 game hurt the most, as consecutive Central Catholic turnovers in the final two minutes — including a fumble return touchdown — allowed the Golden Eagles to overcome an 11-point fourth-quarter deficit.
_______________________________
CONNECT WITH US:
Follow SportStars on Twitter & Instagram | Like us on Facebook | Subscribe!
_______________________________
In 2019, the last full season before COVID-19 stymied the football postseason, Central Catholic fell 49-28 to Jesuit in the Div. II quarters.
To overcome Sacramento-area powers in 2021, Central Catholic (6-1 overall, 3-0 Valley Oak League) has forged through a battlefield of NorCal's elite teams, and is poised to take a high Div. II SJS seed in November.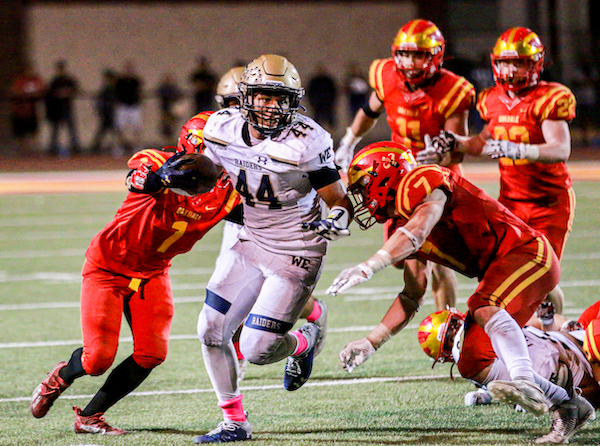 That is, unless Manteca (7-0, 3-0) spoils the fun in Modesto Friday at David Patton Field.
Central Catholic is No. 10 in SportStars' latest NorCal Football Rankings, while Manteca sits at No. 18. The Buffaloes needed overtime to beat East Union last week, but torched Downey-Modesto (6-1) and Patterson (6-2) to open the year.
The Raiders have posted wins over No. 12 San Ramon Valley-Danville and No. 13 St. Mary's-Stockton. And last week they blasted previously-unbeaten Kimball-Tracy and standout quarterback Nicholas Coronado 55-16. Coronado averaged 390 yards and 5.7 touchdowns per game before meeting the Raiders. Central Catholic held him to 269 yards, a single score and tagged him with his fourth interception of the year.
Overcoming Manteca is required to win an outright VOL title. Collectively, the challenges are all required to harden a program against the type of competition that looms in the Div. II postseason. That cast likely includes NorCal No. 6 Rocklin (7-0), Inderkum-Sacramento (5-1), and the loser of Saturday's game between No. 11 Jesuit (6-1) and Elk Grove (4-2).
"It's why we played the preseason that we did," Central Catholic coach Roger Canepa said this week. "We can moan about being the smallest school (377 students) to ever be in Div. II, or we can figure out a way to win.
"Put us in Div. I and we will play Div. I. We have been in the semis, been in the championship game, and now we have to figure out a way to win."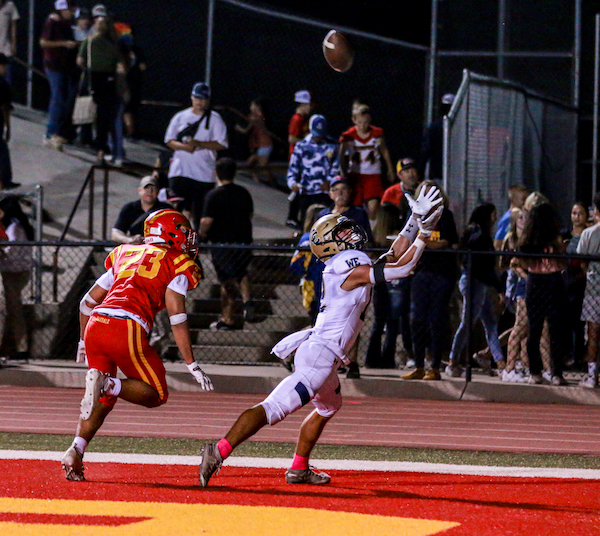 Winning is a way of life at Central Catholic, and Canepa credits every part of the program for that success. Everyone has a role to play, which is why opening day of practice includes a bit of fanfare and even the cheerleading squad.
"The Central Catholic community, boosters and fans, have always been so supportive of football," Canepa said. "We also have one of the best staffs and the school itself gives such support.
"To be a successful program you have to include everybody."
Canepa also credited the team parents, and circled back to a roster that has outscored opponents by an average score of 36-18. That's despite the tough schedule that includes a 28-21 loss to Central Coast Section-power Bellarmine-San Jose (NorCal No. 7) on Sept. 17.
It's a special roster, but Central Catholic is not powered by a host of collegiate superstars.
The team plays tough, disciplined defense. The top defender is probably unheralded senior defensive lineman Jericho Machado (6 foot, 2 inches, 310 pounds). He was a big reason Central Catholic shut out Oakdale's powerful Double Wing-T in the second half of its Oct. 1 win at The Corral. He also sacked Coronado a week later.
The Modesto native is looking to take a football career (that started with youth teams at Calvary Temple Church) to the next level, but he hasn't garnered a lot of attention from recruiters.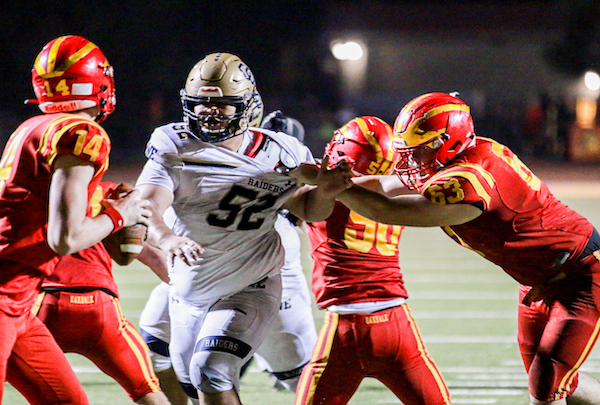 If he keeps disrupting plays and causing a ruckus in the backfield, one is bound to notice. If he doesn't get that chance at Central, he may at a local community college.
"Jericho plays hard," Canepa said. "He can play at the next level."
Offensively, Central operates through sophomore quarterback Tyler Wentworth (753 yards, five touchdowns), senior receiver Nolan Croasdale (378 yards) and a power run game that has generated an average of 221 yards and nearly four touchdowns through seven contests.
Senior Aiden Taylor is the workhouse back. He's amassed 793 yards and 16 scores. He ran for 231 yards and five touchdowns in consecutive VOL wins over Oakdale and Kimball.
"A difficult conference means everybody is hard, and everybody has to fight as hard as we do," Taylor said. "We prepare throughout the week and watch film every day."
Taylor and others don't chase wins in the bottom of the box score, although it often fills out nicely in tight games. The "we" mentality is strong at Central.
"They don't worry about stats, or who is getting the ball, and that's been our philosophy for years and how we have won a lot of games" Canepa said. "Our team is just about winning and being a good football team.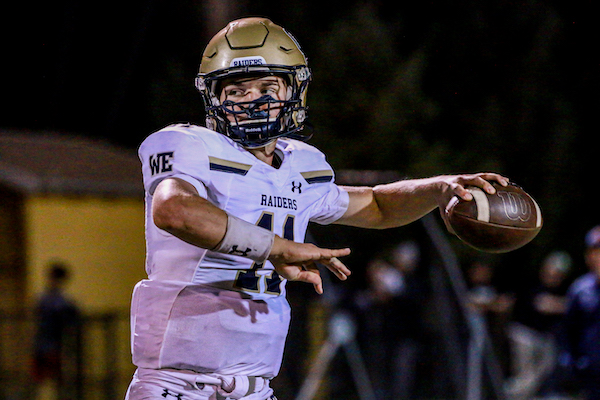 "They don't care about themselves, which is rare in society today, as most kids and parents are worried about what personal benefits they receive. These kids ask, 'What part can I play to benefit the team?'"
With that philosophy driving success, Central Catholic is rolling.
The Raiders roster just 28 players, but it sure seems like more when they build momentum — all at once.