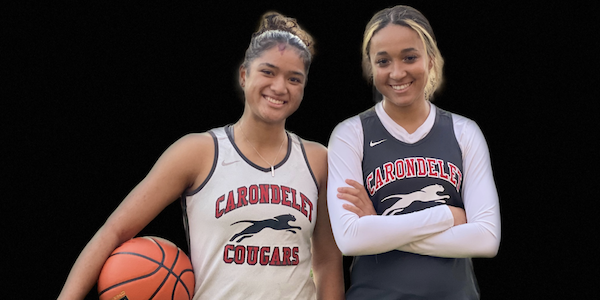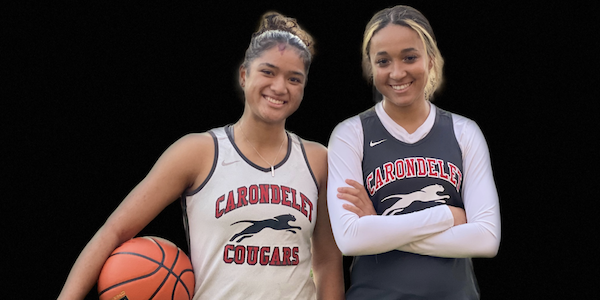 With Two Stars And A Coach From Last Summer's 17U National Champion Leading The Way, Carondelet Is Ready To Fully Jump Into Its New...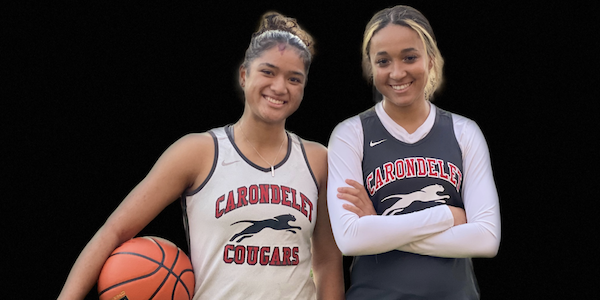 With Two Stars And A Coach From Last Summer's 17U National Champion Leading The Way, Carondelet Is Ready To Fully Jump Into Its New Look •
PICTURED ABOVE: Carondelet Senior Guard Tandem, Talana Lepolo, left, and Nya Epps.
Settings are in place for basketball success at Carondelet High in Concord. The Cougars are primed for the word "go!"
The Cougars have set their table nicely, with two standout senior guards newly signed to Division I colleges and one of the region's most dynamic coaches.
Point guard Talana Lepolo will be going to Stanford. Yes, as in defending NCAA National Champion Stanford.
Shooting guard Nya Epps is headed to UC Davis, winner of the last five Big West Conference championships. Each came to Carondelet as juniors transfers.
Running the show is Kelly Sopak, who came over to the Cougars in September 2020 after an exceptional run at Miramonte-Orinda.
The excitement level is at a fever pitch, hitting a high note on Nov. 9 when Lepolo and Epps signed their national letters of intent.
_______________________________
CONNECT WITH US:
Follow SportStars on Twitter & Instagram | Like us on Facebook | Subscribe!
_______________________________
"I am extremely excited," Lepolo said. "I feel like a bull that's been held back in a cage and I am ready to go." 
With so many stellar components and a full season now in sight, the anticipation is percolating loudly.
"When your point guard is going to Stanford, and to me she is by far the best point guard in (Elite Youth Basketball), I think we can do a lot here," Epps said. "I am looking forward to that and I think we can do really well this season." 
In what they hope is a precursor to high school glories, Lepolo, Epps and Sopak enjoyed the pinnacle of club basketball success this summer as the two guards led Sopak's Cal Stars team to the Nike Girls EYBL 17-under national championship. Sopak, who founded the Cal Stars program in 2006, has coached countless elite players. The most famous undoubtedly is Sabrina Ionescu. The Miramonte and Cal Stars phenom who starred at Oregon and now stars for the WNBA New York Liberty is one of the most popular female pro athletes in the nation. So who better than Sopak to define what that national championship entails.
"I just always remind people, you have to be there to really appreciate it," Sopak said. "You are playing against pros. You are coaching against players that are going to be in the WNBA. To be able to maintain excellence for that sustained period is great. Having done it before, I felt pressure this year for these kids because it felt like a really special group from the start. I felt pressure because I wanted them to feel that same feeling that Sabrina had felt. And that bonds them for life."
The task wasn't easy, Lepolo noted.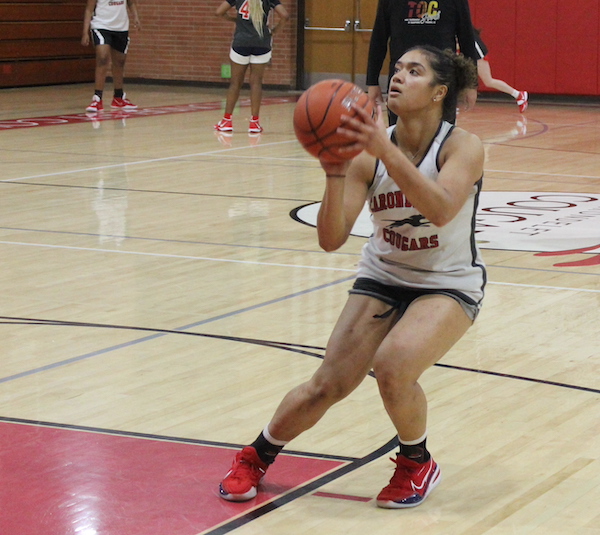 "You see this long schedule, it's daunting," said Lepolo, a four-star recruit at point guard. "You are traveling to 10-plus states in a span of two months. How are we really going to fit all these games in and play at the highest level? … Our team was special. We weren't the most athletic, the fastest, but we had team chemistry off the floor and it was exuding when we were playing. That is what made it the most fun."
The guards are primed as they reflect on the signing-day ceremony at Carondelet.
"Yesterday made me really realize that the most difficult part of it is over, as far as where you are going to go, where you are going to commit," Epps said. "So it is kind of like, let's go all out this season and try to win and go as far as we can."
Added Lepolo: "It was overwhelming, but in the best way possible."
Sopak cautions that any sense of relief might lead to an easing up on the gas pedal.
"I'm probably the first to remind them that a lot of times, when people think that all the pressure is off, now all of the sudden when Tara VanDerveer shows up at Talana's game, she is going to have a whole new sense of pressure," he said. "Not that, 'I hope that they will give me a scholarship,' now it's 'I hope they didn't make a mistake.' You have to keep them really focused on that. It's a job. Their job for the next nine months is to be ready so when they hit the floor at their respective schools, they are ready to go."
Epps, Lepolo and their Carondelet teammates have a great resource for recruiting advice in Sopak.
"First and foremost, enjoy the process," Sopak said. "Nowadays with social media there is too much focus on too young of an age. So for them it was a real organic process. Enjoy and embrace it. At the end of the day you are going to have to make a tough decision and tell somebody no. But they are fortunate that they have choices, right? … And both of those kids went where their heart was all along. Nya has family history at Davis and Talana always wanted to play at Stanford."
The two came to the East Bay from different parts of the Bay Area. Lepolo started in Alameda at St. Joseph Notre Dame where as a sophomore she helped the Pilots win the NCS Open Division championship and was named to SportStars' All-NorCal second-team. Lepolo, who said she is anticipating starting to play for the Cougars in December after completing an NCS transfer sit-out period, feels at home at Carondelet.
"I lived literally three houses down (from St. Joseph) and it was a school of maybe 400 kids and then going from that tiny high school to this one of what, 1800? It was a huge difference," she said. "I'm not super extroverted, so putting myself out there and being able to meet new people was definitely a challenge. But I think that this year I have shown the most growth socially, emotionally, I guess really in all aspects. I am really enjoying myself here."
Epps played her first two years at Sacred Heart Cathedral in San Francisco. At Carondelet as a junior, she averaged 16 points, 5.7 assists and 5.5 rebounds to earn SportStars All-NorCal first-team honors during a 10-1 spring.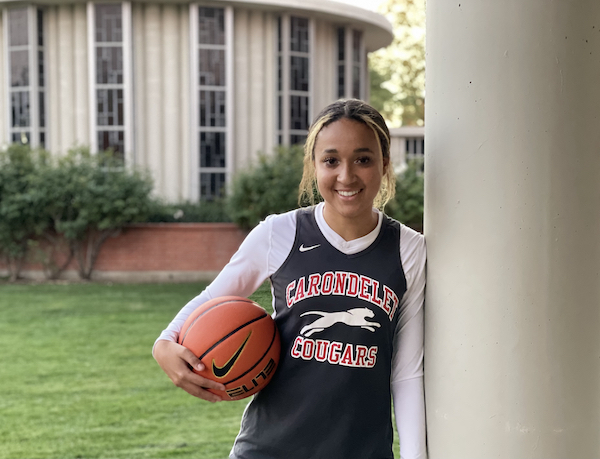 "She raises the pace of the game," Lepolo said of Epps. "It was Top 8 in nationals and we were down by 8 in the fourth quarter and she hit three 3s. She is MY shooter. I claim her as my shooter. I know exactly how to hit her in a rhythm. I love playing with Nya. … She exudes confidence. I am going to miss her a lot."
Sopak began his high school head coaching career at Northgate-Walnut Creek in 2005 and led the Broncos to back-to-back NCS finals. He had a tremendous run at Miramonte, where from 2009-2020 he coached the Matadors to six NCS championships, six NorCal finals and a NorCal Open Division championship in 2016, putting the school on the national map.
He said he had reached a stage in his life where he would probably coach one more season, which would have been the season practically wiped out by the COVID-19 shutdown.
"That was my thought, that I would do one more year and maybe just focus on the club," he said. "But then the Carondelet opportunity came and it took me a while to just say yes, because I was a little hesitant about it. Am I ready for that commitment? It's a huge commitment, especially at Carondelet."
Knowing he'd be able to impact more female student-athletes swayed him to a "yes." That was proven when nearly 90 girls signed up for basketball.
"Where at a public school, even though we did really well at Miramonte at all three levels, we were kind of begging kids to come out," Sopak said. "And it is just nice to be able to touch that many basketball players."
It's a tremendous opportunity given the history of recent success at Carondelet, winners of 14 section championships since 2003, including a trio of Division I crowns from 2017-19. The Cougars won four NorCal titles during that span and the Division II state title in 2004.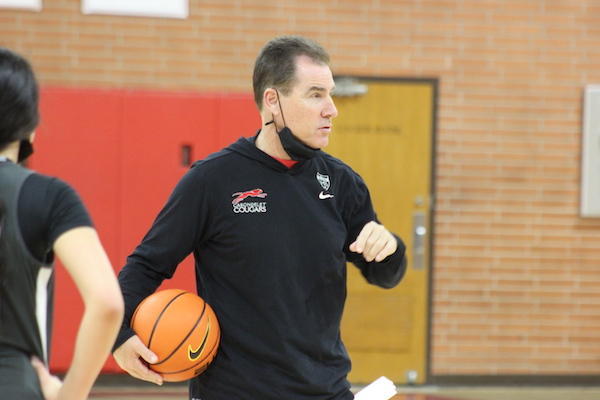 Sopak's assistants have made the transition work well. Among them is Claire Ely, one of his former players at Miramonte. "She is awesome, handles all of our wing-skill development and helps me with the defense, too," Sopak said. "So I have actually had the easiest time this year coaching, because I can do a little bit more supervising. Or being a walk-around boss."  
Sopak noted that the short spring season offered a unique chance to implement his system and focus on development, not wins, losses and playoffs.
"Last year was just a partial season so we just had to focus on us, practicing, and summer hit and we didn't play any summer leagues; we didn't do anything, we just practiced," Sopak said. "In the fall we just went into open gyms. That's all we have been trying to do is develop them, and we are starting to see that from where we were, just over a year ago. That was kind of a blessing, that we didn't have to go out and play a 26-game season. Because sometimes playing games gets in the way of development. But now we have to see what we're made of."
They'll be tested by an array of top-flight opponents. The schedule includes Pinewood-Los Altos Hills (Jan. 5), Archbishop Mitty-San Jose (Jan. 17), Oakland Tech (Feb. 12), the Nike TOC Dec. 18-22 in Phoenix and the East Bay's West Coast Jamboree Dec. 28-30.
"Those are the games that it takes to get to that level. And then you start that culture," he said. "At the end of the day, you want the kids to enjoy it and just have a memorable experience. But we'd love to do it on a national stage."
You can see that team bonding as they gush over their teammates. Epps points to Lepolo's leadership.
"She is bringing up the confidence of a lot of the players on the team, which is making us better," Epps said. "Megan Dickert is such a great player. She is so underrated."
And they see the promise of the future.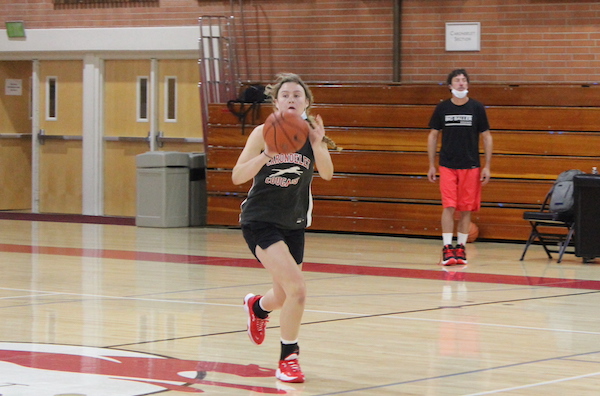 "I love my little point guard Keshia (Vitalicio)," Lepolo said. "She is a sophomore and she is really good." 
The competitive fires are burning, even before they step onto the court Dec. 9-11 for the season-opening Carondelet Tip-Off Classic.
"There really is a sense of urgency," Epps said. "Practices now are much more intense. People now are actually mad at one another, 'Hey you really came after me in practice today,' but in the best way possible."