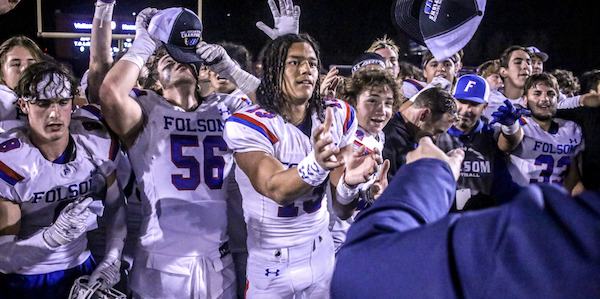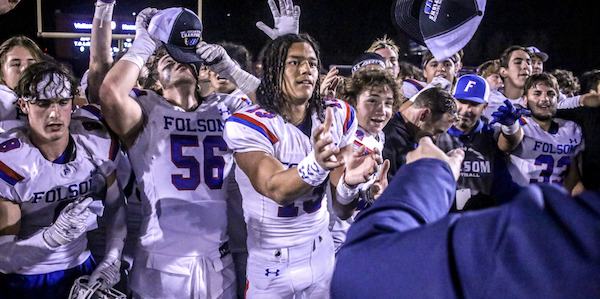 Bulldogs Shut Down Rocklin 20-3 To Avenge 40-7 Loss And Push On To CIF Regional Bowl Game • After tracking passes mid-flight for four...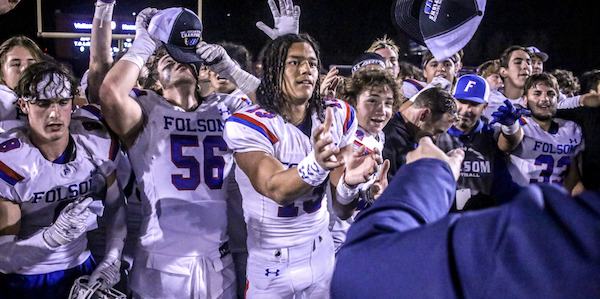 Bulldogs Shut Down Rocklin 20-3 To Avenge 40-7 Loss And Push On To CIF Regional Bowl Game •
After tracking passes mid-flight for four quarters, heavily recruited Folsom junior Rico Flores Jr. knew exactly how to react to the last one he would see Friday at Sacramento City College.
He squared his body toward the thrower, extended his arms away from other players and snatched the "Sac-Joaquin Section Champions" hat from the sky.
Then he wore it, about as smoothly as Folsom wore down Rocklin during a dominating 20-3 victory for the Div. I title.
Hats and a banner were nice, but avenging a 40-7 Sierra Foothill League loss and qualifying for a NorCal bowl game were the real prizes.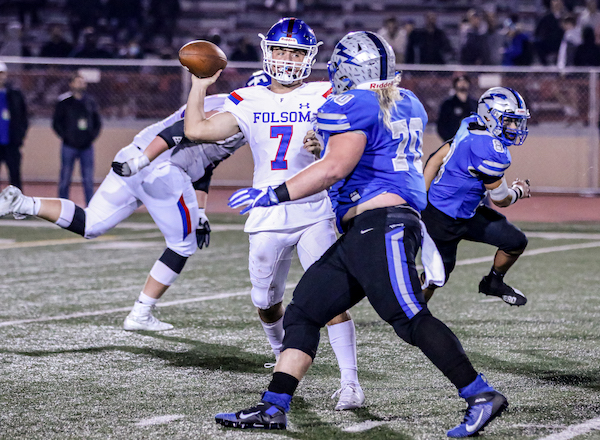 "I would take this any day," Folsom senior quarterback Tyler Tremain said. "Not being able to play the first time we played Rocklin (due to injury) was probably the hardest thing for me.
"I knew walking in here, that I had my shot and I had my chance and my team believed in me. They carried me through the line, and we came out on top."
Flores was on the field for the regular season loss to Rocklin, and he caught six passes for 52 yards in the rematch. His defensive play, especially on long passes, was critical in stifling a Rocklin team that averaged over 41 points a game during the 12-0 stretch that carried the Thunder to Friday's title game.
Reaction to regular-season losses fueled his fire, and made postgame celebrations and swag that much sweeter.
"All the hate was real, just seeing all the noise after that (first game against Rocklin) and coming into this game," Flores said. "All the news reporters had their backs on us. Everything was crazy, 'cuz they was with us the first five-six weeks — everybody was like 'Folsom this, Folsom that' — then y'all just switch yo' sides.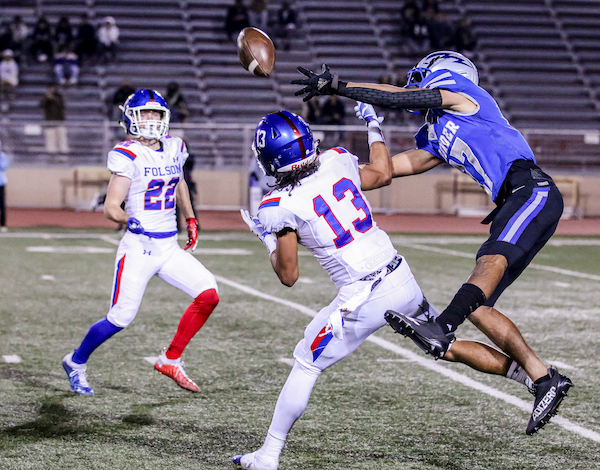 "That rubbed us the wrong way — everybody on the team — so we just wanted to come out here and prove everybody on their side, all the news reporters that were against us, wrong."
Tremain was 18 of 32 for 188 yards in the win, while Tou're Hendrick and Donovan Maxey-Parler combined for 99 yards on 25 touches. Folsom surrendered very little to Rocklin, shutting down running back Anthony Johnston and quarterback Joey Roberts on nearly every drive.
Rocklin's only score was the game's first, a 22-yard field goal by MacGregor Teselle in the opening quarter. Jake Tremain matched that score from 32 yards away to close the half at a 3-3 deadlock, and Folsom took over after the break.
"Folsom made some key plays and they were able to come back with the momentum," senior Rocklin receiver Nathan Kent said. "Once you get momentum on your side it's hard to shift back, so I think that's why Folsom won this game."
Folsom played a near-perfect third quarter.
Back-to-back third-quarter rushing scores by Hendrick and Maxey-Parler gave the Bulldogs a two-score lead, and Greco Carrillo helped push that to three at the end of the third after a strip fumble and recovery while guarding Rocklin's Kyran Bell. Jake Tremain booted his sixth field goal of the season from 23 yards out to bring home the game's final score.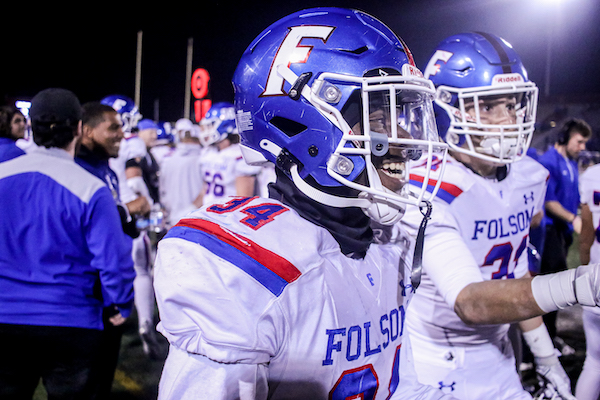 Kent scooped up a Folsom fumble with 10:43 to play, but the Bulldogs forced a Thunder punt just 23 seconds later. Rocklin forfeited the ball on downs in their next three possessions to close the game.
"That is a tough Folsom team — those dudes are going places." Rocklin's SFL MVP Elias Mullican said. "Since we already beat them, we thought, 'Oh we can beat them again, it's going to be easy, it's going to be easy.'
"That wasn't the case."
Since the SJS didn't host a postseason last year (COVID), and Folsom was upset by Monterey Trail in the 2019 semifinals, this is the first section title for third-year Bulldogs head coach Paul Doherty. Folsom has now won 10 section banners in 12 title appearances, trailing only Del Oro-Loomis (11 championships) and Central Catholic-Modesto (20).
"The defense played lights out, and I don't want to misspeak, but I thought our defense played lights out the first time. It was really our offense that struggled," Doherty said. "We just have to play all the way through the finish."
"I feel like we did OK on that front tonight."
_______________________________
CONNECT WITH US:
Follow SportStars on Twitter & Instagram | Like us on Facebook | Subscribe!
_______________________________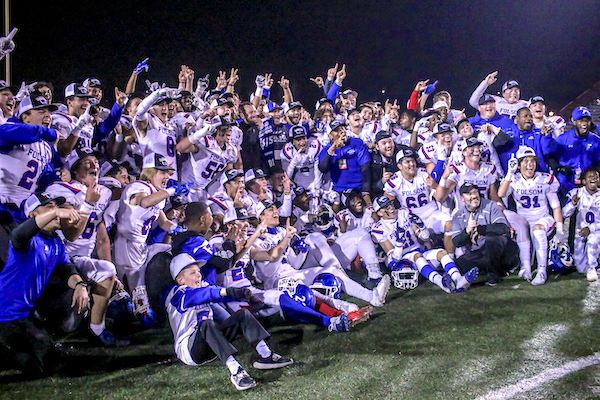 Rocklin's season comes to an end after 12 consecutive wins, an SFL title and consecutive wins in the SJS postseason, including a 42-0 shutout of Sheldon-Sacramento and a 51-48 come-from-behind thriller over St. Mary's.
The Thunder delivered one of the best defensive seasons in section history and rallied behind incredible performances by Johnston and Roberts after starting quarterback Kenny Lueth was lost for the year to a knee injury.
Folsom's stars will look to make an impact in this week's NorCal bowl games. Pairings will be announced later today at cifstate.org.
They won't be handing out any hats at NorCal, so Flores will have to settle for footballs.