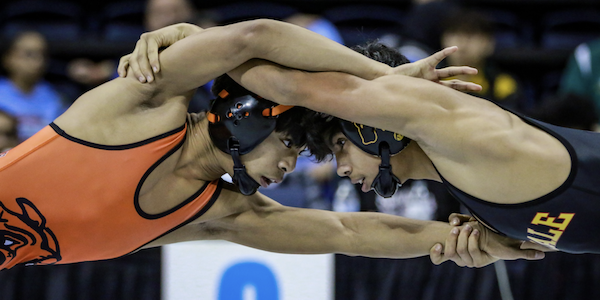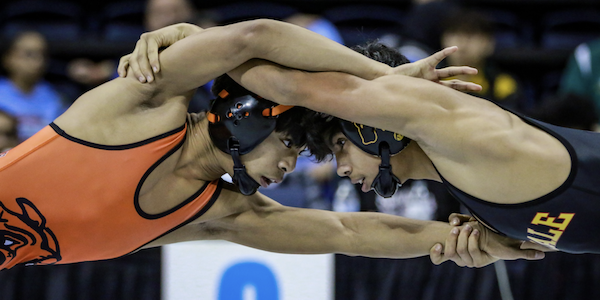 Vacaville Has Spent The First Month Of The Season Establishing Itself As NorCal's Top Wrestling Team — And That Doesn't Look Like Changing Anytime...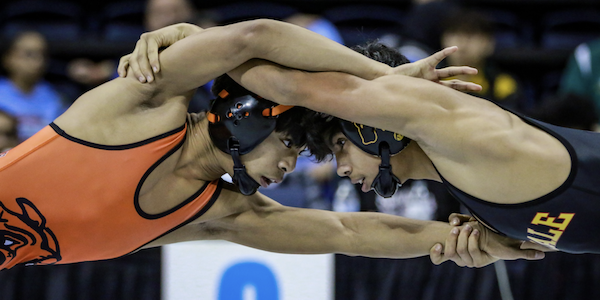 Vacaville Has Spent The First Month Of The Season Establishing Itself As NorCal's Top Wrestling Team — And That Doesn't Look Like Changing Anytime Soon
PICTURED ABOVE: Kainoa Medina, left, tangles with Oakdale's Michael Torres in the 2020 SJS Masters 106-pound final. (Ike Dodson photos)
The first time Kainoa Medina, Ethan Birch and Eric Almarinez qualified for the Sac-Joaquin Section Masters Wrestling championships, Vacaville Wrestling set a section record by scoring 262.5 team points.
Three years later, their last trip to Masters could set that record to seemingly unrepeatable heights.
The first release of SportStars' 2021-22 NorCal wrestling rankings will showcase six Bulldogs atop the SJS field in their respective weights. Four more are listed among the section's top three, and 12 total grapplers appear among the designated NorCal top 15 for every class.
If Vacaville can get healthy, settle nicely into projected weight classes and wrestle smart, the team could obliterate a 2019 record set by three finalists, two champions and 11 state qualifiers.
Current rankings would project Vacaville to appear in seven SJS finals on Feb. 19 and advance 12 to the CIF championships.
"It's super rewarding for all the coaches, including (co-head coach Armando Orozco) and I, to coach all these kids who have stayed with it," Vacaville coach Clint Birch said. "We want this senior year to fulfill everybody's dream, and these kids have high hopes.
"We are going to do the best we can."
The potential is the result of Vacaville's steely determination to thrive during a COVID-19 stymied season last year.
"It speaks to the courage of our kids and parents, because there were a lot of reasons to not stay with it during the whole COVID thing," Birch said. "There were a lot of people that went and closed all their doors and ran away.
"There were probably eight programs in California that went off and wrestled in other parts of the country — and some of our kids wrestled in 10 states last year."
_______________________________
CONNECT WITH US:
Follow SportStars on Twitter & Instagram | Like us on Facebook | Subscribe!
_______________________________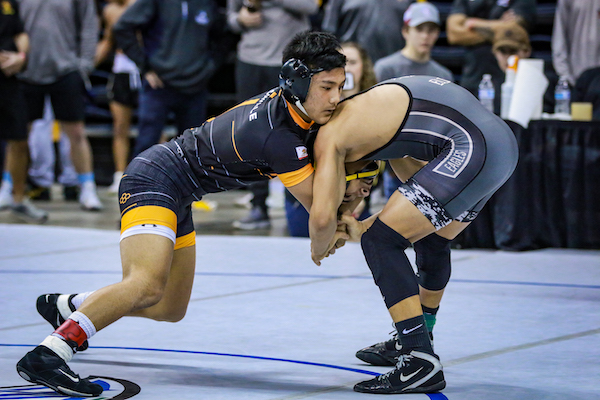 Despite great personal costs and inconvenience, Vacaville families embarked on an untraditional season that included ten entries in the USA Wrestling 2021 Juniors & 16U Nationals in Fargo, North Dakota. Just getting into a Fargo bracket is intensely difficult, but Vacaville targeted the Western Regional Championships in North Logan, Utah and attacked the brackets en masse.
"The parents were all in, and now we get to reap a little bit of the reward from those efforts," Birch said. "That is how you get a special group, when they do what nobody else is doing and work when nobody is looking."
Vacaville has 14 wrestlers who appear in the top 40 of the California Wrestling Newsletter state rankings, and four of them are slated into medal position (top eight).
Cal Baptist-bound Kainoa Medina is listed No. 2 at 113 pounds, but he probably has even more championship potential once he drops to 106, where he was eighth in the state back in 2020.
Clint's son, Ethan Birch (committed to Saint Cloud State), is ranked fourth in California at 145. He absolutely carries title ambition, but a genuine shot at state would be a tremendous blessing in itself.
Ethan went 0-2 at state his freshman year after battling a serious knee injury that cut his second day short at Masters. A year later, he was poised for serious CIF hardware, but his postseason was ended by the drunk driver that nearly took his life on Highway 99.
A year later COVID-19 took away CIF hopes, leaving Ethan with one final shot to take the podium in Bakersfield.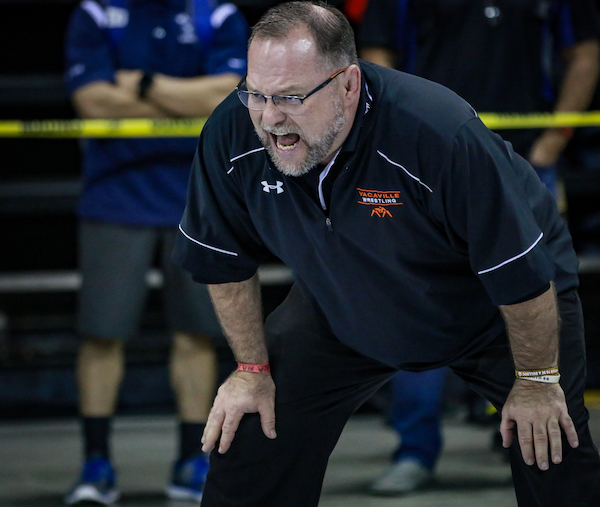 Ethan's sparring partner, 138-pound Eric Almarinez, is ranked sixth in the state. He could climb that list after going unseeded into the prestigious Reno Tournament of Champions and winning six consecutive matches to claim the tourney crown on Dec. 18.
Clint had predicted some bracket-busting by Vacaville wrestlers before the tournament, and the Bulldogs hit the mark. On ten occasions, unseeded Vacaville wrestlers defeated competitors that had earned favorable spots in the bracket by placing at their respective state championships or winning medals at Reno TOC in prior years.
Despite three injury-defaults from the tournament, and two missing starters, Vacaville won five medals and placed eighth in a field of 106 top programs from across the country.
"All the issues we have, like health, match intelligence, getting everyone we need in the lineup, all kept us from really breaking out," Clint said. "But we were super pleased at how hard and competitively our kids wrestled."
The Bulldogs also saw medals from Logan Valledor (fifth at 120), Thomas Sandoval (sixth-170), Tyler Riley (seventh-113) and Arjun Nagra (seventh-160).
"Our young guys at 160/170 really showed they are varsity ready. Eric had a wonderful tournament and proved he has state champ talent," Clint said. "Tyler and Logan just keep getting better and better. So, like always, we'll spend the next seven weeks trying to correctly put the puzzle together and hopefully be ready for postseason."
Vacaville was also fifth at the Clovis West Shootout on Nov. 20 (missing four starters), handily won their host Larry Nelson Classic (a dual tournament) on Dec. 4 and won the Bay Area 58 (48 teams) by exactly doubling the team score (324) of the next closest team (Castro Valley had 162).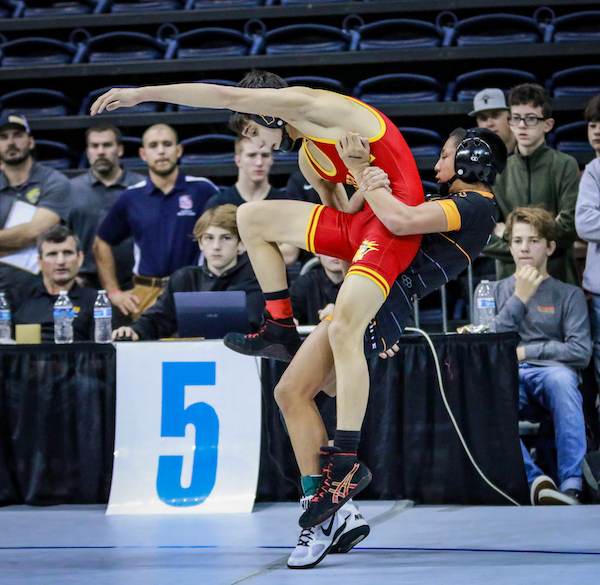 Vacaville likely doesn't have the roster to take down California juggernaut Buchanan-Clovis (12 projected placers) and win the program's second ever CIF team title (they did it in 2007).
Clint has set a team goal of earning one of the coveted CIF plaques awarded to the top four teams in the state. It's a benchmark Vacaville has reached just five times, and last achieved in 2013.
The goal shouldn't distract from day-to-day operations.
"We do a pretty good job of staying in the moment, and enjoying that moment," Clint said. "The kids come to practice excited, not worried about something being taken away from them.
"They are going for it."
Vacaville will be California's only representative at the best Dual Meet tournament in the country, The Clash National HS Duals XIX, on Jan. 7 and 8 at the Rochester Regional Sports Center in Minnesota.
It's the kind of action that will propel the Bulldogs toward the 2022 postseason with intentions of busting more brackets.