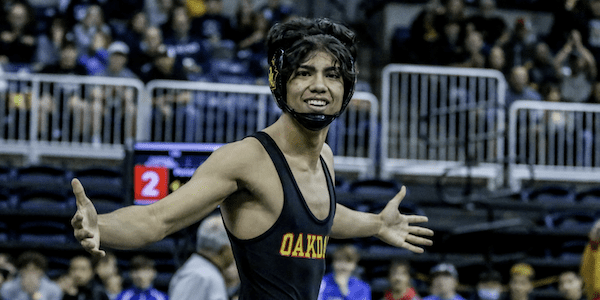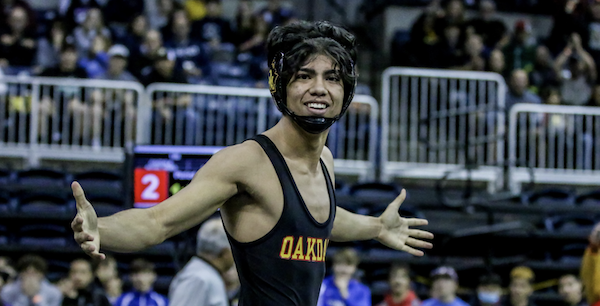 Undefeated Champion, Record-Setting Tournaments Highlight Section Wrestling Championships Weekend As NorCal's Finest Set Sights On Bakersfield And The CIF State Championships • PICTURED ABOVE: Oakdale's...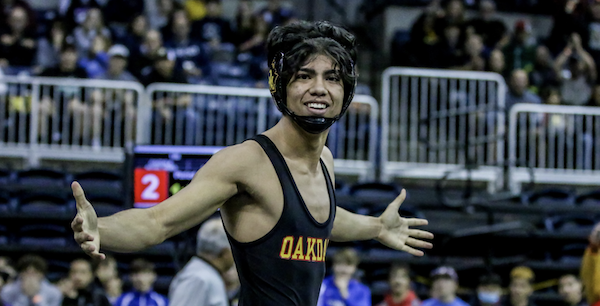 Undefeated Champion, Record-Setting Tournaments Highlight Section Wrestling Championships Weekend As NorCal's Finest Set Sights On Bakersfield And The CIF State Championships •
PICTURED ABOVE: Oakdale's Michael Torres celebrates his 126-pound Masters title. (Ike Dodson photos)
Chase Nutting's championship mullet had to be styled with performance-enhancing substances Friday and Saturday at the Stockton Arena.
The undefeated El Dorado-Placerville senior was all business in the front, and party in the back after a 5-0 romp through the 285-pound bracket at the Sac-Joaquin Section Masters Wrestling Championships.
Nutting is one of 28 SJS champions and 182 qualifiers to emerge from the section wrestling championships with a golden ticket to the CIF State Wrestling Championships Feb. 24-26 at Mechanics Bank Arena in Bakersfield.
He did it with four pins, including ones in the tournament semifinals and finals. His last, a three minute, 47 second fall against Sam Hinjosa of Stagg-Stockton, kept his perfect season alive and induced a hearty roar from the first row of elevated bleacher seats, where parents Roy and Jen Nutting were overlooking the mat.
If credit is due for the do, it belongs to Jen.
"I'm country by birth," Chase said proudly, grinning between camouflage headgear after his finals win. "Mom is a hairdresser. She likes experimenting with my hair."
_______________________________
CONNECT WITH US:
Follow SportStars on Twitter & Instagram | Like us on Facebook | Subscribe!
_______________________________
Chase does a little experimenting of his own during matches. He said he tried out some new technique during his seventh consecutive tournament victory at Masters. The Div. V champ was also first at Vista Del Lago, Marty Manges, Joe Rios, the Tim Brown and Sierra Valley Conference.
He said Masters was the biggest win of his career, and coach John Schaefer nodded in agreement.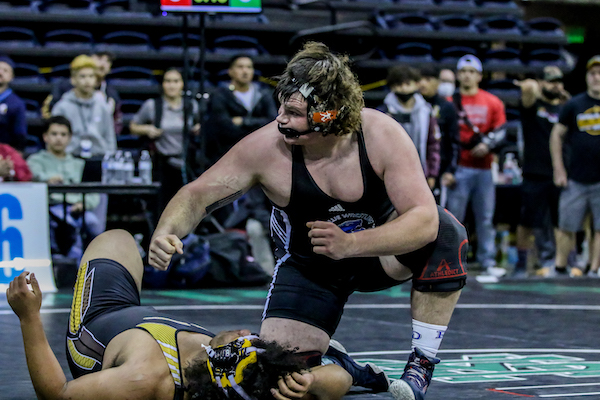 "He's hard to take down, he's hard to turn and he has great hips," Schaefer said. "And the bottom line is, he is always in the room, always pushing everyone and he just loves wrestling."
El Dorado's sixth Masters champion in school history and first since 2009 (two-time champion Jordan Williams) has achieved remarkable progression since his 2020 postseason, when he went 0-2 in the Masters bracket at 220 pounds.
Schaefer credited the improvement to Nutting's newfound dedication to training and desire to be a leader in a wrestling room that also contains fellow state qualifier Nathan Long (third at 182).
Elsewhere in the SJS…
…Vacaville won its fifth consecutive Masters title, and has now won 21 of the 67 section wrestling championship banners in SJS history. The next closest team (Ponderosa-Shingle Springs) has nine. The Bulldogs will need a separate page in the SJS history books for some of these other achievements, all of them SJS records:
• 340 team points (beating Vacaville's previous record of 262.5 in 2019)
• Seven champions (Modesto had six in 1960)
• Eight finalists
• 12 state qualifiers
• 13 medalists
• 66 individual match wins
Kainoa Medina (106), Tyler Riley (113), Eric Almarinez (138), Ethan Birch (145), Jason Brauning (152), Francisco Ochoa (182) and Logan Khuel (195) all won their weight classes while Logan Valledor (second at 120), Casey Roberts (fourth-126), Arjun Nagra (third-160), Thomas Sandoval (third-170), and Luke Levengood (fourth-285) also qualified for state.
Though he's a senior, it was Riley's first postseason, after two years behind stacked lower weight lineups and a COVID-stymied season in 2021.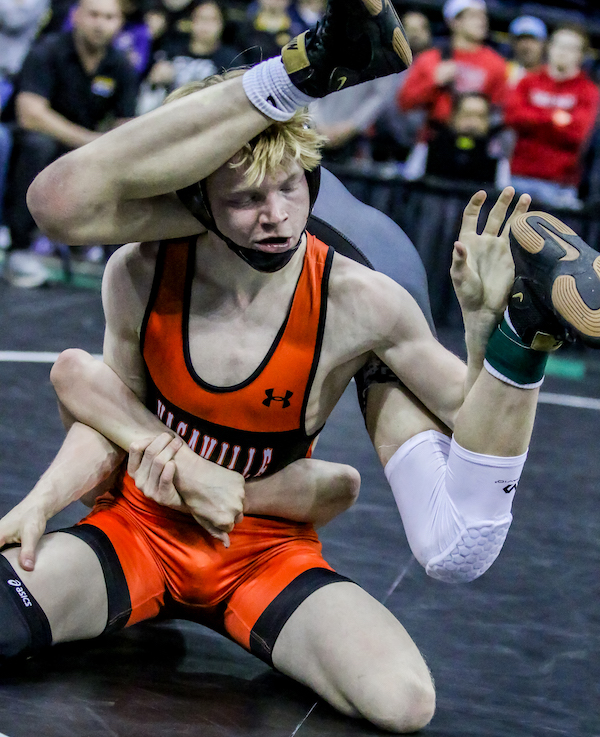 "My whole life I have wanted to wrestle in the starting lineup in the postseason for Vaca High," Riley said. "We have a hell of a team and we smashed records, and I wouldn't want it to happen any other way."
Vacaville coach Clint Birch said he doesn't have any regrets for setting a bar so high that future teams will find it nearly impossible to best.
"When you have lightning in a bottle, you have to catch it," Birch said. "I want each team to think of themselves of the best team that Vacaville has ever had, and I want the next team to think, 'Well, we have to do better than that group before us.'
"It was a really unique year, and all the kids and all the parents did all the work that they needed to do."
…Casa Roble-Orangevale took home top team honors in the girls tournament, competing alongside the boys for the second time since the SJS merged the two tournaments in 2020.
They did it with only three qualified wrestlers. Haley Gumpfer (170) and Casey Rankin (189) each took first, while Jourdon Gumpfer was third (131). The three wins in the medal round broke a deadlock with second-place Bella Vista, who also placed three, but went 1-2 in the medal round.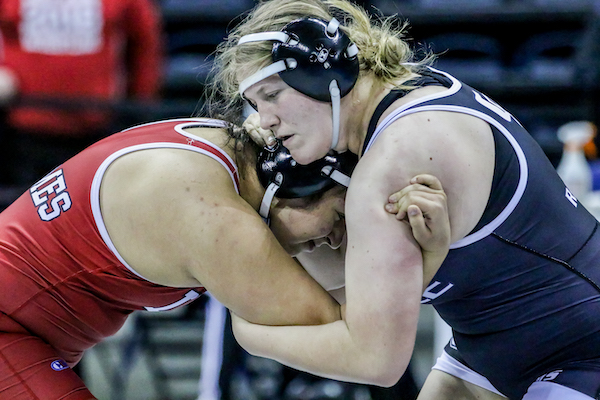 Rankin's finals pin in 2:52 was the championship exclamation point.
"It feels good (to win the team title); we worked pretty hard for it," Rankin said. "My mind going into that match was just thinking that I'm going to win."
…Del Oro-Loomis enjoyed a special co-ed moment in the SJS finals when Elena Ivaldi, the 2020 SportStars All NorCal Breakout Wrestler of the Year, competed in the championship match at the same time as her boyfriend, Del Oro's Damion Elliott.
Since title matches occurred on neighboring mats, both stole glances to the other's scoreboard to check on their partner's progress. The distraction did little to deter both from winning their weight classes.
"We grew up wrestling together on the same USA Gold club team, and I know the work we have both put in to be here, so it was pretty cool to both be out there like that," Ivaldi said. "What has worked most for us is belief in ourselves, and just everything we have learned in practice, training all these years to keep our head and mind right and continuing through the match."
Del Oro's boys were third in team scoring. Elliott (132) and Isaac Herrera (120) won their weight classes while Jagger French (113) was third.
…It was the second time in three seasons that Oakdale wrestled well enough to break the Masters record for team points, only for Vacaville to simultaneously beat it by a larger margin. The team scored a program-best 268 points and qualified a team record 10 wrestlers to state.
Michael Torres did something that nobody in Vacaville could best, however. He shot a sweep single on Robert Lopez on the opening whistle of the 126-pound final. He suddenly snatched a head when the two dropped to the mat, crunching Lopez into a cradle position. He got the fall in only nine seconds, easily the fastest final pin on any of the section's posted results since 2005. The next closest was another Oakdale wrestler, Rudi Burtchi, who pinned his opponent in 48 seconds in 2007.
"I saw the head down and went for the cradle, and boom, that was it," Torres said. "After the COVID year, I just wanted to make a statement that I'm the best in the SJS, and it proves that my hard work is better than everyone else."
Carlos Garcia (160) and Ceasar Garza (170) were also first, while Eli Elting (fourth-106), Eziequel Vela (fifth-120), Colton Silva (second-132), Jonathon Hernandez (second-138), Brodie Johnson (fifth-145), Payne Perkins (third-152), Jordan Van Rys (fourth-182) and Garrison Gerber (fifth-220) also qualified for state.
…Calaveras had a strong tournament on both sides, and will send two sets of brother-sister duos to state. And in this case, the sisters own the bragging rights. Cynthia Meza (106) and Lexi Beadles (111) both won their weight classes, while Carlos Meza (160) was fourth and Scott Beadles (170) took sixth.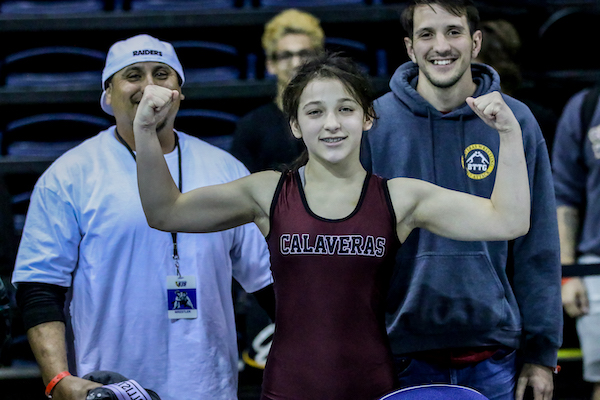 Both sisters won every match by pin or forfeit.
"It definitely means a lot," Lexi, a senior, said afterwards, still heavily wrapped up to protect a shoulder that has been dislocated multiple times this year. "I lost in the semis my sophomore year and have had a lot of injuries, off and on, so it feels great to get here."
…The two youngest schools in the SJS, Twelve Bridges-Lincoln (opened in Fall 2021) and West Park-Roseville (fall 2020) made history by each qualifying their first wrestler to Masters in the two programs' short history.
Kaden Obien took it a step farther by also securing West Park's first ever state qualification. Though he was eighth highest among SJS wrestlers on the SportStars NorCal Wrestler Rankings, Obien rebounded from a second-round loss to the eventual tourney champion to win four consecutive elimination matches in the consolation bracket. His biggest was a come-from-behind pin to upset NorCal No. 9 and SJS No. 6 Noble Santos of Hilmar.
The win dropped Santos to the seventh-place match and allowed Obien to qualify for state. The Oakmont-Roseville transfer ended sixth.
"I had been thinking about it a lot, because it was my goal since I got here, to go to state in my first actual season," Obien said. "I was down by a point (to Santos) and on top, and I had to go big, with nothing to lose, so I went for it and caught the kid."
The pin guaranteed that West Park's first ever interaction with state-championship-level competition will be wrestling, and should open up a preferred parking spot for coach Bret Friend, a former assistant at Foothill-Sacramento.
"It's a great thing for our program," Friend said. "Other guys around his weight see him working hard and they figure they have to step it up. We brought some other kids here, just to watch, and this is their first glimpse of this caliber of wrestling.
"I think it gives the younger guys a goal."
Twelve Bridges sophomore Elijah Wade went 2-2 at 160 pounds, and is one of only five underclassmen in the SJS to win at least two matches in his 32-man bracket.
…Elk Grove was seventh (boys) and 10th (girls) and had champions in both Nolan Frank (220) and Annika Miles (235). Frank won back-to-back one-point matches in the semifinals (Gerber of Oakdale) and finals (Achilles Clark of Pitman-Turlock). 
Miles won her finals match in just 1:08 (pin) to claim her second consecutive Masters title. Her season started with the SJS postseason, but showed little rust at divisionals or Masters. She will be a favorite to medal, and perhaps take first, at the state tournament.
…Rocklin had four state qualifiers, including Kaiden Baker (third at 195) and Evan Tabalda (fifth at 132). Two girls reached the finals, and Kayla Pflueger won her 131-pound bracket, but not without a bit of postseason drama.
A Rocklin error accidentally designated Pflueger for 131, despite her intended entry at 137. With two pounds allowance, and Pflueger's weight hovering around 139, she suddenly had to drop the pounds.
"I found out I was registered at 131 at 7:30 p.m. the night before weigh ins," Pflueger said. "For me, it was like an ultimatum — if I didn't make weight the next morning, my season would be over."
She made that weight for divisional, stayed light during the week and won every match by pin or major decision at Masters to garner the top spot to state. But the weight cut changed everything.
"It sucks, and it's emotionally draining, because you are constantly thinking after meals, 'Everything I eat, that's weight. And everything I drink, that's weight,'" she said. "'Do I have to go bike or run after practice, and how many shirts do I have to wear?'"
It's why she showed plenty of emotion after her finals match, and ran to give coach Gus Barone a big hug after her pin victory. She admitted that in the end, she's probably a little tougher at 131 anyway.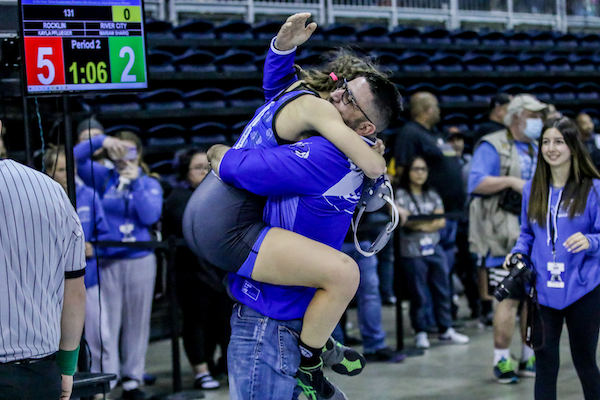 "100 percent, it's the better weight for me," she said. "I hope people look at my name and I hope they are scared that they have to wrestle me after all that."
Elsewhere in NorCal
…The Gilroy boys program flexed its might yet again in the Central Coast Section wrestling championships by scoring 312.5 team points and winning the team title. The Mustangs had seven finalists, five champions and 11 state qualifiers across the 14 weight classes.
Isaiah Cortez (106), Elijah Cortez (113), Moses Mirabel (132), Micah Porter (152) and Cody Merrin (195) were bracket winners while Daniel Glenn (second-120), Daniel Zepeda (third-126), Donte Lopez (second-138), Zack Fierro (third-145), Ruben Le (third-160) and Oscar Alfaro (third-182) reached the important top-three podium spots.
Los Gatos also set program records after a terrific tournament performance in second (217 points). The team had program records for points, medals (nine), state qualifiers (six) and finalists (four). Top placements went to Ethan Parco (first-138), Daniil Gorshkov (first-170), Anthony Ramirez (third-145), Sergiy Nyzhnyk (second-182), Timmy Murabito (third-132) and Dylan Lucas (third-285).
Evergreen Valley-San Jose won the girls CCS wrestling championship with 180.5 points and six medal-winners, including Sabrina Tran (first-106), An Nguyen (first-150), Madison Heinzer (second-101), Alana Washington (second-131), Katianna Martinez (third-189) and Madeline Lazo (fifth-137).
…Vintage-Napa girls took home the North Coast Section wrestling championship by narrowly edging out James Logan-Union City in a 154-150 battle. The two teams combined for seven finals appearances, but never squared off atop the bracket. Leilani Frazer of Vintage won the 143-pound weight class while McKaylah Youngblood was second at 111 and Cassady Lopez runner-up at 121. Jessica Mendieta (third-189), Natalie Scott (fifth-116), Gianna Ficele (fifth-170) and Gianna Giorsetto (seventh-235) also medaled.
James Logan was paced by champions Marisol Rodriguez (101), Mikayla Garcia (106) and Carmella Foley (116).
On the boys side, De La Salle-Concord delivered a brilliant tournament with its 14 qualifiers, sending nine wrestlers to the state tournament and winning the 120 weight division, thanks to Bobby Cuevas. Atri Feizi (132), Matthew Pierce (182), Stefan Bakiev (220) and Aidan Roe all finished runner-up while Caleb Tetad (106), Manuel Martir (113), Gavin Fernandez (152) and Colin Sweeney (160) won the consolation championship to make state.
…Chico won the Northern Section wrestling championship with 236 points, 11 medalists, seven finalists and six state qualifiers. The top two from the NS go to state, but second-place finishers have to wrestle the consolation winner for that second spot (unless they already wrestled).
Ryan Clink (152), Gage James (160) and Bradlee Shaw (182) all won their brackets for Chico, while Geo Rico (220), Tad Hervey (195) and Julian Quintana (120) finished runner-up.
Orland was second with four champions, including Jonathan Garcia (120), Liam Nelson (126), Lucas Landeros (145) and Alex Fonseca (285).
It's been a challenging year for the NS, as some of their top wrestlers (Manny Madrano, Brayden Schumann, Caiden Williford, Savion Wilson, Hunter Ludwig, Gavin Smith and David Rudkin) all missed the Masters tournament because of injuries, disqualification or other departures.