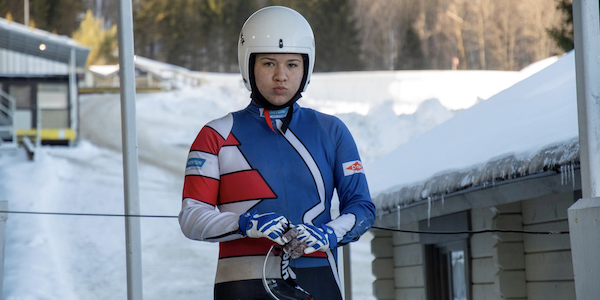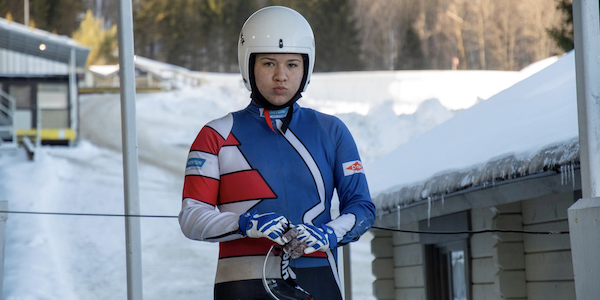 A Little More Than Two Years Ago, Ellie Kleinheinz Didn't Even Know What Luge Was —  This Week, The Archbishop Mitty Freshman Will Be...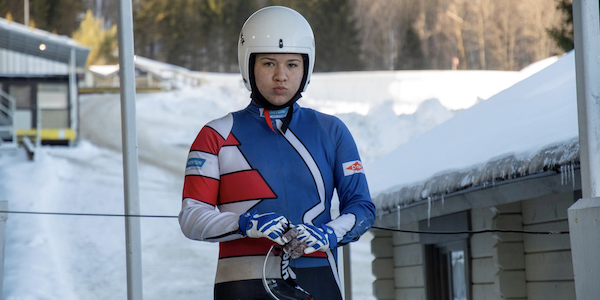 A Little More Than Two Years Ago, Ellie Kleinheinz Didn't Even Know What Luge Was —  This Week, The Archbishop Mitty Freshman Will Be Competing To Win Her Second Youth National Title
Ellie Kleinheinz picks up the red sled — the one with famous Disney Pixar character Lightning McQueen's catchphrase, "Ka-Chow!", decaled underneath between the two steel runners.
She positions her body on the sled and pulls herself out onto the track of ice. She then pushes herself forward as fast as she can before laying back and taking a 45-second downhill ride at speeds nearing 60 miles per hour.
Hopefully her Archbishop Mitty High junior varsity softball teammates will cut her some slack if she ever comments that the game is moving a bit slow.
In a span of a little more than two years, the 14-year-old Santa Clara native has literally gone from 0 to 60 in the sport of luge. Kleinheinz won the Youth A Women (16U) gold at the Empire State Winter Games at Lake Placid, New York, in early February. And on March 5-6, the Mitty freshman will be in Park City, Utah, looking to win her second U.S. Youth National Championship..
So how is it that a middle schooler growing up in the heart of Silicon Valley — one who had never skied or spent a ton of time in the snow — found her way to the forefront of the top young female luge athletes in the country?
It all began with Ellie's dad, Todd Kleinheinz, spotting an ad about USA Luge holding one of its slider search events for ages 9-13 in nearby Palo Alto.
_______________________________
CONNECT WITH US:
Follow SportStars on Twitter & Instagram | Like us on Facebook | Subscribe!
_______________________________
"I just figured it would be something different," Todd Kleinheinz said. "And that maybe the next time the Winter Olympics came on she would see it and say, 'Oh, I tried that!'"
In September 2019, the father-daughter duo showed up to the event with a 'Why not?' outlook.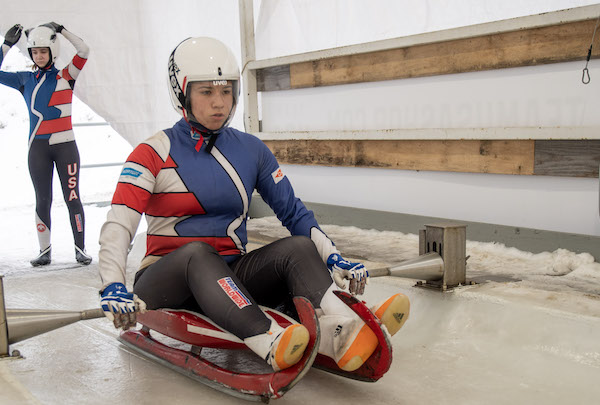 "That day was kind of random," Ellie said. "It came up out of nowhere. I was in sixth grade and had no idea what luge was. … "
The course was set up on a hill with hay bales for walls. The sleds were wooden with caster wheels on the bottom.
"After the first run, I was like 'This is OK,'" she said, recalling how everything unfolded that first day. "Then I crashed a few times into the hay bales and it started to get difficult. There were some tears."
It was a few weeks later that the Kleinheinz Family received an email from the Team USA coaches inviting Ellie to fly back to New York to try it all again on ice. She was among approximately 100 kids to be invited from various slider searches across the country.
Once again, the attitude was 'Why not?' At the very least, she'd get to travel across the country for the first time.
As it turned out, ice was better than pavement and hay bales.
"I just pushed off the ramp and went for it," she said. "I remember it being OK, and that I loved the speed and everything about it."
Dad may have needed a little more time to warm up to it.
"I had never seen luge in person before," Todd Kleinheinz said. "I didn't know what to expect. Until you see how fast they fly by you? TV doesn't do it justice."
But he trusted his daughter.
"She's always been very adventurous and open to trying new things," he said when asked if either of them had second thoughts about things after seeing others coming down the ice. "It came down to how scared is she to do it? A lot of the kids were dragging their feet a little to slow down, and she wasn't."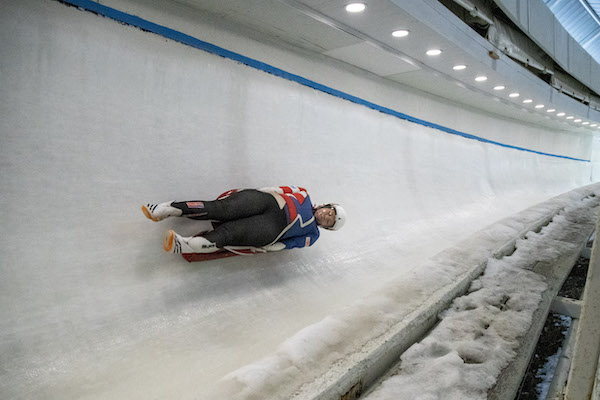 Kleinheinz left Lake Placid as a member of the U.S. Youth Development Team. Just a few months later she entered her first Empire State Winter Games and — you guessed it — took gold. The ESG competition is determined by a slider's combined time of two separate runs down the track.  
"My first run of those games went great," she recalled. "Then my second one was my fastest ever to that point. … That's when I realized it was something I could be really good at."
Perhaps the most impressive part of that initial victory was the fact that it was only a month earlier that she had experienced her first real wipeout.
While training for the Empire games, Ellie was going down the Lake Placid track when she got too high on a turn and wound up going backward into a wall. The steel cut into her back as she came off the sled.
"That was probably my worst wreck for sure," she recalled. "It definitely took a lot to get back on the sled and do it again. I needed to take a couple days off before I was able to work up the nerve again."
Good thing she did.
One month after winning her first ESG gold, she competed in her first U.S. Youth National Championships on the same track in Lake Placid. This time it was a four-heat final in the 14U division. And, yep. Gold.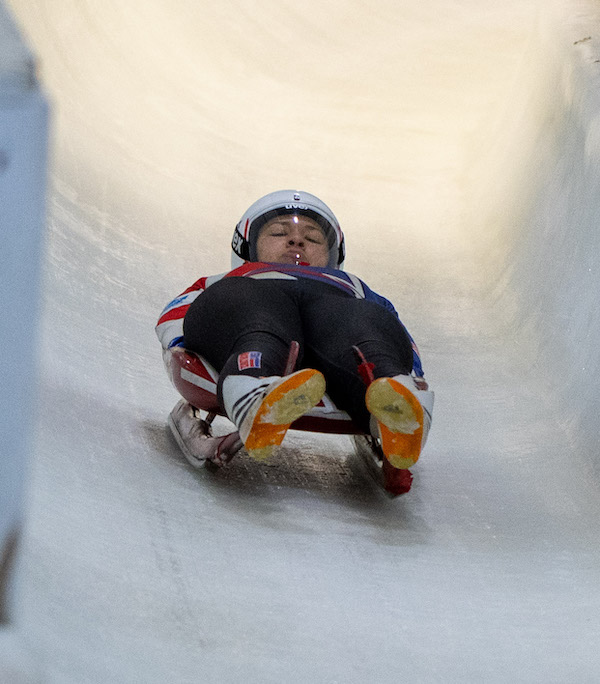 Then the pandemic arrived. Ellie went close to a year being unable to slide. 
She worked out in the weight room and played her other sports to keep her active. Finally after about 10 months of not being able to get back to New York, her coaches had her go to Park City instead.
While all the competitions were canceled in 2021, Ellie finally got to get back to Lake Placid where she's coached by former Olympian Aidan Kelly. The Empire games earlier this month were her first competition since March 2020.
"I was really nervous, because all of the girls have gotten much better since I last competed," Ellie said. "All the nerves started building up."
She was in second place after the first run, and used her second run to win by a little more than a second and a half. She had the fastest start of any competitor in both of her runs.
"I love the start. It's definitely my favorite part," she said. "That's where I accelerate from. Having my spikes dig into the ice. It's a really good feeling. … For me, the way down feels a lot faster than 45 seconds. I know the track so well and how everything goes. Once I pass a certain point, I know I'm almost done, but then there's always something after it."
What comes after nationals? Maybe just a softball season to unwind. The Mitty JV coaching staff is certainly excited about her potential.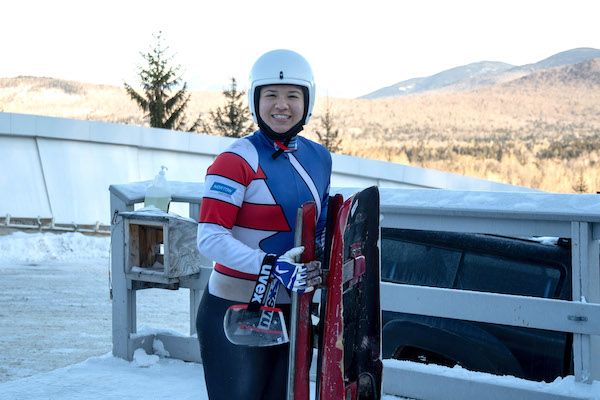 "We're really impressed with her so far," Monarchs JV coach Jeramy Albert said. "She's very mature for her age. She's certainly very strong and naturally athletic, so it's easy to see how that carries over into her other sports.
"She's a catcher, which is a position that naturally requires leadership. We're just in the first week and she's a freshman, so right now it's been more of a lead-by-example approach from her. But I think the opportunity to be a strong team leader is definitely there."
What about the potential for greater things in luge?
"The Olympics are definitely the dream," she said. "But it's easy to get overwhelmed thinking about how far and how much it's going to take to actually get there. So it's just one step at a time. Each run counts. Pretend like each one is your last."