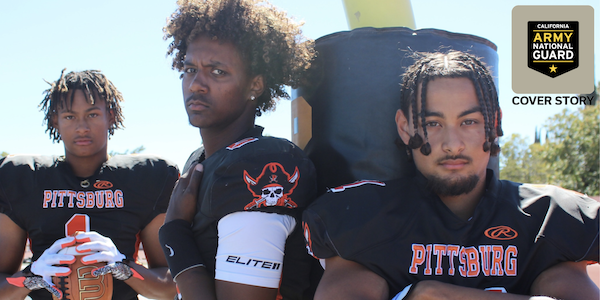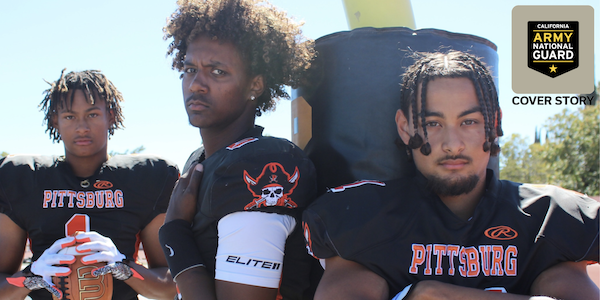 Pittsburg Football Ended Its NCS Title Drought In 2021 — But That Should Serve As A Prelude For A Team Loaded With Division I...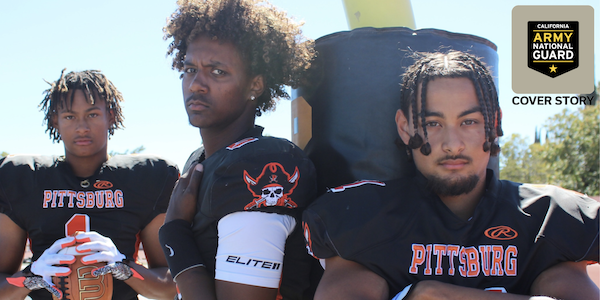 Pittsburg Football Ended Its NCS Title Drought In 2021 — But That Should Serve As A Prelude For A Team Loaded With Division I Talent, Ready To Put It All Together •
PICTURED ABOVE: Pittsburg senior Division-I talents (L to R) Rashid Williams, Jaden Rashada and Zack Card. (Chace Bryson photos)
In his 21st year of coaching one of the most prominent high school programs in the East Bay, Pittsburg football coach Victor Galli doesn't have time to spend on hyperbole.
Of course, he doesn't really need to. The hype around his 2022 team takes care of itself. But he may need a media relations rep at this point.
Visit a Pittsburg High practice in the weeks leading up to the team's Aug. 26 season-opener against visiting Jesse Bethel-Vallejo, and Galli will be strolling the Pirates Stadium turf close to an hour early to oversee interviews, photo shoots and film crews. As coaches and coordinators run a tightly scheduled practice, Galli bounces from unit to unit. Never short on swagger, there's a noticeable pep in the 57-year-old's step as he makes his way.
He's been waiting on this team.
"We looked at this senior class as freshmen three years ago and we knew it was going to be a talented group," the coach said.
That 2023 class produced the first freshman to begin a season at varsity under Galli. The honor belonged to receiver Rashid Williams, now a four-star talent headed to Washington next fall.
_______________________________
CONNECT WITH US:
Follow SportStars on Twitter & Instagram | Like us on Facebook | Subscribe!
_______________________________
However, it wasn't until a year later, in the fall of 2020 as all of California sports languished in COVID shutdowns and delays, that another 2023 talent enrolled at Pittsburg High by way of Liberty-Brentwood with a brief stop at IMG Academy in Florida. Jaden Rashada was already on the national recruiting radar as a dual-threat quarterback.
And he was tired of bouncing around.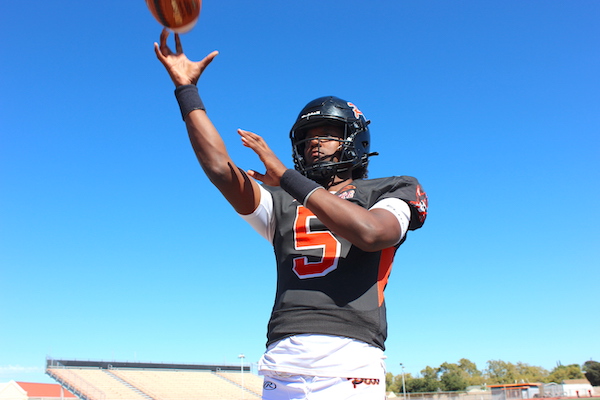 "This is what we've been waiting for," Galli said of his relationship with Rashada. "It wasn't a one-year deal. This was a three-year plan, and now it's time to go execute that plan."
The plan, which hasn't unfolded without hiccups — thanks to COVID leaving its mark on multiple seasons — has already delivered the program's first North Coast Section Division I championship under Galli. With last year's changes to the NCS playoff system allowing the Open Division runner-up to play for the Div. I title, Pittsburg finally had a path to a section crown.
The Pirates lost the Open final 42-14 to De La Salle-Concord before rebounding the following week to defeat Clayton Valley 28-14 and earning the program's first NCS title banner since 1991. But one week after that, they were forced to play a CIF state bowl regional playoff on the road against Liberty-Bakersfield and lost 35-7.
An injury kept Rashada from factoring much in any of those three games. In fact, he didn't play at all in the title win over Clayton Valley.
So the plan definitely has some unfinished business on its ledger. It's ready to settle it, too.
"We've all been able to regroup and come back to the team stronger than we were," Rashada said. "That's just part of life. Whenever something gets thrown your way, you handle it. I feel like that's what our team has done. I feel like that's what our coaches have done, and I feel like that's what I've done."
Perhaps no one is happier to be on the field and focusing on football more than Rashada. His previous six months have been a whirlwind of recruiting trips and high pressure decisions that ultimately led to a commitment to the University of Miami in late June.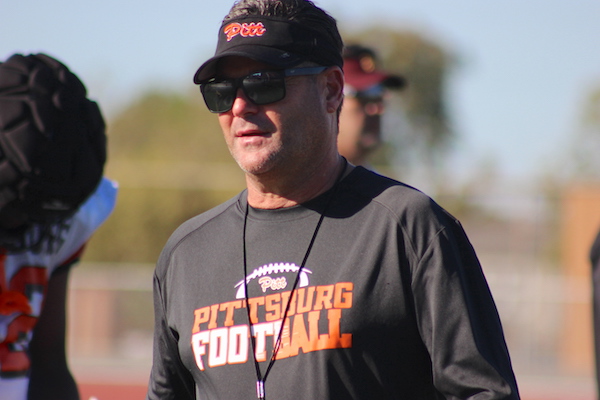 Now, finally removed from all that, the 6-foot-4, 185-pound quarterback has a bounce in his step to match that of his coach.
"I know it was a very hard couple of years for him as a high-profile guy," Galli said. "He was dealing with a lot of pressure and I felt bad for him. He's a very personable kid. He'll talk to you, he'll talk to his teachers. He's a very humble person. You can just tell that a tremendous weight is off his shoulders.
"I'm really looking forward to him just being a kid again."
Rashada is equally looking forward to being the Pittsburg quarterback again. And why wouldn't he be?
In addition to the Washington-bound Williams, the Pirates have three other senior receivers with Division-I commitments or offers. Zack Card, a speedster who finished sixth in the CIF State Championship 100 meter finals last spring, is committed to Oregon State. Khai Taylor accepted an offer from Nevada, and Keynan Higgins holds offers from Arizona State, Fresno State and BYU among others. 
Oh yeah, there's also sophomore Jadyn Hudson. Some of the Pittsburg coaches are convinced he may have the highest ceiling of any of them. College recruiters may think so too. Hudson holds multiple offers from both the SEC and Big 10, including Georgia and Michigan.
Hudson is actually part of a 2025 class that may rival this senior group and should have a number of key contributors on the roster this season.
Among them will be linebacker Etene Pritchard and edge rusher Jewelous Walls. Sophomore running back Elijah Bow will get the first shot at taking over as the Pirates' lead running back after last year's leading rusher Charles Brown transferred to Antioch.
"He's a no-nonsense, extremely hard worker," Galli said of Bow. "He was actually disappointed that Charles Brown left because he wanted to come in and beat him out. And I'll tell you what, it wouldn't have been a surprise if he did. Compact, great feet, great hands out of the backfield and he gets up the field."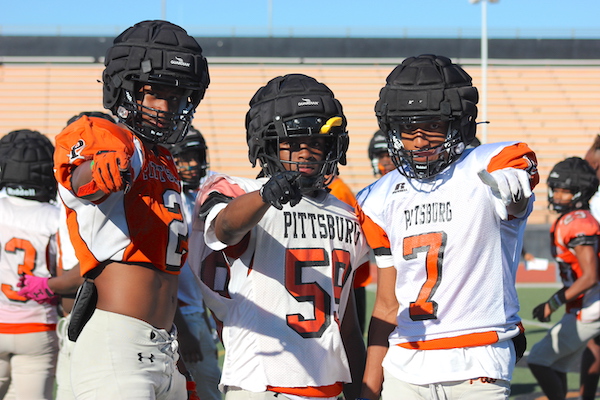 Pittsburg will have a total of 15 returning starters, nine on defense and six on offense. The biggest question mark being those vacancies on offense — nearly all of which reside on the offensive line.
"We've got to find the right combination," Galli said. "I know we're going to get there. It's just a matter of how quickly we get there."
After the opener with Bethel, the schedule ramps up in a hurry. The Pirates will begin September playing Liberty-Henderson (Nev.) at the Honor Bowl in San Diego and will also include home games against Folsom and McClymonds, which open the season ranked No. 2 and 8 in NorCal, respectively. Pittsburg opens at No. 4.
Williams thinks the team is ready for the ride.
"From the QB to all the skill players, to our defense, our line. Everything about it is different," the senior said. "Each year I've played there was always a little something. This year is different. I feel the best about this year."
No hyperbole necessary.