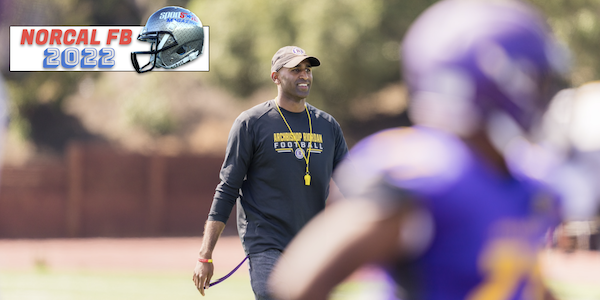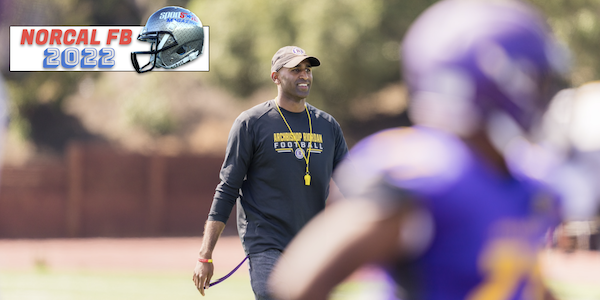 Four Years After Winning A CIF State Bowl At Menlo-Atherton, Adhir Ravipati ends a three-year hiatus and looks to boost a rising Riordan Football...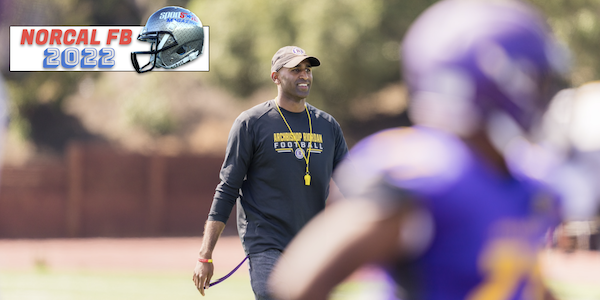 Four Years After Winning A CIF State Bowl At Menlo-Atherton, Adhir Ravipati ends a three-year hiatus and looks to boost a rising Riordan Football program •
PICTURED ABOVE: New Riordan football coach Adhir Ravipati at a recent practice. (Jean-Paul Toshiro photos)
There's a jolt of energy at Archbishop Riordan High School, led by new head coach Adhir Ravipati, who has brought a track record of success and has instituted precise, regimented practices and training.
His enthusiasm is through the roof. After a few years away from high school coaching, Ravipati is excited as the Crusaders prepare as they never have before for the steep competition in the West Catholic Athletic League, one of the best in the state.
"He gets fired up like he's playing; that is the kind of coach he is," said tight end/outside linebacker Jacob Kleppin, one of a handful of key returning seniors who double as basketball players.
There's a new attitude at the San Francisco campus, which Granada-Livermore will visit on Aug. 27 to start the season.
Ravipati has introduced his Riordan football players to his well-organized, arduous practices that were the foundation of success when he coached Menlo-Atherton to the CIF Division 3-AA state championship in 2018.
"They are getting used to how our staff does things: the structure, the tempo and physicality, the meetings," he said. "The practices are regimented and pretty fast-paced. We're pushing them in a new way, and we're happy about how they are responding."
_______________________________
CONNECT WITH US:
Follow SportStars on Twitter & Instagram | Like us on Facebook | Subscribe!
_______________________________
Ravipati said he never expected to be back coaching at the high school level. A few months after reaching the pinnacle of on-field success at M-A, he hit the brakes on his coaching career. Working in the tech field and dealing with commuting in the South Bay, he found he could not devote the proper time to being a head coach.
"I thought I was done coaching," he said. "With my work commitments, I didn't think I could make all the practices. I didn't think it would ever work out."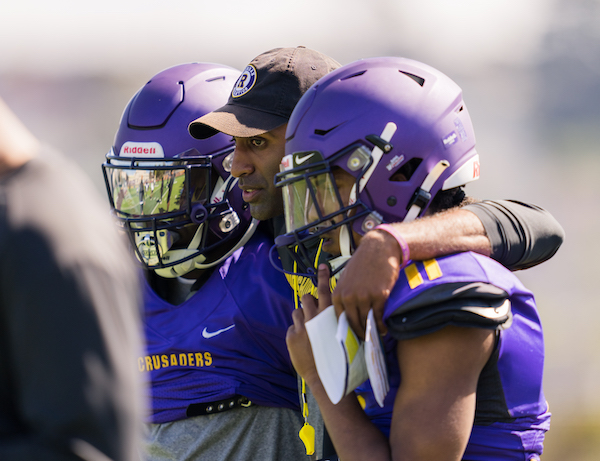 What changed was the work-from-home remote approach that resulted from the COVID-19 pandemic.
"COVID was a terrible thing, but a byproduct for me was the ability to get back into coaching," he said.
Ravipati has taken it to a "work from school" level. He's got an office at the school to handle his day job responsibilities and has support from both his new school and from Twilio, where he's product manager, responsible for running a video growth program. He can walk to practice instead of battling commute traffic.
"It's a new dynamic for me," Ravipati said.
A wide receiver at the University of San Diego, he learned from a couple college coaches whose careers were on the ascent — receivers coach David Shaw and head coach Jim Harbaugh. Ravipati completed his college run at Northeastern, majoring in biochemistry.
He coached at Menlo-Atherton for nine years, four as head varsity coach for teams that collected two Central Coast Section championships and two NorCal titles and that state championships as he earned a slew of coach of the year honors.
Upon resigning in March 2019, he did not leave coaching for long. He helped out at College of San Mateo, first as an offensive analyst. In his second season he was quarterback coach, and worked with Serra graduate Luke Bottari as he ascended to the next level for the University of Utah.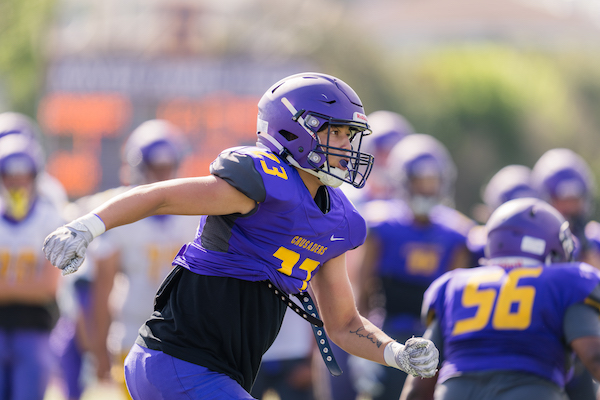 Ravipati became involved with Top Flight Elite with CSM assistant Jason Pollak, training athletes during the pandemic. His focus was specific position training for high school players ranging from Serra-San Mateo, Willow Glen-San Jose, Burlingame to Valley Christian-San Jose during a time when opportunities to just practice were sparse.
"That got me the itch to get back into coaching, because the opportunity to see them grow was incredible," he said.
It also kept his pulse on the high school scene, so he was familiar with his new crew when he arrived at Riordan.
"He has a lot of energy and it does not matter if you are a senior or not, he knows who you are," said senior Zachary Jones, a first-team all-WCAL wide receiver a year ago. He's excited to shift to playing slot and in the backfield this fall, part of the revamping by Ravipati and his staff.
Also, it's not all about the game of football.
Ravipati has brought the Built for Life personal development program to Riordan, something he instituted at M-A. It's a program for players to "grow and develop as people, and build what it takes to be consistently successful," he said.
Not long after their first practice, they went into a team-building experience watching ESPN's 30-for-30 episode "The U" that documents the rise of the Miami Hurricanes football program.
At Riordan, the first sport that comes to mind is basketball. Winners of a Div. III CIF State Championship in 2002, the Crusaders have collected 16 CCS titles, most recently this winter when they beat Archbishop Mitty for the Open Division crown.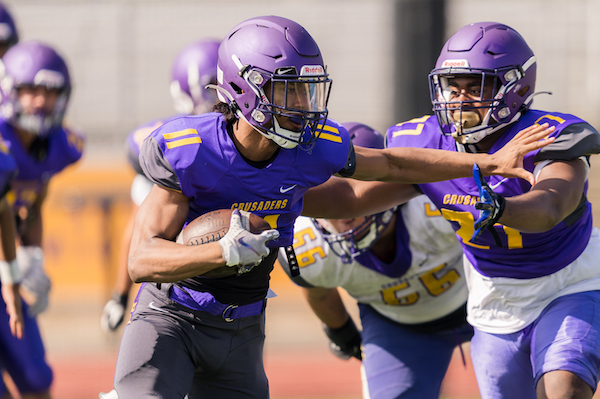 It's not as if the football program has been invisible. Over the years the Crusaders won a CCS medium-schools title in 2007 and made the CCS Div. III Open final in 2015.
But it's not hard to be lost in a league that in 2021 boasted CIF Open Division Bowl finalist Serra, CIF 4-A Bowl Champion Sacred Heart Cathedral-S.F., and CCS Div. I runner-up and WCAL champion St. Francis-Mountain View.
It's been tough sledding, though their 5-5 overall record in 2021 was their best since that 2015 run. The team notched wins over Mitty-San Jose and Sacred Heart Cathedral while also enduring tough, one-score losses to St. Ignatius-S.F. and Valley Christian-San Jose.
"We're not circling anybody," said King-Njhsanni Wilhite, a receiver, running back and cornerback who was the San Francisco Chronicle's Metro Player of the Year in basketball. "We know the goals and go day by day. The coach has us motivated, and I'm excited about the culture change for football at Riordan."
They have to replace defensive lineman Kemoe'ate Kefu, a SportStars first-team All-NorCal defense pick and the WCAL Defensive Lineman of the Year. Kefu had 60 tackles, 40 solo and 10 sacks. His presence and quiet leadership left a void that the seniors know they have to try to fill.
"You don't replace a player like Ate; you try to build the depth," Ravipati.
There are some solid players to build with, particularly on defense. There's 6-5, 260-pound edge rusher Isaih Chala Jr., named a three-star recruit by 247sports.com. Joe King gives Riordan a solid nose tackle, Ravipati said. Tony Manu, Davion Smith and Kleppin lead a strong linebacker corps.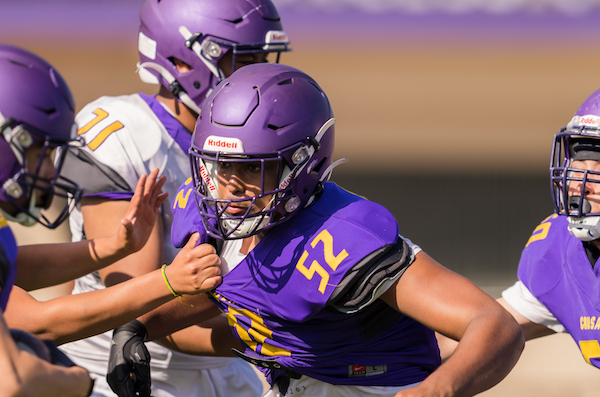 On the offensive line, there's Losipini Tupou, a 6-2, 265 sophomore who already has an offer from San Jose State. Daniel Keady, Michael Langi and Mike Scanlan give the coach confidence about both sides of the line.
Vying for quarterback duties are St. Ignatius-S.F. transfer Tobey Weydemuller and freshman Mike Mitchell.
"If we want to compete with Serra and St. Francis, we need to have the bodies, we have to be physical," Ravipati said. "We think we can do it."