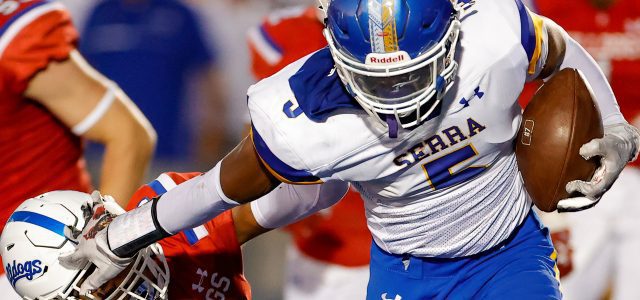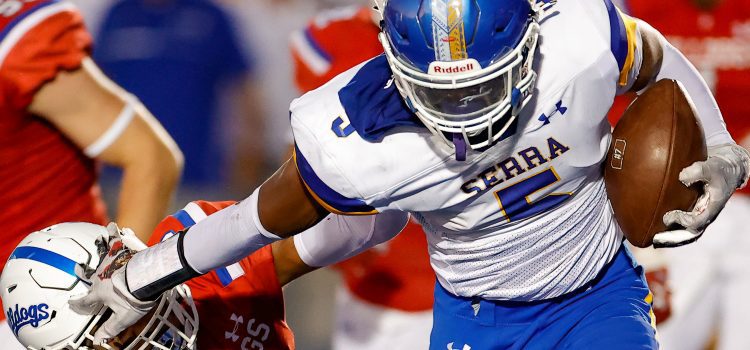 Depth And Grit Allow No. 3 Serra Football To Battle Through Cramping To "Steal A W" At No. 2 Folsom — Setting Up Clash With...

Depth And Grit Allow No. 3 Serra Football To Battle Through Cramping To "Steal A W" At No. 2 Folsom — Setting Up Clash With No. 1 De La Salle •
PICTURED ABOVE: Serra Running Back Jabari Mann. (David Gershon photos)
The Serra football team understood its road trip to Folsom for a NorCal top-three showdown was going to be challenging. So it was fitting that the Padres' chapel theme for the week was perseverance.
It was perseverance that allowed the No. 3 Padres to endure the long bus ride from San Mateo and extreme heat — that resulted in multiple starters missing action due to cramping — in order to overcome No. 2 Folsom 17-12 on Friday night. Both rankings are from the SportStars NorCal Top 20.
"In a game like this, the objective is to go on the road and steal a 'W' and get back home," Serra football coach Patrick Walsh said after the game. "Tonight, the Padres persevered through some really tough circumstances."
After practicing all week in temperatures in the 70s, and passing on the opportunity to scrimmage an opponent in preparation for the season opener, the Padres might have been affected by Folsom's high temperatures. Serra started slowly and could not find an offensive rhythm in the first quarter, and scores of players would eventually litter the field and sideline from cramping and dehydration.
After halftime, despite holding a slim 14-10 lead, it appeared the Padres' biggest challenge was having enough bodies to fill every position.
"Someone could argue that a scrimmage might have helped us deal with that sort of duress," Walsh said of his players succumbing to cramps. "But I deal in absolutes, and we absolutely lost zero players in our scrimmage and we needed every single body tonight."
_______________________________
CONNECT WITH US:
Follow SportStars on Twitter & Instagram | Like us on Facebook | Subscribe!
_______________________________
Despite multiple starters spending more time getting medical attention behind the bench, the gritty Padres found a will and a way to win. Serra's depth and "next man up" mentality paid dividends and set up a showdown for early NorCal supremacy when Serra travels to Concord to play No. 1 De La Salle-Concord this coming Friday.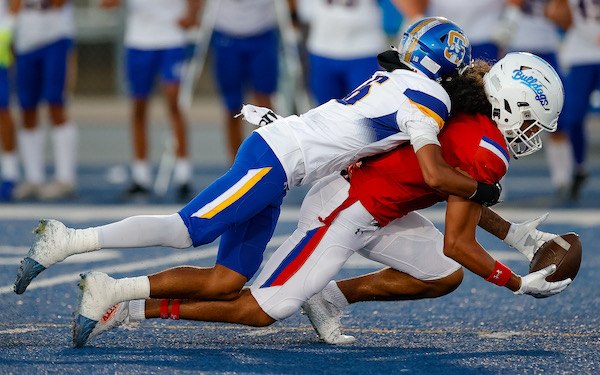 "Little things showed up that you can see in championship football programs," Walsh said. "The two-minute drill, taking time off the clock, getting first downs, and forcing turnovers."
"And the depth. Arguably, our best players were not on the field that entire fourth quarter."
Folsom, who had the advantage of playing a game last week to ramp up to game speed, sputtered out of the gates before seemingly hitting its stride in the second quarter. A 9-yard Austin Mack touchdown pass to running back Donovan Parler gave the Bulldogs a 10-7 lead with less than two minutes remaining in the half.
Serra did not look dangerous in its two-minute offense until Folsom committed a pair of personal fouls that placed the ball at the Bulldogs' 25-yard line with just 15 seconds left. With the field goal unit ready on the sidelines, quarterback Maealiuaki Smith found a wide open Jaden Green on a post route to the end zone to give Serra a lead it would not relinquish.
Folsom's Mack-to-Rico Flores, Jr. connection was clicking throughout the first half to convert important drive-extending third downs, but Flores lost a fumble inside the Padres' 10-yard line when reaching the ball out for an extra yard.
Mack finished the night with more than 250 yards passing and a touchdown, and Flores caught 8 passes for 136 yards, but Folsom was unable to take advantage of the opportunities it had. Parler would lose a fumble near the goal line that Serra recovered in the end zone for a touchback with less than 5 minutes remaining in the contest.
The Bulldogs simply could not overcome their mistakes, nor the determined Padres.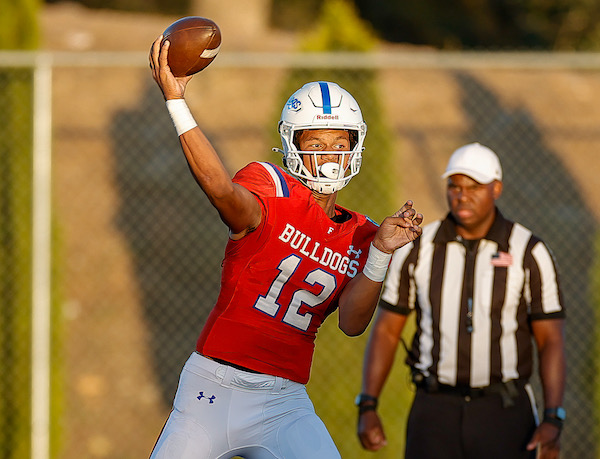 "I'm not so much discouraged by the result or the final score, but I was discouraged that we didn't play better," Folsom head coach Paul Doherty said. "You wonder if we had played our best game, then how would the game have turned out?"
"We just didn't play well enough to beat a team like this."
The Padres proved to be too much for the Bulldogs on this night — even if it was not necessarily the Padres team that Walsh expected to power Serra to victory. His message to his team after the game hammered home the program's "next man up" mentality.
"We have a culture that we build that we call 'the bottom of the fire,'" Walsh said. "At the bottom of the fire is where the real strength of the fire is.
"Our kids believe in that. Our special teams were really good tonight. We had a touchdown that was called back, which was disappointing, but that sort of stuff is awesome to see from guys that don't play every day."
Walsh understands the long game of high school football and was more concerned in addressing his own team's challenges before focusing on marquee matchups.
"We strive to be a November-based team, and being 1 in Northern California is fleeting," Walsh said of rankings. "
"I don't really care (about who is No. 1 in Nor Cal). When the rankings came out and De La Salle was No. 1, I immediately texted Justin (Alumbaugh) and said 'Thank God.'"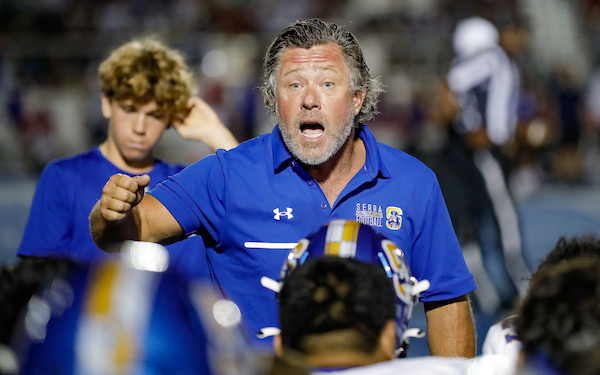 In the next few weeks, the rankings may change and the top program will not be known until section and regional titles are determined. But, the upcoming NorCal high school football calendar is impressive and may be historic. 
Both the Padres and Bulldogs have plenty more worthy opponents to face in the coming weeks. Serra's showdown at De La Salle next week is just the next test in a challenging gauntlet of NorCal powerhouses before settling into West Catholic Athletic League action. Folsom will play road games at De La Salle and No. 4 Pittsburg before facing Sierra Foothill League foes.
"I think it's good for high school football," Doherty said of the slate of high-profile NorCal matchups. "We've been watching them do that down south forever. I mean, Mater Dei is playing (St. John Bosco-Bellflower), is playing Servite (Anaheim), is playing Centennial (Corona), is playing Orange Lutheran.
"We're trying to play the best teams to get ready for league and the playoffs. There is a lot of football left to be played and we control our own destiny. We need to win our own league, win our section, and keep playing football."
And whoever perseveres through December may finally be able to rest and look back at games like this.