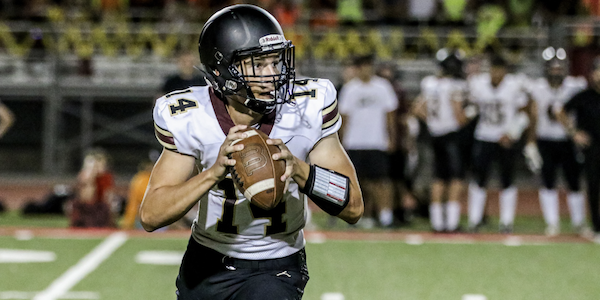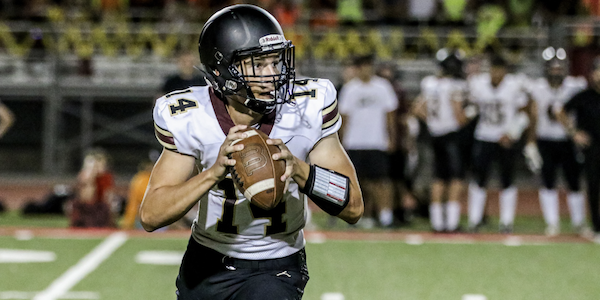 Several Clutch Performances Help Wildcats Erase A 21-0 Deficit To Antelope And Send Whitney Football Surging Into 2022 Season • PICTURED ABOVE: Whitney Quarterback...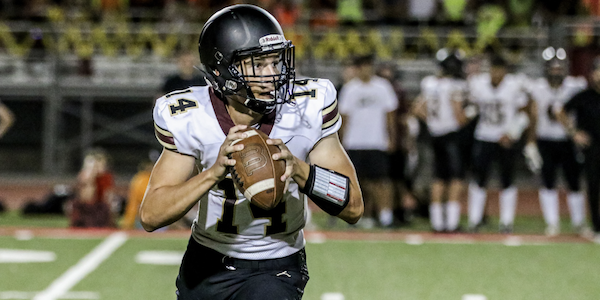 Several Clutch Performances Help Wildcats Erase A 21-0 Deficit To Antelope And Send Whitney Football Surging Into 2022 Season •
PICTURED ABOVE: Whitney Quarterback Trevor Hargis. (Ike Dodson photos)
A senior transfer, a backup quarterback and a first-year starting defensive back walk onto a field.
It's not the setup — it's the punchline.
The three unlikely heroes, Isaiah Bickham, Trevor Hargis and Zane Amin, helped the Whitney football team overcome a 21-0 deficit and stun host Antelope with a 35-28 Wildcat victory on the opening night of Sac-Joaquin Section football Friday.
"You play four quarters for a reason," Whitney football coach Zac McNally said. "Games come down to about six plays, and I felt like we made our six plays when we needed to.
"I'm just fired up. I'm so proud of these kids."
Whitney wasn't just in a hole early, it was in a crater.
_______________________________
CONNECT WITH US:
Follow SportStars on Twitter & Instagram | Like us on Facebook | Subscribe!
_______________________________
Starting quarterback Jacob Smiley injured his knee on his first official stat of the season (a three yard rush), suddenly vaulting Hargis from the Wildcat sideline to snaps under center, only five plays into the game.
"It's an unfortunate situation, and I don't wish that on anyone, but I knew that I had to stay ready, because I will get an opportunity this season at least once," Hargis said. "It just happened to be tonight, and I took advantage of it."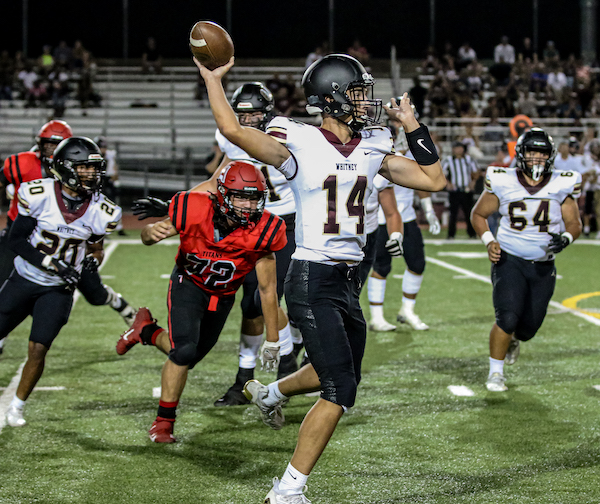 Hargis went 8 of 16 for 158 yards. His biggest moment was also his last. With the score tied and seven minutes remaining in the game, Hargis rolled to his right, steps from Antelope's sideline, and lofted a pass over charging linebackers and defensive backs. It landed in the arms of Lincoln Fifer, who bolted up field for a 72-yard catch-and-score for the game-winning touchdown.
"It was kind of surreal, like 'Is this even happening right now?'" Hargis said. "It's a good feeling."
The touchdown pass was nice, but the play of the game belongs to Amin, a five-foot, seven-inch junior defensive back enjoying his first start. When Antelope looked to surge ahead by two scores in the third quarter, Amin broke quickly on an out-pattern in Whitney's own end zone and intercepted Jasiah Bateman with stunning momentum in the opposite direction. He never slowed, bolting to a 100-yard touchdown.
"I saw their No. 1 receiver go out and do a whip and just jumped it from underneath," Amin said. "I knew I was gone. I saw green in front of me and took off."
Whitney also had to overcome 183 rushing yards and two touchdowns by Antelope rushing sensation Curron Borders (24 carries). The Wildcats' best answer was Bickham, a senior transfer (Sheldon-Sacramento) who ran 10 times for 106 yards and two touchdowns.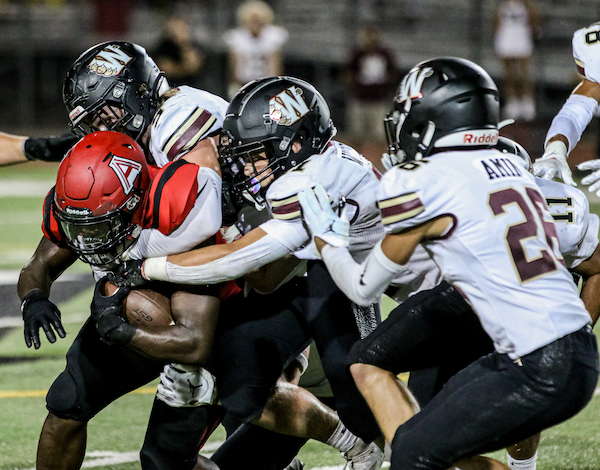 His first, a five-yard score, stopped the bleeding with Antelope enjoying a 21-point lead with 6:14 remaining in the opening half. His second score was a dazzling 37-yard scramble to give Whitney its first lead of the game. He might have been tackled about halfway through the run, but an Antelope defender swatted at the football instead of wrapping up. It gave Bickham a chance to spin and cut across the play for the score.
Borders was dynamic, but Bickham out-gained him 65-30 in second half rushing yards.
"I knew (Borders) was going to be a great challenge for our defensive line," Bickham said. "We just had a great game plan around him, and all the work we have been putting in in the offseason showed up today.
"I have been putting on some weight, getting bigger, stronger faster so I can break arm tackles — just putting in work."
Antelope amassed 403 offensive yards and unveiled a star in junior receiver Trayvon Watson (six catches, 129 yards). He showcased tremendous hands, hops and speed, even leaping to grab a deep lob in a crowd. He was tackled a yard short of the Whitney end zone to end the first half, but also grabbed a 15-yard touchdown to put Antelope up by three scores.
Bateman ended 14 of 27 for 221 yards with two touchdowns and two interceptions. He was also picked off by Hayden Wilder.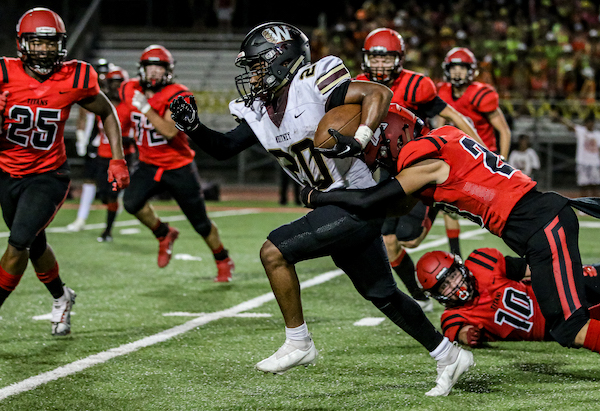 Whitney needed just 306 offensive yards to get the job done, but showcased the depth and grit to power the Wildcats to another successful season. Last year's ended in the second round of the SJS Div. II playoffs, after a 20-14 loss to Antelope.
With that loss avenged, the Wildcats are certainly surging.
"All I know is we are 1-0. I'm going to enjoy it tonight, but we got a loaded schedule," McNally said. "It's about the end of the season, so talk to me in December."
Whitney hosts Woodcreek for its home opener this week. The Timberwolves shellacked Franklin-Elk Grove to open the season. Antelope, winners of 11 straight games to open last season, will look for a rebound next week at Elk Grove. The Thundering Hurd fell 34-12 to Granite Bay in its season opener.