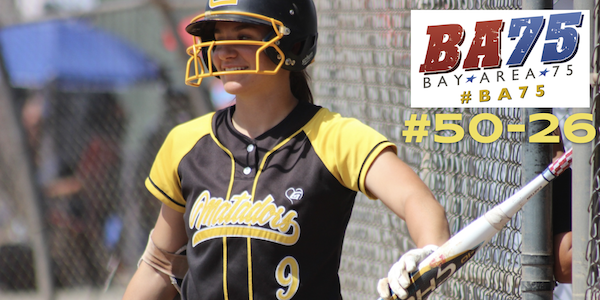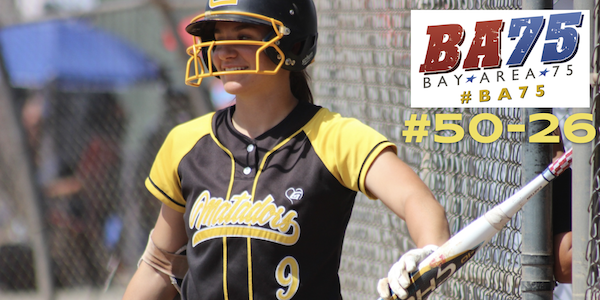 Our 10th Annual Bay Area 75 Athlete Rankings Honoring The Top High School Athletes From The '21-'22 School Year Continues With Nos. 50-26 •...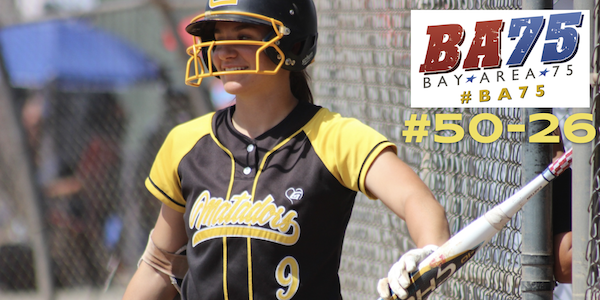 Our 10th Annual Bay Area 75 Athlete Rankings Honoring The Top High School Athletes From The '21-'22 School Year Continues With Nos. 50-26 •
PICTURED ABOVE: No. 49 Makayla Winchell of Granada-Livermore (Chace Bryson photo)
Welcome to our tenth annual Bay Area 75 rankings — SportStars' countdown of the top 75 Bay Area athletes from the 2021-22 school year.
The 2021-22 high school sports year wasn't entirely without hiccups, but it was the closest thing we'd had in nearly two years. And the Bay Area's athletes were ready to make up for lost time.
As always, our only criteria used in generating the list is that the athletes must compete at a school from within one of the nine Bay Area counties, and they must have played in a sport which culminated in a sanctioned section title or reached a national-level of success (i.e., won a national championship or been appointed to a youth national team).
This is Part 2 of the Bay Area 75 rankings, featuring athletes No. 50-26. Part 1 debuted Monday and featured No. 75-51, and Wednesday's release will cover No. 25-1. Also, new for this year, we've selected 10 underclassmen from this past season that just missed the cut but our favorite for next year's list. We're calling it the Bay Area 75 Next Gen.
All sports fans know rankings are an opinion, and certainly subjective. They also spark debate and conversation, which is why we love them. So don't hesitate to give us your thoughts. We're looking forward to it.
—Chace Bryson, Editor
2021-22 Bay Area 75 Rankings
50. SOPHIA NORDENHOLZ (Albany, Sr.)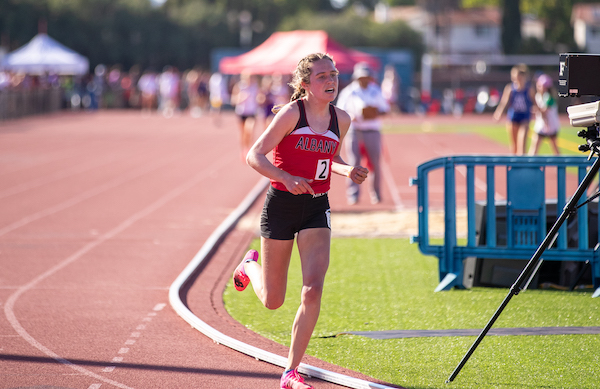 Cross Country/Track
After discovering and treating an iron deficiency, Nordenholtz saw her success skyrocket. She opened her senior year with a cross country season that ended with a state championship in the CIF Div. IV race — and also the day's fastest time (16 minutes, 46 seconds) by any female on the Woodward Park Course in Fresno. She took NCS gold in the 1600 meters and silver in the 3200. She then narrowly missed out on a second state title, finishing second in the 3200 in Clovis.
49. MAKAYLA WINCHELL (Granada-Livermore, Sr.)
Softball
The Notre Dame-bound outfielder was a no-brainer for All-NorCal (SportStars) and first team All-State (CalHiSports) honors after she led the North Coast Section with 59 hits. She also led the Matadors in both runs (46) and RBI (35) as Granada reached the NCS Div. I finals. Winchell was also the tournament MVP at the prestigious Livermore Stampede, which Granada won for just its second time.
48. CATE PETERS (Monte Vista-Danville, Jr.)
Track
One of the most well-rounded track and field athletes in all of NorCal, Peters' season came to an abrupt end when illness forced her to scratch out of all her regional qualifier events. Prior to that, she was on a very short list of CIF State Championship favorites in both the 400 and 800 meters. She posted Top 10 state times in both events during the regular season. Her best 400 time (54.72 seconds) would've earned silver at state, and her top 800 mark (2:06.89) would've won this year's state final by nearly two seconds.
_______________________________
CONNECT WITH US:
Follow SportStars on Twitter & Instagram | Like us on Facebook | Subscribe!
_______________________________
47. JACOB HUDSON (Valley Christian-San Jose, Jr.)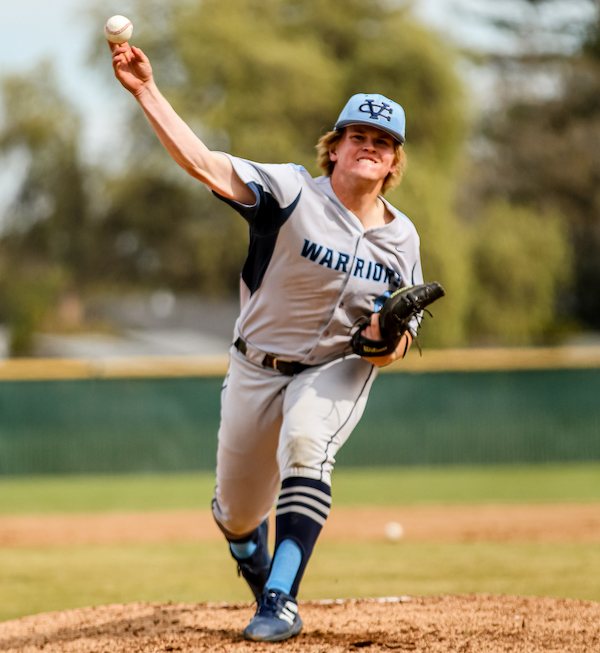 Baseball
Hudson returns to this list for the second straight year after earning West Catholic Athletic League MVP honors following a stellar junior season. Hudson went 3-2 on the mound and added four saves over 37.1 innings of work. He also paced the 25-win Warriors in hits (37) while also adding 23 RBI. He committed to TCU as a sophomore but has since re-opened his recruiting.
46. TIANNA BELL (Heritage-Brentwood, Sr.)
Softball
To put it in as simple of terms as possible: Ms. Bell is a masher of softballs. She, too, is a repeat visitor to this list during her four-year varsity career. For this season, she was a first team All-State selection after batting a robust .577 for the NCS Division I champs. She also led the team in hits (45), runs (39) and home runs (9). Bell heads to Berkeley to play for Cal next fall.
45. JACLYN LAHA (Amador Valley-Pleasanton, Sr.)
Golf
Outside of winning a state championship, it would've been hard to have a better postseason of golf than LaHa. The Virginia-committed junior took top medalist honors at the NCS Div. I championships (3-under 69). She was also top medalist at CIF NorCals, shooting 1-over and winning a playoff (with an eagle). She was the top Bay Area finisher at the state tournament with a 1-over 72 that left her tied for 7th. She's ranked 8th nationally in the American Junior Golf Association, winning the Under Armous/Albane Valuenzuela Invitational in Mesa, Arizona, with three rounds in the 60s this past May.
44. ISAIAH CORTEZ (Gilroy, Fr.)
Wrestling
Cortez is the future star of the Gilroy High wrestling powerhouse, but he's pretty dominant in the present too. FloWrestling.com had him ranked No. 10 in the nation at 106 pounds heading into the Fargo National Championships in July. In his first season of high school wrestling, Cortez steamrolled to his first CCS title with five straight first-round pins. He had zero pins at the CIF State Championships the following week, but was no less dominant. Cortez reached the semifinals with four decisions by a combined score of 29-3. He finished third after falling to eventual state-champ, Isaiah Quintero of El Dorado-Placentia.
43. MAGGIE HAWKINS (Campolindo-Moraga, Sr.)
Water Polo
Hawkins will head to Stanford to join the reigning NCAA national champions this fall. She will do so after leading the Cougars to the NCS Open finals and earning second team All-American honors from the National Interscholastic Swim Coaches Association. Hawkins was also a member of the U.S. Women's Youth National team that won gold at the PanAm Junior Championships from July 11-16.
42. JADEN RASHADA (Pittsburg, Jr.)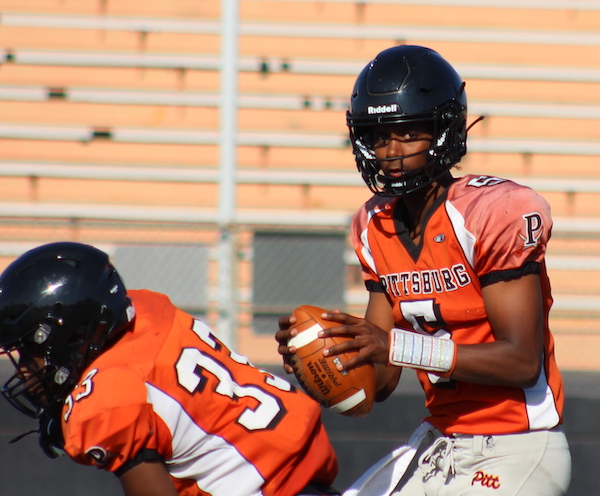 Football
The four-star dual-threat quarterback is considered one of the top 30 recruits in the country for the 2023 class. As a junior, he passed for 2220 yards and 27 TD and just five interceptions for Pittsburg team that reached the NCS Open final and the CIF 1-A regional bowl. He also rushed for 193 yds and a score. Rashada recently made national headlines with his commitment to Miami that included an NIL deal of a reported $9.5M.
41. TYLER DUTTO (Miramonte-Orinda, Sr.)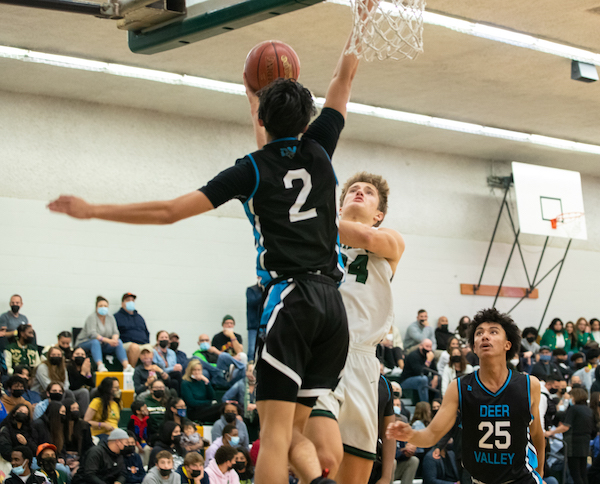 Football, Basketball
Dutto was a first team All-Diablo Athletic League selection in both football and basketball. In football, where he received an offer from the University of San Diego, Dutto was a dynamic two-way player at receiver and defensive back. He caught 67 balls for 1,240 yards and 15 TDs. He also had 19 tackles and four interceptions. In hoops he averaged 10.6 points, 5.3 rebounds and 6.2 assists for a Matadors team that went 24-6. He was recently named to the CalHiSports' Grid-Hoop All-State team.
40. RYAN BEASLEY (Dougherty Valley-San Ramon, Jr.)
Basketball
The Wildcats junior has developed into one of the most prolific scorers to come through the East Bay in some time. He finished fourth in the state in scoring average by filling up the tin for 30.6 points per night over 27 games. The East Bay Athletic League MVP topped 40 four different times. He's also a terrific rebounding guard, averaging 8.2 boards per game to go with 4 assists and 2.2 steals per contest. Dougherty Valley went 21-7 on the year.
39. JORDAN WOOLERY (Clayton Valley-Concord, Sr.)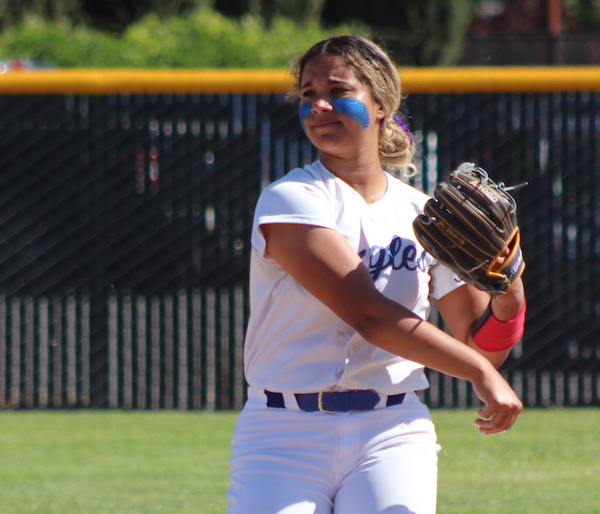 Basketball, Softball
CalHiSports should have an All-State Grid-Hoop equivalent for girls that features athletes who double up basketball and softball. Perhaps call it All-State Diamond-Hoopers? If it existed, Woolery would've been on it. A UCLA softball commit since her freshman year, she closed out her Ugly Eagles career with a senior season of hitting .652 with 45 hits, 33 runs, eight homers and 40 RBI. In the gym, she averaged 6.3 points, 2.1 steals and was second on the team with 8.5 rebounds per game.
38. SAM CALKINS (Liberty-Brentwood, Sr.)
Wrestling
Calkins is headed to the Big 10 and arguably the mecca of collegiate wrestling, Iowa University. She'll be going there as FloWrestling.com's No. 1 ranked wrestler in the nation at 200 pounds, and No. 25 in the nation overall (pound-for-pound). Calkins was a state champ at 189s this winter, reaching the finals with three pins and a 4-2 semifinals win. She won the championship match with a second-round pin (3:09).
37. BLAKE ROGERS (St. Francis-Mountain View, Sr.)
Baseball
After a disappointing first year with the Lancers after transferring from Mitty, Rogers committed to an intense offseason program between his junior and senior seasons. It worked out and then some. Rogers earned a scholarship to Baylor during the fall and then got to see all his work pay off in the spring. He was the West Catholic Athletic League Pitcher of the Year as well as SportStars' NorCal Pitcher of the Year after going 7-0 with a 0.80 ERA and 95 strikeouts in 70.1 innings. Saint Francis won 31 games and claimed a CCS title.
36. NICK WALSH (Foothill-Pleasanton, Sr.)
Football, Baseball
In football he was named EBAL-Valley Division MVP after throwing for 2,324 yards and 34 TDs with just seven interceptions. He had five different games of throwing for at least 4 TDs with zero interceptions (two of those games he had 6 TD strikes). In baseball he was a first team All-EBAL starting infielder who batted .302 on 26 hits while adding 16 runs, 12 RBI and five doubles. Both the football and baseball teams reached NCS championship games.
35. HANNE THOMSEN (Montgomery-Santa Rosa, Fr.)
Cross Country, Track
Thomsen looks to be on the fast track to becoming the region's next dominant distance runner. All she did in her freshman year was win two CIF state championships. She first took home the state title in cross country, winning the Division III race in a time of 17 minutes, 38 seconds. Her stellar spring culminated at the CIF State Track and Field Championships where she ran a personal-best 10 minutes, 06.89 seconds to take gold in the 3200 meter final. The mark was a staggering 17 seconds faster than her winning time in the same event at the NCS Meet of Champion.
34. JADEN DUMDUMAYA (De La Salle-Concord, So.)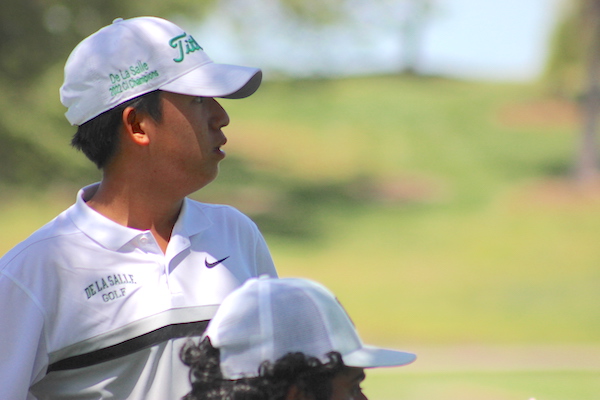 Golf
One of the fastest rising stars of California junior golf, Dumdumaya was an absolute force on the course this spring for the Spartans. He golfed a collective 10-under over 54 holes to help propel De La Salle to section, NorCal and state titles. He delivered a bogey-free round of 3-under in the NCS Championships at Lone Tree Golf Course, then went 6-under in the NorCal Tournament at Berkeley Country Club, and finally shot 1-under in the state tournaent at San Gabriel Country Club. Earlier in the spring, Dumdumaya also won the national Drive, Chip and Putt title in the 14-15 year-old division at Augusta National (home of The Masters).
33. JATHIYAH MUHAMMAD (Dublin, So.)
Track
If her first high school postseason is any indication, it's clear that Muhammad plans to rewrite the region's record books for girls pole vault. She's already started, actually. Muhammad vaulted 14 feet at the NCS Meet Of Champions, a winning mark that obliterated the meet record of 13-4 set by (former Bay Area 75er) Carondelet's Kelly Kern in 2019. Muhammad then only needed to vault 13-9 to take home state gold the following week. She won the vault in every high school meet she entered in 2022, except the Arcadia Invitational where she finished fifth.
32. CHARLOTTE KOHLER (St. Francis-Mountain View, So.)
Soccer
The West Catholic Athletic League Midfielder of the Year helped propel the Lancers to a WCAL title and a postseason run that included trips to the CCS final (where she scored her team's lone goal in a 3-1 loss) and the NorCal semifinals. In the spring, Kohler competed for the U17 Women's National Team at the U17 CONCACAF Women's Championships in the Dominican Republic. She scored four goals in a preliminary round win over Grenada.
31. JOSH EWERT (Campolindo-Moraga, Sr.)
Volleyball
The UC San Diego-bound outside hitter makes this list for the third straight year. Ewert was a team captain and first team All-Diablo Athletic League selection, leading Campolindo to 31-win season and an NCS Div. II title. He's a four-time selection to VolleyballMag.com's Fab 50 national recruit list and has been part of the National Team Development Pool for multiple years. He's also helped lead Pacific Rim Volleyball Academy to multiple titles, including taking first place in the 18 Open Division at SCVA Junior Boys Invitational.
30. CODY MERRILL (Gilroy, So.)
Wrestling
Merrill was the Bay Area's lone CIF boys state champion, leaving Bakersfield with the top hardware for the 195-pound division. The sophomore rolled to the state final, opening with two sub-minute pins of :40 and :35, followed by a 17-4 decision and a 1:04 pin. In the championship match, he shut out Palm Desert's Sonny Kling in a 5-0 decision.
29. SERGIO BELTRAN (Menlo School-Atherton, Sr.)
Football, Lacrosse
Beltran was one of four SportStars All-NorCal quarterbacks and CalHiSports' Small School Player of the Year following a senior year in which his 52 TD passes ranked fourth in the state and set a new Central Coast Section record. He threw for 3,581 yards and rushed for another 1,101 and 7 TDs, leading the Knights to a 12-1 mark. In the spring, he shifted to lacrosse where he scored three goals and finished second on the team with 16 assists.
28. AMANDA MUSE (Heritage-Brentwood, Jr.)
Basketball, Water Polo
One of the nation's top 40 recruits for the 2023 class by ESPN, Muse is committed to UCLA. The 6-foot-4 standout averaged a double-double of 17.1 points and 10 rebounds per game. She's also considered one of the best interior defenders in the region and averaged 4.2 blocks per game. She twice finished two blocks shy of a triple-double during her junior year. During the fall, Muse stayed in shape for hoops by leading the Patriots water polo team with 53 goals and adding 15 assists. She had three goals and two steals in Heritage's lone NCS playoff win.
27. HANNAH SLOVER (Los Gatos, Sr.)
Volleyball, Track
The UC Santa Barbara-bound outside hitter had a slow start to her volleyball season as she recovered from rotator cuff surgery. She actually moved to setter in the early part of the season until her shoulder was ready to start hitting later in the season as she helped the Wildcats reach the CIF NorCal semifinals in Div. I. Slover would close out her high school athletic career in style by becoming NorCal's first state high jump champion since 2009. She accomplished it with a mark of 5-foot, 6-inches.
26. NYLA VALENCIA (Sobrato-Morgan Hill, So.)
Wrestling
Just a sophomore and already on this list for the second time, she — along with her twin brother Aden — has a chance at being part of the Four-Timers Club. Nyla arrives on the list this year ranked by FloWrestling.com as the nation's No. 1 girls wrestler at 112 pounds. The site also has her ranked No. 17 in the nation among all wrestlers, pound-for-pound. She finished second in the 112-pound division at the CIF State Championships in February, reaching the final with three pins and a 4-0 decision. She finished three points shy (5-2) in the championship match.