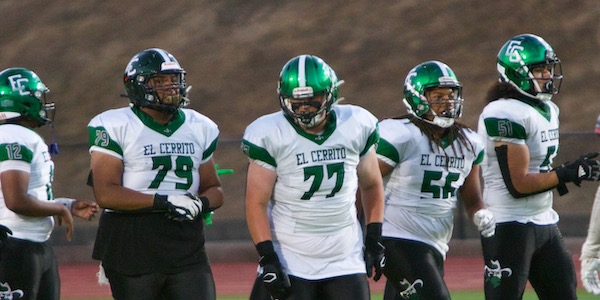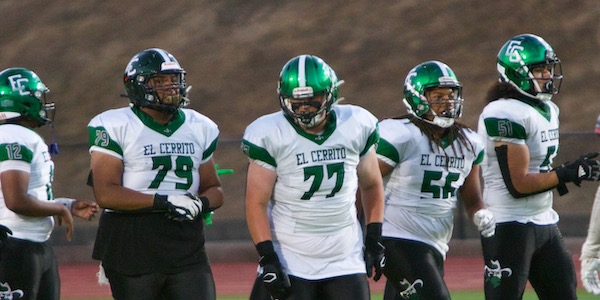 Fueled By An Offensive Line That Loves Snack Runs As Much As Pancake Blocks, El Cerrito Football Rolled Foothill-Pleasanton To Stay Unbeaten • PICTURED...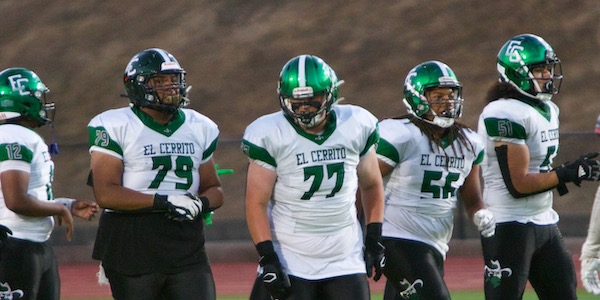 Fueled By An Offensive Line That Loves Snack Runs As Much As Pancake Blocks, El Cerrito Football Rolled Foothill-Pleasanton To Stay Unbeaten •
PICTURED ABOVE: El Cerrito offensive linemen (from left to right) Carlos Acosta, Charles Sutherland, Ronald Williams and Tome Veukiso. (Ben Enos photos)
Just how tight a bond has the El Cerrito football team's offensive line formed this season?
Let's just say that if you plan a snack run at the 7-Eleven closest to campus after school on Wednesdays, you might be in for a bit of a wait.
Whether it's a group outing in search of tasty treats or staring down an opposing defensive line, the biggest members of the Gauchos' roster are making their presence known this season.
On the field, that togetherness has manifested itself in the form of a 4-0 start, with the most recent victory an impressive 35-7 victory at traditional East Bay Athletic League power Foothill-Pleasanton.
This isn't necessarily a group that has come up through the ranks together. Instead, it's a group that has come to know each other in a hurry. There is only one senior among the entire group, a freshman starts at right tackle and left guard Ronald Williams joined the team this year as a transfer from De Anza-Richmond.
Call them quick learners with a collective mean streak.
"Our bond is very strong this year," junior left tackle Tome Veukiso said. "We're really close and we all joke around, but when it's Friday Night Lights, we lock in, dominate up front and guys shine. "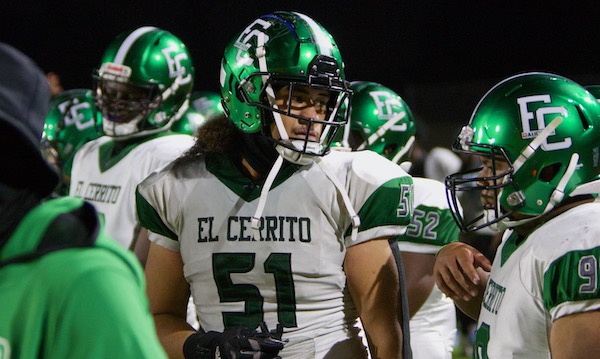 So strong that it translates to a weekly group trip to the local convenience store. Veukiso can't help but laugh as he explains the smorgasbord that often results from their unofficial team activity, with everything from donuts to taquitos entering the chat.
"I promise you, if you go there when school's over on Wednesdays, that's when we go," Veukiso said. "It's a big group of us walking down there together."
On the field, Veukiso is perhaps the best known of the bunch. At 6-foot-4, 270 pounds, the two-way lineman can play both tackle and guard. Against Foothill, he also shined on defense, adding a sack on the Falcons' first drive of the game and displaying the agility that makes him a surefire candidate to play at the next level.
_______________________________
CONNECT WITH US:
Follow SportStars on Twitter & Instagram | Like us on Facebook | Subscribe!
_______________________________
Off the field, he has also matured entering his junior season, and the Gauchos are reaping the rewards.
"His work ethic and his attitude (stand out)," El Cerrito football coach Jacob Rincon said. "He's very humble and he's hungry, so when he's out there, he's always feeling like he has something to prove."
Against the Falcons, the starting unit of Veukiso, Williams, Charles Sutherland, Carlos Acosta and Sione Fanaika imposed their will from the very beginning. They helped spring running back Tony McAdoo for a 47-yard touchdown run to tie the game at 7, then opened a hole that helped McAdoo turn a 4th-and-1 play into a 51-yard score.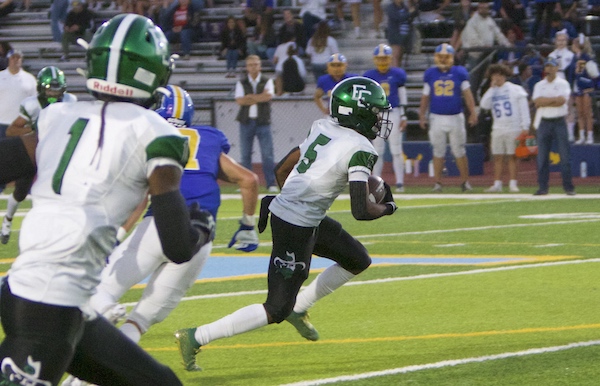 By the time the rubber pellets settled, El Cerrito had amassed 275 yards on the ground. That's no small feat for a North Coast Section Division III team lining up on the road against a Division II squad.
McAdoo was the main beneficiary, running for 189 yards and three touchdowns on the night.
"We studied our opponent, we knew what would be the flaws for us (to use) to win, and we just executed," McAdoo said. "It's our communication. Our team bonding. Everything is coming in well for us."
Rincon might have known what he was sitting on before the season began. A nonleague schedule designed to test his squad looked daunting on paper, with games against Division I schools in Amador Valley-Pleasanton and Freedom-Oakley, a road test against perennial power Bishop O'Dowd-Oakland, and the trip to Foothill providing a litany of measuring sticks.
So far, the Gauchos have passed the test, yielding a grand total of 23 points combined over their first four games. One more stiff challenge remains before diving into Tri County Athletic League-Rock Division play, as El Cerrito heads to Vacaville to wrap up the nonleague campaign. The Bulldogs are 2-2 after a loss to Granite Bay on Friday night.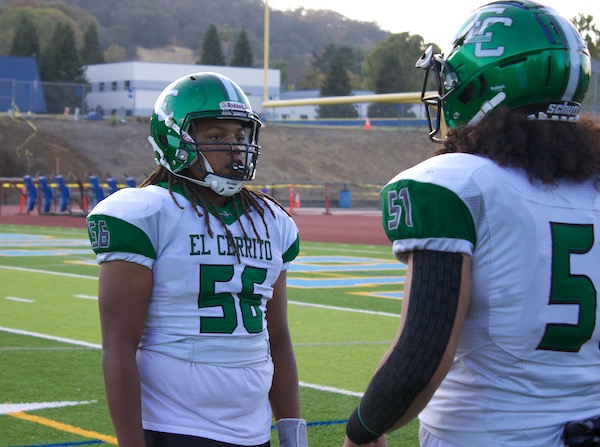 "Right now, we're taking it one game at a time," Rincon said. "Our goal is to get to NCS and potentially (a state bowl), but after tonight, we're going to celebrate and then we're going to focus on Vacaville."
There is plenty of season left, but for a team with big goals, one only needs to look to the big men in the trenches to find the path forward.
Both on and off the field, the Gauchos are hungry for more.