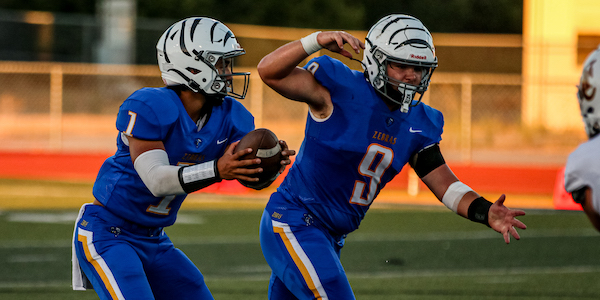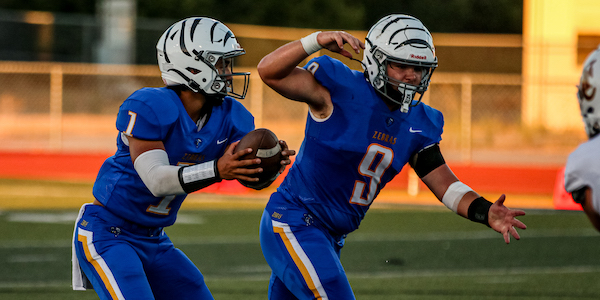 Spirted Comeback Win Over Yuba City Has Lincoln Football Off To 2-0 Start — The Same As Perennial Foothill Valley League Juggernaut, Placer •...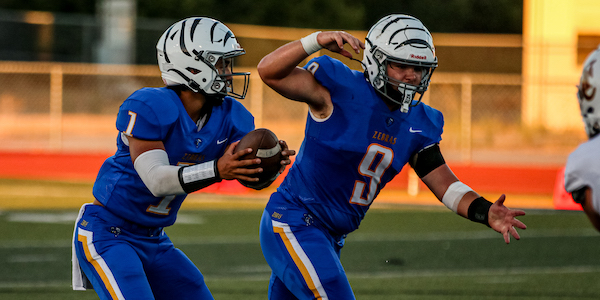 Spirted Comeback Win Over Yuba City Has Lincoln Football Off To 2-0 Start — The Same As Perennial Foothill Valley League Juggernaut, Placer •
PICTURED ABOVE: Lincoln QB Thomas Mukai, left, and running back Sean Cotten. (Ike Dodson photos)
The term "rivalry" gets tossed around like a spread formation pass, but in some communities, it is very real — and very bitter.
In Lincoln, that green on your jersey better be a grass stain. And up in Auburn, your black and white colors better not come in stripes.
Historic adversaries Lincoln and Placer-Auburn are stymied at a 3-3 deadlock for the past six years of Sac-Joaquin Section football.
Placer beat Lincoln and won the first two conference titles after the two teams were introduced as cornerstones of the newly-formed Foothill Valley League in 2018. Since then, Lincoln has won two straight, including a 28-0 shellacking for the FVL title last year.
Both teams are rocking 2-0 records early in 2022, having survived last-moment thrillers.
Placer edged both Casa Roble (37-35) and Roseville (30-27), while Lincoln rolled River City (49-12) and outscored Yuba City 28-6 in the second half to upset the Honkers 28-27 on Aug. 26.
_______________________________
CONNECT WITH US:
Follow SportStars on Twitter & Instagram | Like us on Facebook | Subscribe!
_______________________________
Placer returns more starters, a tenacious offensive line and a stout cast of running backs. It's why defending champion Lincoln probably isn't the FVL favorite this year.
"Placer reloads every year," Lincoln football coach Allen Berg said. "We dominated them last year, but now it's a new year and we have a different team.
"They seem to be the same team every year, well-coached with big, fast kids. It's like, 'Where do they get these guys?' They are the standard in the FVL."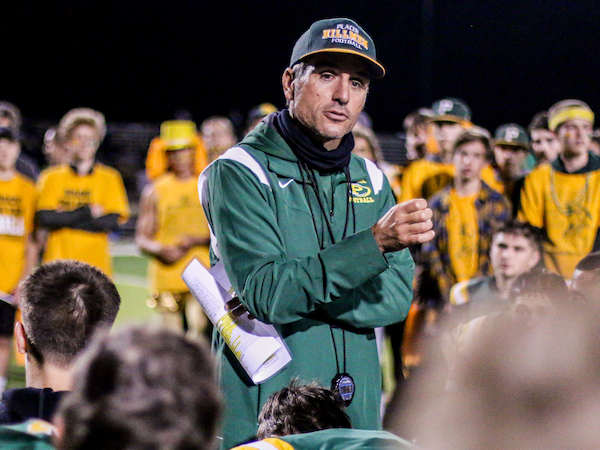 Lincoln's returning playmakers are few, but the team resiliency is officially verified.
In their most recent win, the Fighting Zebras overcame two remarkably lackluster quarters of football (they had eight offensive yards at the half) to beat Yuba City behind a breakout moment from senior quarterback Thomas Mukai, and suddenly stout defensive play, led by senior linebacker Peyton Raper.
Raper had 22 tackles in Lincoln's come-from-behind win (10 solo). His name seemed to be playing on a loop from the stadium speakers.
Mukai struggled early, but he found his rhythm in the second half, tossing two touchdown passes to Isaac Gomez to tie and then win the game. He finished 13 of 20 for 191 yards and three scoring passes (one to Dylan Fear as well).
Lincoln had to overcome a tremendous first half from Yuba City two-way star Nick Afato. The quarterback made good throws and bolted for big runs on offense, but his best contributions were made at the middle linebacker position. Afato had three tackles for loss in the first half alone, including a wild fourth-down stop where he quickly shed a block and made a backfield tackle to end a Lincoln series.
"He's incredible," Berg said. "What a freaking ball player that kid is, on both sides of the ball.
"How many teams have their quarterback and best defensive player be the same, tough kid. He played a lot less defense in the second half, but he is just a special high school athlete."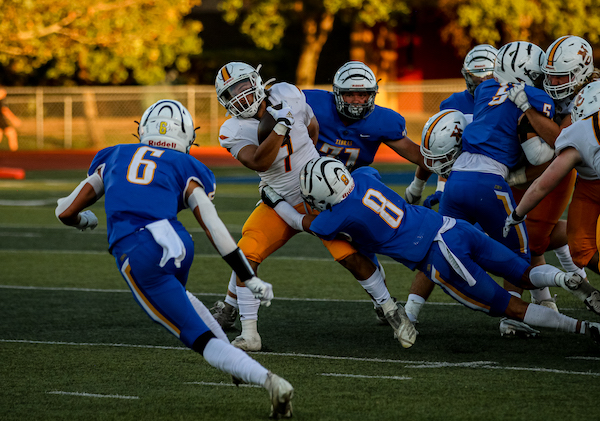 Afato had two second-quarter touchdown runs, both behind blocks made by hulking right tackle Noah Dunham (6 feet, 5 inches, 280 pounds). Dunham is one of the state's most heavily recruited offensive lineman, and verbally committed to Washington State this year.
The Honkers are 0-2, but they opened the season with a respectable 27-18 loss to reigning state champion Vanden-Fairfield. Yuba City is still expected to challenge for a Capital Valley Conference title this year.
This is why battling back to beat the squad was no small feat.
"We didn't really say much (at the half) and we didn't really make many adjustments," Berg said. "We went in at halftime and said, 'Look, they are kicking your butts, so are you just going to let them keep kicking your butts?'
"They still handled the line of scrimmage in the second half, but our kids kept fighting. I wasn't sure if our kids had the resiliency, but it was really good to see they have that in them."
It's the kind of energy Lincoln will need to win rivalry games. The Fighting Zebras can also measure their progress against Placer in back-to-back upcoming weeks, as Lincoln plays Placer's first two opponents (Casa Roble and Roseville) in consecutive games.
The common-opponent series starts today in Lincoln against Casa Roble.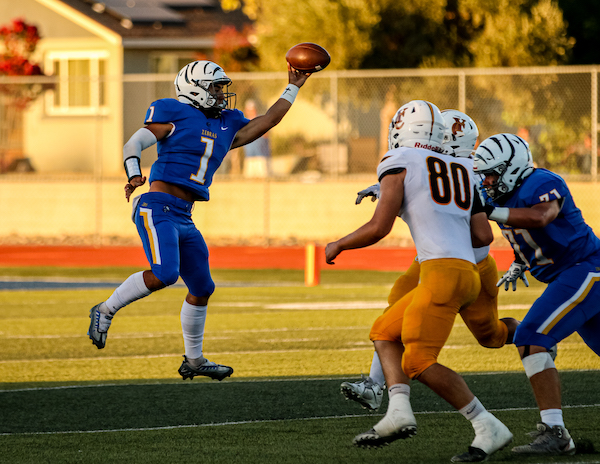 "I love our kids, and I love the fight they have, especially after last week," Berg said. "We got to bring it together for several weeks, get a good playoff seed and compete for the league title.
"Hopefully the guys have that same vision."
Yuba City hosts Pleasant Valley-Chico today. The Vikings of the Northern Section opened the new campaign with a 48-14 win over Corning.
Elsewhere in the FVL, Placer (2-0) travels to Silver Creek San Jose (0-1) of the Central Coast Section, while West Park (1-0) is at Pleasant Grove-Elk Grove (0-2).