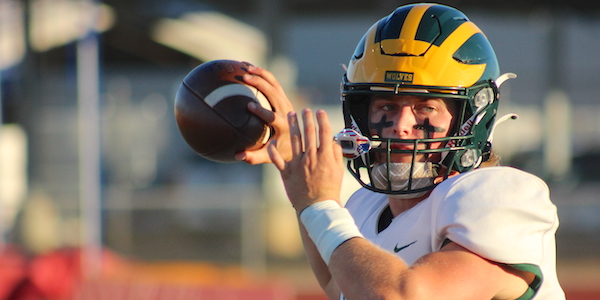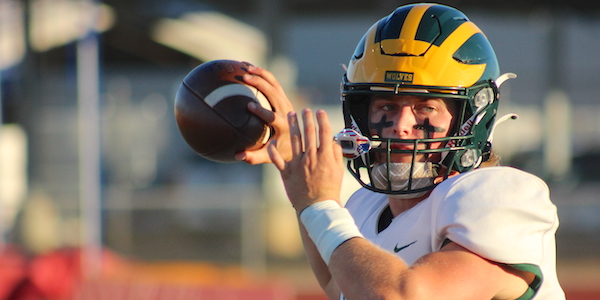 Luke Baker's Five-TD Night At Liberty Gives Him 13 For The Season As A Deep San Ramon Valley Football Team Improved To 4-0 •...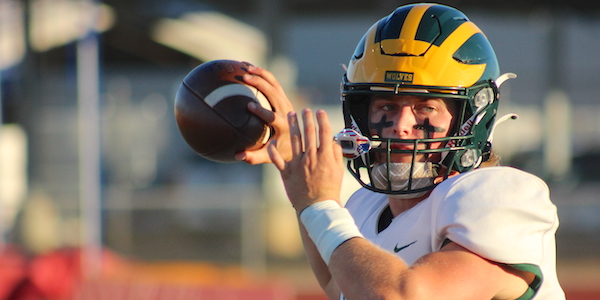 Luke Baker's Five-TD Night At Liberty Gives Him 13 For The Season As A Deep San Ramon Valley Football Team Improved To 4-0 •
PICTURED ABOVE: Luke Baker Throws During Pregame Drills At Liberty. (Chace Bryson photos)
Luke Baker stood ready for his postgame interview as San Ramon Valley football teammates ran by him offering playful banter. 
"Is that THE Luke Baker?," piped one. 
"Shoutout Luke Baker!," popped another.
Baker stood there and grinned, shaking his head. Then he was asked his first question: What does he like most about being part of this Wolves team that's now 4-0 after a 42-14 nonleague win at Liberty-Brentwood?
"Honestly, I know it's cliche, but the unity we have here is just remarkable," the junior quarterback said. "We're building a really good culture, everyone wants not only themselves and their team to succeed, but they want to see their teammates and their brothers succeed."
Baker got to watch a number of his teammates succeed in the win over Liberty, as the Wolves showcased ten different players (including himself) en route to racking up 549 yards of total offense.
_______________________________
CONNECT WITH US:
Follow SportStars on Twitter & Instagram | Like us on Facebook | Subscribe!
_______________________________
"We've got some great playmakers," Baker said. "We have like four running backs who are dogs: John Ben Pau Mendoza, Nick Rivera, Caleb Padrid, Seane Williams. And then receiving, you see it —  Zack Dodson, Trevor Scott, Gavin Jones are all like 100 yard receivers. And then our line up front, man, it's remarkable. We can run it up the middle. We can beat teams outside with our speed. 
"The guys around me are special. It's easy being me."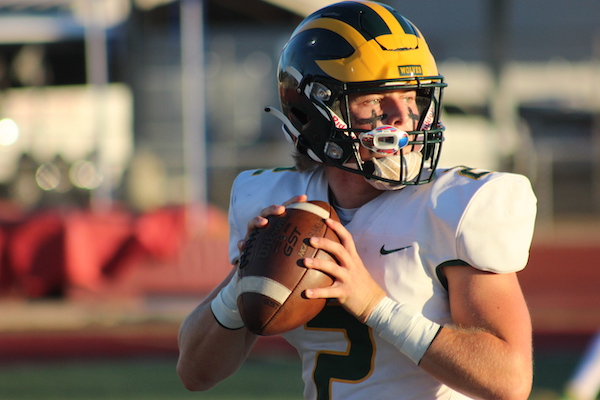 There seemed to be a lot of truth to that last statement on Friday. 
Baker kept up his incredible 77 percent completion percentage on the season by connecting on 21 of his 27 passes. He finished with 381 yards passing — spreading it around to seven different targets — with five touchdowns and one interception. He's now tossed 13 touchdowns and just three picks in the team's first four games.
The 5-foot-10, 180-pound Baker has already committed to Santa Clara University on a baseball scholarship. But quarterbacking is in his blood.
He's the third and last of three brothers to line up behind center for the Wolves. Zack Baker was the starting QB in 2014 and Clark Baker held the position during the 2016 and 2017 seasons.
San Ramon Valley football coach Aaron Becker has now coached all of them after taking over the program in 2014. 
"He's not a whole lot different (than his brothers)," Becker said after the Liberty win." Both of them were really good and he's the third in the line. Each of the older brothers told me the younger one was going to be better than them. It's quite a family lineage. He's really good."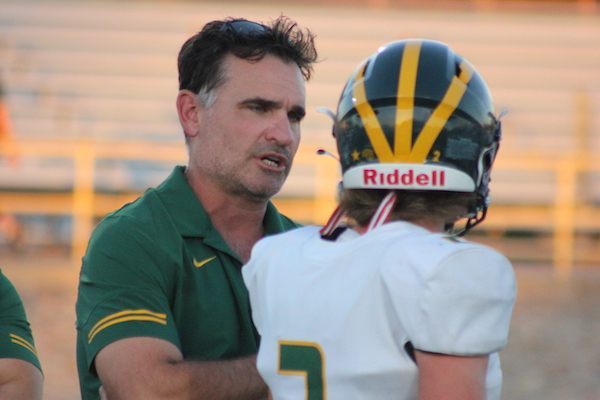 And for Luke, it doesn't hurt to have two former Wolves quarterbacks in his corner every week. 
"They're always in my ear, but they're the most encouraging people in my life," he said of Zack and Clark. "They're never hard on me. They're always encouraging. (Zack) is the most passionate fan in the stands. You can hear him all game yelling. I'm very blessed."
Luke Baker opened up the scoring against Liberty with a 17-yard pass to senior Gavin Jones, the first of three touchdown catches for the Wolves' slot receiver having a breakout season. Jones also caught a 28-yard touchdown right before the end of the first half, breaking multiple tackles over the last 15 yards, and hauled in an 85-yard bomb in the third quarter that put San Ramon Valley up 35-14 and basically put the game on ice.
Jones now has 19 catches for 471 yards and six touchdowns through four games. All three numbers are team-leading marks. 
Gavin Jones breaks several tackles on this 28yd TD catch that gave @_SRV_Athletics a 28-14 lead over Liberty just 9.8 seconds before halftime. Wolves looking to improve to 4-0 with a win. @Lbaker_5 @THE_EBAL_SPORTS pic.twitter.com/vrOZYgcf2z — SportStars™ Magazine (@SportStarsMag) September 24, 2022
"We built that chemistry a lot more over the offseason," Jones said of his connection with Baker. "Working with him every weekend, working in practice. He's always telling me I'm his favorite target, and we just keep building on it. Every time he throws me the ball, the chemistry keeps going up."
Jones finished with 163 yards against Liberty while Dodson and Scott each topped 60 yards on four grabs a piece. The rushing attack was led by Padrid who carried six times for 80 yards, including a 58-yard scoring run that put San Ramon Valley up for good.
Because they won't play De La Salle-Concord as part of their East Bay Athletic League-Mountain Division schedule this season, the Wolves have two nonleague contests left before hosting Clayton Valley-Concord on Oct. 14. San Ramon Valley hosts Foothill-Pleasanton on Sept. 30 and travels to McClymonds-Oakland on Oct. 7.
"We've got to keep the intensity up," Jones said. "We can't get ahead of ourselves. Keep our heads held high. Stay determined."