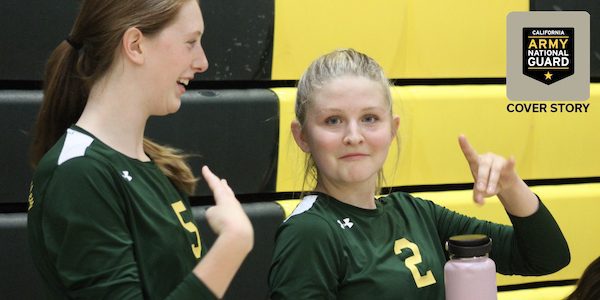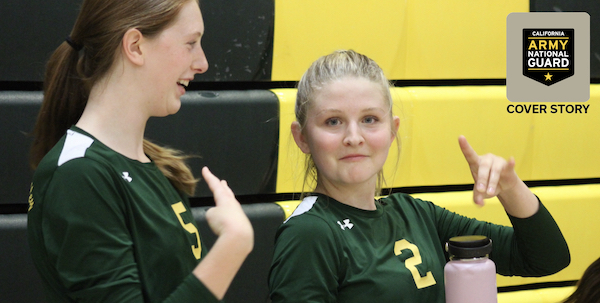 Mixing Positive Energy With Plenty Of Talent, San Ramon Valley Volleyball Sets Out To End A Nine-Year Section Championship Drought • PICTURED ABOVE: Senior captains...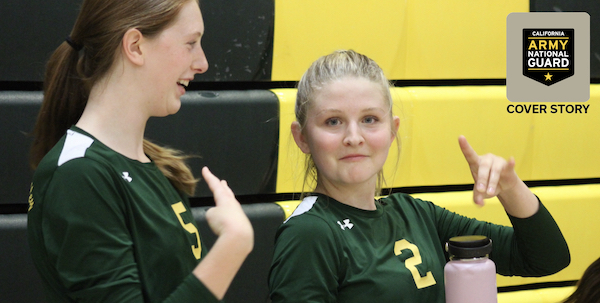 Mixing Positive Energy With Plenty Of Talent, San Ramon Valley Volleyball Sets Out To End A Nine-Year Section Championship Drought •
PICTURED ABOVE: Senior captains Morgan Daetz, right, and Audrey Ross ham it up during a water break. (Chace Bryson photos)
It's early evening on Sept. 1, and inside of the San Ramon Valley High main gymnasium is a cacophony of booms and echoes as volleyballs thunder off of the hardwood flooring.
And laughter. There's plenty of that too.
These are the routine practice sounds of the San Ramon Valley volleyball team. Coach Brian Fujinaga keeps the workout at a good pace, and the roster of 15 rolls through drills and scrimmage scenarios.
Interruptions might include Fujinaga stopping things to add a coaching point, water breaks, or perhaps a 6-foot sophomore attempting a breakdancing spin. The mood is light, but the tone is a focused one.
"I like how they bring energy to every practice and every match," Fujinaga said of his balanced roster that includes four seniors, five juniors, five sophomores and one freshman. "They all get along and continue to work hard. And they have fun too."
Fun comes easy for teams who start the season as the Wolves did. San Ramon Valley opened its 2022 season with six straight wins, which included the program's first championship finish in the East County Invitational Tournament hosted by Acalanes-Lafayette.
_______________________________
CONNECT WITH US:
Follow SportStars on Twitter & Instagram | Like us on Facebook | Subscribe!
_______________________________
The Wolves defeated fellow East Bay Athletic League power Foothill-Pleasanton 2-1 in the final. Though Foothill, who was the top seed in the North Coast Section Division I tournament a season ago, returned the favor in both teams' league opener on Sept. 8. It was the Wolves' first loss of the season, placing them at 6-1 overall.
"My favorite thing about this year's group is the new morale we all have," senior setter and captain, Morgan Daetz said. "We just all really get along, and that's really important. And we just have a lot of talent — and that's really fun."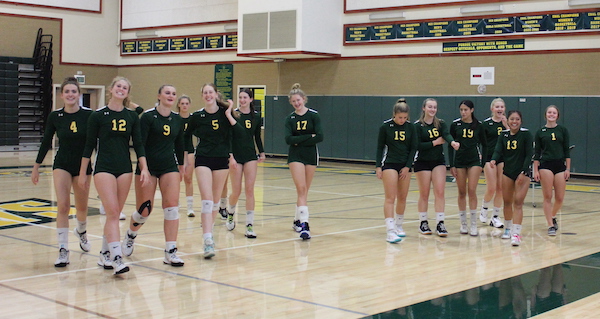 Leading the way for San Ramon Valley volleyball is 6-foot-3 outside hitter Audrey Ross. Through the team's first 14 sets, the Boston College commit led the Wolves in kills (45), digs (29) and serve receives (50).
Ross and Daetz both grew up falling in love with volleyball while watching older sisters play for the Wolves.
"When I saw her play and how much she loved it, I kind of wanted to be like her and follow in her footsteps," Ross said.
She began playing club at age 13 and immediately crossed paths with Deatz. The two have been year-round teammates nearly ever since.
"It's probably one of my favorite relationships ever," said Daetz, who will also play at the next level after committing to Williams College in Pennsylvania. "We get each other at a different level. Audrey knows how to read me and I know how to read her. Whether it's on the court or off the court, we know how to communicate without really saying the words. That's just a special relationship that not a lot of people have.
"And she's also just a great leader and great person in general."
Because they both grew up watching San Ramon Valley volleyball, both seniors are aware of the program's NCS championship drought. The Wolves last hung a section title banner in 2013.
Since that time, cross-town rival Monte Vista has hung five of them — including last year after defeating San Ramon Valley 3-0 in the semifinals.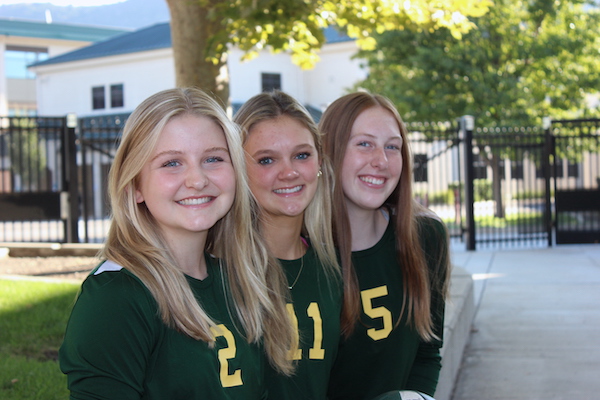 "I've been watching this program since even before my sister was in it," Daetz said. "I couldn't even imagine what a section title feeling would be like"
She might have to start imagining, because the Wolves definitely have the talent to accomplish the feat.
The San Ramon Valley volleyball team's roster has seven different players who check in at 6-feet or taller. That includes junior Maddie Connelly and sophomore Lucy Chertock. Connelly and Chertock rank second and third in kills heading into league play, and 6-0 sophomore Sophia Vella leads the team with 12 blocks. 
"We have an offensive threat in every position. Which is such a luxury at the high school level," Fujinaga said. "When they're playing against each other in practices you're seeing someone step up and make a great play all the time."
With that many weapons, it's also nice to have a high caliber facilitator. Daetz fits that bill.
"We get the most compliments from other coaches about Morgan and the way the ball comes out of her hands," Fujinaga said. "We turned over the team and offense to her and she's proven to be such a mature and smart player. Early in the season, she's consistently making the correct decision on who to set and when."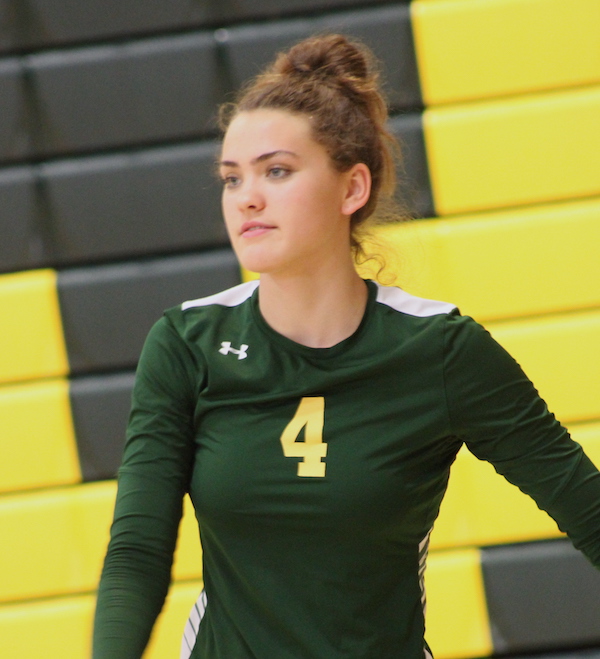 Chasing Monte Vista may also be just a little bit easier for the Wolves this season thanks to having two former Mustangs join their ranks.
Sophomores Sarah Guzman and Ellie Hunt — both 6-feet, of course — transferred in from Monte Vista. Hunt also brought her younger sister Jenna along. The lone freshman on the roster, Jenna is 6-1 and will be a key contributor as well.
All three of them were mentioned by both Daetz and Ross when asked about new faces who've impressed them.
"The Hunt sisters. They're both crazy talented at such young ages, and they're super fun and literally the nicest people I've ever met," Ross said.
Daetz added that Ellie Hunt and Guzman came in as some of the hardest workers on the team. It also doesn't hurt that "they're coming out with a little bit of vengeance."
Not every Wolves highlight is offensive, though. The team's third captain is senior Iris Buttles, a libero who has refined her skills playing beach volleyball over indoor club play. In addition to Daetz's play at center, senior Lauren Fitzgerald will also play a key role in passing and ball control.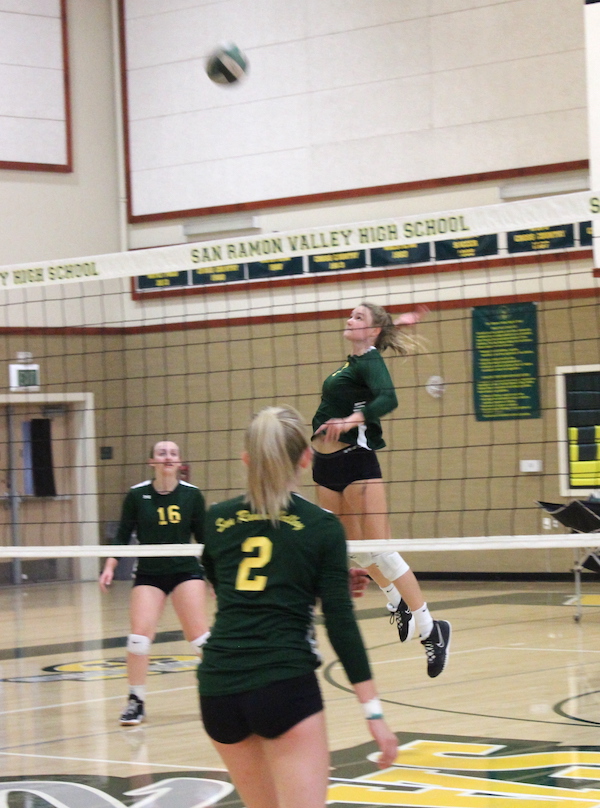 While the 6-0 start to the season was nice, the team learned quickly that the EBAL schedule will offer very few breathers. In addition to Foothill and Monte Vista, Carondelet-Concord is the defending NCS Div. II and CIF Div. III NorCal champion. The three teams entered the opening night of league play a combined 27-3 in nonleague play. Carondelet comes next on the schedule when the Wolves host the Cougars on Sept. 13.
The EBAL schedule and a potential entry into the always-competitive Stockton Classic tournament in October will provide plenty of build-up for a run at a section title. Daetz can't imagine it just yet, but she knows what it will take to get there.
"Staying focused," the senior said. "We have a lot of strengths, but it's just going to be about honing the little things that are going to set us apart."
That, and maybe staying loose with a few giggles in between hammering a pair of kills off the deck.