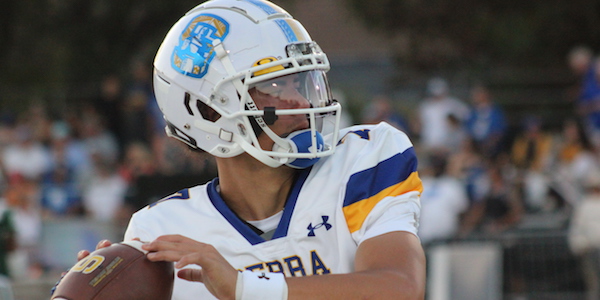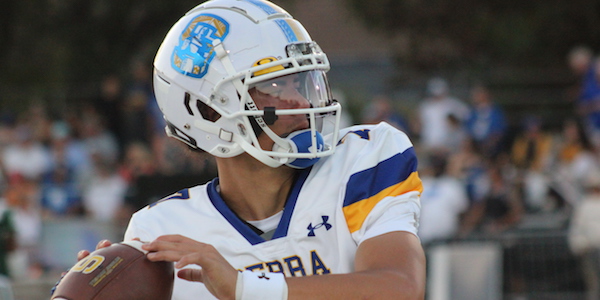 With A 14-Point Fourth Quarter Comeback, Serra Football Defeated De La Salle For The First Time In 12 Tries, Takes Over NorCal's No. 1...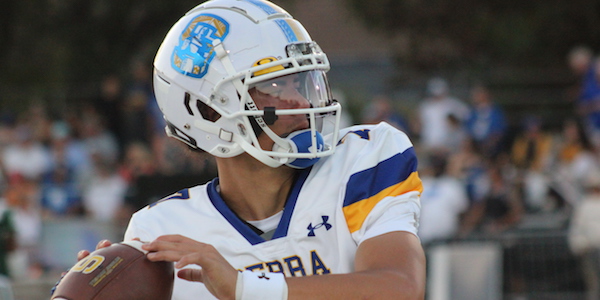 With A 14-Point Fourth Quarter Comeback, Serra Football Defeated De La Salle For The First Time In 12 Tries, Takes Over NorCal's No. 1 Rank •
PICTURED ABOVE: Serra junior quarterback Maealiauki Smith. (Chace Bryson photos)
An attempt to parse all the storylines at play in the Serra football team's 24-21 win at De La Salle on Friday would be an invitation to dizziness. 
They were everywhere.
Serra coach Patrick Walsh, a member of the De La Salle Athletics Hall Of Fame, beat his alma mater for the first time in 11 tries. It was the school's 12th try overall.
Marley Alapati, a member of the Spartans just last season — before moving to a school closer to his home in Daly City — had two takeaways for Serra. The first was a fumble recovery on the game's second play from scrimmage. The second was an interception with 1:26 left in the game, which led to the 20-yard game-winning field goal by Dylan Joudieh.
Oh yeah, both teams happened to be ranked NorCal's No. 1 and No. 2 teams.
"That was a great high school football game," De La Salle coach Justin Alumbaugh said. "They ended up on top because they earned it."
_______________________________
CONNECT WITH US:
Follow SportStars on Twitter & Instagram | Like us on Facebook | Subscribe!
_______________________________
Serra (2-0) earned it by outscoring the Spartans 17-0 in the fourth quarter. Trailing 21-7 after three quarters, Walsh brought his entire team in front of him for a pep talk.
"We're traditionally a third quarter team and that certainly didn't happen tonight," Walsh said. "I told them we obviously didn't do a good job, but we now have the wind (in our direction) and we're gonna win this football game."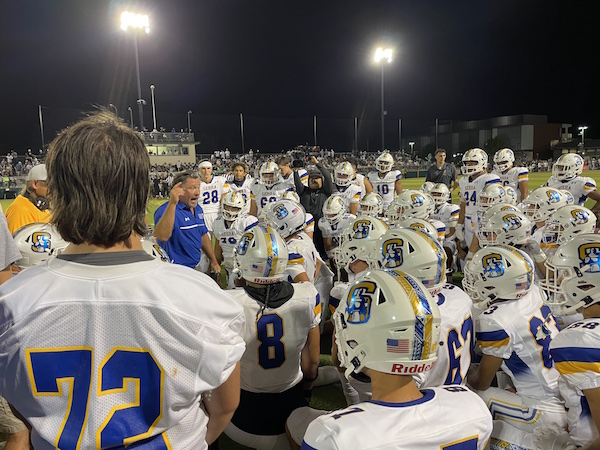 The Padres ran 24 plays in the fourth quarter, gained 111 yards and did not commit a single penalty. De La Salle (1-1) ran seven plays over the last 12 minutes. The Spartans had four yards of offense, committed three penalties and had one turnover. They also fumbled on one of the other seven plays, but managed to recover.
"Their coach is a bulldog," Alumbaugh said referring to Walsh. "They have a lot of pride. I knew they weren't going away. We had a lot of opportunities, but they earned it more than us. When it was time to make plays, they did and we didn't."
There was no shortage of playmakers for Serra, but junior quarterback Maealiuaki Smith stood out among the crowd.
Smith completed 20 of 30 passses for 266 yards and two touchdowns. He was especially impressive on the most pressure-filled downs. His first touchdown pass of the night came on a 3rd-and-goal from the 17-yard line. He connected with Jayden Weber at the 5-yard line and the wideout took it the rest of the way.
With his team down two scores, Smith engineered a 16-play drive that spanned the third and fourth quarter, going 6-for-11 on the drive with two fourth-down completions.
"He was born tonight, really," Walsh said of his quarterback. "We call him 'Maui' because most people can't say his first name. So, we call him Maui and Oh God was he was great, just great.
"We knew we couldn't push around De La Salle. So this was his night."
Smith did have a first half interception and was the recipient of a punishing hit on a sack by De La Salle defensive end Cooper Flanagan. The Notre Dame-bound tight end delivered such a blow that Smith's helmet came off.
He returned one play later to start the fourth quarter, taking to heart what Walsh had said to them on the sideline.
"He said we have to keep pushing and forget about everything that happened in the past," Smith said. "Just keep moving forward."
Serra tied the game 21-21 with a 3-yard run from Jaden Green with 3:06 left to play. On the ensuing possession by De La Salle, the Spartans were hit with back-to-back penalties that backed them up to their own 4-yard line. In desperation mode on third and long, De La Salle tried to set up a screen pass but Alapati sniffed it out and jumped the route.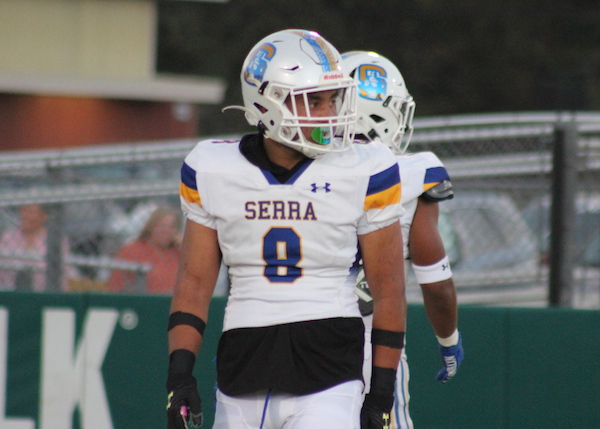 "There's nothing like it," the linebacker said. "I can't picture something better than this. My coaches put me in the best position I could be."
Serra took over on the De La Salle 18-yard line and used three rushing plays to get into near-chip shot position for Joudieh. An illegal substitution on De La Salle helped make it an even closer field goal.
Joudieh split the uprights with two seconds left on the clock to secure De La Salle's third loss to a NorCal team since last September — after a 30-year unbeaten streak against such clubs.
"It's a testament to there being a lot of better teams in NorCal," Alumbaugh said. "That's a good team, but we have to get better. It's a simple fact. That's not just on the kids. Kids made mistakes, coaches made mistakes. We all have to get better. That team earned it."
De La Salle was led by Charles Greer who rushed for 125 yards and a touchdown.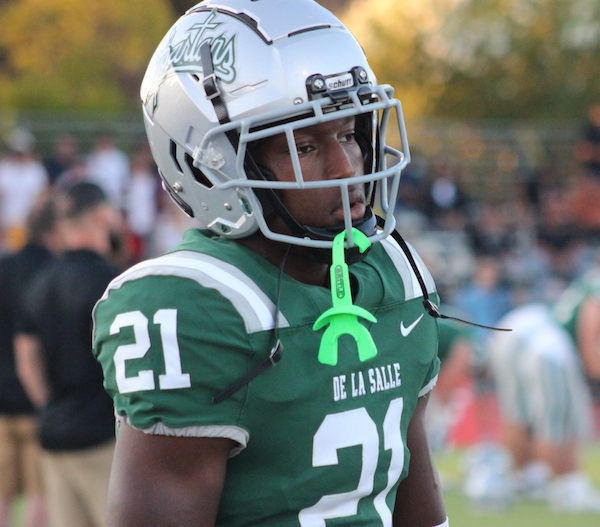 Meanwhile, eight different receivers caught passes for Serra, led by Green who had seven catches for 68 yards. It was the second straight road win to start the season for the Padres, who began at No. 3 in the SportStars' NorCal Top 20 Rankings. They defeated preseason No. 2 Folsom 17-12 on Aug. 26.
Walsh was asked to sum up what the win means.
"It means that we've taken a step and we have to continue on," the coach said. "We're not hanging any banners, and we better deal with this with humility or it's going to bite us."