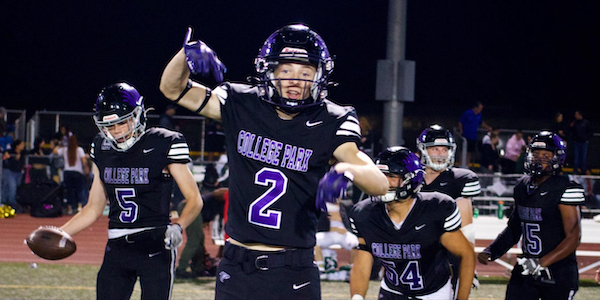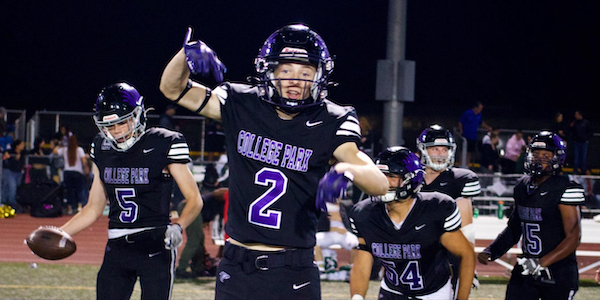 With A 34-28 Comeback Win Over Previously Unbeaten Concord, College Park Football Continued Its March Toward Sustained Success — And Maybe A League Title...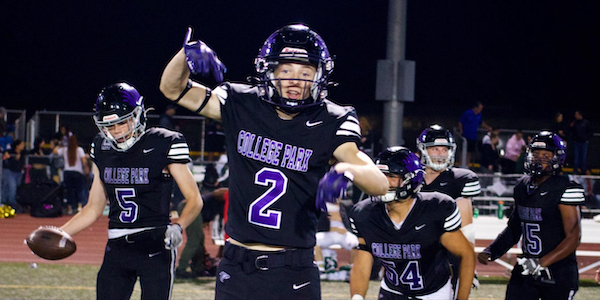 With A 34-28 Comeback Win Over Previously Unbeaten Concord, College Park Football Continued Its March Toward Sustained Success — And Maybe A League Title •
PICTURED ABOVE: College Park junior Julian Abeyta celebrates in the closing seconds of the Falcons win over Concord. (Ben Enos photos)
Signs of progress can sometimes be hard to spot in the middle of a high school football season.
That's certainly not the case for the College Park football program.
Take the Falcons' 34-28 Homecoming night win over Concord as the latest example. A 20-20 tie at halftime turned the Pleasant Hill school's way in the second half, and buoyed by a capacity crowd, the hosts were able to turn away a late comeback attempt to win their Diablo Athletic League-Valley Division opener.
One year ago, that sort of resilience might not have been as easy to find.
Now in his second year, coach Travis Raciti has College Park (3-3) headed in the right direction. A 5-5 season in 2021 might not have looked significant on paper, but for a program that needed a bit of a push to get back to where it once was, the fact that the Falcons had a chance at a league title on the final night of the regular season provided needed momentum heading into the offseason.
What did Raciti do to keep that momentum going?
He asked for more.
When the 2022 season kicked off, a much tougher schedule awaited. Wins over Oakmont-Roseville and Hercules helped provide a boost, but losses against Division II schools Foothill-Pleasanton and Livermore — as well as last year's DAL – Valley champ Northgate-Walnut Creek — provided lessons necessary to continue his team's growth.
"It gave us an opportunity to develop our depth," Raciti said. "We learned that when you play up with other teams and against teams in (higher divisions), it gives you a better idea of who you have and what type of tools you have for the upcoming season. It was a challenge, but iron sharpens iron. We're really happy that we did it."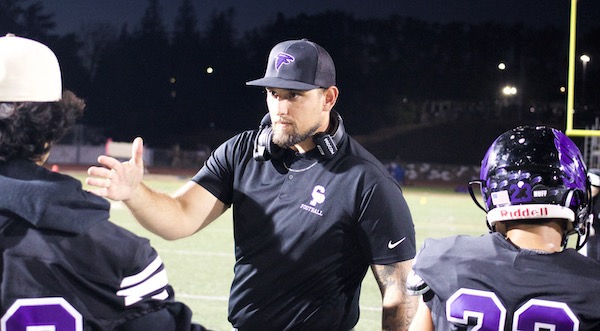 So, even with a 2-3 record entering league play, College Park football players and coaches alike maintained a confidence that when the opponents turned familiar, they'd be ready to perform.
_______________________________
CONNECT WITH US:
Follow SportStars on Twitter & Instagram | Like us on Facebook | Subscribe!
_______________________________
"Our coach wanted to get us prepared for league, because league is all that matters at the end of the day," senior Gavin O'Leary said. "A lot of teams try to sugar coat that with an easy schedule but we wanted a hard one. We wanted to test our limits."
That stems from the unmistakable positive energy that Raciti and his coaching staff have worked hard to establish throughout the program.
"Coach Raciti has brought resilience and brought energy," senior Keith Brown said. "And he's taught us how to be good young men."
For evidence of that resilient attitude, look no further than O'Leary. The standout defensive back/receiver established himself during his junior season and was expected to be a senior leader in every sense of the phrase this year.
The season hasn't quite gone according to plan. A multitude of injuries have left O'Leary at less than full strength for much of the season.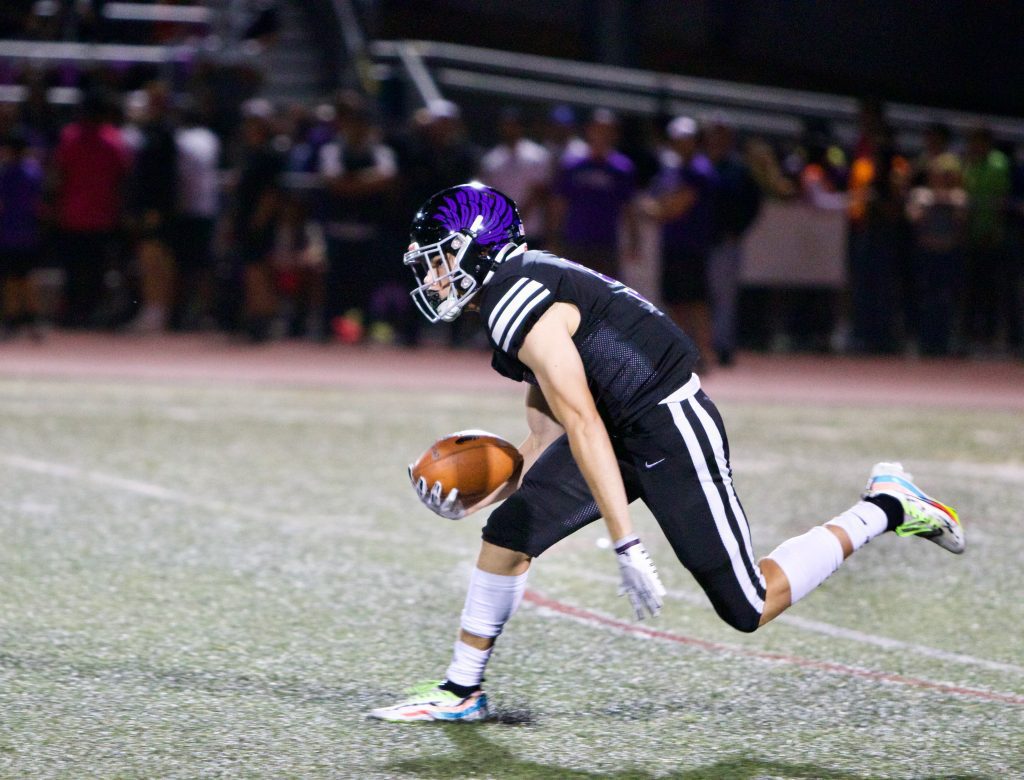 But against Concord (5-1), in a game that could go a long way towards deciding an eventual league champion, O'Leary was ready to go. Playing through a noticeable limp over much of the game, he picked up 47 yards on the ground, 50 through the air, and scored College Park's first touchdown on a 6-yard run.
"Man, I mean football players are football players. And when those lights come on, he comes on even if he's hobbling around," Raciti said. "I'm lucky to coach him. He's one of the toughest guys I've ever coached."
O'Leary and Brown are among the team's senior leaders, but the Falcons have also needed big contributions from a group of underclassmen that includes 14 sophomores and even features a freshman starter on defense.
Sophomore receiver Tony Keck stands out in a crowd thanks to his 6-foot-4, 200-pound frame, and it was his 15-yard touchdown catch in the third quarter against Concord that put the Falcons in front. The pass came from fellow sophomore Jimmy Voorhies, who threw for 166 yards and two scores on the evening.
How has it gone for a sophomore quarterback looking to lead a team with big goals?
"I think (I'm settling in) pretty nicely," Voorhies said with a chuckle. "I'm enjoying it. But, I think there's still a lot to learn."
Part of the learning process within the College Park football program is explained by a principle Raciti has termed "The Falcon Rule." Making a mistake is OK, but once the team sees it on film and identifies it, that mistake gets cleaned up moving forward.
Even in identifying missteps, Raciti and his staff have tried to keep the energy positive, and that has players buying into the process.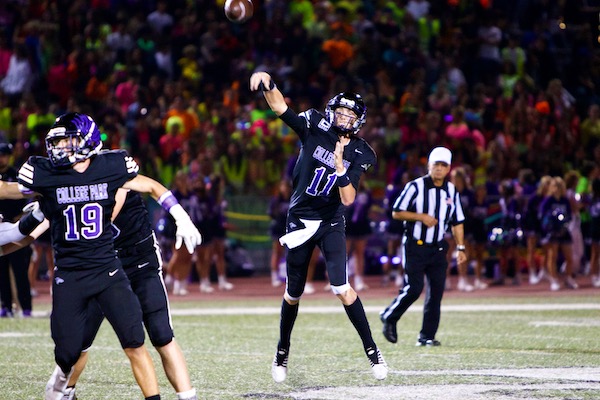 "Last year, when we got in a tough situation because we weren't used to winning these types of games, we would almost bow down or fall back and start pointing the finger," Raciti said. "Something I think our seniors have done a really good job of is something I always tell them — ride the wave.
" Football is a game of momentum, highs and lows, and I think they've done a really, really good job of buying into that and saying, 'Hey, that was a play that didn't go our way but we'll get the next one.' I'm really proud of our guys."
The win over Concord is significant, but the Falcons are by no means a lock to roll to a league title. In fact, their biggest remaining test might just be the next one. They head to Berean Christian on Saturday for an afternoon showdown against an Eagles group led by do-everything two-way star Nassir Pitters.
No matter who lies ahead, Raciti and the Falcons are betting that the lessons they've learned along the way will keep them on a path to continued progress.
If they do, success won't be hard to find.