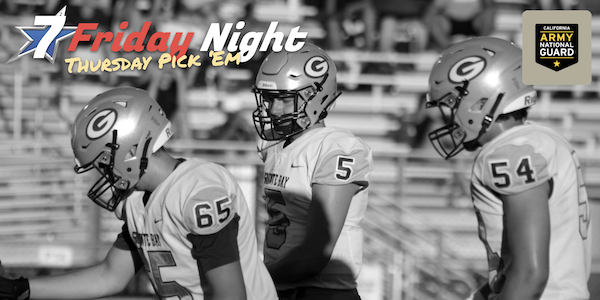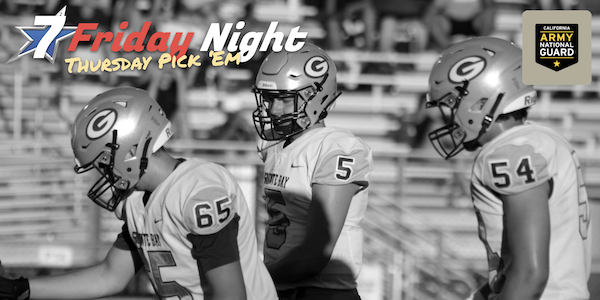 With Playoffs Entering Full Swing, The 7 Friday Night Team Takes On A Grueling Slate Of Games For Its NorCal Football Picks • PICTURED...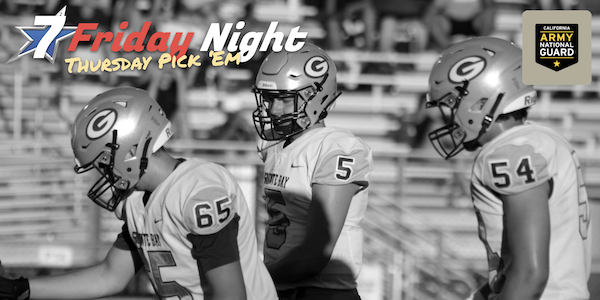 With Playoffs Entering Full Swing, The 7 Friday Night Team Takes On A Grueling Slate Of Games For Its NorCal Football Picks •
PICTURED ABOVE: Granite Bay QB McCade Long With Offensive Linemen, Kameron Kaminski (65) And Talae Tuimaunei (54). (Chace Bryson photo)
With nearly every section having moved to playoffs, the 7 Friday Night crew finds tough sledding everywhere when it comes to its NorCal football picks for the week.
Hosts Chace Bryson and Ben Enos continue their season-long, see-saw battle as Ben regained the lead with a 3-2 performance last week. In a turn of events that few saw coming, Coach Terry Eidson has become the most consistent among the trio. Coach has reeled off four straight 2-1 efforts, while predicting 3-0 every time — including this week. Also, Coach drops a brief (for him) "I told you so" about Flightline at the Breeders' Cup and puts a smart twist on "Dumb Football."
LISTEN TO YOUR PODS ON A SPECIFIC PLATFORM? Scroll Down To See Where Else You Can Listen, Rate & Subscribe!
GAMES PICKED INCLUDE:
(Ranks are from SportStars NorCal Top 20)
• No. 14 Central Catholic @ No. 6 Monterey Trail-Elk Grove
• No. 7 McClymonds-Oakland @ Oakland Tech
• No. 17 Sacred Heart Prep-Atherton @ No. 10 Salinas
• Mitty-San Jose @ No. 18 Los Gatos
• Granite Bay @ No. 19 Downey-Modesto
• Amador Valley-Pleasanton @ Liberty-Brentwood
• Vintage-Napa @ Foothill-Pleasanton
• Yuba City @ Grant-Sacramento
• Half Moon Bay @ St. Ignatius-S.F.
• Escalon @ Hilmar
• Del Norte-Crescent City @ Tennyson-Hayward
7 Friday Night will be publishing new episodes every Tuesday and Thursday during the regular season.
Tuesday episodes will include discussion on the week ahead as well as interviews with Coach Eidson and whoever else we have lined up as guests. Thursday episodes will include Chace, Ben and Coach Eidson's picks and predictions for a selection of games that week. Make sure you're following or subscribed wherever you listen to your favorite podcasts.
Listening platforms include Spotify, Apple Podcasts, Google Podcasts, Breaker, Pocket Casts and Radio Public. Also, feel free to use the same platforms to look up SportStars' other podcasts: The 2021 oral history-style show SportStories, and the ask-an-expert health and fitness show, Know & Go, that's currently in its first season..
All previous episodes of 7 Friday Night, Know & GO and SportStories can also be found here.
Finally be sure to follow our podcasts' Twitter account @SportStarsPods to see guest announcements, participate in listener polls and more. You can also get game updates and scores on Friday nights by following @SportStarsMag.
PREDICTION SCOREBOARD
Through Nov. 5
CHACE
PRIMARY PICKS: 22-14
LOCKS: 9-3
CHALLENGE ROUND: 15-7
OVERALL: 37-21
BEN
PRIMARY PICKS: 23-13
LOCKS: 9-3
CHALLENGE ROUND: 15-7
OVERALL: 38-20
COACH EIDSON
OVERALL: 17-19