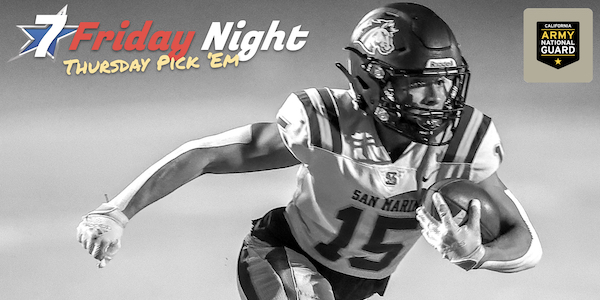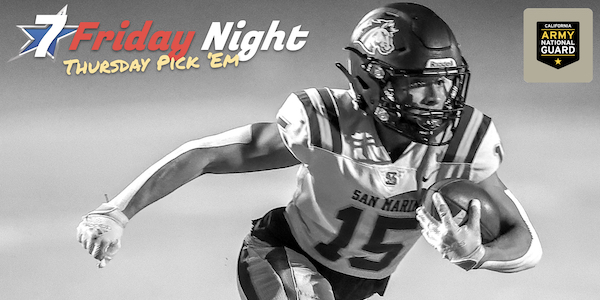 It's A NorCal Football Picks Bonanza As The 7 Friday Night Crew Tackles Several Section Semifinals. PLUS: More "Dumb Football" • PICTURED ABOVE: San...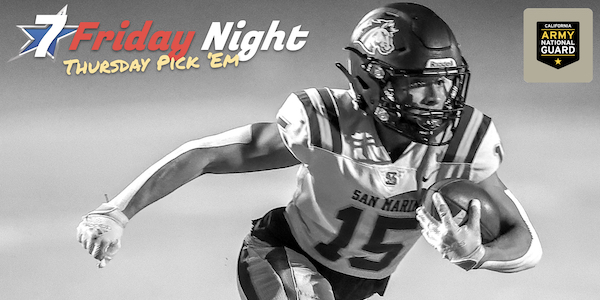 It's A NorCal Football Picks Bonanza As The 7 Friday Night Crew Tackles Several Section Semifinals. PLUS: More "Dumb Football" •
PICTURED ABOVE: San Marin-Novato senior WR Frankie Quinci. (David Gershon photo)
It's a week full of section semifinals, so finding good games to pick certainly wasn't hard for the 7 Friday Night team. Co-host Ben Enos remains the king of NorCal football picks after expanding his lead to two games over SportStars editor Chace Bryson — who is taking his foundering rather well.
Ben and Chace both complete their three main picks (one lock) plus a Challenge Round of two games each. Also, Coach Terry Eidson looks to continue his long streak of 2-1 performances with his three picks. And last, but certainly not least, he provides an epic edition of "Dumb Football."
LISTEN TO YOUR PODS ON A SPECIFIC PLATFORM? Scroll Down To See Where Else You Can Listen, Rate & Subscribe!
GAMES PICKED INCLUDE:
(Ranks are from SportStars NorCal Top 20)
• No. 3 De La Salle-Concord v. No. 4 Pittsburg (NCS Open final)
• No. 10 Salinas @ No. 1 Serra-San Mateo
• No. 14 Rocklin @ No. 15 Manteca
• Rancho Cotate-Rohnert Park @ No. 18 Campolindo-Moraga
• Patterson @ Grant-Sacramento
• Bellarmine-San Jose @ Wilcox-Santa Clara
• Escalon @ Sutter
• Kimball-Tracy @ Vanden-Fairfield
• Aptos @ St. Ignatius-S.F.
• St. Bernard's-Eureka @ San Marin-Novato
• Analy-Sebastopol @ Miramonte-Orinda
7 Friday Night will be publishing new episodes every Tuesday and Thursday during the regular season.
Tuesday episodes will include discussion on the week ahead as well as interviews with Coach Eidson and whoever else we have lined up as guests. Thursday episodes will include Chace, Ben and Coach Eidson's picks and predictions for a selection of games that week. Make sure you're following or subscribed wherever you listen to your favorite podcasts.
Listening platforms include Spotify, Apple Podcasts, Google Podcasts, Breaker, Pocket Casts and Radio Public. Also, feel free to use the same platforms to look up SportStars' other podcasts: The 2021 oral history-style show SportStories, and the ask-an-expert health and fitness show, Know & Go, that's currently in its first season..
All previous episodes of 7 Friday Night, Know & GO and SportStories can also be found here.
Finally be sure to follow our podcasts' Twitter account @SportStarsPods to see guest announcements, participate in listener polls and more. You can also get game updates and scores on Friday nights by following @SportStarsMag.
PREDICTION SCOREBOARD
Through Nov. 12
CHACE
PRIMARY PICKS: 24-15
LOCKS: 9-4
CHALLENGE ROUND: 16-8
OVERALL: 40-23
BEN
PRIMARY PICKS: 25-14
LOCKS: 10-3
CHALLENGE ROUND: 17-7
OVERALL: 42-21
COACH EIDSON
OVERALL: 19-20