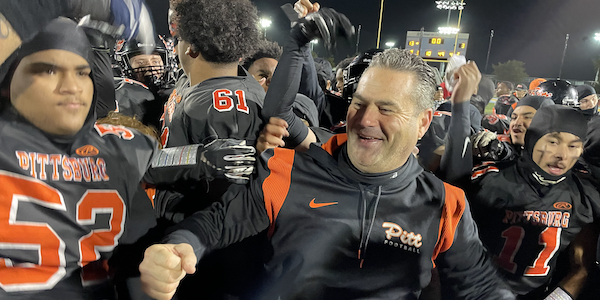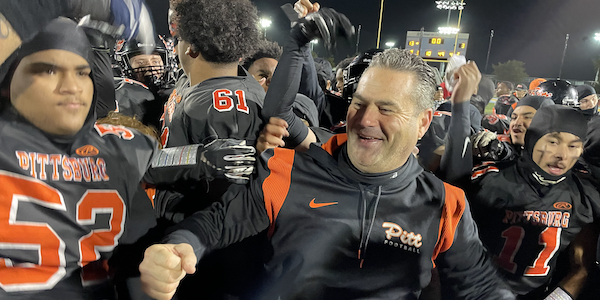 Suffocating Defense And Big Receiver Play Lift Pittsburg Football Over Clayton Valley, Adding At Least One More Game To Victor Galli's Tenure • Back...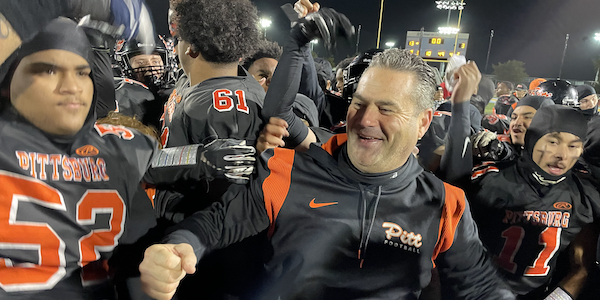 Suffocating Defense And Big Receiver Play Lift Pittsburg Football Over Clayton Valley, Adding At Least One More Game To Victor Galli's Tenure •
Back on Nov. 1, when Pittsburg football coach Victor Galli announced that his 21st season leading the Pirates would be his last, a narrative began that it could be a storybook ending.
With one of his more talented and experienced teams at his disposal, there was no reason to think Pittsburg couldn't win a title or two on Galli's way out.
The full-Hollywood ending of defeating forever-nemesis De La Salle-Concord for a North Coast Section Open DIvision championship didn't come to fruition after a 30-23 loss on Nov. 18. But the section's playoff format delivered one more chance with the NCS Div. I final on Friday night — and Pirates coaches and players delivered for their leader.
Pittsburg managed to grind out a 13-3 win for its second consecutive NCS title and fifth overall, sending the Pirates to a CIF State Bowl regional playoff.
"That's what makes our staff so special over all these years, we have a lot of love for each other," said Pittsburg defensive coordinator Charlie Ramirez, who could only beam with pride after his unit held the Ugly Eagles to just three points and less than 200 yards of offense. "We have a lot of love and admiration and respect for Vic. So to be able to do this with him, and for him, it makes it just that much more special."
In a way, Pittsburg's win over Clayton Valley-Concord at Heritage High was a perfect encapsulation of Pirates football in the Galli Era.
The good, the bad, the ugly and the beauty of gifted athletes making big time plays in big moments.
Pittsburg (11-2) overcame several penalties and a number of stalled drives behind a signature defensive performance and two massive throws and catches by quarterback Jaden Rashada and receivers Rashid Williams and Khai Taylor.
The Pirates were trailing 3-0 early in the second quarter when Rashada zipped a 4th-and-9 pass that a tightly-covered Williams hauled in while falling down near the sideline. It went for 23 yards and set up a 1st-and-goal at the 6-yard line. Elijah Bow scored two plays later on a 4-yard run, giving Pittsbug a lead it would never surrender.
But at no point did the Pirates feel remotely comfortable until they drove 64-yards on their first possession of the second half and scored when Taylor made a tremendous one-handed, falling-down bobble grab in the end zone. It was a 12-yard strike and finished the scoring.
Pittsburg puts a drive away with this excellent 12yd TD catch by @KhaiTaylor7 from @jadenrashada

Pirates lead Clayton Valley 13-3 w/ 4:49 left in 3Q pic.twitter.com/bWvlx9LOUC

— SportStars™ Magazine (@SportStarsMag) November 26, 2022
"Amazing. Amazing catch," said Williams, who was the first person to reach Taylor as he rose from the turf. "One hand. Great concentration. Good job by him and a good throw by Jaden, too."
The defense took it the rest of the way.
"If you liked defense, this was a great game to watch on both sides," Galli said. "Those guys did a really good job, and our defense played lights out tonight. … Clayton Valley certainly didn't make it easy."
No one would have blamed Galli if he watched the first half and was reminded of the reasons he chose to hang up his whistle after this season.
The Pirates committed 10 penalties in the first half. Six were charged to the offense, including two on back-to-back snaps. Rashada was also under a lot of duress, eventually being sacked three times over the first 24 minutes of play.
Pittsburg's defense continued to answer the call, and the first big momentum swing of the game came when Odera Okaka recovered a fumble by Clayton Valley quarterback Christian Aguilar at the Ugly Eagles 32-yard line with 10 seconds left in the first quarter. Bow's scoring run would come six plays later. 
_______________________________
CONNECT WITH US:
Follow SportStars on Twitter & Instagram | Like us on Facebook | Subscribe!
_______________________________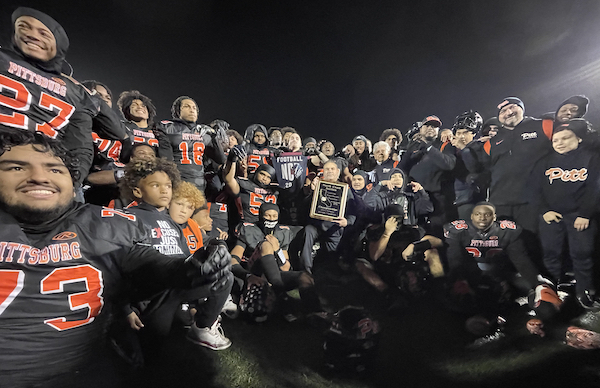 The Pirates defense held Clayton Valley (8-5) to just 177 yards of offense on 64 plays. An average of 2.8 yards per play. It is worth noting that Clayton Valley standout running back and defensive back Micah Avery saw only limited second-half action Friday due to a high ankle sprain he suffered in the semifinal win over Liberty-Brentwood.
An Okaka sack on fourth down was fittingly the play that sealed the win and allowed Pittsburg to run two plays from Victory Formation to run out the clock. 
"I told the kids, I usually get in the zone around Wednesday. The faster you get in the zone too, you're going to be lights out," Ramirez said. "That's really what it was. They got in the zone. They got in the zone right around Wednesday. They were locked in. I wasn't sure on Thursday with Thanksgiving, but seeing them today and seeing them locked in the locker room before the game, I felt good. They came out here and did it. They showed it from beginning to end."
The Pirates will find out their CIF regional opponent on Sunday, and are prepared for a potential rematch with the Liberty-Bakersfield team that beat them 35-7 last December. Liberty won its Central Section title by defeating San Joaquin Memorial-Fresno 29-13 on Friday night.
Williams, who caught six passes for 91 yards, still wants the storybook ending for his coach.
"Coach Galli, I know he loves this win right here. But we've got to win state now."