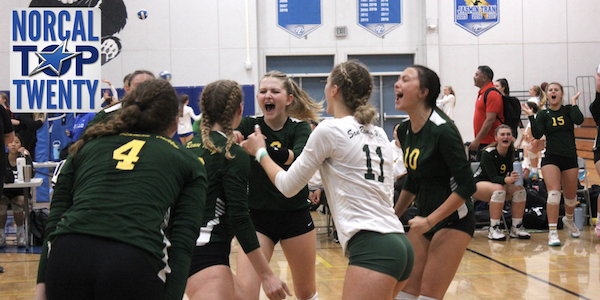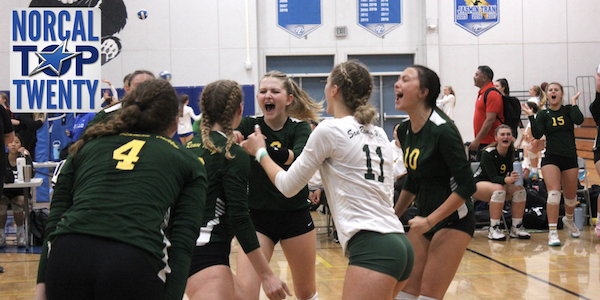 St. Francis-Mountain View Escapes Fifth 1 vs. 2 Battle With Mitty; Top Half Of NorCal Volleyball Rankings Sees Little Change After Section Finals •...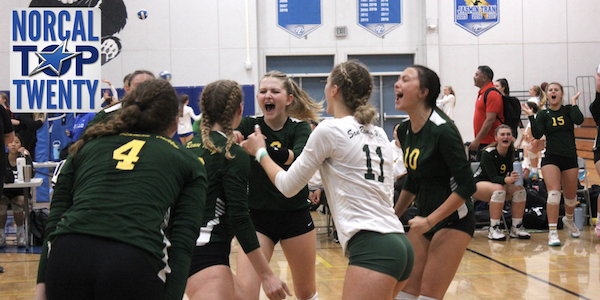 St. Francis-Mountain View Escapes Fifth 1 vs. 2 Battle With Mitty; Top Half Of NorCal Volleyball Rankings Sees Little Change After Section Finals •
NorCal Volleyball Rankings
All records are through Saturday, Nov. 5. Previous ranking in parenthesis. Record obtained via MaxPreps.
PICTURED ABOVE: Morgan Daetz, center, and members of No. 3 San Ramon Valley-Danville celebrate a point at the Stockton Classic in early October. (Chace Bryson photo)
1. (1) St. Francis-Mountain View   31-0
2. (2) Archbishop Mitty-San Jose   28-8
3. (3) San Ramon Valley-Danville   27-7
4. (4) Sacred Heart Prep-Atherton   24-5
5. (5) Oak Ridge-El Dorado Hills   31-4
6. (6) Foothill-Pleasanton   28-9
7. (7) Monte Vista-Danville   28-6
8. (9) Branson-Ross   18-10
9. (10) Marin Catholic-Kentfield   24-10
10. (11) Whitney-Rocklin  30-3
11. (8) Campolindo-Moraga   24-8
12. (12) Redwood-Larkspur   24-8
13. (13) St. Mary's-Stockton   24-8
14. (14) Amador Valley-Pleasanton  24-6
15. (19) Valley Christian-San Jose   18-9
16. (16) St. Ignatius-S.F. 15-17
17. (17) Sacred Heart Cathedral-S.F.   21-11
18. (18) St. Francis-Sacramento   23-8
19. (NR) Rocklin  21-15
20. (15) University-S.F.   25-6
DROPPED OUT:
No. 20 Vacaville
5 TEAMS KNOCKING (ALPHABETICALLY):
Bishop O'Dowd-Oakland (30-7), Christian Brothers-Sacramento (23-10), Escalon (32-1), Pitman-Turlock (30-3) and Vacaville (24-7).
AT THE NET
Well section finals didn't bring many surprises over the weekend. The top tier teams in action all took care of business, which included No. 1 Saint Francis-Mountain View surviving another remarkable effort from No. 2 Archbishop Mitty-San Jose in the Central Coast Section Open Division. It was the teams' fifth meeting this year, and the second in a row to last all five sets.
In the North Coast Section's top bracket, No. 3 San Ramon Valley-Danville completed its title run. It was the first NCS title for the program since 2013. And the Sac-Joaquin Section's top squad, No. 5 Oak Ridge-El Dorado Hills, rolled to a Division I crown as well.
_______________________________
CONNECT WITH US:
Follow SportStars on Twitter & Instagram | Like us on Facebook | Subscribe!
_______________________________
It was those four teams that landed the top four seeds in the eight-team CIF Open Division Northern Regional bracket. We can't really argue with that quartet, but we definitely have some arguments with a few of the CIF committee's choices when it came to the state playoffs' top division. Let's start with the fact that there are eight teams in the field.
Unless something has changed, there's nothing which requires the CIF to fill all eight slots of the bracket. There have been many times with basketball where the Open Division is six or seven teams and byes are handed to the top seeds. And it's our opinion that St. Francis-Sacramento got the fuzzy end of the lollipop when it was given the 8-seed and a first-round trip to No. 1 St. Francis-Mountain View.
Despite being a perennial power, this is not one of the Troubadours' more dominant teams. They're a well-coached team that got hot at the right time and upset former-No. 6 St. Mary's-Stockton in the SJS Division I semifinals. Oak Ridge then defeated them 3-1 in the section final. They have zero wins against other teams in the Open field, and a couple of losses to teams placed in the Div. I and II fields, as well as two losses to teams that didn't make regionals at all. The Troubies are a good team. They're not an Open team. And there would've been nothing wrong with giving the 31-0 top-seeded Lancers a first-round bye.
Now we said we couldn't argue with the choice of St. Francis-Mountain View, Mitty, San Ramon Valley and Oak Ridge as the top four seeds. But we do wonder how the committee thought Oak Ridge deserved the 3 seed over SRV. That's a big call, considering the No. 3 seed would get Mitty in a semifinal rather than St. Francis.
San Ramon Valley is a member of the East Bay Athletic League. The EBAL landed THREE teams in the Open field. Foothill-Pleasanton was awarded the No. 6 seed and Monte Vista-Danville was awarded the No. 7 seed. By naming all three to the Open field — more than any other league — the committee basically crowned the EBAL as NorCal's strongest league this season. And yet, the league's regular season champ AND the section champion from the bracket that included the league's top teams, was passed over for the No. 3 seed?
Does anyone want to guess how many EBAL teams Oak Ridge played this season? That would be zero. SRV has five wins over teams in the Open field. Oak Ridge has two — both against the St. Francis-Sacramento team that we already suggested doesn't belong there to begin with.
In the end, none of it probably matters and we're headed toward a sixth and final showdown between St. Francis-MV and Mitty. But we were scratching our heads nonetheless. Enjoy the first round of regional action and we'll be back with another set of rankings before next Tuesday's NorCal finals.