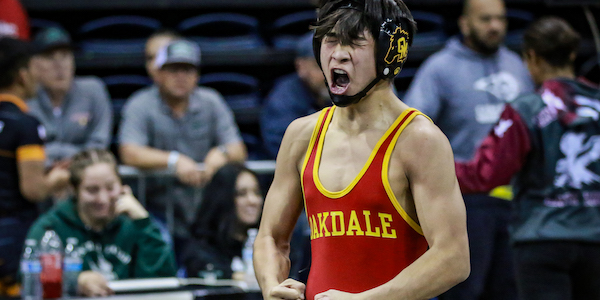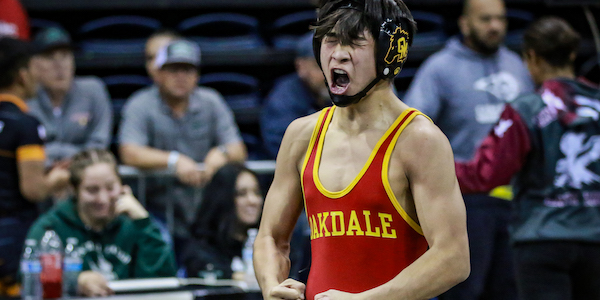 Led By An Extremely Balanced Lineup — From Six Seniors To Three Freshmen — Oakdale Wrestling Is So Good It 'Stangs Over a month...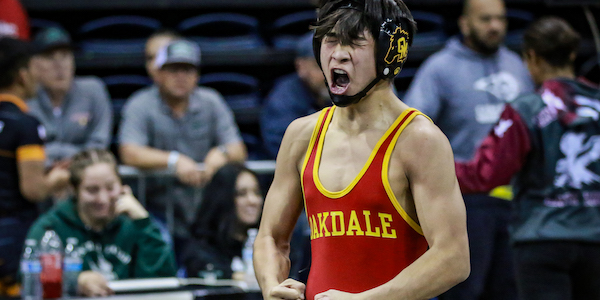 Led By An Extremely Balanced Lineup — From Six Seniors To Three Freshmen — Oakdale Wrestling Is So Good It 'Stangs
Over a month of California prep wrestling has cleared the way for five of Northern California's best boys wrestling programs to represent the true power of NorCal grappling. This five-part series takes a close look at the teams and wrestlers expected to amass the most hardware at section and state finales in February 2023. It begins with Oakdale Wrestling. NEXT UP: De La Salle-Concord (Dec. 21, 3 p.m.)
Oakdale Mustangs
Head coach: Steve Strange
Projected Lineup:
106: Ezekiel Hernandez, Fr.
113: Logan Thomas, Sr.
120: Ezeiquel Vela, Jr.
126: Jesse Meza, Fr.
132: Samuel Neely, Sr.
138: Jonathan Hernandez, Sr. (PICTURED AT TOP)
145: Colton Silva, Sr.
152: Brodie Johnson, So.
160: Payne Perkins, Sr.
170: Carlos Garcia, Jr.
182: Wes Buford, Fr.
195: Elias Corona, Jr.
220: Emilio Johnson, Jr.
285: Brock Osmundson, Sr.
Expanding the field of teams at Oakdale's host James Riddle Memorial Classic has turned the squad's annual preseason proving grounds into an absolute gauntlet of power programs from the Sac-Joaquin, Northern, North Coast and even Central sections.
This year, it also highlighted the might of the Mustang lineup.
Oakdale had more place-winners (16) than there were brackets (14) on Dec. 10, finishing runner-up to Central Section-power Bakersfield, while appearing in six finals.
"We're pretty strong, top to bottom," Oakdale wrestling coach Steve Strange said. "These guys have all been wrestling together since they were little kids.
"It really is a grass roots, from the bottom up, group of kids and it's kinda cool seeing them take their lumps and work to where they are now."
Oakdale graduated the 2022 Sportstars Most Valuable Wrestler, state champion Ceasar Garza (Michigan State), but returns seven state qualifiers and a lineup impervious to holes.
"We are not going to replace Ceasar, but we have a bunch of guys stepping up this year," Strange said. "They have all been very dedicated without much break and found ways, even during COVID, to travel and work out."
It's a squad with serious potential to disrupt Vacaville's five-year win streak at the SJS Masters. Oakdale has 13 wrestlers with at least "honorable mention" status on the California Wrestling Newsletter state rankings, and could see that number grow as the season wanes.
_______________________________
CONNECT WITH US:
Follow SportStars on Twitter & Instagram | Like us on Facebook | Subscribe!
_______________________________
Carlos Garcia (eighth at 160 last season) is the lone returning state placer, but plenty of medal spots are up for grabs. The Mustangs have 11 wrestlers ranked in the top-21 of their respective weight classes by TheCaliforniaWrestler.com, including Garcia, two-time SJS finalist Jonathan Hernandez (138), rising sophomore Brodie Johnson (152), vocal leader Payne Perkins (160) and undefeated Eziequel Vela (120).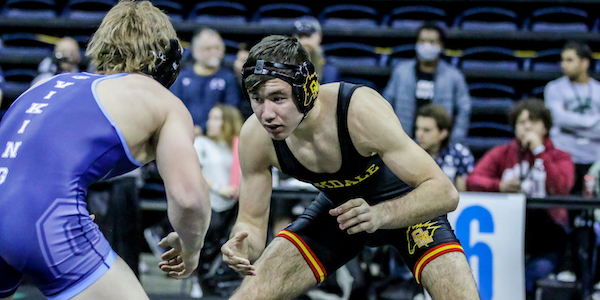 Oakdale is also stacked in the upper weights, and will squeeze serious SJS medal candidates Elias Corona, Emilio Johnson, Garrison Gerber, and Brock Osmundson into the final three weight classes.
It's a lineup loaded with upper class talent, but it also includes three stout freshmen, led by Riddle medalist Wes Buford (third at 182).
"I'm real happy with (Buford). He is really blossoming," Strange said. "The dude started off scrimmaging state qualifiers and did really well."
If the team can stay healthy, SJS Masters should be a team point paradise.
"It's always our goal (to win Masters) and hopefully we can get it done," Strange said. "(Del Oro-Loomis, Turlock and Pitman-Turlock) are good, and Vacaville isn't going anywhere, and Folsom is regrouping."
Oakdale was runner-up to Vacaville in each other last three seasons, but hasn't won Masters since 2011.
"Everybody has to do their job, be healthy, on weight and focused," Strange said. "It's a wrestling match, and you have to show up to accomplish your goals at the end of the season, and understand that another guy is across from you, trying to take it away from you."