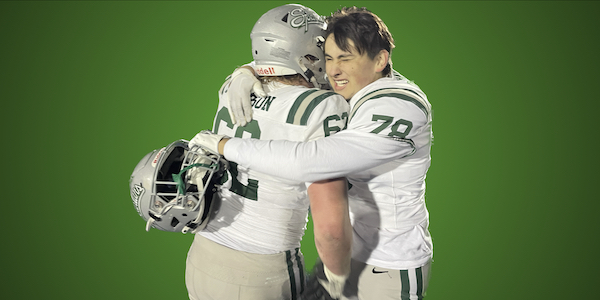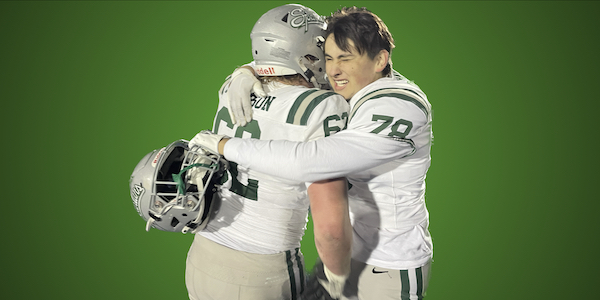 Suffocating Defense And A Vintage De La Salle Football 8-Minute, Clock-Killing Drive Led By Key Seniors Deliver Revenge Win Over Folsom • PICTURED ABOVE:...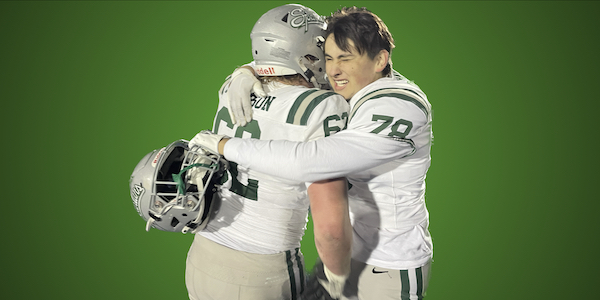 Suffocating Defense And A Vintage De La Salle Football 8-Minute, Clock-Killing Drive Led By Key Seniors Deliver Revenge Win Over Folsom •
PICTURED ABOVE: Senior Matthew Dias-Martin Bear-Hugs Fellow Senior And Teammate Derek Thompson Following De La Salle's 17-14 Win. (Chace Bryson photos)
Prior to the CIF Division 1-AA NorCal regional playoff game, the list of players De La Salle football coach Justin Alumbaugh had yielded to on a play call featured just two names.
He added one on Friday night at Folsom.
And if a coach is going to listen to a player, why not make it the Harvard-bound team captain?
With 38 seconds left, the Spartans were clinging to a 17-14 lead and needed just one yard for a first down that would clinch victory. Over a timeout, Alumbaugh called the fourth down play. And then Thompson spoke up.
"I was like 'You got to run it up the middle,'" said Thompson, who joined Devin Asiasi and Anthony Sweeney on the list of players to sway Alumbaugh. "'Last play. If you don't' get it, it's on me, but you have to trust the offensive line.'"
Charles Greer took the handoff and followed the senior linemen of Thompson, Cooper Power and others. He made just that one yard, and a measurement awarded De La Salle the first down by the nose of the football.
_______________________________
CONNECT WITH US:
Follow SportStars on Twitter & Instagram | Like us on Facebook | Subscribe!
_______________________________
The Spartans (10-3) had to run just one kneel-down play to end it and secure their spot in the 1-AA State Bowl game against Lincoln-San Diego (12-1) at 8 p.m. this coming Friday at Saddleback College in Mission Viejo.
"When it came down to it, it was time to run right behind that offensive line — those seniors — and give the ball to Greer," Alumbaugh said. "I called a different (play), and (Thompson) said 'No, run this. We'll get it.' It was close, but we got it. Ultimately, I wanted to rely on the guys who were the backbone of the team."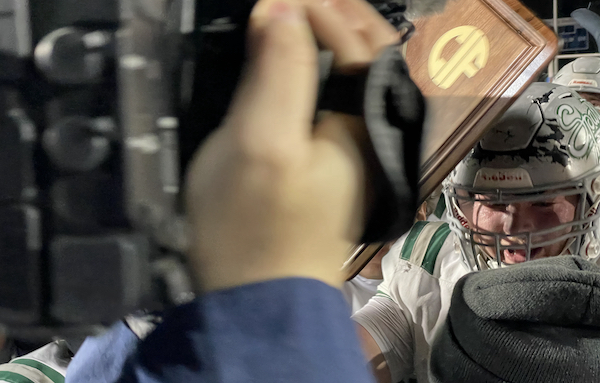 The moment CIF Commissioner Ron Nocetti handed Alumbaugh the Northern Regional Championship Plaque, he turned around with a 'Come here, Thompson,' and handed it to the captain who played the game on a broken foot and two weeks removed from a kneecap dislocation.
"When we were 3-3, I still thought this could happen," Thompson said. "But there were some dark days there where we didn't know how it was going to go. We turned it around. I'm so proud of the guys for bouncing back."
Thompson, Greer and the entire De La Salle rushing attack was only half the story against Folsom.
The Spartans defense may have delivered its signature moment of the season as well. Folsom (12-2) mustered just 167 yards of total offense, and 71 of those yards came on back-to-back passes in the fourth quarter. That means the Bulldogs managed just 96 yards of offense on their 37 other offensive plays.
"It was great. The kids showed up," De La Salle defensive coordinator Nate Kenion said. "They played with excellent effort. They've been leading up to this for the last four weeks or so, so it was nice to see."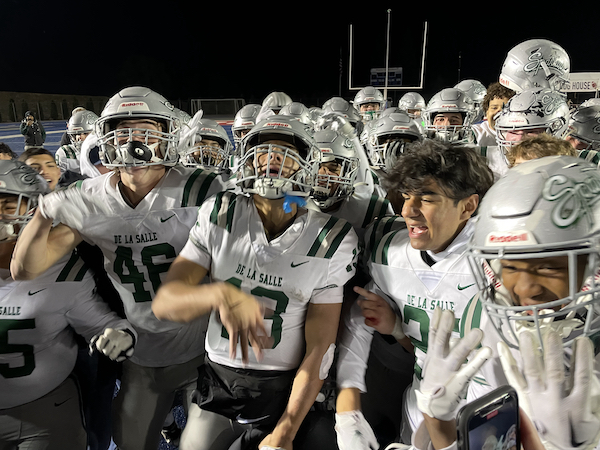 De La Salle sacked junior quarterback Austin Mack five times, and offered several more pressures. Folsom also managed just 34 rushing yards on 22 carries.
Mack's two big passes, which immediately followed a De La Salle turnover on a halfback option pass that was intercepted, set up Ryder Lyons to score the Bulldogs' lone offensive touchdown on a 1-yard run with 7:54 to play.
Thompson and the rest of the offense then ran out the clock with a 16-play drive that included two fourth-down conversions by the nose of the football.
"Typical fashion for them. It's what they've been doing for a long long time," Folsom coach Paul Doherty said of De La Salle's final drive. "I hope they've got enough to go next week. … I know they're minus a lot of guys. They were minus guys the first time we played (and beat) them. They made no excuses. … Alumbaugh is as good as it gets."
Folsom actually scored the first points of the game on Greco Carrillo's 45-yard scoop-and-score of a Toa Faavae fumble midway through the first quarter. De La Salle would answer by putting all 17 of its points on the board in the second quarter.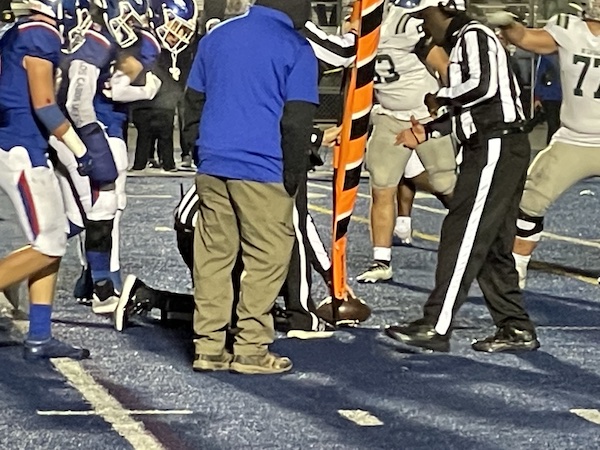 The Spartans tied things at 7-7 when Derrick Blanche scored on a 5-yard run just two plays into the second frame. Spencer Brien gave them the lead 10-7 on a 39-yard field goal with 1:42 left in the half. Then the big momentum shift came when Jonathan Guererro intercepted Mack on the very next play from scrimmage.
Guerrero returned the ball 17 yards to the Folsom 3-yard line, and Greer scored from six yards out following a false start penalty on 2nd-goal at the 1. Both Greer and Blanche finished over 100 yards rushing with 109 and 101, respectively.
"Proud of our guys," Alumbaugh said when asked what his emotions were. "(Folsom is) a good team, you know? This group: Players, coaches, everybody. This group has worn a lot of criticism. After a rough start to the year, we battled injuries and we battled criticism. And rather than fold, or start bickering or getting divisions in the team, we came together more than ever.
"This is a really good group of young men. … I told them last night at our team dinner that I'm their No. 1 fan. I want them to do really well. I want them to see the success that I think they deserve. And we got success tonight. I got to tell you, I'm happy to see those boys smile."