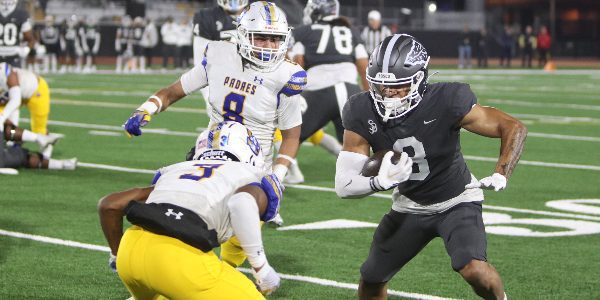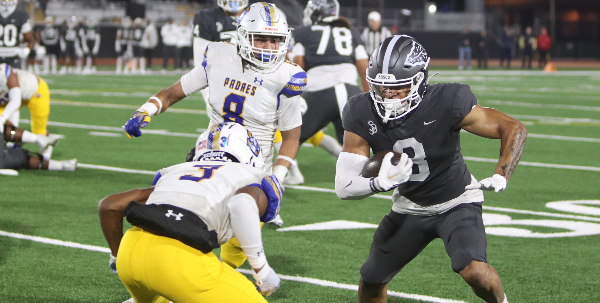 Serra Football Will Be Content Being NorCal No. 1 After Falling 45-0 To St. John Bosco-Bellflower In CIF Open Division Championship Serra football coach...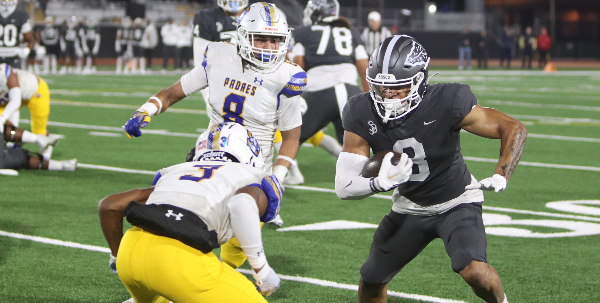 Serra Football Will Be Content Being NorCal No. 1 After Falling 45-0 To St. John Bosco-Bellflower In CIF Open Division Championship
Serra football coach Patrick Walsh knew the mountain his team had to climb.
Facing the super team from the south, St. John Bosco-Bellflower, Walsh's
Padres from San Mateo did what they could to hang tough against a team that looked every bit the college feeder program it is renowned to be.
The Padres' resolve couldn't make up for the abundance of talent on the
other side of the field, with the Braves claiming a 45-0 victory to win the
California Interscholastic Federation Open Division title at Saddleback College in Mission Viejo on Saturday.
Even though Serra hoped to make more of a mark, the result did little to
take away from an all-time season in San Mateo. That the Padres won 13 games and earned the right to play in the final game of the California high school football season as Northern California's unquestioned top team was indicative of just how historic a season Serra enjoyed.
"It's an undefeated football team in my heart," Walsh said. "We're not built
the way the Bosco Braves are built. I have great pride in how we do things at Serra, how we do things in the WCAL and how things are done in the rest of the state. I've got to tip my hat to (Bosco) coach (Jason) Negro. They're not doing anything wrong but just being excellent. They're excellent, and that's probably an adjective that falls short of what they are. They're superb."
Serra (13-1) found itself chasing a deficit right away against the Braves.
Although St. John Bosco led just 7-0 after a quarter, they ran 25 plays to
Serra's six and outgained the Padres 144 yards to minus-6. Bosco also piled up a 9:01 to 2:59 edge in time of possession.
The gap widened in the second quarter. Jones added another 2-yard touchdown run, Aaron Williams returned an interception 31 yards for a score, and Khalil Warren scored on a 14-yard run to make it 28-0.
Pierce Clarkson added a 45-yard touchdown pass to Deandre Moore to provide the final points of the first half, and St. John Bosco took a 35-0 lead into intermission.
St. John Bosco (13-1) continued to roll in the third quarter with a field goal and 57-yard touchdown run by Warren making it 45-0. With a running clock in the fourth quarter, that's where the margin ended up.
"We knew we had a little bit of a talent gap, and on paper we were supposed to win the football game, but you can never gap the heart of a champion. At the end of the day, those guys were still champions," Negro said of Serra. "They still were 13-0 coming into the game and they beat everybody up their way and presented as much resistance as they possibly could. Pat Walsh deserves a lot of credit, that staff, the entire Serra community. They didn't back down at all. They came out here and played really well."
Wins over Folsom, De La Salle-Concord, Central Catholic-Modesto and St.
Francis-Mountain View stamped Serra as Northern California's top team early in the season. The Padres did little to disprove that theory over the next several weeks, never allowing more than seven points in a West Catholic Athletic League game.
That roll continued in the Central Coast Section playoffs with a 57-7 win
over Palma-Salinas, 57-21 win over Salinas and 41-14 victory over WCAL foe
Archbishop Mitty-San Jose giving the Padres the CCS Division I title and NorCal's spot in the Open game.
"We never quit. Obviously, we're up against a really good team," Walsh said.
"I was talking to a college coach this week and I said hey, if the Baltimore
Ravens decided to play college football, that's what this feels like. It's just
on the high school level. The Arizona Wildcats have five or six pros, the
Ravens have 53. We have five, six or seven college guys, they have 50. It's
tough. But I'm not going to let the reality of this situation take away from
this wonderful team."
The future also looks quite bright for the Padres, with many of the team's
standouts – quarterback Maealiuaki Smith, defensive stars Danny Niu, Jabari Mann, Joseph Bey and more – set to return in 2023 as seniors.