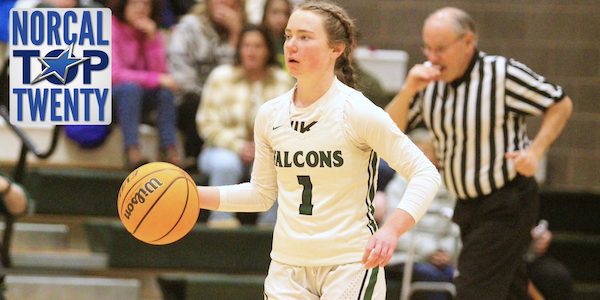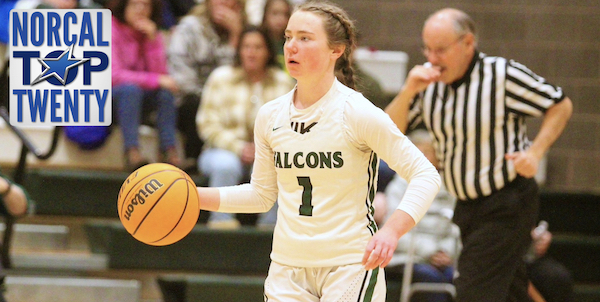 With All 20 Teams Taking Care Of Business Last Seek, The NorCal Girls Basketball Rankings Go Unchanged Before A Week Of Big Matchups •...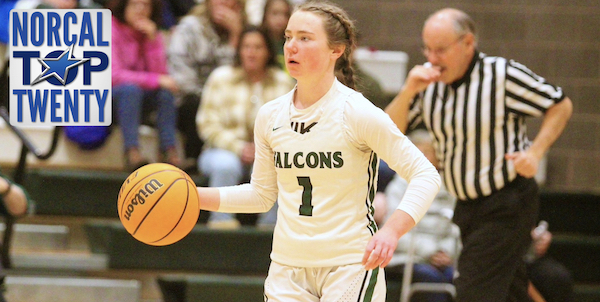 With All 20 Teams Taking Care Of Business Last Seek, The NorCal Girls Basketball Rankings Go Unchanged Before A Week Of Big Matchups •
NorCal Girls Basketball Rankings
All records are through Monday, Jan. 30. Previous rank in parenthesis. Records obtained through MaxPreps.com
PICTURED ABOVE: Gabriella Biittner Of No. 19 Colfax. (Jordan Georgeson photo/Twitter)
1. (1) Piedmont  20-0
2. (2) Archbishop Mitty-San Jose   18-2
3. (3) Folsom   18-2
4. (4) St. Mary's-Stockton   18-8
5. (5) Salesian-Richmond   20-4
6. (6) Oakland Tech   18-5
7. (7) Sacred Heart Cathedral-S.F.   17-2
8. (8) Cardinal Newman-Santa Rosa   17-6
9. (9) San Ramon Valley-Danville   21-3
10. (10) Acalanes-Lafayette  15-6
11. (11) Carondelet-Concord   19-4
12. (12) Antelope  20-3
13. (13) Vanden-Fairfield   17-7
14. (14) McClatchy-Sacramento   19-5
15. (15) Bishop O'Dowd-Oakland   13-6
16. (16) Heritage-Brentwood   18-4
17. (17) Pleasant Valley-Chico   21-3
18. (18) Pinole Valley   16-8
19. (19) Colfax   21-2
20. (20) Marin Catholic-Kentfield   18-5
DROPPED OUT: None
5 TEAMS KNOCKING:
Christian Brothers-Sacramento (22-2), Los Gatos (16-3), Palo Alto (14-4), St. Francis-Sacramento (17-4) and St. Patrick-St. Vincent-Vallejo (18-5)
FAST BREAKDOWN
All quiet on the ranking front this week, as there were no upsets and thus no changes in the top 20. But next week's rankings might look somewhat different, as there are several upcoming games that could shake things up a bit.
Going chronologically, No. 2 Archbishop Mitty heads to No. 7 Sacred Heart Cathedral Wednesday, with the status of Morgan Cheli still in doubt. Perhaps the best player in Northern California, Cheli hasn't played for more than two months due to a foot injury — but her status has been more day-to-day lately than week-to-week.
Another big game Wednesday will remove one team from "Knocking on the Door" status, as 16-3 Palo Alto travels to 14-4 Los Gatos in a rematch of a January game won by Los Gatos. But even that league matchup won't match the intensity of East Bay Athletic League archrivals Monte Vista-Danville (18-4) and No. 9 San Ramon Valley-Danville (21-3). That one will be at Monte Vista, and would be hotly contested even if they were 4-18 and 3-21.
_______________________________
CONNECT WITH US:
Follow SportStars on Twitter & Instagram | Like us on Facebook | Subscribe!
_______________________________
No. 15 Bishop O'Dowd hosts No. 4 St. Mary's of Stockton on Saturday, as the young Dragons look for a signature win, while unranked but still dangerous Pinewood-Los Altos Hills will visit No. 8 Cardinal Newman that same evening.
No. 6 Oakland Tech, noted for playing anyone anywhere any time, has added a visit to No. 11 Carondelet to its schedule on Monday, and then No. 1 Piedmont hosts Bishop O'Dowd on Tuesday in a league game that looks to be the last test for the Highlanders before postseason.
And yes, postseason is right around the corner, as potential seedings and possible brackets are already hot topics among coaches, players and fans. More on all that drama next week.