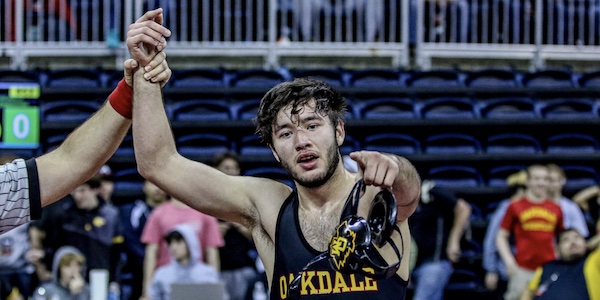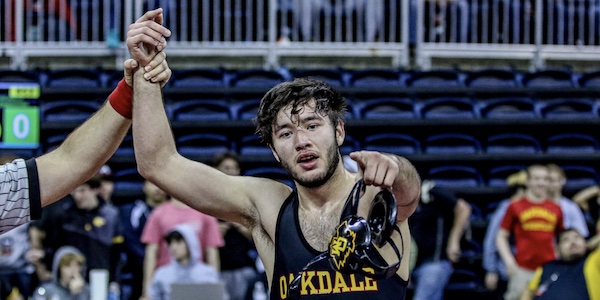 Ike Dodson Delivers Six Stories From A Sac-Joaquin Section Masters Wrestling Championships Weekend Full Of Surprises, Impressive Feats • PICTURED ABOVE: Oakdale Wrestler Carlos...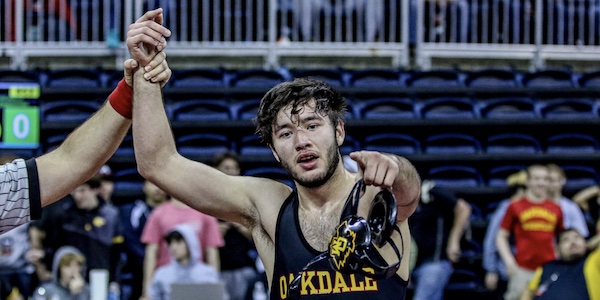 Ike Dodson Delivers Six Stories From A Sac-Joaquin Section Masters Wrestling Championships Weekend Full Of Surprises, Impressive Feats •
PICTURED ABOVE: Oakdale Wrestler Carlos Garcia Points At The Camera In Celebration After Claiming The 170 Pound Title At The Sac-Joaquin Masters Wrestling Championships. (Ike Dodson photos)
Fierce battles in the "blood round" of Saturday's Sac-Joaquin Section Masters Wrestling Championships for boys and girls determined the 168 wrestlers who will represent the section at the CIF Championships Tournament Feb. 23-25 at Rabobank Arena in Bakersfield.
Proficiency across the brackets also crowned new team champions, as Oakdale boys and Pitman-Turlock girls escaped with freshly crafted blue banners.
With 224 positions available atop the section's medal podiums, and 172 teams scoring points across all 28 brackets, we took a close look at the best stories from a thrilling two-day spectacle at the Stockton Arena.
OAKDALE TAKES REINS
Oakdale halted Vacaville's five-year streak of Masters titles by scoring 273.5 team points with its 14 qualifiers. A Vacaville banner would have been historic, since Turlock holds the Sac-Joaquin Section Masters Wrestling record for consecutive team championships at six.
It's something Oakdale knew was on the line.
"We were talking earlier, how if Vacaville could have won this year, they would have been tied for the most Masters championships in a row," Oakdale's 120-pound Masters champion Eziequel Vela said. "It felt good to put a stop to that."
Oakdale had 10 Masters medalists, all of them state qualifiers. The squad's 5-1 showing in the consolation semifinals (determines who wrestles for third or fifth) made the team title definitively out of reach for anyone else.
"I thought we had a lot of guys wrestle hard," Oakdale coach Steve Strange said. "All year long we have been talking about winning Masters, and everybody knows what's on the line.
"They also seed the state tournament, so if you don't come back for third or fourth, it matters. So everybody was in it for the team race and looking at the big picture at state."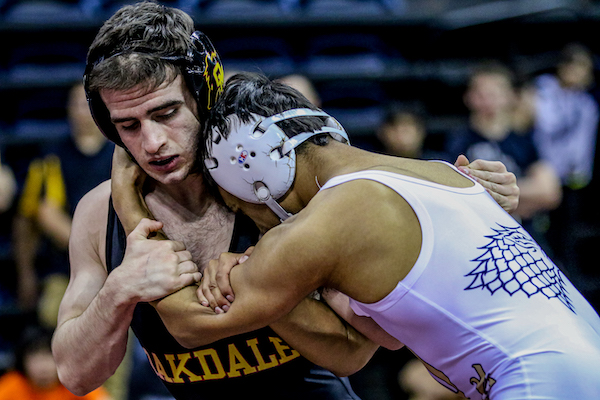 Vela, ranked No. 14 in California by The California Wrestling Newsletter, won his bracket by beating CA No. 13, Micah Viloria of West-Tracy, via third-round pin.
"I was pretty confident and focused going in," Vela said. "Toward that third (round), I felt he was tired, and I knew I had to keep in-bounds and finish it to help the team win.
"It feels amazing just being a part of this."
Carlos Garcia (CA No. 6) also won the 170-pound SJS title by edging out Pitman's Mason Ontiveros (CA No. 9) in a 5-3 decision. Elias Corona (CA No. 8) also won the 195 championship by beating No. 9 Kainoa Acia of Del Oro-Loomis in a 5-1 finale.
The Mustang bus to state will also include Emilio Johnson (third at 220), Wes Burford (fourth at 182), Payne Perkins (third at 160), Brodie Johnson (third at 152), Colton Silva (second at 145), Jesse Meza (fourth at 126) and Ezekiel Hernandez (fifth at 106).
Meza (disqualified after a slam) and Emilio Johnson (drew SJS champion Nolan Frank of Elk Grove) both dropped their second match, but won five straight consolation brackets to make the bronze-medal match.
Oakdale was notably without former Sac-Joaquin Section Masters Wrestling champion Johnathon Hernandez, who was injured a month earlier. The Mustangs also had a tough draw for 113-pound senior Logan Thomas (CA No. 24), who was upset in the championship bracket and ran into CA No. 23 Kekoa Ogawa (Central Catholic-Modesto) in consolation. Neither wrestler made state, while No. 17 Octavia Negrete (Elk Grove) won the weight against No. 25 Elias Rivera of Folsom in the 113 finals. 
_______________________________

CONNECT WITH US:
Follow SportStars on Twitter & Instagram | Like us on Facebook | Subscribe!
_______________________________
Sutter's Carter DeLaCerna became the program's first ever wrestler to make state from the SJS. The Huskies came from the Northern Section to join the SJS this year. They finished first in Div. V and 11th at Masters.
Vacaville still leads all SJS teams with 21 Masters titles. Oakdale now has three, after finishing runner-up to Vacaville in each of the last three seasons.
Vacaville still led all teams with 11 medal winners. Eight of them qualified to state, including Thomas Sandoval (CA No. 4), who won the 182-pound bracket by taking a 12-4 win over Scott Beadles of Calaveras-San Andreas.
Vacaville is No. 16 in California team rankings, while Oakdale is listed 10th.
PITMAN'S FAB FOUR
Sometimes, all it takes is four.
The Pitman girls scored the most team points at Masters (112) in six years and edged out Del Oro by 6.5 points to claim the program's first ever SJS team title.
They did it with only four Masters qualifiers, but all four made the finals and three of them won it.
"We are the hardest working team in California," 137-pound SJS Champion Alana Ontiveros said. "We push ourselves until we break, and even when we are broken, we still go."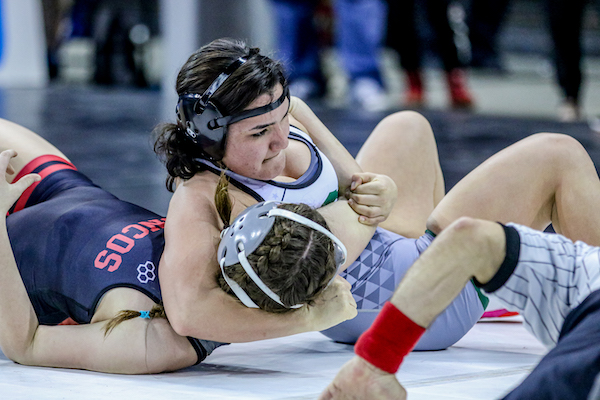 Ontiveros effectively won the SJS title for Pitman by securing a pin in the fourth consecutive finals match featuring a Pride wrestler.
She did it in remarkable style, heaving returning state placer Gianna Dibenedetto of Bella Vista-Fair Oaks onto her back in the first few seconds of the match. She squeezed Dibenedetto's shoulder blades firmly against the mat for a 26-second pin. It was the fastest finals pin in both the girls and boys brackets.
"That wasn't the plan, but I just felt it and I went for it," Ontiveros said. "I trusted my training and what my coaches taught me, and trusted myself to just do it."
Ontiveros is committed to Menlo College and is aiming for a state title after her third-place finish last year.
She will be joined at state by fellow section champions Lilly Avalos and Baya Austin, and SJS runner-up Gabryella Austin. Avalos pinned Isabelle Camarillo of Laguna Creek-Elk Grove to win the 121 title while Baya upended Loretta Lopez of Elk Grove 8-1 at 126. Gabryella appeared primed to join the first-place party, but she allowed late points to award Cesar Chavez-Stockton senior Taydem Khamjoi the championship at 131. Khamjoi was fourth at state last year, and they could meet again at state.
Pitman boys will also send Alejandro Talamante (fourth at 138), Elyjja Austin (fifth at 152), Carter Vannest (fourth at 160), Mason Ontiveros (second at 170) and Achilles Clark (second at 220) for coach Adam Vasconcellos.
DEL ORO PROVES PROWESS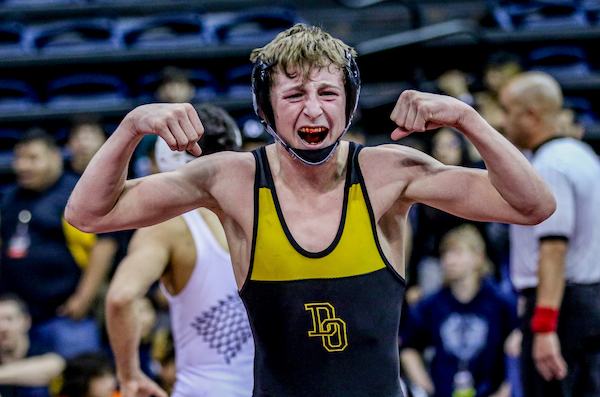 If a collective teams' championship was a thing, Del Oro boys and girls would have edged out Oakdale by exactly one point.
The girls finished second (105.5) and boys third (169) after qualifying 19 total wrestlers to Masters and another 11 to state.
"I think both of us getting to where we are now has a lot to do with our youth programs, like the USA Gold team and the extra work we put in outside of the season," four-time Collegiate National Championship place-winner and Del Oro girls coach Angela Vyborny said. "I think as girls wrestling grows, this will be more common."
The lowest weights were coincidentally both won by Del Oro freshmen. Kaiya Maggini beat Jazmine Turner of Davis-Modesto 9-4 to win the 101 girls title, while CA No. 5 Siraj Sidhu edged out No. 20 Elijah Valencia of Merced 3-0 in the boys 106 final.
The Golden Eagles tied Oakdale with three individual champions.
Del Oro girls were in the title hunt throughout, thanks to five state qualifiers. Ashlynn Hemm was fourth at 106, while Cali Boehrer (fourth at 121), Ally Cortez (fourth at 126) and Leilani Igarashi (second at 143) all earned trips to Bakersfield.
Vyborny attended the CIF seeding meeting Sunday, and said Maggini will be the No. 3 seed at state.
"I think it's going to be a good experience for all of them," Vyborny said. "It's the first time we have qualified nine to Masters, and we are only losing (Cortez to graduation)."
Del Oro boys will graduate three of five state qualifiers and six of 10 who made Sac-Joaquin Section Masters wrestling field.
The squad finished 45 points better than fourth-place Pitman.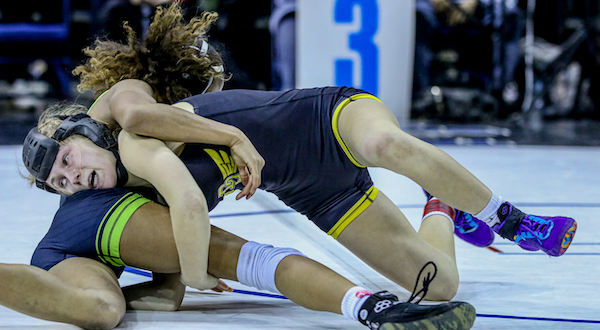 CA No. 17 Jagger French, a junior, should return after he followed last year's runner-up SJS finish by winning it all this year. He beat No. 19 Roberto Lopez of West with a last-second takedown in the 132-pound title match and let loose probably the most animated celebration of the tournament. He was the third Del Oro winner, after CA No. 19 Isaac Herrera upset CA No. 10 Victor-Alexander Gutierrez (Central Catholic) 7-4 at 126 pounds.
Logan Banks (sixth, 138), Chino Igarashi (sixth, 145) and Kainoa Acia (second, 195) also made state.
"The team wrestled really well today," Del Oro boys coach Clint Madden said. "These guys have worked extremely hard this year and it is showing.
"I felt like we were aggressive and kept working to score from all positions. We are excited to be taking six athletes to the state championships next week."
BORELLI BROTHERS DOUBLE UP
One of the section's breakout stars was undoubtedly Los Banos sophomore Brokton Borelli, who landed two significant upsets on his path to a section title at 152 pounds in his first prep season.
He wasn't alone. His junior brother, Larry Borelli, took the 160 title. Both should be seeded at state.
"It's going to be chaos," Larry said. "We are going to be in the same hotel room with a couple of other guys, and that's going to be fun."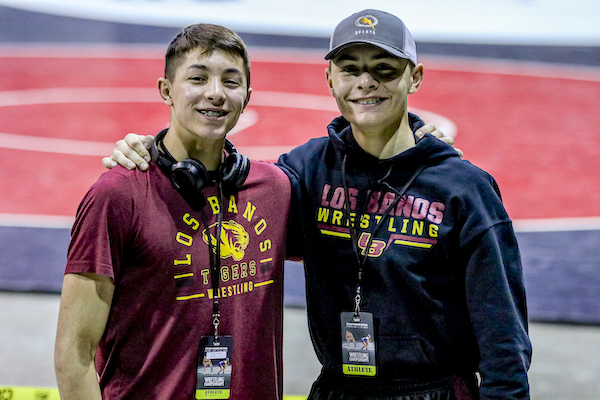 The brothers bring the fun. When they weren't milling about Stockton Arena with jokes and grins, they were cruising to 10 collective wins.
Brokton, CA No. 20, beat Brodie Johnson of Oakdale (CA No. 10) 7-2 in a one-sided semifinal. The win earned him a finals meeting with CA No. 8 Arjun Nargra (Vacaville), who was 3-2 at state last year. That match was pushed into a sudden victory round, where a Brokton takedown secured a 6-4 victory.
"My goal is trying to be good all around and in those little in-between spots when scrambling," Brokton said. "People stop wrestling in-between moves and that's when I am trying to be best."
It was a remarkable finish for a wrestler who missed the 2022 prep season while he was homeschooled.
"I didn't really know what to expect from this," Brokton said. "I just had to believe in myself and all the wrestling that I do, trust the conditioning and coaching and I have to thank my brother for helping train me."
The Borelli brothers found wrestling thanks to a chance off-the-mat friendship with Gilroy brothers Isaiah and Elijah Cortez, both ranked No. 1 in the state at 120 and 126 pounds, respectively for Gilroy.
"They told us we should go into the gym and try it out and we were like, 'sure,' and here we are now," Larry said. "They just got us into it."
Larry, CA No. 10, used late back points to lock up a 9-5 win over CA No. 12 Shaiden Carr of Oak Ridge-El Dorado Hills in his 160-pound title match.
"I like trying to work on as many different things as I can, so if something doesn't work I can go to something else," Larry said.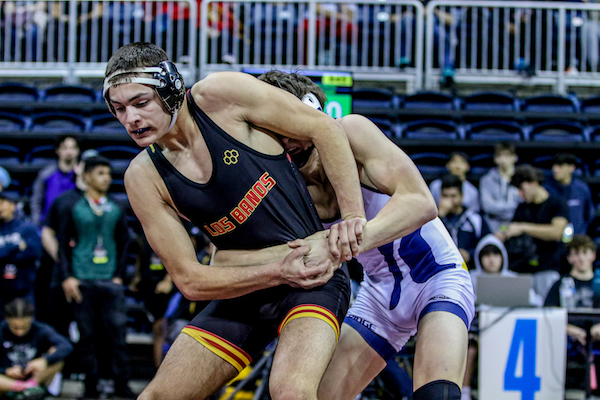 The two will be joined by Raymond Fernandez at state, who was third at 170. Kiara Daniels was third at the same weight in the girls brackets, and will move on as well.
Larry said he expects the program's collective success at the Sac-Joaquin Section Masters Wrestling Championships to motivate other athletes at Los Banos to seek success on the mat.
"If I was to play football or baseball, we would just probably stay local," Larry said. "With wrestling, I have been able to go all over the place, and I think now that people are seeing us go to Bakersfield, they are going to want to push harder to get there too."
TURNER'S COMEBACK
Davis wrestling standout Avangeline Turner, the sister of NAIA National No. 6-ranked Adrienna Turner (Grand Valley State), is finally blazing her own postseason path.
She was administratively removed from the 2022 postseason after reacting to a violent smack to her head with an instinctive return volley during the SJS Northern Regional, but will make her first trek to Bakersfield after placing second at Masters Saturday.
"My goal for next week is definitely placing," Avangeline said. "I am confident that I can."
Turner (and her sister) were members of the California National Team at the 2021 Marine Corps Juniors and 16 Nationals in Fargo, N.D., where Avangeline was third (Cadets).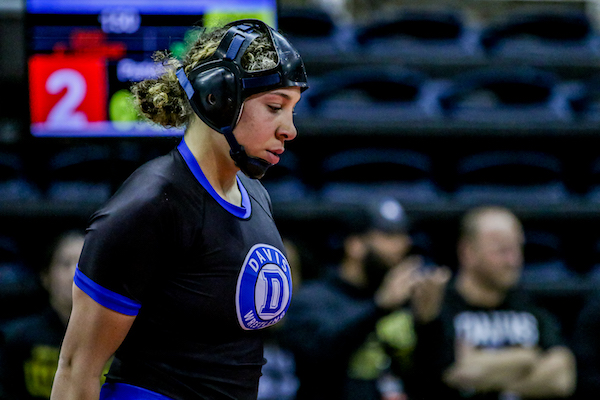 She was expected to challenge for a state medal last year, until a match with Orland turned violent, ending with a post-match tackle by Orland in a bout that Avangeline had won. The section ruled both wrestlers ineligible for the remainder of the season.
"It just really brought me to the realization that I need to do me, and do what I need to do and not feed into how other people are trying to put me down," Avangeline said. "It means so much to me to finally come to the big arena after the way it ended last year.
"I just have to keep my cool and wrestle my match. I'm definitely taking a step forward."
Avangeline, a junior, has considered trying to join her sister at Grand Valley, but said she will make that decision next year after consulting with her parents.
LEILUA SHINES FOR EL CAMINO
El Camino senior Frank Leilua became El Camino-Sacramento's first state qualifier in 10 years.
The hulking footballer who picked up wrestling to improve his skills on the gridiron edged out Laguna Creek's Declan Follette 2-1 in the 285-pound third-place match at the Sac-Joaquin Section Masters.
His steady improvement over the course of his final prep season is remarkable, including overcoming Del Campo-Fair Oaks's Tai Taliaoa after three consecutive defeats (Leilua won at the league tournament) and avenging a prior loss to Follette in the bronze-medal match at Masters.
Leilua's best performance of the year probably came in a loss. After reaching the SJS semifinals with a pin over CA No. 16 Jesus Gutierrez of Sutter, Leilua drew returning state runner-up Sam Hinojosa of Stagg-Stockton (CA No. 3).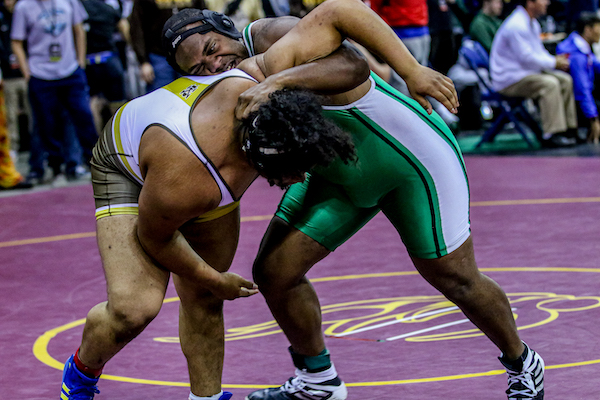 He scored the first takedown of the match, earned back points in the second round and dropped a thrilling 5-4 decision to Hinjosa. He also deftly attacked the legs from the natural position (not common among heavyweights).
The third place finish is an impressive showing for a bracket that sported five of the top-16 ranked wrestlers in California. Leilua was ranked 15th, but should climb up state seeds after his performance.
"He just has God-given strength, is a hard worker and is so quiet, that half the time you don't even know he's in the room, even though he's so big," El Camino coach Allen Blomquist said. "I don't even have anyone for him to spar with actually. He trains with our 220, but in four years of coaching him, we have never had a true heavyweight for him to drill or practice with.
"So he gets all his real experience from wrestling (matches)."
It's the kind of setting that requires extra work. Leilua credits his success late in matches to post-practice trips to the gym with his father, Vai Leilua.
"It's all about pushing yourself when you are tired," Frank said. "I would also say the reason for my success is my mom (Tima Leilua), up there in the stands."
Tima had a great view of the action from a chair on the walkway overlooking the mats from the west end of Stockton Arena. She saw her son win four of his five matches and a 10-0 major decision in the consolation semifinals to secure a seeding at state.
Frank said he hopes to wrestle and play football in college, the likely route for that path being Sierra College, unless his action at state garners more interest.
Given his rapid climb up the ladder at 285, anything is possible.