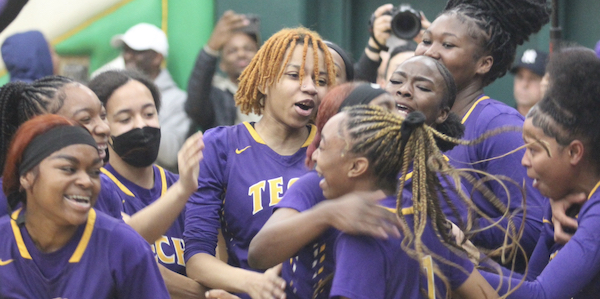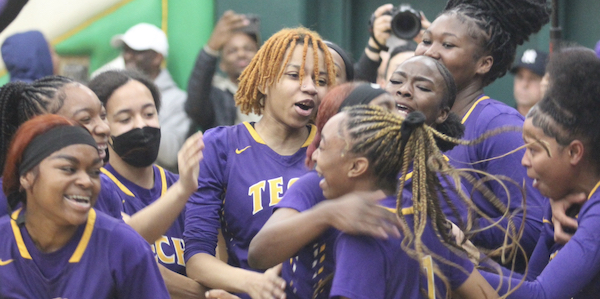 Oakland Tech Girls Basketball Pushes CIF Playoff Winning Streak To 18 Games, Topping St. Mary's-Stockton For A Trip To Division I State Final •...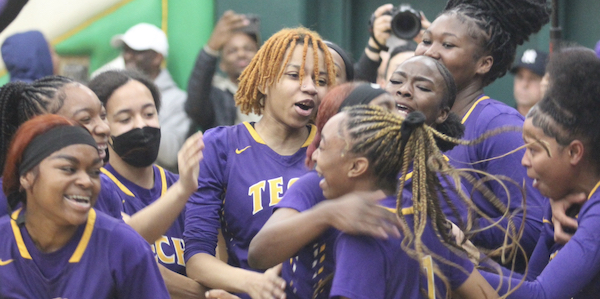 Oakland Tech Girls Basketball Pushes CIF Playoff Winning Streak To 18 Games, Topping St. Mary's-Stockton For A Trip To Division I State Final •
Championship blood. Heart of a champion. Whatever one chooses to call it, the Oakland Tech High girls basketball team has it.
After winning the program's fourth consecutive CIF NorCal Championship — this one in Division I — senior guard Erin Sellers was asked if there was a moment during the season when the Bulldogs believed they could put together another yet state title run.
Her answer was not surprising.
"When you got the same team, with the same people you've had every single year you've won, you know it's possible," Sellers said. "You just gotta go do it."
And that's exactly what Oakland Tech did Tuesday night, going on the road to defeat St. Mary's-Stockton 82-71. The win marked the program's 18th consecutive CIF playoff victory.
The Bulldogs (29-5) will play for a third consecutive state championship at 6 p.m. on Friday night when they meet Santiago-Corona (26-9) at the Golden 1 Center in Sacramento. The Sharks will be making their first ever state finals appearance while a win for Oakland Tech would tie the program with Sierra Canyon-Chatsworth and Sacred Heart Cathedral-S.F. for the most state championship victories without a loss (5).
_______________________________
CONNECT WITH US:
Follow SportStars on Twitter & Instagram | Like us on Facebook | Subscribe!
_______________________________
Oakland Tech will also have the confidence of knowing its opponent, having beat Santiago 62-57 at the West Coast Jamboree in late December. 
In fact, the Bulldogs' road to state has been paved with familiar opponents. But Saint Mary's was the lone one they hadn't beat. In fact, the Rams had a pair of double-digit wins over them heading into Tuesday night's game.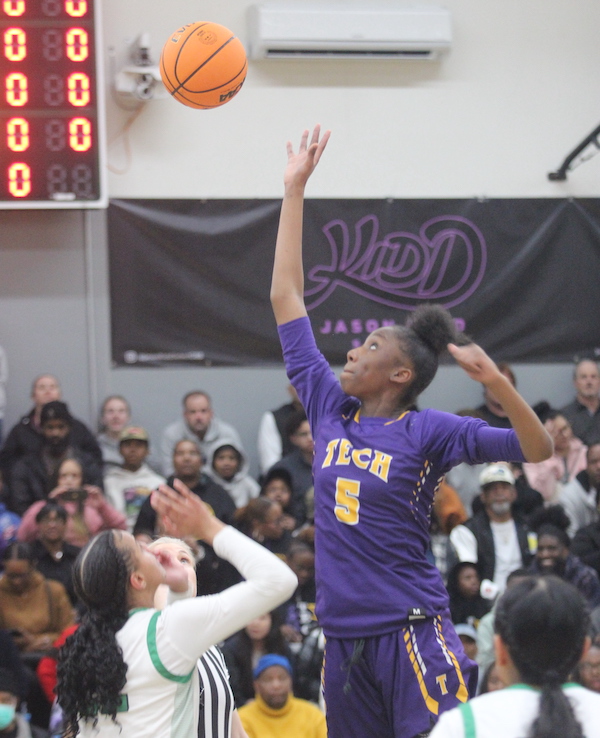 "We had watched both games on film. We were really just looking at it like we beat ourselves those two times," Oakland Tech senior point guard Mari Somvichian said after the game. "There was nothing that they were doing to beat us; it was ourselves. All we had to do was fix our mistakes and we'd be fine."
Bulldogs coach Leroy Hurt wondered if it might've been the right opponent at the right time for his team.
"God's amazing, right? Who he makes you play for the right to play for a 'ship," Hurt said. "You know, we had a helluva journey, played a lot of good teams twice and beat 'em. But having us come here after we've already done that, and asking us to win a game, is just incredible stuff."
It was not the most incredible start for the Bulldogs on Tuesday.
St. Mary's (26-10) led 17-10 after one quarter and pushed the lead to 10 with a Jordan Lee 3-pointer on the opening possession of the second period. Somvichian settled things with her own 3, and the Bulldogs began to chip away at the lead — beginning with a relentless effort on the offensive glass.
"We make mistakes, we do something great," Hurt said. "We make another mistake, and we do something great. They're never affected by it. They just keep playing. It showed tonight."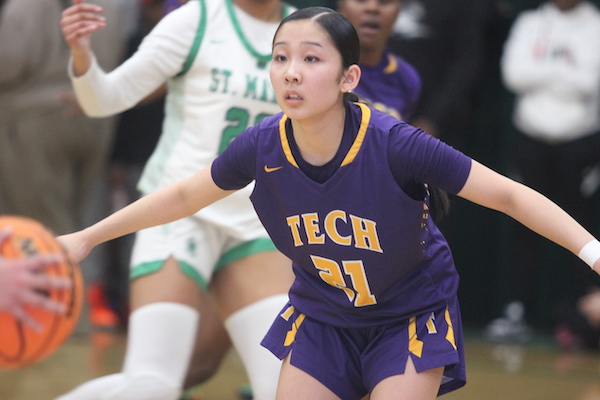 Oakland Tech outscored St. Mary's 42-18 over a 12-minute span between the early second quarter and mid-third quarter. In that time, the Rams went from leading 22-13 to trailing 55-40 with 3:09 left in the third. The stretch included 15 of the Bulldogs' 24 second-chance points in the game.
Lee wasn't about to let the Rams go quietly, however. The star junior finished the night with 47 points and closed out the third period with her own 9-2 run, hitting one of her four 3s and converting on a pair of and-1s. The flurry cut Tech's advantage to 61-53 heading into the final eight minutes. 
Then it was closing time, and Sellers had the keys.
Sellers had struggled with her outside shot during the regional tournament. So much so that Hurt chose not to start the senior against the Rams.
"I told her she's not starting, and said 'I love you, and you're going to play a lot,'" Hurt said. "She started the second half, though. She was due. Just an incredible game."
After Lee converted two free throws to shrink the Bulldogs' lead to 61-60, Sellers sank a deep 3-pointer (following a Tech offensive rebound). It would be the first of four in the quarter.
"Erin is unconscious," Somvichian said. "When she gets hot, she's HOT. And she was hot tonight."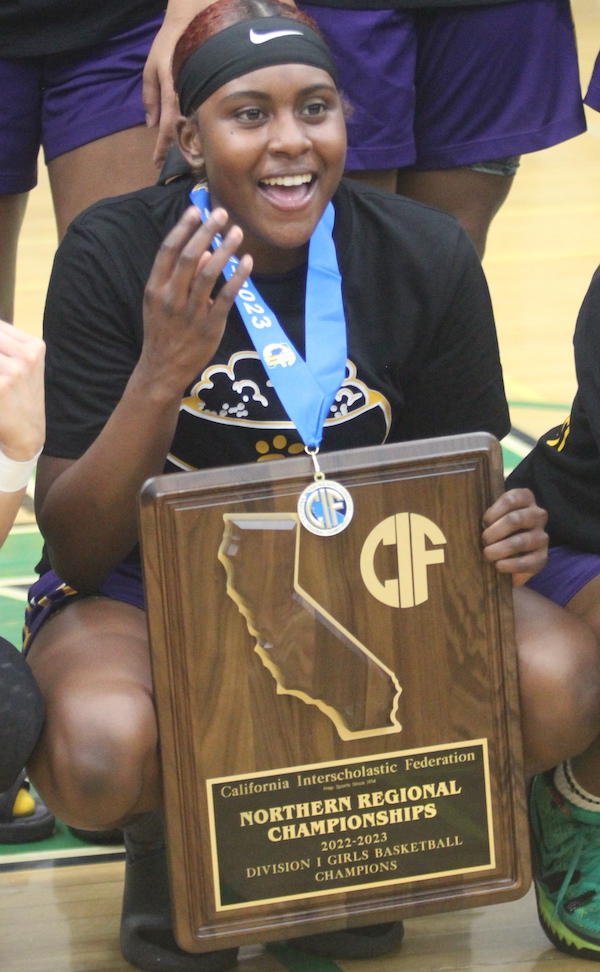 The Rams tied the game at 64 with 4:48 to play and Sellers followed with a pair 3-pointers to push the lead back to six. Her last one came with 2:05 left. It put Oakland Tech up 75-66 — and was preceded by a long offensive rebound that caused St. Mary's coach Alle Moreno to slam her hand against the side of the scorer's table.
Sellers finished with a team-high 26 points with a total of six 3-pointers. Four other Bulldogs finished in double figures. Taliyah Logwood had 15, Somvichian 14, Terri'a Russell 13 and Nia Hunter added 10.
With another familiar opponent up next, expect the Bulldogs to keep it simple when they take the Golden 1 Center floor Friday night.
"I think the key will be just playing our game, not letting the noise get to us," Somvichian said. "We've been there before, so you know, it's nothing new."