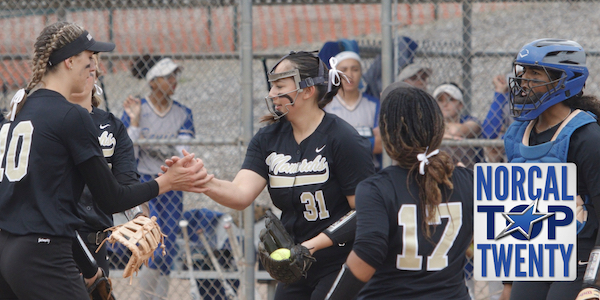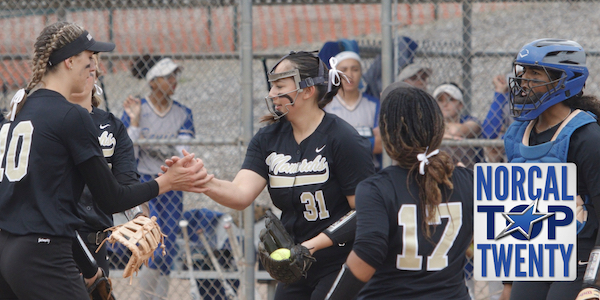 Mitty Ends St. Francis's Season-Long Stay Atop The NorCal Softball Rankings + Three Previously Unbeaten Teams Suffer Losses • NorCal Softball Rankings All records...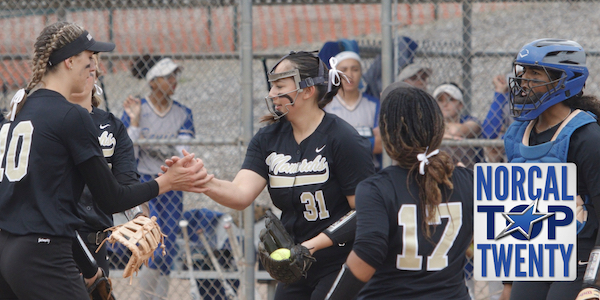 Mitty Ends St. Francis's Season-Long Stay Atop The NorCal Softball Rankings + Three Previously Unbeaten Teams Suffer Losses •
NorCal Softball Rankings
All records are through Monday, April 23 (via MaxPreps). Previous rank is in parenthesis.
PICTURED ABOVE: Pitcher Ava Markert (center) And McKenna Woliczko Share A Handshake For No. 1 Mitty. (Ben Enos photo)
1. (2) Archbishop Mitty-San Jose 14-2
2. (1) St. Francis-Mountain View 17-2
3. (3) Granada-Livermore 15-3
4. (4) Hollister 18-2
5. (5) San Ramon Valley-Danville 15-3
6. (7) Sutter 18-1
7. (9) East Nicolaus 20-0-1
8. (NR) Pleasant Grove-Elk Grove 18-5
9. (10) Notre Dame-Salinas 13-4
10. (8) Vista del Lago-Folsom 16-2
11. (NR) Vacaville 17-1
12. (11) Oakdale 14-5
13. (6) Central Catholic-Modesto 17-3
14. (14) Pinole Valley 20-0
15. (15) Whitney-Rocklin 15-3
16. (NR) Ponderosa-Shingle Springs 13-2-1
17. (12) Franklin-Elk Grove 17-3
18. (13) College Park-Pleasant Hill 12-4
19. (NR) Freedom-Oakley 12-6
20. (20) Amador Valley-Pleasanton 10-10
DROPPED OUT:
No. 16 Granite Bay, No. 17 Heritage-Brentwood, No. 18 Benicia and No. 19 Marin Catholic-Kentfield.
5 TEAMS KNOCKING:
21. Del Oro-Loomis (9-8), 22. Redwood-Larkspur (13-4-1), 23. Casa Grande-Petaluma (16-3), 24. Monterey (13-5) and 25. Marin Catholic-Kentfield (10-5).
AROUND THE HORN
Well, after opening our last rankings 11 days ago by writing that St. Francis-Mountain View was the "unquestioned top dog of NorCal Softball," the Lancers were finally beaten by a NorCal opponent for the first time in more than a year — and just the second time since 2019.
Mitty-San Jose beat St. Francis 3-2 in a No. 1 vs. 2 showdown within West Catholic Athletic League play on April 19. The teams swap places as St. Francis drops to No. 2 in the rankings for the first time since spending a five-week stretch there behind Granada-Livermore after the Matadors won the 2022 Livermore Stampede (where St. Francis suffered a 6-4 loss to Sheldon-Sacramento in the semifinals). St. Francis reclaimed No. 1 on May 17, 2022, and had been there ever since.
_______________________________
CONNECT WITH US:
Follow SportStars on Twitter & Instagram | Like us on Facebook | Subscribe!
_______________________________
The two teams will meet again at St. Francis on May 5. Before that clash, Mitty will face WCAL threats Valley Christian-San Jose (11-5) and Sacred Heart Cathedral-S.F. (9-5) in addition to No. 4 Hollister in a non-league tilt on May 1.
The rest of the Top 5 held its ground over the last week-plus, as No. 3 Granada, Hollister and No. 5 San Ramon Valley-Danville combined to go 10-0. Small school powers Sutter and East Nicolaus each moved up to take over No. 6 and No. 7, respectively. Neither should be tested until they face each other on May 4 at Sutter. Sutter did take on its first defeat of the season, though it was to a very good Huntington Beach team at the Best Of The West tournament hosted by Righetti-Santa Maria.
Two other undefeated teams from our last rankings also took on their first losses. More than one, actually — for both teams. Previous No. 8 Vista del Lago-Folsom dropped to No. 10 after falling to both Ponderosa-Shingle Springs (now debuting at No. 13) and Cordova. Franklin-Elk Grove slipped from No. 12 to 17 after losses to Vista del Lago, Del Oro-Loomis and St. Francis-Sacramento.
In addition to Ponderosa, three other teams also debut this week. Pleasant Grove-Elk Grove gained the highest entry point at No. 8 following a 6-1 mark over its last two weeks. The Eagles' body of work includes being the only team to beat new-No. 11 Vacaville. And finally, as previous-No. 17 Heritage-Brentwood exits, another Bay Valley Athletic League team joins the Top 20 in Freedom-Oakley. The Falcons are 12-3 in April with all three losses coming to ranked opponents, including No. 1 St. Francis and No. 3 Granada.