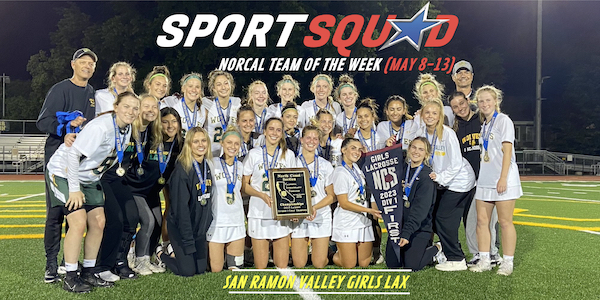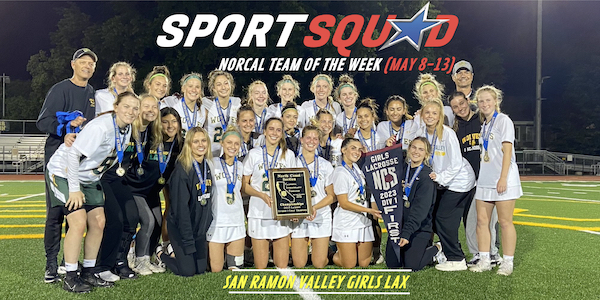 After Yet Another Undefeated Season And North Coast Section Title, San Ramon Valley Girls Lacrosse Continues To Build Impressive Legacy • As five-year runs...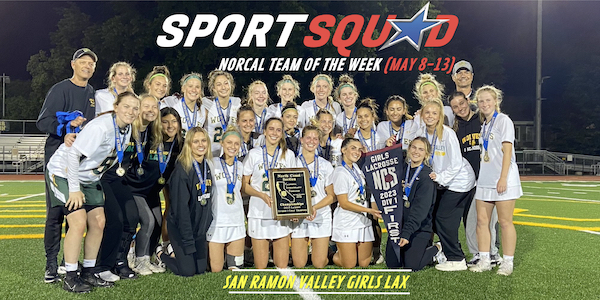 After Yet Another Undefeated Season And North Coast Section Title, San Ramon Valley Girls Lacrosse Continues To Build Impressive Legacy •
As five-year runs go, it would be hard to perform any better than the San Ramon Valley girls lacrosse team. 
The Wolves were recently voted our #SportSquad NorCal Team Of The Week for May 8-13 after completing an undefeated North Coast Section championship season. Undefeated seasons are a thing for San Ramon Valley in recent years. This most recent one, in which the team finished 24-0, was the team's fourth in five seasons.
From a full championship season in 2019 through two pandemic shortened seasons in 2020 and 2021, the Wolves went a combined 39-0. The win streak stopped at 41 two games into the 2022 season in which San Ramon Valley went 16-6. It's been a remarkable run. The kind that drives Wolves players to match that level of success.
"It holds a lot of pressure," senior captain Brinley Myers admitted. "You want to excel to the past standards, to represent SRV and the program well. It motivates us for sure."
Myers noted that this Wolves team believed it had what it takes from the first weeks of practice.
It all started with an easy chemistry and deep-seated bond between several of the players who have been competing together since middle school.
_______________________________
CONNECT WITH US:
Follow SportStars on Twitter & Instagram | Like us on Facebook | Subscribe!
_______________________________
"We're all just so close," Myers said. "There was never any toxicity of judgment. Team bonding activities never felt forced. Everyone arrived early to things and stayed extra long. Every day we were just excited to see each other and compete together. We all had the same goals."
That translated to a 10-0 start in which they outscored opponents 120-37. Then the Wolves traveled down south for a pair of nonleague games, and nearly had their perfect season derailed during a Saturday afternoon game at Torrey Pines-La Jolla on April 1.
San Ramon Valley fell behind early and players began wondering if they were about to succumb to the same type of Spring Break swoon that hurt them in 2022. 
"Last season we had a downfall during Spring Break and suffered an upset loss to Carondelet," Myers said. "We knew we had to keep our energy up this year, and that Torrey Pines game really pushed us. It was very emotional, and I think we ended up coming out with a win because we all wanted it so badly."
SRV survived 14-13. The closest margin of victory the rest of the season was six, a 14-8 win over Amador Valley-Pleasanton on April 14. 
The Wolves' NCS championship run included a 19-1 win over Rancho Cotate-Rohnert Park, followed by a 17-4 win over Carondelet and an 18-5 semifinal win over Redwood-Larkspur. Redwood was the team that ended San Ramon Valley's 2022 season. In the championship, they toppled Oak Ridge-El Dorado Hills 14-7.
Sharing captain duties with Myers was fellow seniors Marin Ruh and Carly Bowman. Myers will be playing for the University of Rhode Island next season and Ruh will be at Xavier.
The roster also included four juniors with college commitments. Leading the list is Villanova-bound Leslie Iorio. She led the team with 81 goals, but her leadership as an underclassman was an unsung part of the team's success, according to Myers.
"She brought a lot to the huddles," Myers said. "She was very outspoken, inspirational and a really good teacher to our underclassmen. It was really helpful for us captains to have another leader like that."
Other juniors with commitments include Olivia Navone (UC Davis), Addie Brower (Colorado) and goalkeeper Lauren Poulson (Regis University, a Div. II school in Colorado).
Those juniors will face that same preseason pressure next February. We don't anticipate it to have much of an effect.