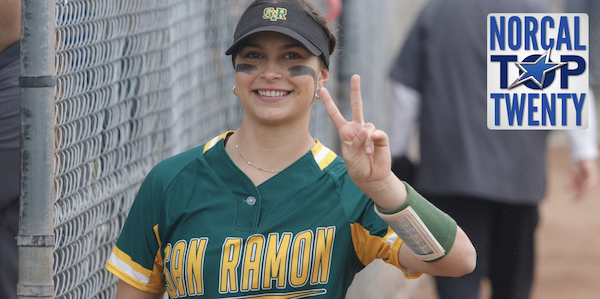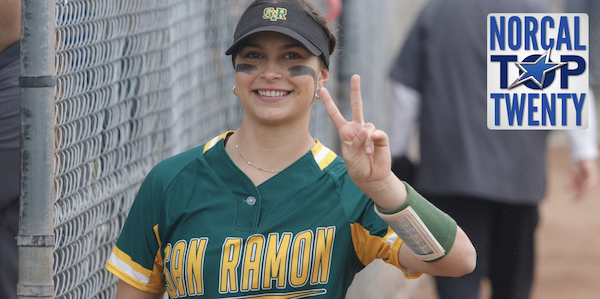 St. Francis, Mitty Continue Their Dance At The Top While Rest Of NorCal Softball Rankings Brace For Section Playoff Showdowns • NorCal Softball Rankings...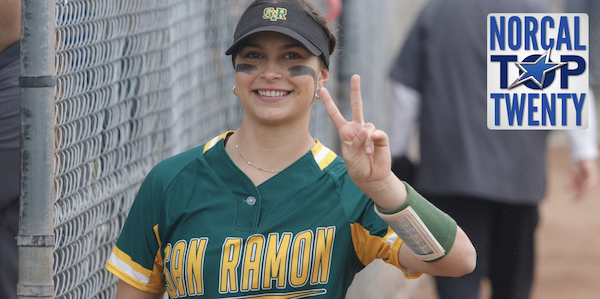 St. Francis, Mitty Continue Their Dance At The Top While Rest Of NorCal Softball Rankings Brace For Section Playoff Showdowns •
NorCal Softball Rankings
All records are through Wednesday, May 13 (via MaxPreps). Previous rank is in parenthesis.
PICTURED ABOVE: Senior shortstop Samm Shah of new No. 4 San Ramon Valley-Danville. (Ben Enos photo)
1. (2) St. Francis-Mountain View 24-2
2. (1) Archbishop Mitty-San Jose 20-3
3. (3) Hollister 24-3
4. (9) San Ramon Valley-Danville 20-5
5. (5) Sutter 25-1
6. (4) Granada-Livermore 19-5
7. (7) Pleasant Grove-Elk Grove 22-6
8. (6) East Nicolaus 26-1-1
9. (8) Amador Valley-Pleasanton 15-11
10. (10) Vista del Lago-Folsom 24-2
11. (11) Vacaville 26-1
12. (12) Central Catholic-Modesto 24-3
13. (13) Oakdale 18-7
14. (15) Redwood-Larkspur 18-4-1
15. (NR) Milpitas 21-4
16. (19) Willow Glen-San Jose 19-6
17. (14) Notre Dame-Salinas 17-7
18. (16) California-San Ramon 17-8
19. (NR) Granite Bay 18-6
20. (20) Whitney-Rocklin 17-7
DROPPED OUT:
No. 17 Ponderosa-Shingle Springs and No. 18 Franklin-Elk Grove
5 TEAMS KNOCKING:
21. Franklin-Elk Grove (21-4), 22. Ponderosa-Shingle Springs (19-4-1), 23. Pinole Valley (25-1), 24. Marin Catholic-Kentfield (15-6) and 25. Pioneer-Woodland (20-4).
AROUND THE HORN
Thanks to Kate Munnerlyn and her Cinco de Mayo No-No against Mitty-San Jose, St. Francis-Mountain View and the Monarchs once again trade places at the top. The two will start a third collision course when the Central Coast Section Open Division bracket is filled out later today (May 15). So mark May 27 on the calendar for the next showdown.
Another Top 10 clash took place on May 11 as small-school powers (and budding rivals?) No. 5 Sutter clashed with No. 6 East Nicolaus. The game was 100 percent fitting of a Top Six showdown as Sutter prevailed 1-0. The No. 5 Huskies should have zero issues in the Sac-Joaquin Section Division 5 playoffs and will almost certainly find themselves placed in Division I for CIF regionals. East Nicolaus only drops down to No. 8. Somehow the Spartans are the two-seed in the Northern Section Div. V bracket.
_______________________________
CONNECT WITH US:
Follow SportStars on Twitter & Instagram | Like us on Facebook | Subscribe!
_______________________________
San Ramon Valley-Danville was the biggest mover this week, jumping into the Top 5 by going through previous-No. 4 Granada-Livermore and previous-No. 8 Amador Valley-Pleasanton to win the East Bay Athletic League championship. The Wolves rise five spots to No. 4. Granada and Amador Valley stay inside the Top 10 at No. 6 and 9, respectively.
Of the two new teams this week, one makes its debut and the other is returning after a three-week absence. Milpitas is the newbie, entering at No. 15 with a shutout win over No. 16 Willow Glen-San Jose (which owns a win over Mitty) as part of the Trojans' six-game winning streak.
Granite Bay is our returning team, hopping back in at No. 19 after winning the Sierra Foothill League title and grabbing the No. 2 seed in the SJS Division 1 bracket.