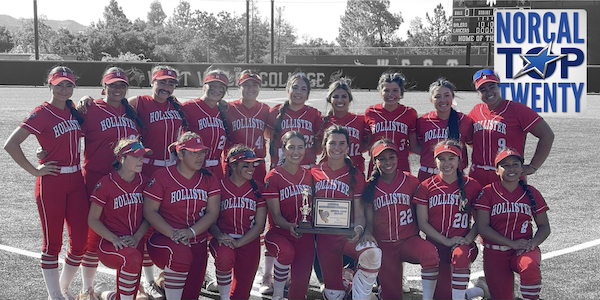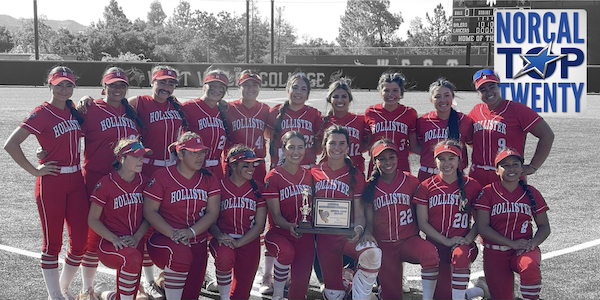 Section Playoffs Deliver Big Changes To NorCal Softball Rankings, Including A Brand New No. 1 Out Of The Central Coast • NorCal Softball Rankings...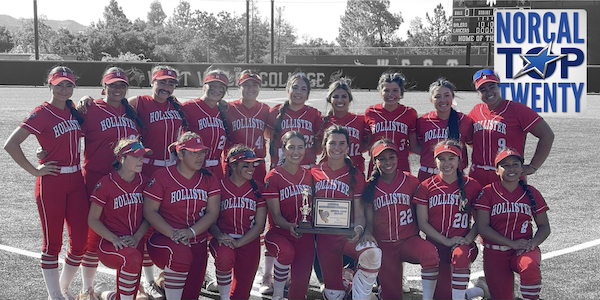 Section Playoffs Deliver Big Changes To NorCal Softball Rankings, Including A Brand New No. 1 Out Of The Central Coast •
NorCal Softball Rankings
All records are through Saturday, May 27 (via MaxPreps). Previous rank is in parenthesis.
PICTURED ABOVE: Your New No. 1, The Hollister Haybalers. (Central Coast Section photo/Twitter)
1. (3)  Hollister   27-3
2. (1)  St. Francis-Mountain View   26-3
3. (2)  Archbishop Mitty-San Jose   21-4
4. (20) Whitney-Rocklin   21-7
5. (11)  Vacaville   29-2
6. (18)  California-San Ramon   21-8
7. (4)  San Ramon Valley-Danville   23-6
8. (8)  East Nicolaus  28-1-1
9. (7)  Pleasant Grove-Elk Grove   24-7
10. (NR)  Ponderosa-Shingle Springs  23-4-1
11. (6)  Granada-Livermore   21-6
12. (10)  Vista del Lago-Folsom  26-3
13. (NR)  Oak Ridge-El Dorado Hills   17-8
14. (16)  Willow Glen-San Jose   20-7
15. (5)  Sutter   26-2
16. (9)  Amador Valley-Pleasanton   15-12
17. (17)  Notre Dame-Salinas   20-7
18. (NR)  Inderkum-Sacramento   22-8
19. (19)  Granite Bay   20-7
20. (NR)  Monterey   20-7
DROPPED OUT:
No. 12 Central Catholic-Modesto, No. 13 Oakdale, No. 14 Redwood-Larkspur and No. 15 Milpitas
5 TEAMS KNOCKING:
21. Central Catholic-Modesto (27-4), 22. Casa Grande-Petaluma (25-4), 23. Pinole Valley (28-1), 24. Pleasant Valley-Chico (18-7) and 25. Cardinal Newman-Santa Rosa (18-9).
AROUND THE HORN
What a wild two weeks inside of the NorCal Softball Rankings. We need to start with Hollister — for obvious reasons.
The Haybalers didn't come from nowhere, of course. They've been in our Top 5 for most of May and entered the section playoffs at No. 3. That doesn't mean we saw them knocking off both the No. 1 and 2 teams en route to a CCS Open Division title. BIG hat tip to pitcher Sophia Mariottini and the Hollister defense that allowed just one run total in wins over St. Francis-Mountain View and Mitty-San Jose.
_______________________________
CONNECT WITH US:
Follow SportStars on Twitter & Instagram | Like us on Facebook | Subscribe!
_______________________________
Will the West Catholic Athletic League get its revenge in this week's CIF regional playoffs? We'd wager that either St. Francis or Mitty will get a shot.
As we crunched numbers and examined full bodies of work over the weekend, we came to the conclusion that the Sac-Joaquin Section was just a deeper section than the North Coast Section this season. That's reflected in both Whitney-Rocklin and Vacaville skyrocketing into the Top 5. Vacaville had a 7-1 win over NCS Division I champion, new-No. 6 California-San Ramon, this season. Meanwhile, 7-1 was the score of the SJS Div. II final with Whitney beating Vacaville.
SJS Division I finalists Oak Ridge and Inderkum-Sacramento both enter the rankings — the second time for OR and the first for Inderkum. Ponderosa-Shingle Springs also rises from the "5 Knocking" category to debut at No. 10. The Bruins defeated former No. 12 Central Catholic-Modesto and Raiders' ace Randi Roelling 1-0 in the SJS Div. III final. They also have a number of other quality wins on the season, and a notable tie against No. 8 East Nicolaus.
Sutter was one of the few SJS teams to drop this time around. The Huskies' Div. V quarterfinal upset loss to Orestimba was the first big shock of the two-week section playoff window.
Unlike last season, the regional playoffs have a real chance to significantly reshape the NorCal Softball Rankings one last time. Final rankings will post by next Wednesday.