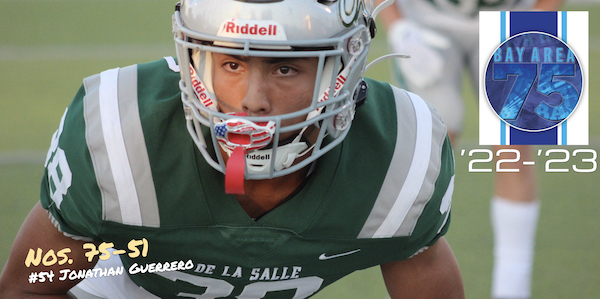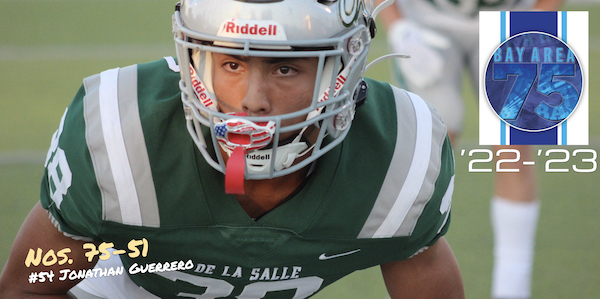 Our 11th Annual Bay Area 75 Athlete Rankings For The '22-'23 School Year Begins Here With Nos. 75-51 PICTURED ABOVE: No. 54, Jonathan Guerrero...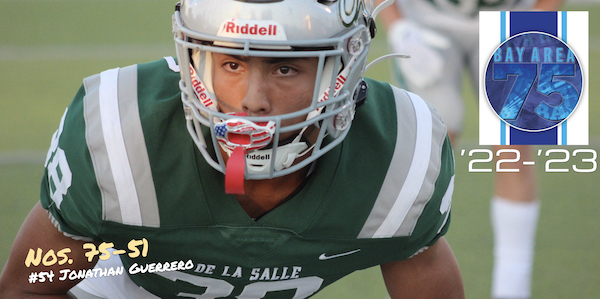 Our 11th Annual Bay Area 75 Athlete Rankings For The '22-'23 School Year Begins Here With Nos. 75-51
PICTURED ABOVE: No. 54, Jonathan Guerrero of De La Salle-Concord Football, Track
Welcome to our 11th annual Bay Area 75 rankings — SportStars' countdown of the top 75 Bay Area athletes from the 2022-23 school year.
Covering high school sports in the Bay Area continues to be luxury that we vow never to take for granted. The talent that we're able to witness over a 10-month stretch every year is truly remarkable. Every year we build this list, we marvel at the final list of names and shake our heads at the many names that have come before them. This year was no different.
As always, our only criteria used in generating the list is that the athletes must compete at a school from within one of the nine Bay Area counties, and they must have played in a sport which culminated in a sanctioned section title or reached a national-level of success (i.e., won a national championship or been named to a youth national team).
All sports fans know rankings are an opinion, and certainly subjective. They also spark debate and conversation, which is why we love them. So don't hesitate to give us your thoughts. We're looking forward to it. Let's begin at the top!
— Chace Bryson
2022-23 Bay Area 75 Rankings 
75. DANI LEE (University-San Francisco)
Volleyball
The sophomore setter led all of NorCal with 1,155 assists — a number which also ranked her 3rd in the state, among stats reported to MaxPreps. Lee also delivered 41 kills, 170 digs and 96 aces for a Red Devils team that finished 28-7 and reached the North Coast Section Division III final and the CIF Div. II regional finals.
74. JAZLYN ALCANTAR (Encinal-Alameda)
Basketball, Softball
This sophomore delivered the goods both on the hardwood and the diamond. Through 14 reported games, Alcantar led the Jets basketball team in scoring at 15.6 points per game, and was the team's second-leading rebounded at 7.1 per night. She also added 3.2 assists and 3.3 steals. Meanwhile, her softball prowess landed her on the San Francisco Chronicle All-Metro 1st Team after hitting .500 with 42 RBI.
73. ELLIE BUCKLEY (Campolindo-Moraga)
Cross Country, Track
Buckley closed out her final year with the Cougars in fashion. In the fall, the senior was Campolindo's top finisher, taking third to help lift the team to a Division III state title. In the spring, the Boston College commit finished second in the 3200 meters and third in the 1600 meters at the NCS Meet Of Champions. She wrapped her season with a Top 12 finish in the 3200 state final.
72. JOSHUA MORANO (Granada-Livermore)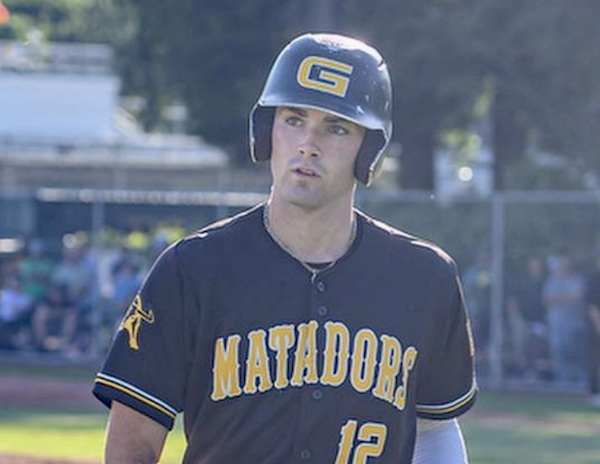 Baseball
Morano earned 1st Team All-State honors from CalHiSports.com after the University of Arizona-bound southpaw spent his senior season among the East Bay's most feared hurlers. Morano spun three shutouts and went 8-2 with a 0.53 ERA. He had 94 punchouts in just 66 innings of work for a Matadors team that finished 20-8.
_______________________________

CONNECT WITH US:
Follow SportStars on Twitter & Instagram | Like us on Facebook | Subscribe!
_______________________________
71. AUDREY LIDDLE (Archbishop Mitty-San Jose)
Volleyball
Liddle was the linchpin to a dynamic Mitty attack. She was named the Cal-Hi Sports Bay Area Volleyball Player Of The Year as well as a 1st Team All-West Catholic Athletic League selection. Mitty finished 30-9 on the season. Liddle's career path now moves north to Berkeley where she will compete in the Cal beach program.
70. JAMIE MCGAUGHEY (Casa Grande-Petaluma)
Basketball, Softball
McGaughey will be showcasing her softball talents for the University of Hawaii this coming school year after the power-hitting corner infielder hit .438 with 11 home runs for the NCS Div. II champions. The Santa Rosa Press Democrat Player of the Year and Vine Valley Athletic League MVP also had 39 RBI and 37 runs scored. During the winter, she was a team captain as well as a top rebounder and defender for a 20-11 Gauchos hoops team.
69. SHANNON KEIGHRAN (Saint Francis-Mountain View)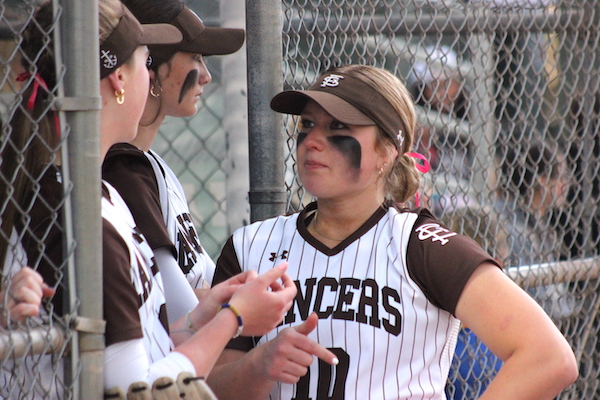 Softball
Keighran is one of two Lancers junior pitchers who made this list. She's here after going 12-0 in the circle with a 0.66 ERA. She averaged nearly two strikeouts per inning, amassing 135 in just 74 frames. She was also a capable hitter for the Central Coast Section and CIF NorCal runners-up. She had 21 hits and 13 RBI.
68. MORGAN CHELI (Archbishop Mitty-San Jose)
Basketball
Cheli was a peculiar case when it came to this year's list. Last year, the Monarchs' star hooper ranked No. 20, so there's no denying her special talent. This year, an injury kept her out for practically half of Mitty's season. Upon returning, she averaged 15.5 points, 5.2 rebounds, 3.5 assists and 3 steals over 14 games as the Monarchs claimed the NorCal Open title. This list wouldn't have felt right without the UConn-committed star.
67. COOPER FLANAGAN (De La Salle-Concord)
Football
It's safe to wonder if the presence of Flanagan would've helped tip the scales in De La Salle's 33-28 CIF Div. 1-AA State Bowl loss to Lincoln-San Diego. The Notre Dame-bound TE/DE missed both CIF games with an ankle injury. He had 38 tackles (10 for loss) with 3.5 sacks and an interception. He also caught 27 passes for 497 yards and 3 TD. SportStars named him All-NorCal Multi-Purpose.
66. DEREK SANGSTER (Archbishop Mitty-San Jose)
Basketball
A SportStars 2nd Team All-NorCal selection and a CalHiSports.com 3rd Team All-State honoree, Sangster will be joining the NCAA Tournament Elite 8 darlings, Princeton, in the fall. He'll do so on the heels of a senior season in which he averaged 17.7 points and 8.8 rebounds and was named West Catholic Athletic League Player of the Year. Mitty went 22-6 and finished as NorCal's No. 4-ranked team.
65. CATE PETERS (Monte Vista-Danville)
Track
The Stanford-bound middle distance star was the 400 meter champion at both the East Bay Athletic League Championship and the NCS Tri-Valley Meet, but did not run the event at the NCS Meet of Champions. She did run, and win, the 800 meters at the NCS Championships and anchored a pair of title-winning relay teams (1600 and 3200). At the state meet, Peters took a sixth-place podium finish in the 800. The 1600 relay team took ninth.
64. KATIE SALONGA (Foothill-Pleasanton)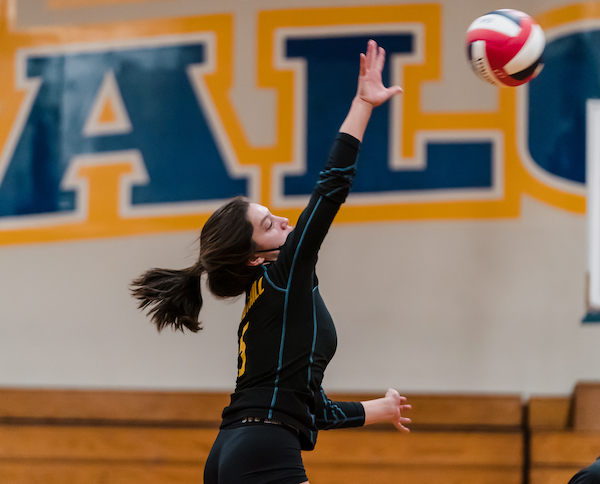 Volleyball
Considered one of the state's Top 50 recruits for the Class of 2024 by PrepDig.com, Salonga had no problem filling the stat sheet for a Falcons team that finished 28-10 and reached the NCS Div. I final. The talented setter had 881 assists to go with 214 digs, 82 kills and 61 aces.
63. LANDON STUMP (Live Oak-Morgan Hill)
Baseball
Stump was bestowed 1st Team All-State multi-purpose honors by CalHiSports.com after he racked up 86 strikeouts in 60.1 innings with a 1.28 ERA. The UCLA-bound senior also ranked fourth on the Acorns with 24 hits and second with 20 RBI. Live Oak finished 18-11 overall and finished tied for first in the Mount Hamilton Athletic League.
62. MICHELLE WOO (Mission San Jose-Fremont)
Golf
Woo helped lift Mission San Jose to a one-stroke NCS Championship win over Monte Vista-Danville by firing a 70 at the Division I tournament. She carried that momentum to a T5 finish (plus-3 75) at the CIF NorCal Championships, and then carded a 2-under 70 for a solo-2nd place finish at the CIF State Championships.
61. COOPER HAN (Menlo School-Atherton)
Tennis
The rising junior 5-star recruit is ranked among the Top 35 national recruits and was recently on the USA Today National High School Player Of The Year watch list. Han helped the Knights to a CIF NorCal championship repeat after the team lost to Cupertino in the CCS championship. Han lost to fellow national youth talent Winston Lee in the NorCal team final, but recently repaid the favor in the 16U doubles bracket at the USTA National Clay Court Championships in Florida. Han is currently ranked 10th in the USTA 16U National Rankings.
60. TALIYAH LOGWOOD (Oakland Tech)
Basketball
The talented junior earned SportStars 1st Team All-NorCal hoops honors as the lockdown defender who gave Div. I state champion Oakland Tech its toughness and spark. Logwood's versatility and physicality set the tone for a team that hasn't lost a NorCal game since 2018. She was named Player Of The Game in the state final after posting a double-double of 16 points, 12 rebounds.
59. RYDER HELFRICK (Clayton Valley-Concord)
Baseball
Helfrick has been building toward a Bay Area 75 resume for several years now, and he arrives this year after batting .510 with five home runs and 24 RBI. He collected several postseason accolades, including a 1st Team All-State selection from CalHiSports.com, 1st-Team All-Bay Area News Group and Diablo Athletic League-Foothill Division MVP. He will play for perennial NCAA powerhouse Arkansas in the fall.
58. AUDREY ROSS (San Ramon Valley-Danville)
Volleyball
With her first chance to be featured in the Wolves offense, the Boston College-bound senior erupted. Ross racked up 458 kills and added 289 digs, 50 aces, and 43 total blocks to lead SRV to a 28-8 overall record and their first NCS title in nine seasons.
57. BEN FORER (Northgate-Walnut Creek)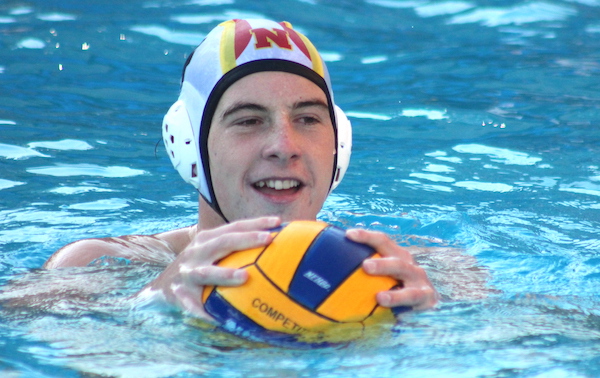 Water Polo
Forer has skyrocketed to success within USA Water Polo in the past year. In April he helped the U.S. Junior National Team to claim gold in the PanAm Aquatics U17 Championships, leading the team with six goals in the gold medal match. For Northgate, he was the Diablo Athletic League-Valley Division MVP while leading the Broncos to a 23-3 record. He was also named 2nd Team All-NorCal by WaterPoloPlanet.com
56. MARI TESTA (Campolindo-Moraga)
Track
The Cal-bound senior delivered another masterful track and field season for the NCS-champion Cougars. For the second consecutive year, Testa collected three golds at the NCS Meet Of Champions. This year, she didn't even need a relay to get there. The speedster took titles in the 100 and 200 meters as well as the 100 meter hurdles. She reached the state podium in the hurdles as well, taking sixth.
55. CLARA CRONIN (Menlo-Atherton)
Volleyball
It would be hard to question anyone who claimed Cronin was the Bay Area's best defensive player. The Chapman-bound back line star led the state with 914 digs — a number that also ranked her 10th nationally among stats reported to MaxPreps. She also added 52 aces for a 21-17 Bears squad that reached the CCS Div. I final and the CIF Div. III NorCal semis.
54. JONATHAN GUERRERO (De La Salle)
Football, Track
Guerrero was a SportStars All-NorCal selection at defensive back after piling up seven interceptions, a pick six, a sack and 25 tackles for the Spartans. Guerrero's most impactful interception may have come in the final minute of the first half during the CIF Div. 1-AA NorCal final at Folsom, setting up a go-ahead touchdown. During the spring, he teamed up with three other football stars to comprise a blistering-fast 400 relay team. The group won the EBAL championship, took 2nd at NCS and 5th at the state meet. Individually, Guerrero also took silver in the EBAL 200 meter final.
53. DANIEL ZEPEDA (Gilroy)
Wrestling
After finishing as the runner-up in the Central Coast Section 132-pound final, Zepeda stormed his way through the CIF State Wrestling Championships by going 6-0 with five pins, including one in his championship match against Gavin Bauder of Clovis North-Fresno. He's only a sophomore.
52. JAIME OAKLAND (Saint Francis)
Softball
Oakland has royal blood when it comes to the Bay Area 75, as her family Jessica topped these rankings just last year. Now it's Jamie's turn, and her freshman campaign looks like she'll have zero trouble following in big sister's footsteps. Oakland was the WCAL Player of the Year and an SF Chronicle 1st Team All-Metro selection after batting .533 for the Bay Area's top team. She had a team-best 48 hits and 31 runs. She also struck out just six times in 104 plate appearances.
51. KINNARI ATLURU (University-S.F.)
Volleyball
The talented junior was a force at the net — and a mutual beneficiary of fellow Bay Area 75er, No. 75 Dani Lee — as she led the Bay Area with 467 kills, among stats reported to MaxPreps. She also added 239 digs for a Red Devils team that finished 28-7 team and reached the CIF NorCal Div. II finals.