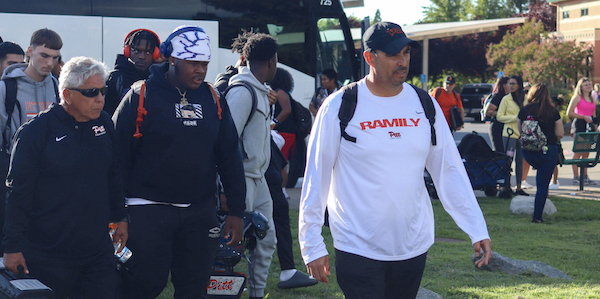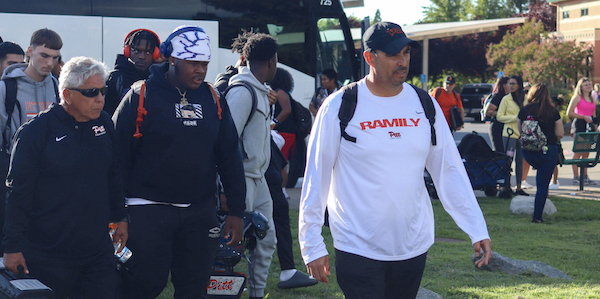 SportStars Takes A Nine-Plus Hour Road Trip With The Pittsburg High Football Team As It Takes Shape Under New Coach Charlie Ramirez Since being...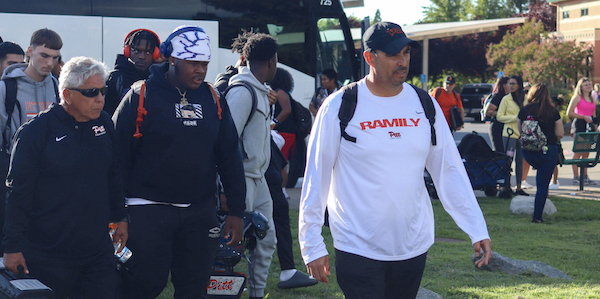 SportStars Takes A Nine-Plus Hour Road Trip With The Pittsburg High Football Team As It Takes Shape Under New Coach Charlie Ramirez
Since being appointed head coach of the Pittsburg High football team over the summer, Charlie Ramirez has received his share of congratulations from friends, family, community members and fellow coaches.
But, on this particular Friday afternoon at around 3 p.m., that praise has decidedly faded into the background. Instead, he's faced with one of the operational responsibilities that come along with helming one of California's most prestigious and historic football programs.
He's getting back on a bus.
Don't feel too bad for the Pirates' new leader. It's a comfortable charter bus — the kind you book when you figure you might be sitting in traffic for a while.
As Ramirez settles into the first row for a Week 2 journey to take on perennial Sacramento-area power Granite Bay, he's actually quite content. One week earlier, the Pirates took the familiar yellow school bus across the Bay Bridge to take on Sacred Heart Cathedral-San Francisco at historic Kezar Stadium.
So, this is a definite upgrade.
_______________________________
CONNECT WITH US:
Follow SportStars on Twitter & Instagram | Like us on Facebook | Subscribe!
_______________________________
For the last 10 years, Ramirez has left team bus duty to longtime Pirates head coach Victor Galli, instead opting to chart his own route through traffic and meet the team at their chosen destination. Such is life for a high school football assistant coach.
"I told Victor last week, man if we were playing this game and I was defensive coordinator Charlie, I would for sure have gone to the Niners game the night before, stayed in a hotel and met you guys at Kezar," Ramirez said. "And that's OK. I know what comes with the territory. That's one of the things I learned from Victor. How to manage this thing. Being there next to him, seeing what it looks like and seeing what it should look like, that's what made this transition not feel like a burden, if you will.
"It's fun. I like it, I welcome it, and I'm making it my own at the same time."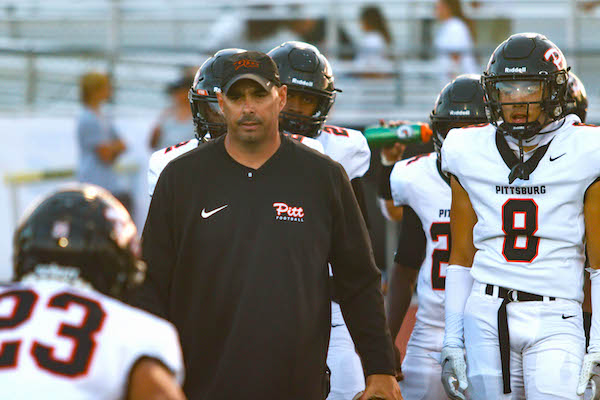 Eschewing the bus is exactly what most of his current assistants have elected to do for the trip to Granite Bay. When the nearly three-hour trip finally comes to an end, those coaches are waiting to meet the Pirates.
The faces that are there to greet Ramirez and the team are familiar to longtime Pittsburg football followers. Most of the staff has remained in the transition, and even though Galli didn't make this particular trip, he remains an invaluable resource as he continues to teach physical education at the school.
The former Pirates' coach has even found a way to stay on the field, directing Pittsburg's new girls flag football team as it gets off the ground.
"He's been a big help. He had everything in place, and he's been there to coach me up along the way from day one, not just last year," Ramirez said. "He was kind of teaching me the ropes but that was more along the lines of in case I was ever going to be a head coach anywhere. This (year) has been more hands-on. It's 'now I'm really giving you the keys and really giving you the information.' It's been a huge help."
ROOTED IN PITTSBURG
Ramirez works as a Dean of Students at Pittsburg, an administrative role that tasks him with overseeing the building immediately adjacent to the football facility. Stroll through that football facility and it looks and feels largely the same, with a few subtle tweaks here and there. 
If you pay close attention, you can find Ramirez among the framed player bios on the wall. A starting linebacker on the famed 1991 Pittsburg team that was the last North Coast Section squad to beat De La Salle-Concord, he went on to earn a host of all-region honors, and as a senior in 1993 was named as Most Inspirational, Most Dedicated, and Mr. Defense for the Pirates.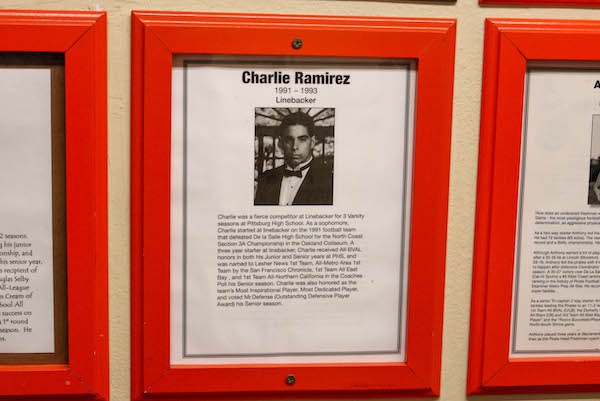 That history is important in a community that loves and supports its own unique version of Friday Night Lights.
"Before the year started, we went to the old weight room. There's only two buildings left from back then," said assistant head coach Isamu Falevai. "We went to the old weight room and Charlie was able to explain to our players where it started. They were able to see how small that area was. It was a locker room where so many greats came before them. A lot of them didn't know that."
As the team arrives at Granite Bay, Falevai is one of the coaches waiting. He is one of three former head coaches on Ramirez's staff, having previously led the program at Fremont High in Oakland. Fellow assistant Robert Hubbard was at one time the head coach at nearby Deer Valley, and offensive coordinator Jimmy Shipe has served as a head coach at the junior varsity and freshman levels.
They are keys to Ramirez's transition, both on the field and off.
"We had another staff meeting talking about that earlier this week. Delegating that work, if you will. They've done a great job," Ramirez said. "The staff has done a fantastic job of picking up that part of it. We obviously reduced the number of coaches on the staff but these guys have all been here, they're all Pittsburg guys, there are former head coaches, guys who have been coordinators. That was important to me because as I grow as a head coach, I have those reliable guys next to me who know how it works."
Falevai is proud of his friend, but his is a pride that is rooted in more than just football. The two joined Galli on the Pittsburg varsity staff around the same time, with Falevai moving to Pittsburg and Ramirez moving up from the Pirates' junior varsity team.
A deep believer in family, faith and community, Falevai sees Ramirez and the Pirate staff as a reflection of the community it serves. Ramirez is one of only a handful of Hispanic head coaches in high school football, and in a town like Pittsburg that boasts a diverse ethnic population, that fact carries significance in itself. As a whole, the staff is about as diverse as you'll ever find.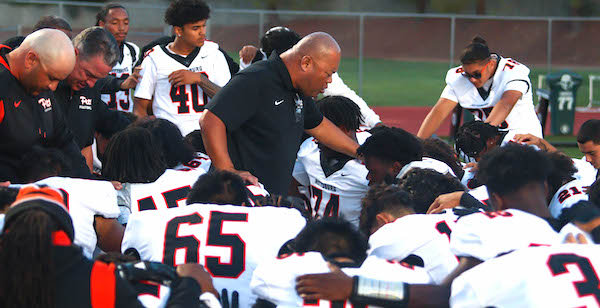 "There are a lot of minorities that play the sport, but it's very rare to actually hold that position and be able to be a head coach. In all sports, really, no matter what level. That's what excited me," Falevai said. "It fits so perfectly for the community of Pittsburg because of the demographics and because of the diversity we have at the school and in the community period. If you look at our roster, and you're a fan or not a fan, and you just see our student athletes when they take their helmets off, there are all different cultures and backgrounds."
On this night, that same coaching staff also finds time to give their new head coach a bit of good-natured ribbing. As Ramirez jumps in to help tape a few ankles prior to heading to the field, he earns jeers from his nearby colleagues, who make sure to point out the "1990s tape job" he's giving to defensive back Tim Edwards.
By the time the team makes the short walk from the locker room to the stadium, the Pittsburg machine looks like it always has — a group of talented athletes heading out to do battle.
SPEEDING UP, SLOWING DOWN
Ramirez's role once the game begins is definitely different. He gets plenty of steps in when the Pirates have the ball, hustling over to the bench to join the defense as it reviews film in real-time before returning to the field to keep an eye on the offense. He still makes the defensive calls for the Pirates, and designing Pittsburg's defense remains perhaps his most comfortable task.
For one half, Pittsburg's talent is blunted by mistakes. Poor field position plagues the Pirates throughout the first half, and penalties limit their ability to unleash their newest weapon — an uptempo approach. Those factors, combined with a quality opponent, result in a 7-7 tie heading into halftime.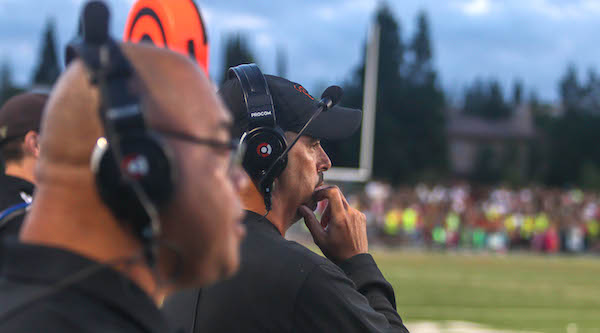 Once in the locker room, the message is clear. 
The Pirates need to play under control.
Their new head coach is certainly capable of delivering a paint-peeling speech, and this version definitely carries enough force to get the point across.
Ramirez implores his team to fix the penalties and fix the field position issues. Do that, and he is certain that the ride home will be a happy one.
The message is the right one. Pittsburg begins to correct its mistakes and scores a pair of touchdowns — one a 3-yard run by Elijah Bow and one a 42-yard pass from Marley Alcantara to Makari Kenion — to take a 21-14 lead after three quarters.
The Pirates add three more touchdowns in the fourth quarter and the defense grabs two interceptions to salt away a 41-21 victory. After the win, a few players stick around to do interviews, including heralded junior defensive back Jadyn Hudson.
The 6-foot-2, 175-pound safety expresses his love for Galli while also praising the small changes that Ramirez is beginning to implement.
"I'd say he's putting a lot more structure and discipline into the program. A lot's changing for the good," Hudson said. "He's a defensive coach and our defense has been one of the best for a few years. He's really been changing it in a good way for sure."
Alcantara is also a member of Pittsburg's vaunted junior class, but he also got to know Ramirez the assistant as a sophomore on varsity in 2022 and can also identify the adjustments that are beginning to take hold.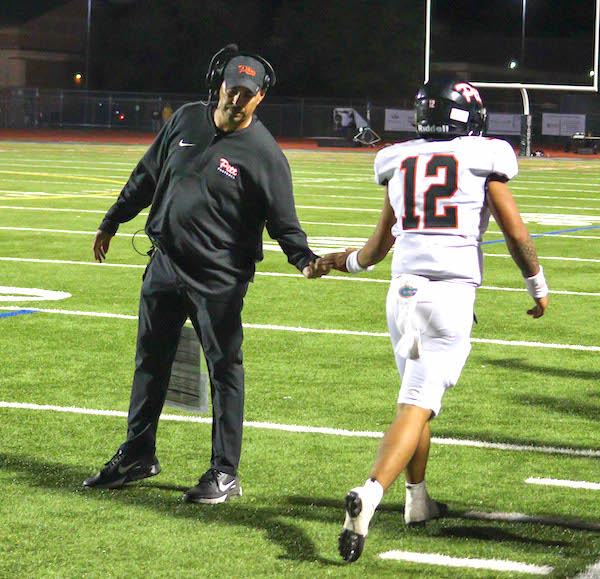 "I love both of them with all my heart," Alcantara said of Ramirez and Galli. "I feel like we came here with a new culture and we're going into the facility every day ready to work and have that state championship mindset."
LIVING THE DREAM
That mindset is an extension of Ramirez, who doesn't shy away from goals like winning state championships and maintaining Pittsburg's reputation as one of the state's top programs.
But one piece of the puzzle that perhaps got lost in the overall coverage of Ramirez's hiring is the motivation for taking on such a lofty task. After 20 years of coaching at the school, it's easy to see what the responsibility means to him.
Now that he has the job, the natural question is the obvious one.
Has it always been a dream to be the head coach at Pittsburg High?
"It really has. I didn't want to say it before, but it has. It absolutely has," Ramirez said. "Being a graduate, being a young boy and coming to the games and always loving Pittsburg football, staying in the community all these years, coaching the past 20 years at Pittsburg High School, it absolutely has. I never really tried to let on that it was, but I put the work in to make sure that this was going to happen and I was lucky enough that it did."
The group of Pirates that hop back on the bus for the ride back to Pittsburg is considerably smaller, with many opting to ride home with family. Those that do take the bus benefit from a clever move by their bus driver, who avoids traffic on Interstate 80 by heading down Interstate 5. That saves considerable time, and the bus pulls onto School Street at precisely 12:15 a.m.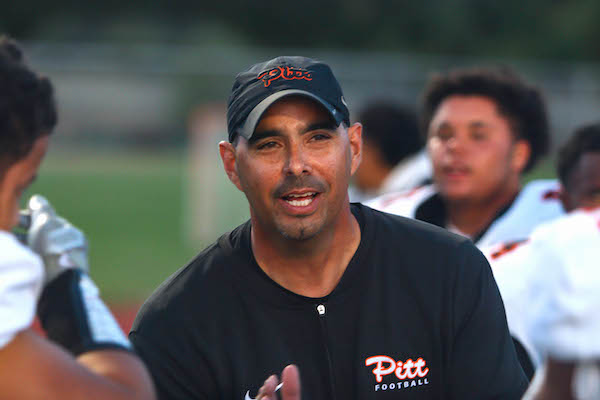 A tired group of players files back into the building to drop their gear off, and Ramirez heads for the big television in the weight room. The film from that night's game has already been uploaded, but at this late hour, the review can wait. 
While the players have earned a Saturday off, Ramirez and his coaches will be back at it a few hours later, starting all over again as the Pirates prepare for their home opener against Monterey Trail.
Metaphorically speaking, the Pittsburg bus has a new driver and a new route to travel.
He's making sure to enjoy the ride.