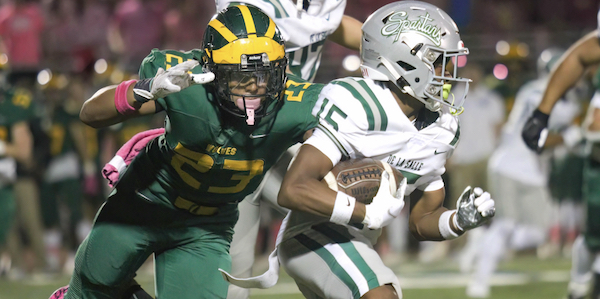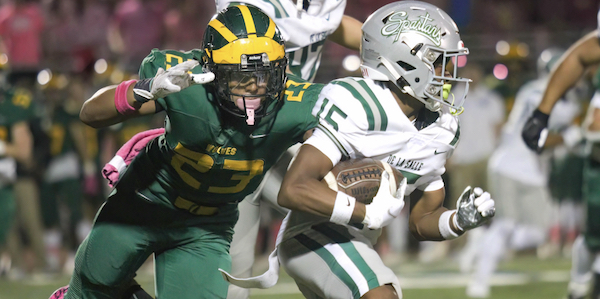 With Senior QB Luke Baker Leading The Way, San Ramon Valley Football Nearly Became First Section Team To Beat De La Salle Since 1991...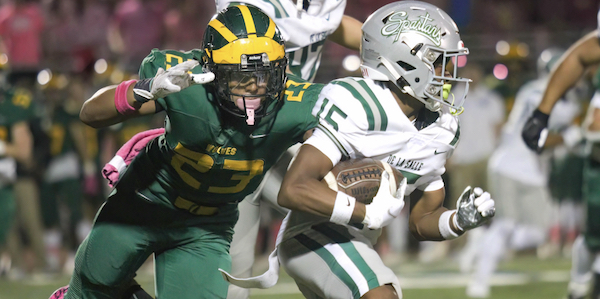 With Senior QB Luke Baker Leading The Way, San Ramon Valley Football Nearly Became First Section Team To Beat De La Salle Since 1991 — But Spartans Managed OT Escape
Even if you removed all the historical significance — namely that the San Ramon Valley football team was a 35-yard kick away from becoming the first North Coast Section team in more than 30 years to defeat De La Salle — this past Friday's game in Danville still had all the elements of an East Bay instant classic.
It all started with the setting.
"It was great. It was loud," De La Salle assistant coach Terry Eidson said. "That was one of the better atmospheres that I can remember for a regular season game."
Nearly 7,000 strong were part of a standing-room-only crowd that hung on just about every play until De La Salle escaped with a 33-27 overtime win. There was no shortage in twists and turns leading to that result.
After three quarters, the underdog was winning. San Ramon Valley entered the final 12 minutes leading 12-7.
Then things got wild. 
_______________________________
CONNECT WITH US:
Follow SportStars on Twitter & Instagram | Like us on Facebook | Subscribe!
_______________________________
De La Salle created two turnovers and scored 20 points over a five-minute stretch of game time. The Spartans (5-2, 1-0 East Bay Athletic League-Mountain Division) took a 27-12 lead on a 12-yard Toe Faavae with 5:08 to play.
That seemed to be the cue for some of San Ramon Valley's loyal student section to give up the faith. Perhaps it's not faith they lacked, but a passing knowledge of recent history. As recent as last December. That's when San Valley quarterback Luke Baker made two, fourth-quarter game-tying touchdown drives in the fourth quarter of the CIF 2-A State Bowl game at Saddleback College in Orange, CA.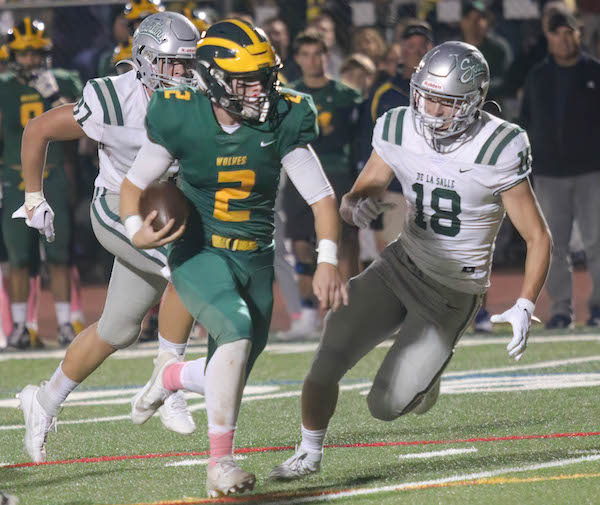 Baker put on his fourth-quarter comeback show again. He threw a touchdown pass to Zack Dodson with 3:14 left, and another to Evan Economos with 1:43 to play. An end-around two-point conversion run by Owen Scott tied it 27-27. 
"It's easy to give up to De La Salle when you're down two scores," Baker said. "(My guys) fought all game. … I think demonstrating that grit is really going to go a long way for the rest of our season."
San Ramon Valley (6-1, 1-1 EBAL) got the ball back on a fumble recovery with 47.4 seconds remaining and a Luke Baker scramble took it to the De La Salle 19. Austin Shelton then came on to attempt a 35-yard field goal but hooked it left with 5.1 seconds to play.
After another Wolves missed field goal to open overtime, De La Salle needed just four plays to score from the 25-yard line, clinching the win on a 6-yard run by Derrick Blanche.
"That was an incredible high school football game," De La Salle head coach Justin Alumbaugh said afterward. "In a situation like this, it's sad to send a team off losing. You have to have a winner, and you gotta have a loser, but there was a lot of resilience shown on both sides of the field tonight."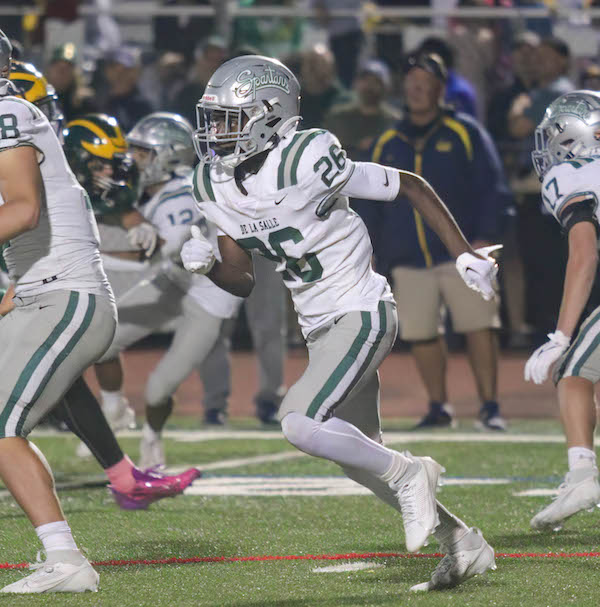 With the Wolves' attempt at history ultimately thwarted, De La Salle improved its NCS unbeaten streak to 266 games dating back to the famous 1991 NCS championship game loss to Pittsburg. 
Baker's efforts included 204 yards passing with three touchdowns and three interceptions. He was also the team's leading rusher with 173 yards on 21 attempts. As good as he was, the De La Salle defense still proved to be a pretty good foil.
The Spartans secondary was behind all four San Ramon Valley turnovers. Junior defensive back Ant Dean ended two Wolves trips into the red zone, one with an end zone interception and another with a fumble recovery just outside the De La Salle 10. Jayden Nicholas intercepted a tipped pass and returned it 20 yards for a score that put De La Salle up 20-12 with 9:12 left in the game, and Trisshon Wright had an interception earlier in the fourth quarter.
The defensive line was also a major presence in the second half, led by the efforts of Chris Biller and Matthew Johnson. The De La Salle pass rushing duo combined for five sacks.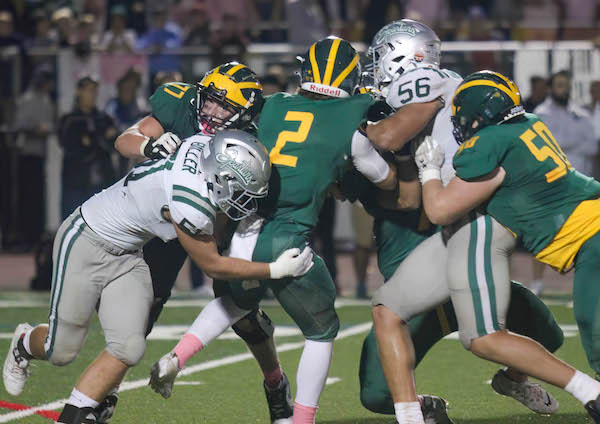 "Obviously, I'm upset (with the loss)," Baker said. "But I'm still really proud of the guys with the way they fought."
Could the Wolves get a chance at a rematch? There's certainly a scenario that exists for it. However, it will depend how the seeding breaks in the section's Open/Division I bracket. De La Salle seems assured to land the top seed now, and the No. 2 seed — which gets placed in the Open Division side of the bracket — seems as though it would boil down to either San Ramon Valley or a Pittsburg team that enters the third week of October with a 7-0 record.
That might make San Ramon Valley's Oct. 20 game at California-San Ramon one the selection committee members will be paying close attention to. Cal stands to be the one common opponent shared between SRV and Pittsburg. The Pirates only beat the Grizzlies by three back on Sept. 15.
A rematch, in what would almost assuredly be the NCS Open Division final, might draw an even larger crowd than the one that showed up to Danville. Sequels don't always hold up to the original, however. So for the time being, fans who saw every twist and turn last Friday will need to savor it.
"Everybody got their money's worth," Alumbaugh said. "There's no doubt."