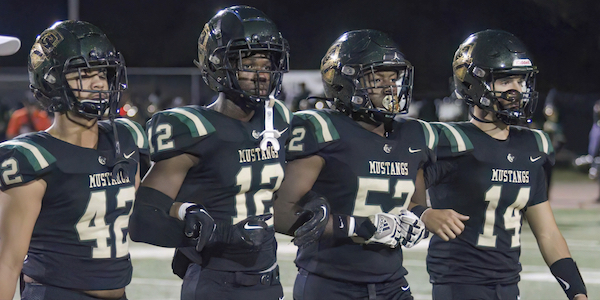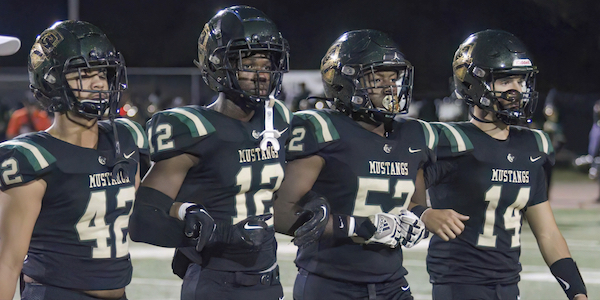 Monterey Trail Football Found Strength, Cohesion During Tough Nonleague Slate — And After 35-34 Win Over Grant, They're Metro League Champs Once Again PICTURED...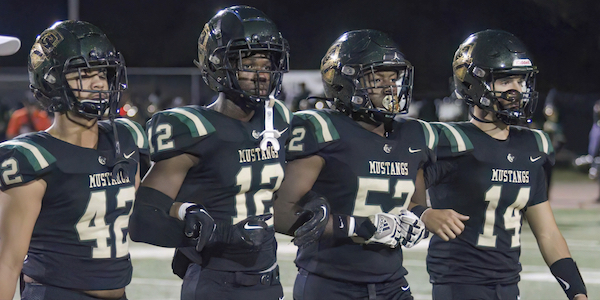 Monterey Trail Football Found Strength, Cohesion During Tough Nonleague Slate — And After 35-34 Win Over Grant, They're Metro League Champs Once Again
PICTURED ABOVE: Monterey Trail captains, from left to right: Elijah Folau, Elijah Wilder, Cam Haynie and Joseph Barrientos. (Ben Enos photos)
When adversity hits, the most consistent high school football programs maintain the belief that if they continue putting in the work, success will soon follow.
Monterey Trail-Elk Grove's players and coaches believe, and that has the Mustangs pointed not only towards another Metropolitan League title but also a postseason full of possibilities.
A 35-34 thrill ride of a victory over visiting Grant-Sacramento provided the latest example that head coach TJ Ewing's bunch is both battle-tested and playoff-ready.
Just like the 2022 meeting between the two, a back and forth matchup hinged on big plays late. The biggest came with 1:14 to play, as Grant (7-2, 4-1 Metro League) decided to try for a 2-point conversion that would likely decide the game.
The Pacers put the ball in star running back Wayshawn Parker's hands, but Monterey Trail's Damien McAlister met him in the backfield, and Elijah Folau punched the ball out short of the goal line to preserve the Mustangs' lead.
Making a big play in a big situation becomes easier when a team has been through the fire, and that most certainly applies for Monterey Trail (6-3, 5-0).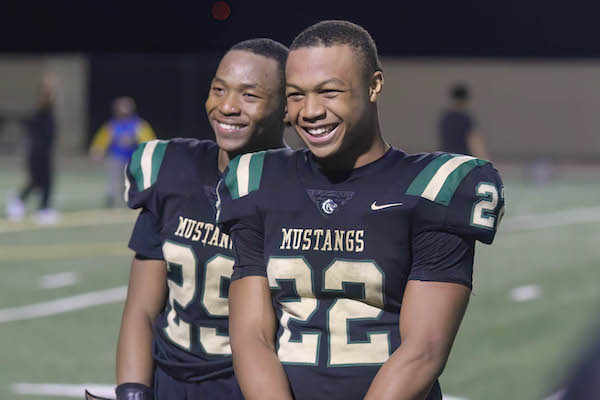 By opening the season against Northern California heavyweights Folsom, St. Francis-Mountain View and Pittsburg, Ewing again followed his long-held belief that early challenges bring future results. 
The Mustangs lost all three games, but as has usually been the case over the years, they got better in the process.
"I have a lot of respect for our players and them taking on the resolve of fighting through tough times," Ewing said. "The things we threw at them, they took them on. It's unbelievable what a team can do when everybody believes."
Once league play began, the lessons learned started to turn into wins. A 41-35 win over Laguna Creek-Elk Grove got Monterey Trail rolling, and the next three victories came by a combined score of 201-0. A brief detour back into nonleague play resulted in a 35-17 road win at Merced and set the stage for another classic against Grant.
_______________________________
CONNECT WITH US:
Follow SportStars on Twitter & Instagram | Like us on Facebook | Subscribe!
_______________________________
An unfailing belief in their culture served the Mustangs well yet again. Faced with a Grant team that boasts a number of Northern California's premier recruits, Monterey Trail leaned on its usual blend of a gritty run game and sound fundamentals on both sides of the ball.
The results were also familiar. The Mustangs rushed for 294 yards as a team, led by 201 from senior Vontrelle Waffer and 93 from junior D'Adrien Sanders. Waffer and Sanders rushed for two touchdowns apiece, including Waffer's 44-yard bolt that provided Monterey Trail's final score with 5:46 to play.
Fellow senior Arik Phillips also played a key role, hauling in a 36-yard touchdown pass from Joseph Barrientos and grabbing a key first-half interception.
"We've grown so much," Phillips said. "In the beginning of the year, we were a little off and we didn't all really trust each other. We were a little negative towards each other. Throughout the season, we all got closer. This game was for all those guys and our alumni. I'd do anything for them."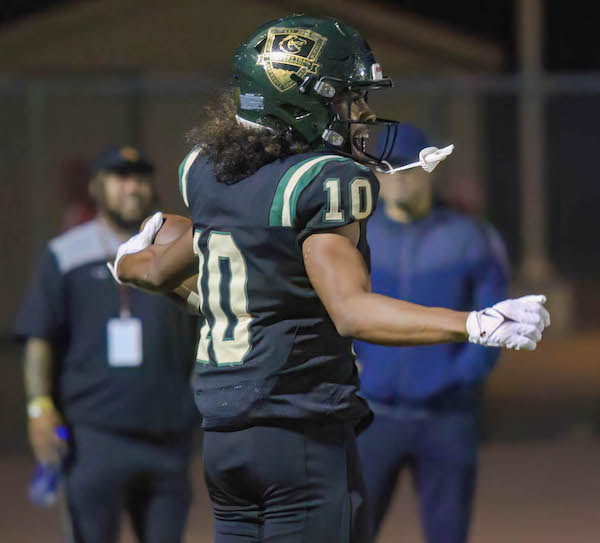 Waffer leads the team in rushing, but that's not the type of leadership that brings Ewing the most pride. He points to Waffer's "social and emotional maturity" as a major area of growth, and credits him as a key team leader that has helped steady the Mustangs' ship.
Listening to Waffer explain how Monterey Trail weathered its early season storm only proves Ewing's point.
"You've got to talk to each other, have your meetings, keep talking. It's really not hard when you're a team and you guys are one," Waffer said. "You've got to keep believing and building. It's not about the schedule. It's about the end, and when you can believe in the outcome, that's all that matters."
The win over Grant is less an outcome than another step forward. Monterey Trail is now 26-0 in Metropolitan League play over its almost five full seasons in the league, and a win over River City-West Sacramento in the final week of the regular season would clinch an undefeated reign in the league as the Mustangs prepare to move back into the Delta League in 2024.
Grant's arrival in 2022 provided two exciting matchups and a pair of serious tests, but ultimately didn't prevent Monterey Trail from maintaining its league dominance.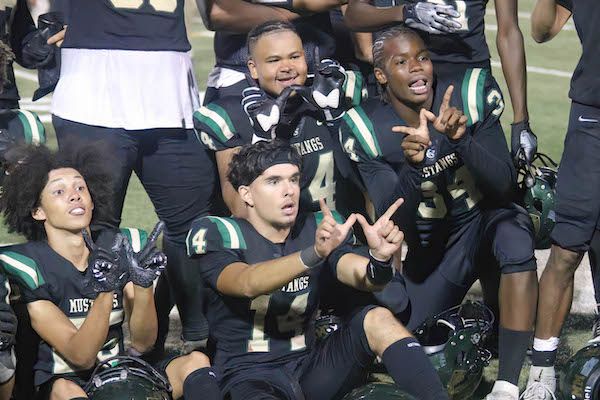 "I think it's just our mentality of culture over scheme and our culture really stuck together in the long run. We don't compromise on culture," Ewing said. "Our kids completely buy into everything we teach and preach because the things we try to teach are things they need for college and for life.
"We're not there to coddle and quibble. We make kids have to be men and they have to take those hard responsibilities on. It's not easy, but they do it and our kids respond to it."
As they prepare to enter the Sac-Joaquin Section Division I playoffs, the Mustangs believe in the lessons Ewing and his staff are teaching.
They also believe the best is yet to come.