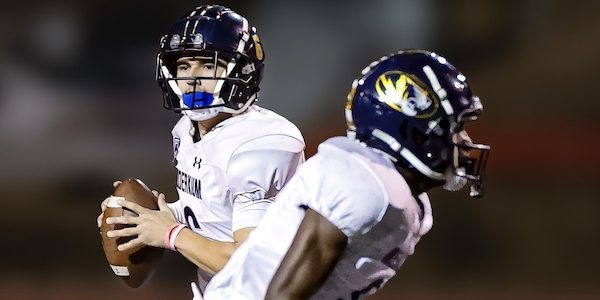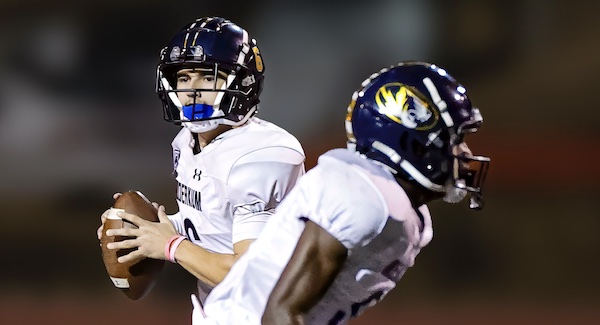 Inderkum-Sacramento Quarterback, A Touchdown Sensation, Leads Tigers Into The Sac-Joaquin Section Div. I Quarterfinals Ricky Cole might be the first quarterback to dream about...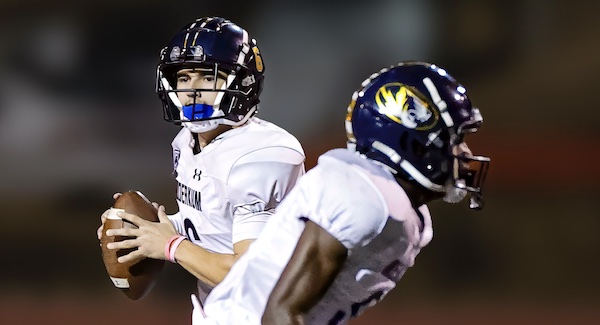 Inderkum-Sacramento Quarterback, A Touchdown Sensation, Leads Tigers Into The Sac-Joaquin Section Div. I Quarterfinals
Ricky Cole might be the first quarterback to dream about his passing records being broken while he's still in the midst of the record-setting season.
The 5-foot, 10-inch junior signal caller of Sacramento's Inderkum High is set to appear in the Sac-Joaquin Section Div. I quarterfinals Friday, when he could expand on his school record for passing touchdowns in a single season (39).
But while he certainly hopes to set the bar high, Ricky is already thinking outside the (tackle) box.
"I'm hoping that my younger brother, Brody, breaks the records that I set," Ricky said this week, after a practice to prepare for No. 4-seed Monterey Trail-Elk Grove. "It may take a lot, but I'm hoping he can beat it."
It's no surprise that when reflecting on his own success during a 10-1 season and No. 5 postseason seed, Ricky's thoughts stray to family.
Inderkum should get a discount for its batch ordering of Cole jerseys. Sophomore brother JJ is a starting receiver and frequent target at the varsity level while twin brothers Brody and Cruise (both freshmen) play on the JV team.
_______________________________
CONNECT WITH US:
Follow SportStars on Twitter & Instagram | Like us on Facebook | Subscribe!
_______________________________
Their father, Rick, is also the Inderkum quarterbacks coach, while mother, Alisha, can be found on the sidelines with a camera in her hands.
With four high school boys stretched across only three years of prep enrollment, competition gets fierce inside the Cole house. It starts with Alisha, who raced cars and played soccer, and Rick, who played football for San Diego State.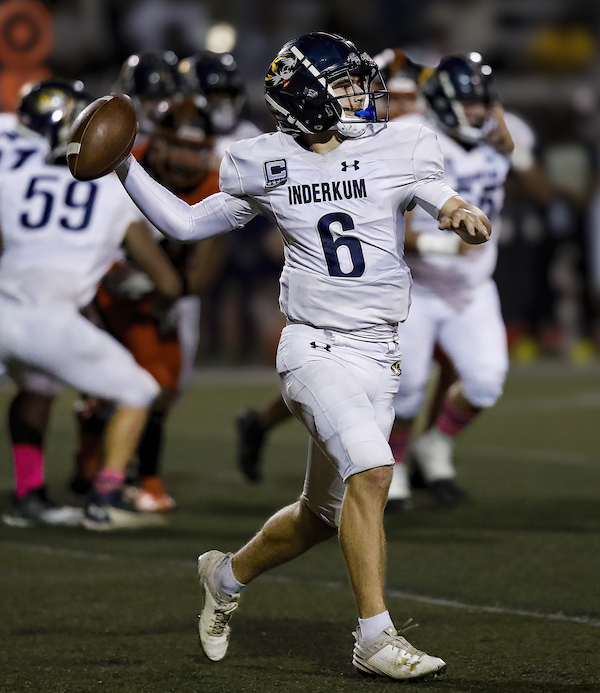 "We make everything a contest, wrestling in the house, seeing who can throw a football or baseball further, or even just racing to see who is the fastest," Ricky said. "And at Inderkum, I just love having them all around."
The fam' also motivated Ricky's drive to compete and get better. It got serious, real quick. After playing just a few varsity snaps as a sophomore, he dedicated himself to offseason schemes from single-back veer formations developed by offensive coordinator and Inderkum Athletic Director Justin Reber.
It's helped him explode onto the SJS scene.
Ricky leads the entire section in scoring (49 total touchdowns), and sports a baffling 39-4 touchdown-to-interception ratio behind center.
For head coach Reggie Harris, that's a pretty special talent to lead your team.
"It's a hard position. But he takes it straight on with head bowed, shoulders square, and attacks it," Harris said. "His brain is like a sponge, and he just soaks up everything you teach him.
"He wants everybody in his circle to be great."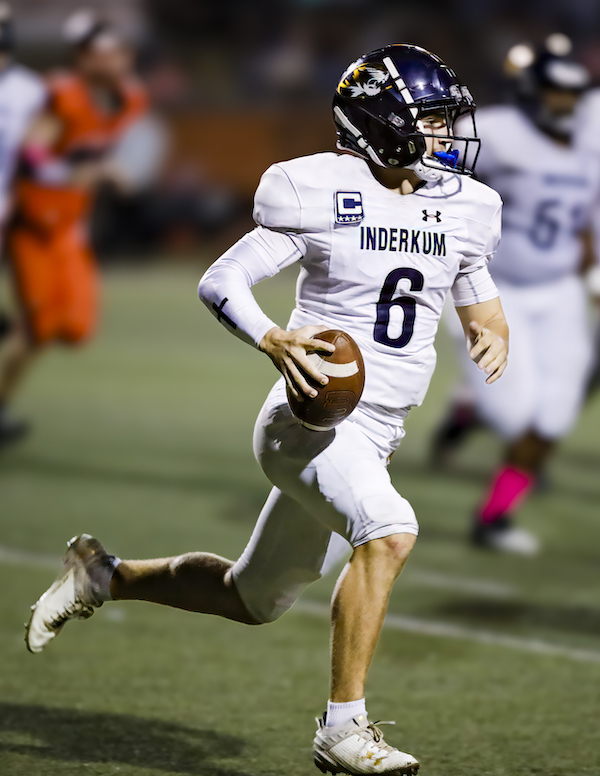 Ricky has completed 129 of 202 passes for 1,907 yards with another 606 rushing yards and eight scores.
"We really take what we can get and use the pass to set up the run," Ricky said. "I love the deep ball. For me, it's simple reads."
Somehow, Ricky has also found time to catch touchdowns on each of his two receptions this year. He's truly electric with the football.
So why be this excellent?
"I want to take football as far as I can, and I love practicing every day," Ricky said. "I want to make sure my family doesn't have to ever worry about money. I'm not saying we do now, but I want to make sure they have a great life and provide for them."
The mindset has helped the Tigers outscore opponents 590-133 this year.
"He's very humble, and he's definitely driven to be great," Harris said. "He's very coachable and well respected by his peers.
"Whatever is put in front of him, he uses that as a means for one task that he needs to acquire and just dominate."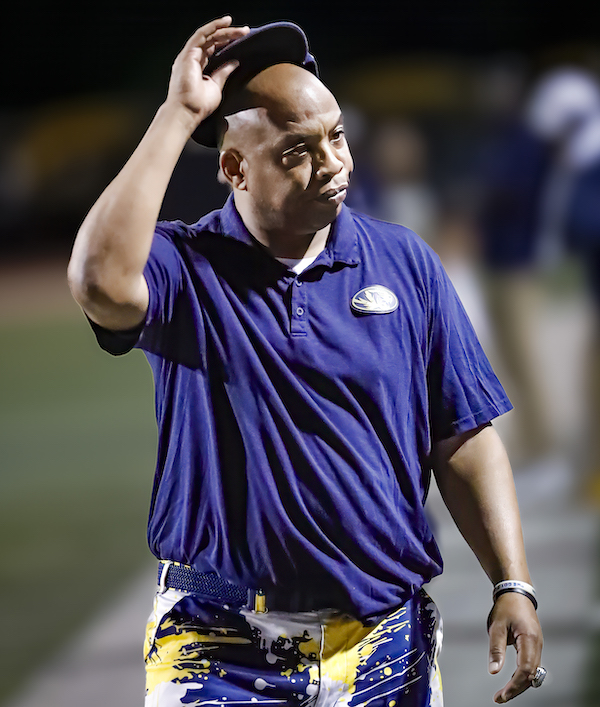 And it's certainly been dominant.
The team has won 10 straight since an opening-season loss to Del Oro and averages over 62 points a game in its last six meetings.
While Ricky shines, it's no one-man show. Ten players have amassed over 200 all-purpose yards and 17 have found the end zone. The team rolls behind the success of tenacious and accountable offensive linemen CJ Hernandez, Jason Teater, Jacob Palenapa, Mario Overby and Ethan Maharaj.
They've helped Ricky and running backs like Kyle Gurganious and Bryson Claxton lead a group responsible for 2,932 rushing yards and 33 scores.
Lono Chouteau (28 catches, 576 yards), JJ (25 catches, 258 yards) and Christian Harris (nine catches, 227 yards) lead the receiving group.
"We have a lot of trust, chemistry and love for each other," Ricky said. "It's just been a great ride with a really peaceful group of talented guys."
Christian Harris also has kick, punt and interception (six of those) return highlights.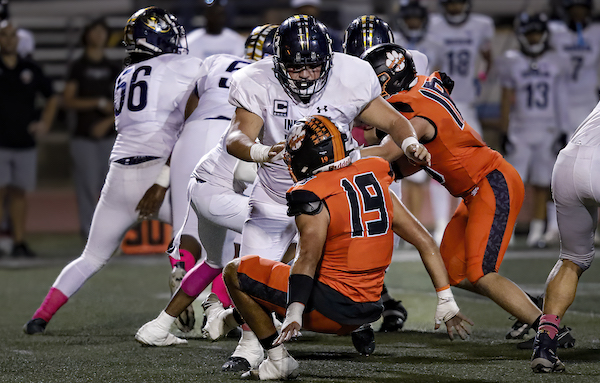 Defensively, Inderkum has shut out five opponents. Teams struggle to get past standouts in the trenches and second level guys like Josiah Sharma, Manual Colon, Claxton, Isaac Estacio and Danny Kirkpatrick (leads the team in tackles).
Passing is also tough, with an all-star cast in the secondary of Chouteau, Christian, Baron Taylor, Gurganious and Adon Baker.
Coach Harris said his linebackers and defensive backs also all proudly sport a GPA of 3.2 or higher.
"It helps when they dominate the classroom as well," he said. "I'm blessed to be a part of these young peoples' lives.
"They trust one another and built an authentic bond of friendship and love for one another."
It's the kind of selfless attitude that powers Inderkum football.