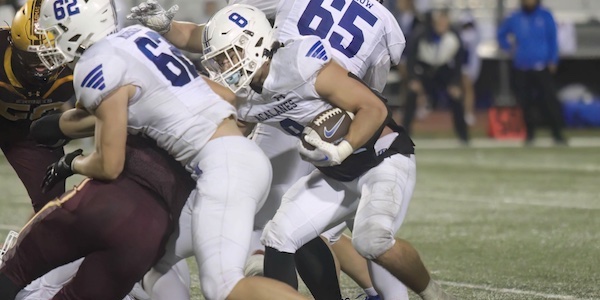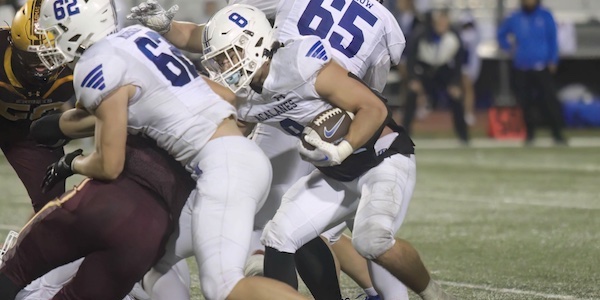 Running Backs Jack Miller & Jack Giorgianni Have Become A Balancing Force For An Acalanes Football Team On The Brink Of An Outright League...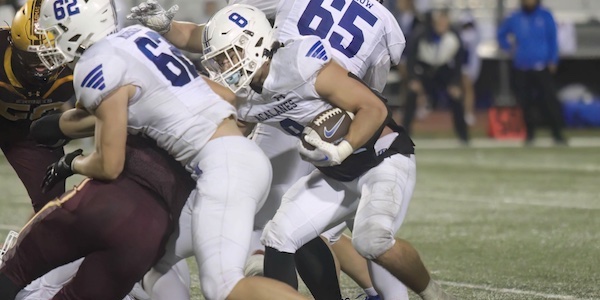 Running Backs Jack Miller & Jack Giorgianni Have Become A Balancing Force For An Acalanes Football Team On The Brink Of An Outright League Title
PICTURED ABOVE: Jack Giorgianni carries the ball against Las Lomas-Walnut Creek on Oct. 27. (Ben Enos photos)
Over the first three games of the season, the Acalanes football team rushed for a grand total of 191 yards as a team. 
Since that start, the Dons have found their running game, and that has them on the cusp of claiming an outright Diablo Athletic League-Foothill Division title. Something the Lafayette school can clinch outright with a win tonight over visiting rival, Campolindo-Moraga.
Long known for a prolific passing attack, Acalanes' development on the ground has helped propel a Dons team that looks primed for a lengthy postseason run.
That progress was particularly evident in a 34-14 win last week at previously unbeaten Las Lomas-Walnut Creek. It was 112 rushing yards from senior Jack Miller and another 85 from senior Jack Giorgianni that helped Acalanes turn a 14-14 tie after three quarters into a three-score romp.
Flipping the switch to rely on the ground game worked against the Knights in much the same way as it provided a spark earlier in the season.
Giorgianni and Miller combined to carry the ball six times on the opening drive of the quarter, amassing 72 yards and finishing with a bruising 17-yard touchdown run by Giorgianni.
_______________________________
CONNECT WITH US:
Follow SportStars on Twitter & Instagram | Like us on Facebook | Subscribe!
_______________________________
The concentration on the run turned Las Lomas' attention away from the pass, and that set up a screen pass from Sully Bailey to Niko White that resulted in a 42-yard touchdown. Fellow senior Jake Boselli put the finishing touches on the win, returning an interception 52 yards for a touchdown to provide the game's final points.
"You could see at the end of the game, when we're pounding the rock it opens up the screen game for Niko White and that long touchdown," said receiver/defensive back Trevor Rogers, who also had a key fourth quarter interception. "(Giorgianni) on defense and offense saved that game for us. Huge pass break up and came in and ran the rock down their throat."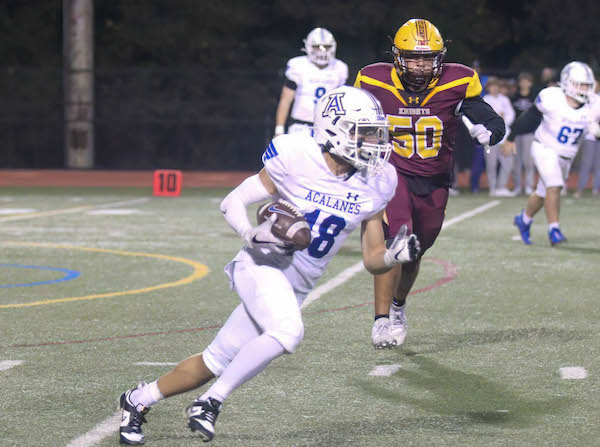 Acalanes (6-3, 5-0 DAL-Foothill) finished with 211 yards rushing as a team, a total that seems a far cry from the team's 0-3 start but is certainly in line with recent results. The Dons have eclipsed 120 rushing yards in each of their last five wins and have surpassed 180 four times.
Of course, the caliber of opponent faced early in the season also provided Acalanes with an opportunity to improve. The Dons' first three games came against San Marin-Novato, San Ramon Valley-Danville and Amador Valley-Pleasanton, teams that are a combined 22-3 entering the final week of the regular season.
What changed after that opening stretch?
"A few things. Getting in rhythm on offense. We didn't play offensively very well," said head coach Floyd Burnsed. "Getting some bodies back healthy. We had a lot of guys injured in the first three games, so we never went into a game at full strength. That hurts teams like ours because we need everybody we've got. Getting them healthy and then perfecting what we've been doing. This is our offense, this is our defense and we've got to play it the way we're capable of playing it."
Bailey has also led the maturation of Acalanes' offense. After splitting time under center with Boselli as a junior, the southpaw has seen the bulk of the quarterback snaps in 2023 and has produced nearly 2,100 yards passing through nine games.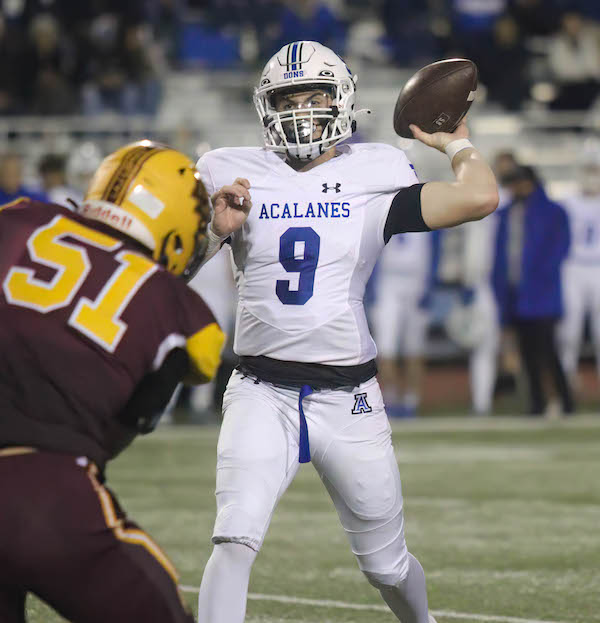 "We were a young team. We lost a lot of seniors last year," Bailey said of the season's first few weeks. "Coming into this year, we had a really tough schedule at the start of the season. It was just taking those games and learning from them. Turning over and becoming a better team and really improving these last six games."
The win puts Acalanes one win away from the outright league title, but the final hurdle between the Dons and that goal is the highest to clear. Campolindo has won 12 of the last 14 meetings between the two schools.
"Every year, it feels like they just have something that we don't," Giorgianni said. "This year, we're going to show them we've got it."
No matter how that game turns out, Acalanes will head into the North Coast Section Division IV playoffs as a favorite to reach the section final.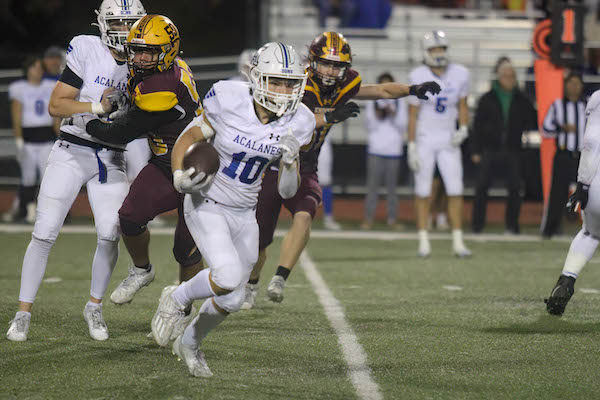 That could mean a potential rematch with the same San Marin team that beat the Dons 27-20 in week one.
"Our goals coming in (this season) were to win the league, win the North Coast and win the state," Burnsed said. "I think we can achieve all those goals. We've got the talent to do it."
If the Dons can keep their offense running at peak performance, it will be up to the competition to try and chase them down.